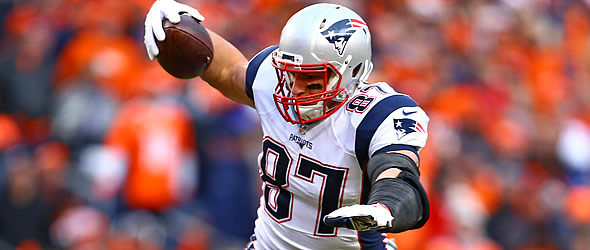 From the seven-year period starting in 2011, there was no better fantasy tight end than the Patriots' Rob Gronkowski. When healthy, he dominated games and in turn fantasy lineups. He scored like an elite wide receiver. He was Tom Brady's security blanket and explosive option all rolled into one future Hall-of-Fame tight end.

But the 2018 version of "Gronk" looked tired, worn out, hobbled by injury and ready for retirement. And in 2019 that's exactly what the tight end did. He lost weight. He looked happy. He continued to have a good time away from the field and looked every bit the comfortably retired ex-athlete.

Then Tom Brady called and said he wasn't coming back to New England (read; no more uptight Bill Belichick) and did "Gronk" have interest in joining him in Florida to chase another title. And maybe prove to the world it was Brady and Gronkowski (read the players, not management) who amassed all those championships in New England. Not surprisingly, "Gronk" answered in the affirmative.

Now the hard part. How do we evaluate the new Buccaneers?

Brady hasn't been a star fantasy quarterback in about three years, since his 28 TD - 2 INT season of 2016 when he averaged 24.7 FPts/G over 12 games (remember, he was suspended for the first four games), but he should improve away from the strict "Patriots Way."

Meanwhile, Gronkowski's final season in New England was pedestrian ... at best (47-682-3). He ranked ninth in FPts/G (10.2 in PPR leagues) despite a lack of quality wideouts (yes Julian Edelman is very good but Chris Hogan, Phillip Dorsett, Cordarrelle Patterson and Josh Gordon didn't light the world on fire).

In Tampa Bay, Gronkowski will have to compete for targets with the best group of wide receivers he's been around since joining the league (he arrived in New England in 2010 just as the team traded elite wideout Randy Moss to Minnesota in mid-October and acquired Deion Branch from Seattle). Just for fun, try to imagine a full season of the Hall-of-Fame Moss, Wes Welker and Gronkowski on the field together. I'll bet they wouldn't have lost to Mark Sanchez and the New York Jets in the Divisional Round (28-21).

But I digress. In 2020, at age 31, Gronkowski will be competing for targets with three-time Pro Bowler Mike Evans (67-1,157-8) and a rising young star in 2019 Pro Bowler Chris Godwin (86-1,333-9). By-the-way, don't sleep on fifth-round selection Tyler Johnson who had an excellent career at the University of Minnesota (86-1,318-13 in 2019). He could be a solid handcuff for either Bucs' wideout.

In addition, the Bucs' tight end corps is the deepest in the league with talented O.J. Howard and Cameron Brate in addition to Gronk. Brate, whose specialty has been scoring touchdowns (24 over the past four seasons) no longer should be drafted while Gronkowski is on the Bucs roster. But Howard and Gronk could be a force in two tight end formations the way Gronk and Aaron Hernandez were with the Patriots.

And we know from history that Brady will find a running back to throw to, whether it's Ronald Jones or rookie Ke'Shawn Vaughn or someone else (think Lamar Miller, LeSean McCoy, Devonta Freeman or even pass-catching specialist Theo Riddick).

So just how much of a workload will Gronkowski see in 2020?

I'm of the opinion that he won't get as much work as fantasy owners would hope. I think OC Byron Leftwich and Brady will "save" Gronk for important moments in the game. Big third downs and red zones will be his specialty. His yards may suffer, but his touchdown total should thrive (which is why Brate will be a non-factor).

FFToday projections are 44-587-6. I think he might even get a few more scores than that, but the yardage number feels right on the mark.

So obviously from those expectations, Gronkowski isn't a Tier 1 tight end like Travis Kelce (ADP 20.7) or George Kittle (25.5).

He's also not a Tier 2; as in Mark Andrews (ADP 44), Zach Ertz (48.9), Darren Waller (57.5) or a healthy Hunter Henry (92.5). I also don't think he'll get enough work to match Hayden Hurst in Atlanta, Evan Engram or Jared Cook.

No. I think the 31-year-old Gronkowski, after a season away from the game, with a likely team strategy of "keeping-him-healthy" for game-changing moments in both the game and the entire season, will be a bottom-end fantasy starter. Think Mike Gesicki, Austin Hooper or Tyler Higbee.

Gronkowski's current ADP (63.8) is far too high and based on name recognition, which is understandable, but not reality in 2020. Unless his draft numbers decrease into the 90-100 ADP range, you will not receive "fair-market-value" for the high cost.