Are you ready for some football? I wasn't, what with hockey and basketball in the playoffs and baseball in "midseason" because I'm a four-season fan. At least not until doing a couple of fantasy drafts this week which got the blood pumping. Can't wait for Thursday night (might be because I have Mahomes in one of the leagues). Bring on Sunday! Bring on the Red Zone! I'm ready!



"When you have eliminated the impossible, whatever remains, however improbable, must be the truth." – Sir Arthur Conan Doyle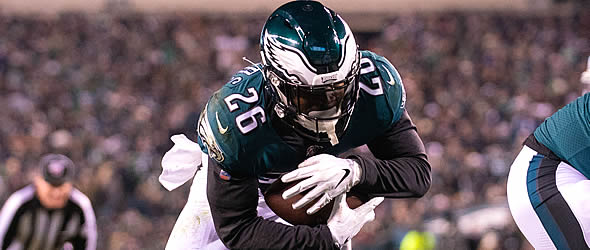 1) The Eagles will "manage" Miles Sanders to start the season.
Unfortunately true for Sanders' fantasy owners. He's been dealing with a hamstring issue and while he'll certainly play in Week 1, he'll likely be on a pitch count. Sanders has been a favorite for a breakout Year 2, but it might be slowed by the injury and the injury to 40% of the starting offensive line (Andre Dillard and Brandon Brooks).
2) Brandin Cooks' health is already an issue.
True. The "man of a thousand concussions" is trying something new this time with a quad injury making him questionable for Thursday night's 2020 season opener against the defending champion Kansas City Chiefs. If the Texans thought Cooks was an equitable replacement for DeAndre Hopkins they are wrong. The most important ability is availability and both Cooks and fellow Texans wideout Will Fuller are weak in that department. Beware of the Houston offense because at some point Deshaun Watson may end up being like 2019 Carson Wentz desperately looking for practice squad guys to throw to.
3) The Browns may have too much offensive talent for fantasy owners' good.
Nick Chubb is a stud running back, but Cleveland just gave Kareem Hunt $13.25 million for two years, so you know they want to use both guys. Meanwhile, Odell Beckham Jr., Jarvis Landry and newly signed tight end Austin Hooper will want their pieces of the pie. The pie isn't big enough. That's five mouths to feed and I'm pretty sure they can't all be fantasy stars if they are "sharing." My analysis is that Hooper and Landry owners end up unhappy with Chubb, OBJ and Hunt dominating the offensive touches.
4) "There is no question about who our bell cow is," Tomlin said of James Conner.
Fantasy owners hope Conner can stay healthy because if that's true then he's a huge bargain with a 21.1 ADP as the 15th running back off the board. It wasn't that long ago that Conner was the No.6 producing RB (280 FPts in 2018 PPR leagues). He battled injury and a bad offense led by backup quarterbacks in 2019 and since Ben Roethlisberger is back the Steelers offense should return as well. In 2018 the Pittsburgh offense produced 428 points (6th) and was fourth in total yards.
5) The Patriots backfield is a mess … as always.
Fact. Sony Michel needs to be "eased" back into the flow after offseason surgery. Damien Harris, who was on track to start in his place, injured his hand and is on the IR. James White will continue to snap up most of the receiving work and Rex Burkhead always gets enough work over the season to have fantasy owners pulling their hair out. And in 2020 the Patriots have a quarterback who likes to run the ball into the end zone. Once again the best plan is to avoid this backfield completely.
"When you have eliminated the impossible, whatever remains, however improbable, must be the truth." – Sir Arthur Conan Doyle
1) "The running back group is going to be by committee," Ron Rivera said.
Translation: We aren't ready to put all the pressure on the rookie (Antonio Gibson), but we hope he grabs the job and runs with it. The team "listed" J.D. McKissic as the starter, but he's not a starting NFL running back he's a third-down, pass-catching type. Peyton Barber has already tried and failed while Bryce Love is coming off multiple right-knee surgeries and isn't ready to be an every-down back yet. Unless the offseason talk was all a mirage, Gibson is the guy to have for 2020, though he may not start quickly due to the pandemic and all the difficulties it caused for rookies. Repeat this last sentence for the Rams' Cam Akers too.
2) The 2020 records for Tampa Bay and New England will settle the debate as to whether the Patriots dynasty was more Bill Belichick or Tom Brady.
False. First of all, one season can't possibly determine the answer some want to hear. There are too many variables, not the least of which is injuries and varying schedules. Also, the Buccaneers have a more talented roster than the Patriots, particularly on offense. However, the NFC South as a whole is stronger than the AFC East. For fantasy owners, have no fear of the Bucs offense, but beware of the Patriots offense as there are a lot more questions than answers.
3) Ravens coach John Harbaugh said he expects J.K. Dobbins to have a role on offense.
Buzz. Sorry, but his role early will be keeping the bench warm. He's currently listed as the No.4 running back and Mark Ingram isn't giving up any of his carries and I'm betting Gus Edwards wants his share too as does Justice Hill. It's another case of the offseason Covid-19 wreaking havoc with rookies playing time plans.
4) DeVante Parker can reproduce last season's totals in 2020.
Probably not. Parker amassed career-highs with 1,202 receiving yards and nine touchdowns in 2019 and then signed a huge $40 million, four-year deal. Will complacency creep in? Then we have a quarterback situation where Ryan Fitzpatrick will start the season, but Tua Tagovailoa should end it as the starter. Lack of consistency under center won't help. Third, Preston Williams seems ready to return from his ACL knee injury and his play last season should earn him plenty of targets. Same goes for Mike Gesicki. Can they all produce fantasy worthy totals under these conditions? Probably not. "Sharing is caring" is good for society, but not fantasy owners.

5) AJ Dillon will negatively affect Aaron Jones' fantasy value.
Despite the drafting of AJ Dillon, Green Bay knows Jones is the guy to carry the load for the offense. And Aaron Rodgers likes and trusts him. Jones put together a great season in 2019 ranking second to Christian McCaffrey in fantasy points with (318.8) and fourth in FPts/G (19.9). The big bruising Dillon may vulture a few touchdown, but Jones is still the guy.