For most, the fantasy season ended last week (along with my hopes for the Philadelphia Eagles). For those who are still playing into the final week, I say "Why?" The effect of teams locked into positions and resting starters for the playoffs, makes playing in Week 17 a travesty.



Truths

"Irrationally held truths may be more harmful than reasoned errors." – Thomas H. Huxley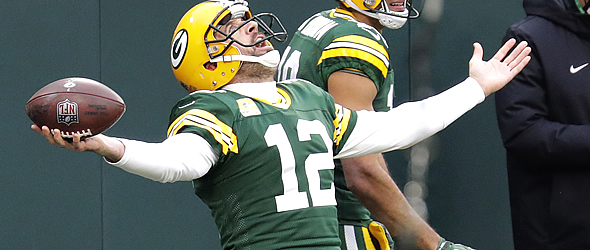 1) In 2017 Mitchell Trubisky was drafted too early, but he's clearly become a viable starting quarterback.
True and true. Among those drafted after Trubisky were; Patrick Mahomes and Deshaun Watson at quarterback and among other stars; Jamal Adams, Christian McCaffrey, Marshon Lattimore and Marlon Humphrey, but since his return to the Bears' starting lineup he's been top-12. Meanwhile, Chicago is 3-2 since his return and 6-2 for the season. He's averaged 23.3 FPts/G in the last five games as opposed to 20.2 in the first three games of the season.
2) Mahomes leads the league in passing yards, but Aaron Rodgers is having the better season.
Rodgers is the MVP in 2020 in my opinion. He's thrown for 44 touchdowns to just five interceptions and while he's 681 yards behind Mahomes, consider the talent around each one. Mahomes can target All-Pros Tyreek Hill and Travis Kelce along with a trio of zone-stretching speedsters. Rodgers has Davante Adams and a bunch of question marks. He's made Robert Tonyan into an All-Pro. Just imagine how good he might be if management had not traded up to draft Jordan Love at No.26, who has seen zero snaps in 2020, but instead selected Tee Higgins (No.33) or Michael Pittman (No.34) or Chase Claypool (No.49)?
3) Ben Roethlisberger is back.
He certainly turned up his performance in the second half against the Colts (23-of-29 for 244 and three scores), but he won't be able to help you if your league is still playing for a title in Week 17, because Mike Tomlin declared Mason Rudolph as the starter against Cleveland. After having been robbed of their bye week during the season, Tomlin will use Week 17 as their true bye to prepare for the playoffs. I told you it wasn't crazy to be playing in Week 17.
4) If you have arrived at your Week 17 championship game on the back of any Kansas City Chiefs, you're in trouble, because they clinched the No.1 seed and the bye when Younghoe Koo missed a last-second field goal attempt in Week 16.
Don't expect Mahomes or Kelce or any Chiefs starter who is gimpy or needs a rest to be on the field Sunday. Chad Henne will be the starting quarterback. Probably Darrel Williams will get the bulk of the carries. Perhaps Mecole Hardman or Demarcus Robinson could help, but unlikely because Henne is not a good fantasy/real-world quarterback.
5) These quarterbacks could be Week 17 starters; the above mentioned Rudolph and Henne, Chase Daniel, C.J. Beathard, Chris Streveler, Taylor Heinicke and John Wolford.
Unfortunately true. They would be replacements for Roethlisberger, Mahomes, Matthew Stafford, Nick Mullens, Kyler Murray, Alex Smith and Jared Goff. Of these names, Murray (leg) is the most likely to talk his way into the starting lineup. A season ago, Murray played in a meaningless Week 17 games while injured (hamstring) and this time the Cardinals are fighting for a spot in the post-season. Heinicke looked pretty good when he got the opportunity last week, but that would be the "Hail Mary" of all-time to play him if Smith is inactive.

Lies

"It is astonishing what force, purity and wisdom is requires for a human being to keep clear of falsehoods." – Margaret Fuller
1) The Eagles' Jalen Hurts is the answer to fixing the Philly offense.
False. All the factors that plagued Carson Wentz are still there to handcuff Hurts. Lack of weapons, no offensive line continuity, poor play-calling from Doug Pederson still remains. Yes, Wentz was horrible this year, but Hurts can't cover all these deficiencies any more than Wentz could. In Hurts' three starts he's been sacked nine times and his completion percentage is under 57%. The real answer in Philadelphia is a new play-caller which will require an offensive coordinator (the Eagles don't have one) and young talent which means replacing Howie Roseman in the draft room.
2) Diggs was called a "diva" in Minnesota.
Perhaps he wasn't a diva, but just wanted to see what he could do with a better quarterback than Kirk Cousins and in an offense designed to throw the ball. The Vikings under Zimmer were going to feature Dalvin Cook. The Bills were built around Josh Allen. In the end, Diggs made the right decision, producing a league-leading 120 receptions, 1,459 yards and eight scores. His 20.9 FPts/G is a huge jump over what he produced with Cousins in 2018 and 2019 (17.6 FPts/G and 14.5), respectively.
2019 Kirk Cousins – 307-of-444 for 3603 yards, 26 TDs, 6 INTs.

2020 Josh Allen – 378-of-547 for 4320 yards, 34 TDs, 9 INTs. (Through Week16)
3) Drafting rookies is usually the road to disappointment.
Normally rookies are slow starting and hit a wall due to the long NFL season. Then add the elimination of OTA and preseason games and 2020 figured to be a horrible year to select first-year players. Turns out that was a completely false theory. In one of my leagues, an owner drafted Justin Herbert (25.7 FPts/G), James Robinson (17.9), Justin Jefferson (16.5), Laviska Shenault and Tua Tagovailoa from rounds 13-17. Three of them became fantasy studs. Despite having his top pick, Christian McCaffrey for just three games, he won the league … easily. Congratulations Daryl.
4) The top-five fantasy wide receivers are; Adams, Hill, Calvin Ridley, Diggs and DK Metcalf. Which one doesn't belong?
Trick answer – they all belong. Those thinking Calvin Ridley shouldn't be there are wrong. He's right where he should be whether Julio Jones is in the lineup or not. He's been a touchdown maker from the moment he ran onto the field in Atlanta. He's averaged almost nine touchdowns a season. He's improved his yardage total and fantasy total every season. He ranks third this season at 13.4 FPts/G behind only Adams and Hill. When Julio retires, Ridley will be ready because he's already arrived.
5) There isn't anything Mahomes can't do.
Apparently he isn't a very good wide receiver. He's seen two targets in his career and he dropped one and the other was intercepted. He can still be on my team any day. In 46 starts he's averaging 27.8 FPts/G. By comparison; Lamar Jackson averages 22.3, Aaron Rodgers averages 24.7 since 2008, Deshaun Watson averages 25.5 and the GOAT, Tom Brady, averages a modest 21.81. Of course the GOAT is seeking his seventh ring.