With just a month left in the fantasy regular season, it's time to make your lineup "be all it can be." Injuries and Covid-19 lists might open up an opportunity for us to trade some of depth we have been hoarding by making a two-for-one trade deal … sending two good players for one great one. Can you trade for Cooper Kupp while he's on bye? Probably not, but there should be trades we can make to improve our starting lineup.

Byes: Denver, Los Angeles Rams

Truths

"Facts are the enemy of truth." – Miguel de Cervantes
1) Mac Jones has the best won-loss record of the 2021 rookie quarterback class to date, but his fantasy value isn't looking nearly as good.
He's won six of 10 games with a 69% completion rate, 13 touchdown passes and just seven interceptions, but he's only averaging 17.5 FPts/G this season. He's limited by his mediocre wideouts and a conservative game plan which has the Patriots looking at a playoff spot, but for fantasy owners he has a very limited ceiling. He's cracked 22 fantasy points just once in 10 starts. Patriots' management will have to find him his "Randy Moss and Wes Welker-types" before he becomes truly fantasy-worthy.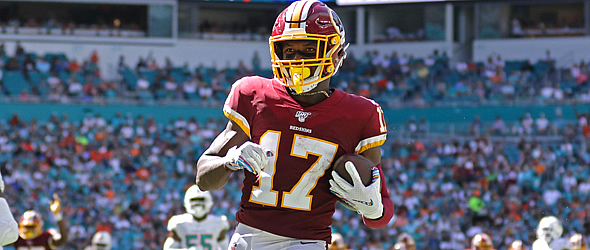 2) There has been a huge fall off in Terry McLaurin's production since the first quarter of the season.
Fact. "Scary Terry" averaged 19.6 FPts/G over the first four games, but just 11.8 over his last five contests. It's not a targets issue, he's averaging 9.2 the last five, versus 9.5 for the first four, but he's not getting into the end zone. Ryan Fitzpatrick is not coming back this season and Taylor Heinicke has struggled with just four touchdowns in five games after eight touchdown passes over the first four. This issue may not have a long-term "cure" until Washington finds a franchise quarterback.
3) D'Ernest Johnson is almost as good as Nick Chubb (Covid-19 list) for fantasy owners.
True, primarily because Johnson is more of a factor in the passing game than Chubb (Chubb has eight receptions all season, Johnson had seven last weekend), fantasy owners who handcuffed the two are not in a desperate situation. Whichever back starts this weekend, he should be considered an RB1 facing a Detroit Lions' defense which ranks 30th yielding 29 FPts/G to opposing running backs.
4) Don't go crazy over Matt Breida's 20-point performance in Week 10.
Breida (<1% rostered) was still third among the running back room in touches behind Devin Singletary (8) and Zack Moss (7). And it was the Jets, who rank dead last in running back points allowed. And the Bills are still a pass-first team behind Josh Allen, Stefon Diggs, Emmanuel Sanders, Cole Beasley and Dawson Knox. And Allen still vultures touchdown runs from the red zone. Plus, the Bills next two opponents rank among the top-four best in RB fantasy points allowed.
5) Being behind isn't always bad for your running back.
In fact, two running backs have produced almost 100 fantasy points while their team was down by at least a touchdown. The Lions' D'Andre Swift has scored 99 for his 163.9 fantasy points (60.4%) this season and Michael Carter has produced a whopping 93.1 of his 122.3 fantasy points (76.1%) while the Jets were behind by at least seven points.

Lies

"If the facts don't fit the theory, change the facts." – Albert Einstein
1) In the "new" Eagles run-first offense, Jordan Howard has become a solid RB2.
Sorry, but his useful fantasy days are already behind him. While he has averaged 13 FPts/G over the last three contests, the return of Miles Sanders (ankle) should trim Howard into a 6-8 touch backup running back after seeing 13.7 touches since Week 8. Sanders is averaging 4.8 ypc ranking 10th among qualifying RBs and if he gets 16-18 touches behind this solid OL he should end up being a low-end RB1 - though not this week as their opponent in Week 11, New Orleans, ranks No. 1 in RB points allowed, yielding just 16.5 Pts/G. In Week 12 and 13 the Eagles face the Giants (25th) and Jets (32nd).
2) Don't worry Matthew Stafford (18.2 FPts/G the last two games) will bounce back in a big way after the bye this weekend.
I'm worrying. Robert Woods was a huge part of the Rams' offense and Odell Beckham Jr. can't do everything Woods was capable of doing. Additionally, the schedule isn't the best heading down the stretch and into the fantasy playoffs. His next five opponents all rank in the top-14 for QB fantasy points allowed and it wouldn't be until Week 17 that Stafford would see a below average defense (Baltimore ranks 23rd). Perhaps he still has trade value if you have a backup QB who is start-worthy.
3) Jared Goff probably leads all quarterbacks in points produced while being behind by a touchdown-or-more because the 0-8-1 Detroit Lions are always behind.
False. While he does lead all quarterbacks in yards passing while behind by seven-points-or-more (1316), he's far behind in fantasy points produced in this situation. See chart below. Jalen Hurts and Lamar Jackson lead the way. Interestingly, Jackson has done it despite his team having a winning 6-3 record which is pretty amazing while Hurts' Eagles are 4-6 and have been behind on the scoreboard for significantly more of the time.
4) There are many who say Deebo Samuel is the most dangerous receiver in football.
Incorrect. The numbers below say the most dangerous receiver in football is Mike Evans, who produces 3.79 fantasy points every time he catches the ball. Samuel ranks fifth. There are just nine receivers who produce at least three points per touch.
5) Joe Mixon and Ezekiel Elliott are efficient running backs when rushing for 100 yards or more.
Actually they are pretty inefficient. The pair almost always need more than 20 carries to reach the 100-yard fantasy bonus. That's a problem for Mixon who hasn't seen 20 carries in a game since September, or Elliott who has seen Tony Pollard grab a solid portion of the workload. Elliott cracked the 100-yard mark in both games this season when coaches saw fit to give him at least 20 carries. As an interesting side note, in his rookie season Nick Chubb once cracked the 100-yard mark with just three carries (63-yard TD run, 1-yard gain and a 41-yard TD run against the Raiders).