The National Football League expanded its season to 17 games this year with the intention of further expansion to 18 games as soon as possible, but this season's devastation to elite running backs is a reason to reconsider this strategy. I know it will never happen because the search for the almighty dollar never loses. But I thought they were also for protecting their players?

It also appears to be a disaster for fantasy leagues. Only seven of the top-24 running backs from a July 1 pre-season ranking have escaped through the first 12 weeks of the season without missing a game and you can likely scratch D'Andre Swift off that list this weekend.

Byes: Carolina, Cleveland, Green Bay and Tennessee.

Truths

"In a time of universal deceit, telling the truth is a revolutionary act."- George Orwell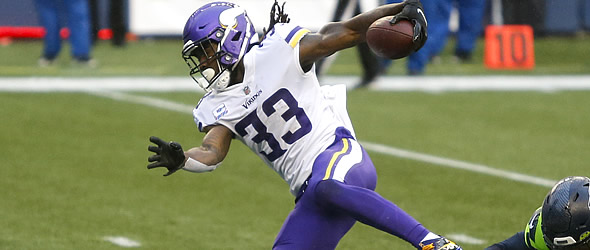 1) Round 1 running back draft selections are killing fantasy owners.
Running backs ranked No. 1 through No. 5 (as of July 2021) have all missed significant time (at least three games) – Christian McCaffrey, Dalvin Cook, Alvin Kamara, Derrick Henry and Saquon Barkley. Add in Nick Chubb (RB8) and it's been mostly a disaster for fantasy owners with an early draft choice. Four healthy exceptions (Jonathan Taylor, Austin Ekeler, Joe Mixon and Najee Harris) will probably be leading their respective teams to a 2021 title game if they can stay on the field.
2) Eagles may not be sold on Jalen Hurts as their "franchise" quarterback, but he's still playing at a QB1 level for fantasy players.
True. Even in the Eagles latest offensive structure of "running more and passing less," Hurts has been a top-10 quarterback the last three weeks (22.9FPts/G ranks sixth). His arm isn't strong enough for the deep throws, but his legs more than make up for it in the fantasy world. With one of GM Howie Roseman's current infatuations playing horribly (Russell Wilson) and the other, Deshaun Watson, still dealing with off-the-field issues, it will be interesting to see if the Eagles give Hurts another chance to start in 2022.
3) Speaking of Wilson, his three performances since coming back from the IR due to a finger injury have been historically bad for him.
Fact. It's the second-worst three-game set since he came into the league in 2012. I could only find one three-game span worse – games No. 5-7 of 2016 when he didn't throw or run for a single touchdown and managed just 37 fantasy points. And yet, his 14.6 FPts/G while horrible, is more than the averages of Matt Ryan, Baker Mayfield and Trevor Lawrence over the same three week span.
4) Joe Mixon can thank the Bengals passing attack.
Mixon's emergence (career-high 19.6 FPts/G) corresponds with the Bengals' passing game becoming the most potent since the days when Carson Palmer, Chad Johnson and T.J. Houshmandzadeh helped make Rudi Johnson (1309 rushing yards, 12 TDs) a household name. That was a long time ago (2006). The threat of Joe Burrow, Ja'Marr Chase, Tee Higgins and Tyler Boyd is opening up the ground game for Mixon to produce the highest-ranked Bengals fantasy running back since Corey Dillon ranked ninth in 2001.
5) After a fast start and despite a good game against Dallas, Derek Carr is probably too inconsistent for you to count on him for your run to get into the fantasy playoffs.
Since the first three games, when two went into overtime inflating his FPts/G to a monster 28.5, his last eight games have included four games below 20 points. He faces an improving Washington pass defense (23.1 FPts/G over the last three vs. 27.5 for the season) and a Chiefs team which is 30th ranked for the season, but 10th over the last three game span (16.8). Sometimes, timing is everything.

Lies

"Faith, as well intentioned as it may be, must be built on facts, not fiction--faith in fiction is a damnable false hope." – Thomas Edison
1) You can still have fantasy "love" for Cam Newton.
Sorry, no. Newton was exposed for what he is at this point of his career after all the hits and pounding he took over the years. He's inaccurate as a passer (just barely at 60%) in a league now designed to make passing easier. He'll be a scary start from here on out as head coach Matt Ruhle proved last week he'll bench him if he has another poor game (5-of-21 for 92 yards and two INTs) for backup P.J. Walker. That limits Newton's chance for "garbage time points." Said Ruhle, "I'm not making any changes or anything like that, right now." The "right now" at the end of this sentence is the key phrase to focus in on.
2) Antonio Gibson has been a disappointment this season.
Only to those who thought he was destined for elite status after a very good rookie season. That still could happen. He's not far behind last season's production (14.7 FPts/G vs. 13.9 in 2021) despite playing through injury. Yes, he did have a bad three-game stretch (Week 6-8) where he couldn't practice and was limited during the game, but he's healthy now (81 touches last three games) and should be very good the rest of the way. If J.D. McKissic's head injury (possible concussion) leaves him sidelined for any length of time, Gibson could be great. In Week 13 he has a juicy matchup against Las Vegas (ranked 28th against opposing fantasy running backs).
3) Clyde Edwards-Helaire will finally break out and run like a 2020 first-round draft pick should.
I'm afraid that's not what I see happening. The Chiefs with Patrick Mahomes just don't run the ball consistently enough to allow him the opportunity to blossom. In 21 career regular season and playoff games he's seen 20 rushing attempts just three times … and none since Week 6 of 2020. What's more, he isn't getting many shots for easy scores inside the 10-yard line. That's likely because he hasn't been very successful. Last season CEH saw 24 rushing attempts inside the 10-yard line and scored just twice. Meanwhile, Mahomes had eight rushes inside the 10-yard line and scored four times. In 2021, Darrel Williams has scored on 8-of-24 tries from that same distance. Limited attempts plus no easy scores equals fantasy disappointment.
4) McCaffrey's replacement, Chuba Hubbard, will be a star running back after the Panthers Week 13 bye - just in time for the fantasy playoffs.
I think he's a very good option in Week 14 against Atlanta, but for the fantasy playoffs he'll unfortunately be a bust. Don't overvalue him for two reasons; the schedule and Ameer Abdullah. The run defenses after the game against the Falcons are elite. In Weeks 15-17 he faces Buffalo, Tampa Bay and New Orleans. That's seventh-best, fifth-best and top-ranked, respectively. And if you needed more reason not to overvalue him, the Panthers didn't have Abdullah earlier in the season when Hubbard shined for the injured "CMC" and Abdullah has become the receiving option and runs a little too.
5) I like the Andy Dalton-to-Darnell Mooney connection, but it's not that good.
Actually, since Dalton returned to the lineup in the middle of the third quarter against the Baltimore Ravens in Week 11, it's been a very good combination. In fact, they are averaging 6.36 FPts/Quarter over those 5.5 quarters which extrapolates to 26.5 FPts/G. It won't be easy for the pair in Week 13 against a tough Cardinals pass defense, but after that Green Bay and Minnesota have not been very good defensively against wide receivers since Week 10 allowing 42.8 and a league worst 46.1 fantasy points to opposing wideouts. They could be a sneaky good early round fantasy playoff connection for a couple of weekends.