If you have been watching this preseason intently Ö stop. Now forget almost everything you think you learned. Because the preseason means nothing. For most teams the preseasonís entire purpose is to determine the last four players on a teamís roster. Starters on offense and defense rarely make an appearance. If you could watch practices against opposing teams, it would be more useful.

Other than injuries, I ignore preseason. Look below at the leading passer, rusher and receiver since 2015. Of the 21 stat leaders over seven seasons, I see one player who will even develop into a fantasy-worthy starter Ė Rhamondre Stevenson. OK, Robbie Anderson had a couple of WR2 seasons too.
Seven Years of Preseason Leaders
Preseason
Regular
Year
Leading Passer
Tm
Yds
TDs
Yds
TDs
2022
Sam Howell
WAS
547
1
x
x
2021
Nate Peterman
CHI
583
2
0
0
2019
Ryan Griffin
TB
744
4
18
0
2018
Tyler Bray
CHI
652
1
0
0
2017
Matt Simms
ATL
613
1
0
0
2016
Matt Barkley
ARI
630
4
1611
8
2015
Landry Jones
PIT
724
4
513
3
Seven Years of Preseason Leaders
Preseason
Regular
Year
Leading Rusher
Tm
Yds
TDs
Yds
TDs
2022
Jason Huntley
PHI
163
2
x
x
2021
R. Stevenson
NE
216
5
606
5
2019
Nick Brossette
NE
200
3
0
0
2018
Chris Warren
OAK
292
2
0
0
2017
Corey Grant
JAX
191
1
248
2
2016
Mack Brown
WAS
227
1
82
1
2015
Zach Zenner
DET
183
2
60
0
Seven Years of Preseason Leaders
Preseason
Regular
Year
Leading Receiver
Tm
Yds
TDs
Yds
TDs
2022
Lance McCutcheon
LAR
259
2
x
x
2021
Malik Taylor
GB
185
0
14
0
2019
Jakobi Meyers
NE
253
2
369
0
2018
Javon Wims
CHI
227
1
32
0
2017
Dede Westbrook
JAX
288
2
339
1
2016
Robby Anderson
NYJ
264
3
587
2
2015
Rashad Ross
WAS
266
4
0
0

Now that youíve erased your mind of the last month of exhibition play, letís see what has happened over the last 30 days which should have changed your evaluation of certain players.

Running back Dameon Pierce flat out beat Marlon Mack and journeyman Rex Burkhead and will be the No.1 guy in Houston. In fact, the team cut Mack at the deadline. Pierceís 107.3 ADP should jump significantly higher as the news gets out to the public, but beware of over-valuing a Houston RB as they will likely be behind on the scoreboard for much of the season and passing more than running. Iíd rank him about 73, ahead of Miles Sanders but behind Damien Harris.

Guaranteed first-round running back, Najee Harris (ADP 6.7), is dealing with a Lisfranc foot injury which greatly increases your risk if you select the Steelersí running back. This injury can be a four-week type (torn ligament a.k.a. sprain) or season-ending (fracture or dislocation). It appears to be the former, but a re-injury is now more likely.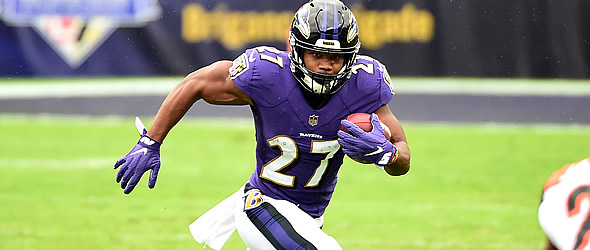 The Ravensí recent signing of Kenyan Drake is concerning for J.K. Dobbins fans. Dobbins is still dealing with his knee issues (ACL) and might be slow out of the gate. With Gus Edwards set to miss the first four weeks, Drake or Mike Davis could get some significant play. Only a healthy Dobbins is fantasy-worthy out of this backfield group.
Geno Smith won the starting quarterback job in Seattle, getting the nod over Drew Lock. Iím still not in on DK Metcalf or Tyler Lockett, but if I had to choose one it would be Metcalf. In Smithís three 2021 starts, Metcalf produced 14-197-3 while Lockett had 16-189-0 (142 in one game).
Mitchell Trubisky beat out rookie Kenny Pickett Ö for now. The pressure will be on the veteran to perform right from Week 1. Fortunately, the Steelers are loaded with receiving talent (how do they do it every year?) adding talented rookie George Pickens to Diontae Johnson and Chase Claypool.
Early in training camp Aaron Rodgers ripped the Packersí receiver room, but make a note; he later praised Christian Watson and Romeo Doubs. Of Doubs, he said ďHeís made some instinctual plays that you canít really coach. I think the standard for him is not going to be maybe the standard for a normal rookie that weíve had here in the past four to five years.Ē The Packers havenít brought wideouts along quickly (even Davante Adams had to wait his turn as he posted 38-446-3 his rookie season), but 2022 may be different by necessity. At an ADP of 168.3, thatís not much to pay for what could be a high ceiling if he becomes Rodgersí favorite target.
Doug Pederson didnít come back to coach in the NFL just for a paycheck. Itís interesting to note he came back to coach a very talented, very young quarterback. Trevor Lawrence should take giant steps forward under Pedersonís coaching. Meanwhile, the team brought in Christian Kirk to help the receiving room and gets second-year RB Travis Etienne (missed his entire rookie season due to injury). This team may not win a lot this season, but the offense should be able to move the ball and thatís valuable for fantasy owners.
Donít overlook Allen Robinson because his numbers were ugly in 2021 (38-410-1). On his new team, he should get open a lot with defenses trying to stop Cooper Kupp. Unlike Justin Fields, Matthew Stafford will find Robinson Ö often.
Having read all the news on Alvin Kamara, Iím convinced that any suspension for his off-the-field incident will take place in 2023, not this season. Draft him as you always would.
Now, my click-bait paragraph.
Donít doubt a healthy Christian McCaffrey, his ceiling is higher than Jonathan Taylorís ceiling. Saquon Barkley will be the Comeback Player of the Year. Carson Wentz is better than people give him credit for. In four of the last five seasons he has tossed just seven interceptions, while connecting for 124 touchdown passes. The combination of Terry McLaurin and rookie Jahan Dotson are the best pair of wideouts heís had in the NFL.
Finally, good luck in your draft and remember the most important thing is to have fun… and winning is fun!