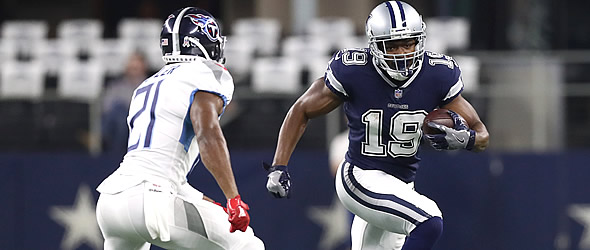 Dallas sent Amari Cooper to Cleveland for a fifth-round pick in the upcoming draft and a swap of sixth-round selections. On the surface, it seems a strange move by the Cowboys, but an obvious move for the wide-receiver desperate Browns.

Dallas, however, is dealing with a budget crunch and ridding itself of Cooper's final three seasons in a five-year, $100 million goes a long way in fitting all the pieces under the cap. It also should allow the team to sign both of their current free agent wideouts, Michael Gallup and Cedrick Wilson, if they desire.

There was also a rumor floating about that Cooper and star quarterback Dak Prescott haven't been getting along very well. Social media was reporting that after the Cowboys lost to the 49ers in the playoffs, Cooper called Prescott the "black Kirk Cousins." Considering Cousins is 10-40 against .500+ teams for his career and 1-3 in the playoffs … the comment obviously didn't go over well.

Cooper production in Cleveland

The 27-year-old Cooper will immediately become the Browns No. 1 wideout after they released Odell Beckham Jr. last year and just recently gave Jarvis Landry (52-570-2) permission to seek a trade. Additionally, Rashard Higgins is an unrestricted free agent. Assuming Landry is gone, the Browns' receiver room consists of Cooper (68-865-8 with Dallas), Donovan Peoples-Jones (34-597-3), Demetric Felton (18-181-2) and Anthony Schwartz (10-135-1).

There are two primary areas to evaluate to determine Cooper's production in 2022. First, his ability to get opportunities in a more run-oriented offense. Secondly, the difference in talent levels from Prescott to Baker Mayfield.

When looking at the Cowboys and Browns over the past two seasons, Dallas passed it 58.7% of the time versus the Browns at 51%. The Dallas offense threw the ball 265 times more than the Browns. On the other hand, in Dallas, Cooper has to share wideout targets with the uber-talented CeeDee Lamb, Gallup and Wilson. Seeing what the Cleveland wide receiver room currently looks like, unless they sign a free agent or draft someone early, targets should be dominated by Cooper. Even with two solid pass-catching tight ends in David Njoku and Austin Hooper there is no reason Cooper can't see 125 targets.

So the question comes down to whether Mayfield can throw him enough "on target" passes. In Dallas, Prescott completed 68.8% of his passes (fourth-best). Mayfield was ranked 27th at 60.5% behind the likes of Jalen Hurts, Carson Wentz and Daniel Jones. Mayfield's best completion percentage of his career was in his rookie season when he still completed just 63.8%. His "Bad Throw" percentage in 2021 was the worst of his career – 20.9%. So while Cooper may see a lot of passes come his way, unless there is a change at the quarterback position in Cleveland (Deshaun Watson or Jimmy Garoppolo anyone?), he likely will not be able to improve on his 2021 yardage and touchdown totals.

Cooper's absence on Dallas

Even if the Cowboys traded Cooper to sign their two UFA wideouts, I believe the Dallas offense will still be a man short on the outside to start the season. Gallup suffered an ACL tear in January so there is no guarantee he'll be ready for opening day. They would begin the season with Lamb, Wilson and emerging star tight end Dalton Schultz. The result of Cooper's absence, however, will likely see Lamb face the opposing team's best CB and almost constant over the top coverage. Lamb will still get his targets and fantasy points, but unless Gallup returns at full strength or they find another dangerous target on the other side, Lamb won't be a top-five wideout. My top-five would be; Ja'Marr Chase, Justin Jefferson, Davante Adams, Cooper Kupp and Tyreek Hill. Lamb is close, No. 6 or No. 7, but he just misses.

Meanwhile, the biggest jump in fantasy value on the Cowboys should end up being Wilson. The 2018 sixth-round pick out of Boise State showed up well at the end of the season. Over the final two weeks of the regular season and in the Wild Card game he averaged 7.3 targets, 5.3 receptions, one touchdown and 18.5 fantasy points primarily as the slot receiver. As it stands right now, instead of the No. 4 receiver as he was to start 2021, Wilson is likely to start the season as the No. 2 wideout and stay there until Gallup returns. Even then he is No. 3 and moves back to the slot where his speed works the best.

Final thoughts

Things can obviously change between March and September. Both these teams still need to address their respective wide receiver rooms during free agency or the April college draft. Cleveland more so than Dallas given the expectation that Gallup will return from his injury in a reasonable timeframe. It's unlikely, however, that either team will use a pick at the position until late Day 2 or Day 3.

And in truth, the Browns need to find a franchise quarterback … Mayfield isn't the answer. If the Browns can improve their quarterback play, Cooper's value could skyrocket.