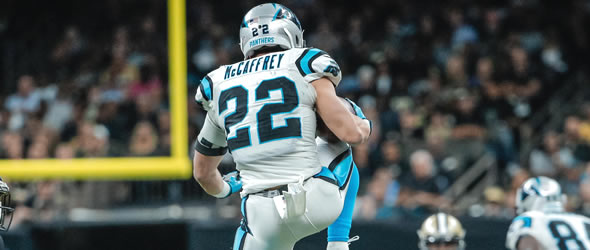 Usually with high-risk, comes high-reward and in Christian McCaffrey that is most assuredly the case. McCaffrey can be the best fantasy running back in the entire league Ö or the best running back watching from the press box while you struggle to make the fantasy playoffs.

In 2019, McCaffrey led all running backs with a stunning 29.3 FPts/G average. He rushed for 1,387 yards and 13 touchdowns and caught 116 balls for 1,005 yards and four more scores. CMC played all 16 games, amassed 469.2 fantasy points and likely led whoever drafted him to a fantasy championship.

That was more points than the record-setting Cooper Kupp produced last season and more points of any running back since LaDainian Tomlinson put up 474.3 points in 2006 (1,815 yards, 28 rushing TDs, 56 rec for 508 yards, 3 TDs, 2-for-3 passing for 20 yards and two touchdowns).

In 2020, he started the season right where he left off, producing 90.3 fantasy points in the first three games. Then disaster struck and CMC didnít play another game that season due to multiple injuries.

Still, fantasy owners assumed it was a one-time fluke issue as he has started 16 games in each of his first three seasons and the Panthersí running back was still a top selection on 2021 draft days. He started off strong averaging 26.2 against the Jets and Saints, but again lightning struck early in Week 3. He wouldnít play until Week 9, averaged 25.5 FPts/G in Weeks 10 and 11 and then in Week 12 was once again back on the sidelines and didnít play another down.

Two years, averaging 26.04 FPts/G when playing an entire game (8 games), but missing 23 complete games and two partial games.

So what are fantasy owners to do?

Heís elite when playing, but he missed 75.8% of the games from 2020-21.

First letís look at the type of injuries he suffered. Were they possibly career-ending? Did they require major surgery? Does he suffer the same injury over and over again? The answers are; no, no and no.

In 2020 he suffered a right ankle sprain, a right shoulder AC joint sprain and a thigh injury. No surgeries were needed. The following season it was a right hamstring injury and a left ankle injury. Again, no surgery needed and none was a repeat injury.

But can he stay healthy in 2022?

Your guess is as good as mine, but injuries are a part of the game of football and particularly at running back. And sure, Jonathan Taylor played all 17 games last season, but Derrick Henry played just eight games after back-to-back 1500-yard, 15 TD seasons. Alvin Kamara missed four games too. Joe Mixon missed 10 games in 2020 and Nick Chubb missed four games that year. Itís just a fact - running backs get hit by very big guys with ill-will in their hearts and they get hurt. The best running backs average playing 83.4% of their games. I actually thought that number would be lower.
10-Year RB Missed Game Analysis of Top-25*
Year
Total Gms
Gms Played
2021
425
335
2020
400
320
2019
400
354
2018
400
336
2017
400
337
2016
400
324
2015
400
317
2014
400
349
2013
400
336
2012
400
347
Total
4025
3355
T* Based on FPts/G
But injuries are a part of the game, so you must take precautions.
If you are planning on drafting McCaffrey, you better have DíOnta Foreman (free agent signed in March) on your roster as well. When Henry missed time last season, Foreman produced three 100-yard rushing games and averaged 4.3 ypc. He caught 81.8% of his targets and averaged 13.7 per catch. That must be why the Panthers got him in the offseason. They obviously werenít satisfied with Chuba Hubbardís rushing production (3.6 ypc) or passing-game work (67.6% catch rate, 7.0 ypr).
But even if you are ready to choose McCaffrey, how high should he go? Does he go before any of last seasonís top running backs? Higher than Taylor, Austin Ekeler, Najee Harris or Henry?
Thatís the million dollar question? Hereís my answer.
Not ahead of Taylor. The Colts star running back is getting better. He averaged 17.0 in his rookie season and 22.2 points last season. Heís played 32 of a possible 33 games. The running back depth chart looks similar to a season ago with Taylor and Nyheim Hines at the top. The OL is solid, not No.1 anymore after losing two starters, but still ranked No.10 in the latest PFF preseason list. Newly-acquired quarterback Matt Ryan does not steal many short-yardage touchdowns from his backs. Taylor should be elite once again.
But I would slot him in the No.2 spot.
Ahead of Ekeler. In April, before the NFL draft, the Chargers running back proclaimed heíd like to limit his touches to remain healthy. The GM said something similar last January. The Chargers then drafted Isaiah Spiller out of Texas A&M, who rushed for over a 1,000 yards the past two seasons. The team is going to limit Ekelerís ceiling, not his ability.
Ahead of Harris. Sure, Harris is a workhorse, but can a mediocre quarterback room keep opposing defenses from keying on the second-year running back? Harris averaged 17.4 FPts/G from Week 1-9 and 15.7 from Week 10-18 with Ben Roethlisberger (yes, a fading one). He had three of his four worst games in the second half of the season and a horrible playoff game against the Chiefs. It is possible defenses have figured him out. Can journeyman Mitchell Trubisky or rookie Kenny Pickett change the narrative? I think not.
Ahead of Henry. Henry is another workhorse, but unlike Harris isnít hugely involved in the passing game. He returned from a foot injury in time for the Divisional Round playoff loss to Cincinnati, so he should be physically ready. But his game is one-dimensional and the loss of threats like A.J. Brown and Julio Jones could lead to tough running against more overloaded fronts. Whether Treylon Burks and Robert Woods (when he returns to full form following his ACL injury) can distract defenses is key and we likely wonít know the answer until after our draft and the season begins. As a fantasy owner, I try to avoid unknowns at the top of the first round.
Bottom line; Iím ready to draft McCaffrey as the second-best running back.