More injuries and more byes will make Week 11 another difficult one for fantasy owners. This last weekend took a toll on tight ends with Zach Ertz and Dallas Goedert being sidelined and a huge blow to Cooper Kupp fans. However, it should get easier after that with zero byes over Thanksgiving and just two byes in Week 13.
Byes: Jacksonville, Miami, Seattle and Tampa Bay

Truths
"It is possible to store the mind with a million facts and still be entirely uneducated." – Alec Bourne
1) Week 11 has a plethora of top fantasy options sitting on the couch.
At the beginning of the season, fantasy owners would likely have thought Week 11 would be tough because Tampa Bay and Miami were on bye. But in addition to the Bucs and Dolphin stars, Jacksonville's Christian Kirk, Travis Etienne and Seattle's Geno Smith, Kenneth Walker and Tyler Lockett are all "plug and play" fantasy-worthy starters in 2022. Also, Trevor Lawrence is close. These are big jumps from preseason expectations which had none of them in the top-15.
2) The average age of a top-12 fantasy quarterback is 26-years-old (based on FPts/G with at least four games played).
True. In fact, if not for "old guys" Geno Smith (32) and Kirk Cousins (34), the average would be even lower (24.6 years old). Quarterbacking has become a young man's position… sorry Aaron and Tom. Why? Because running quarterbacks are the key to fantasy success. Nine of the top-12 have rushed for at least 140 yards and the average total on the ground is 290.5 yards and 2.4 rushing touchdowns.
3) 49ers head coach Kyle Shanahan said his "goal" is for Christian McCaffrey and Elijah Mitchell to have "about even carries" going forward.
Unfortunately, he did actually say this AND achieve it in Week 10. It is be a bit of a disaster for McCaffrey's fantasy value and an upgrade for Mitchell. In Mitchell's first game back from a sprained MCL he saw 18 rushing attempts and two targets, while McCaffrey saw 14 rushing attempts and 6 targets. Both can be fantasy-worthy with this volume, but neither likely to be elite. I believe Shanahan is thinking long-term to keep CMC fresh for the playoffs when his workload would rise.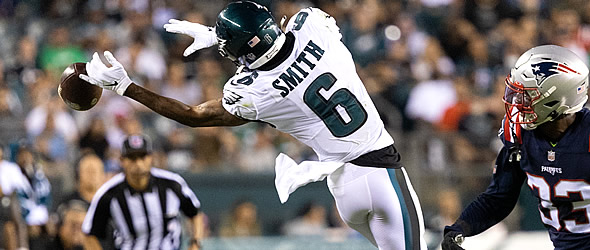 4) Monday night was not just the end to the Eagles' dreams of an undefeated season.
True. A.J. Brown suffered an ankle injury in the first quarter while making a seven-yard catch and although he returned to the field, he didn't catch another pass the rest of the game. He looked slower and defenders easily shut him down. Additionally, tight end Dallas Goedert will miss an "extended time" due to a shoulder injury. That's two big weapons missing from for Jalen Hurts' arsenal which could affect his fantasy value. Meanwhile, DeVonta Smith could see a big increase in usage and production.
5) If draft day is the best day of the year, why not have two of them?
I have found this statement to be true. My oldest league (the core owners are in our 41st season) play two half seasons. Not only do we get two draft days, but season-ending injuries don't kill your entire football year. Injuries like those to; Javonte Williams, Rashaad Penny, Michael Thomas, Breece Hall and Trey Lance only hurt for a couple of months… not the entire football season because we re-draft.

Lies

"Your theory is crazy, but it's not crazy enough to be true." – Niels Bohr
1) The return of Baker Mayfield to the lineup will help D.J. Moore and the Carolina Panthers receivers.
False. Moore averaged 8.5 FPts/G with Mayfield under center for six games this season and 14.4 FPts/G with P.J. Walker as the starter. Mayfield is averaging just 186 passing yards per game and that won't support any wide receivers. Let's face it… Mayfield is a first-overall pick bust of major proportions. He was better at making commercials than throwing touchdowns and owns a career 30-34 record.
2) Speaking of No. 1 overall picks used on quarterbacks, they have generally been a good move for general managers.
Sorry, no. I would have to say, "Please use the pick on something other than a quarterback." If we look at the QBs drafted No. 1 overall since 2005, their record is "spotty" at best. Half the picks could be called a failure at this point while two are "still to be determined."
No.1 QBs
Year
Quarterback
Team
Success/Failure
2021
Trevor Lawrence
Jacksonville
TBD
2020
Joe Burrow
Cincinnati
Success
2019
Kyler Murray
Arizona
TBD
2018
Baker Mayfield
Cleveland
Failure
2016
Jared Goff
LA Rams
Leaning to failure
2015
Jameis Winston
Tamps Bay
Leaning to failure
2012
Andrew Luck
Indianapolis
Success
2011
Cam Newton
Carolina
Success
2010
Sam Bradford
St. Louis Rams
Failure
2009
Matthew Stafford
Detroit Lions
Success
2007
JaMarcus Russell
Oakland
Epic failure
2005
Alex Smith
San Francisco
Failure
3) We shouldn't be concerned by Alvin Kamara's lack of usage the past two weeks.
False. The Steelers and Ravens both took Kamara's pass-catching out of the game. Now, Jameis Winston may return under center, with Andy Dalton taking a seat on the bench, and Winston isn't a fan of the check-down pass. In two games with Winston as the starter, Kamara caught five balls for just 19 yards. Sure, small sample size, but in 2021 they played seven games together and he averaged four catches for just 36.5 yards.
4) Dalvin Cook has been consistently good in 2022, ranking 10th and averaging 16.8 FPts/G.
Actually, there is a curious inconsistency in Cook's production - he's followed up every good game with a "mediocre-at-best" game. He's averaged 20.8 in the good games and 11.8 in the "bad" games. Check the chart below and beware of overvaluing Cook this weekend. Also, the Vikings' next opponent, Dallas, ranks top-five in fewest running back fantasy points allowed (19.9 per game) so the trend should continue.
| | | | | | | | | | |
| --- | --- | --- | --- | --- | --- | --- | --- | --- | --- |
| | Wk1 | Wk2 | Wk3 | Wk4 | Wk5 | Wk6 | Wk8 | Wk9 | Wk10 |
| Dalvin Cook | 13.8 | 7.6 | 15.6 | 10.6 | 26.1 | 15.3 | 25.1 | 13.6 | 23.6 |
5) Rams' wideout Cooper Kupp will return this season to help fantasy players by playoff time.
Sorry, but I'd have to bet against this one. Kupp was having another great season 75-812-6 and averaging 22.6 FPts/G, but he'll undergo ankle surgery on Wednesday and be placed on the IR. He's out a minimum of four weeks (through Week 14), but given the Rams' current ugly 3-6 record (last in the NFC West) and three possible losses over the four-game span (@ New Orleans, @ Kansas City, Seattle, Las Vegas) the team is likely to be 4-9 or 5-8 at best, with little-to-no chance for a playoff spot. At that point there is no longer a reason to bring back your prized possession who has three years and $80 million dollars left on his current contract.