The injury bug has arrived early this season. And the bye week portion of the season is just a few weekends down the road. Roster depth and attention to the waiver wire may be the keys to victory in 2023.



Truths

"The truth is more important than the facts." – Frank Lloyd Wright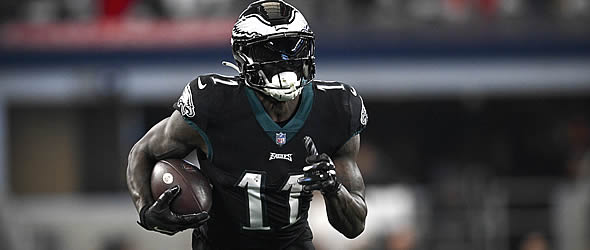 1) Two-game slumps are a thing in the NFL, but I'm not concerned - wide receiver division.
True. As long as the underlying factors; health of the player, quarterback and offensive line are good then a slow start means almost nothing. It just looks bad because itís so visible two games into the season. In 2022, Tyreek Hill had back-to-back games of 4-55-0 and 2-23-0 and still produced 1,710 receiving yards and seven touchdowns. And last yearís fantasy leader, Justin Jefferson, posted 6-48-0 and 3-14-0 in Week 2 and Week 3 last season. For this reason, I am not yet worried about A.J. Brown, who currently ranks 43rd (11-108-0 after two games). Jalen Hurts is healthy as is his great offensive line. Heíll be fine.
2) Two-game slumps are a thing in the NFL, but Iím not concerned Ė running back division.
True. Josh Jacobs is currently ranked 30th among running backs, but Iím not worried. He saw 21 touches in Week 1, but was essentially ďgame-scriptedĒ out of last Sundayís contest because they were too far behind on the scoreboard to continue running the ball. His next opponent, Pittsburgh, allowed 198 yards rushing last night, including 106 to someone named Jerome Ford (truth is advertising - I actually drafted Ford in two of my leagues). Last season, Christian McCaffrey rushed for 38, 39 and 32 yards in consecutive games from Week 11 through Week 13.
3) Two-game slumps are a thing in the NFL, but Iím not concerned Ė quarterback division.
True. The Eaglesí Jalen Hurts was almost universally a top-three selection at his position, but is currently ranked 11th after throwing for less than 200 yards in each of his first two games. In Week 1 he was rusty because head coach Nick Sirianni foolishly didnít play him a single down in preseason and in Week 2 the Eagles brain trust elected to keep the ball on the ground to keep the football away from the dynamic Vikingsí pass game and protect their injured secondary from getting cooked. It worked. The Eagles rushed for 259 yards and held the ball for 39 minutes and 28 seconds to just 20 minutes for the Vikings and won the game despite Kirk Cousin throwing for 364 yards and four scores. Hurts will be fine, there is no reason to panic or trade him.
4) The already thin ranks of the workhorse running back have taken numerous hits over the first two weeks of the season.
Fact. With Nick Chubb and J.K. Dobbins going down for the season, Saquon Barkley likely out multiple weeks and Austin Ekeler, Aaron Jones, Jamaal Williams and David Montgomery missing this past weekend, if you have a healthy running back on your roster his fantasy value is increasing exponentially.
5) Jerome Ford, Zack Moss and Tony Jones are the running backs to have in Cleveland, Indianapolis and New Orleans, respectively.
For now. Zack Moss has at least two more weeks where he should be a workhorse before Jonathan Taylor can return to action, but we canít be sure Taylor will ever play for the Colts again. Similarly, Ford has the ďkeys to the carĒ at the moment, but the Browns have a few options available which could alter the landscape. Former Brown, Kareem Hunt, is still a free agent as is Leonard Fournette and the Los Angeles Rams seem intent on trading Cam Akers. Personally, I think Fournette is toast at this point and Huntís numbers dropped drastically in 2022, so I think Akers is likely the only thing standing in Fordís way of being an RB2 fantasy option. In New Orleans, Jamaal Williams pulled a hamstring Monday night which should leave Tony Jones as the best option for Week 3. But the Saints also used Taysom Hill effectively at running back and in Week 4 Alvin Kamara returns from suspension, so Jones is likely only be a one-week option.

Lies

"There are three kinds of lies: lies, damned lies, and statistics." – Benjamin Disraelir
1) Two-game slumps are a thing in the NFL, but I'm not concerned - wide receiver division.
False. Unlike A.J. Brown, JaíMarr Chase is off to a slow start after likely being the second receiver drafted in your league and I AM worried. Chase himself is fine, but his star quarterback, who missed the entire training camp due to a calf injury, re-injured the same calf in Week 2 and was last seen limping off the field. I would have no faith in second-year backup Jake Browning being able to produce at a high enough level to allow Chase to be a top-two fantasy receiver.
2) Two-game slumps are a thing in the NFL, but Iím not concerned Ė running back division.
False. Iím very concerned about the play of Dalvin Cookís replacement in Minnesota Ė Alexander Mattison. Mattisonís volume isnít high enough to produce as expected, just 12.5 touches per game, and heís not producing when called on (3.3 ypc) which makes seeing more volume less likely. Unlike past seasons, the Vikings have become extremely pass-happy with a 77%-23% pass-to-run ratio to date. That ratio was 62-38 in 2022 and 57-43 in the last season under Mike Zimmer. So itís not fair to expect Mattison to produce like Cook.
3) Two-game slumps are a thing in the NFL, but Iím not concerned Ė quarterback division.
False. Those who thought Kenny Pickett was in for a breakout season have been greatly disappointed. Pickett ranks 28th among quarterbacks averaging just 15.3 FPts/G. Heís been sacked seven times behind a porous OL, heís lost his No.1 receiver for a month, his No.1 running back appears to be out to lunch and his offense isnít very creative.
4) Najee Harris is the best running back on the Steelers roster.
Not based on the first two games. Harris has seen just 16 rushes and 18 touches through two games for 76 yards and no scores. Backup Jaylen Warren has seen 18 touches and produced 114 yards. Warren is getting almost all the receiving work. I have no faith that Harris will turn it around any time soon as he seems slow and uninspired.
5) Antonio Gibson and Cam Akers have fantasy value.
I remember when Gibson was a valued fantasy player. It was all the way back in 2021 when he rushed for 1,037 yards and caught 42 balls for 294 yards and three scores. He finished eighth among all running backs that season. But apparently the Washington management team didnít feel the same way. They drafted Brian Robinson Jr. in 2022 and heís been they favored option ever since.
Meanwhile, Akers is on the trading block after a solid 2022 campaign in which he rushed for 786 yards and seven touchdowns and finished last season with three consecutive 100-yard games. Rams management seems intent on making Kyren Williams the solo workhorse, but getting rid of a solid backup seems strange given how often running backs get injured. Unlike Gibson who seems stuck in the backup role, Akers could find fantasy value if he gets traded to a favorable situation.