Oh my, the chaos! The disorder! The mayhem! Six teams on bye and a quarter of the league's starting quarterbacks injured. Multiple running backs sidelined. Wide receivers struggling without their starting quarterbacks. What's a fantasy owner to do?
This is why you drafted for depth. This is why you have been working the waiver wire. If you have been working hard since draft day, this weekend is your reward.
Byes: Carolina, Cincinnati, Dallas, Houston, New York Jets, Tennessee

Truths
"I think your team evolves every year. The more you know about it, the better you can coach it." – Bill Belichick
1) If you thought your team didn't score enough, but you still won, it's because it was a very low-scoring week.
In fact, at every position except tight end, Week 6 combined for their lowest weekly total of the season. Even at tight end, the total was more than 100 points lower than the previous weekend.
Total Fantasy Points by Week
Pos
Wk 1
Wk 2
Wk 3
Wk 4
Wk 5
Wk 6
QBs
564.5
726.2
649.0
644.6
585.4
530.9
RBs
675.4
674.6
693.9
680.7
596.8
554.9
WRs
1013.3
1245.6
1164.7
1050.3
962.4
945.0
TEs
288.5
390.9
351.0
370.2
406.8
299.2
2) Looking further at the chart above, in a league where everything is built to showcase the passing game, the passing game has become a problem.
True. I blame much of it on injuries. Expected preseason starters; Anthony Richardson, Kyler Murray, Daniel Jones, Aaron Rodgers, Justin Fields, Deshaun Watson and Ryan Tannehill are all dealing with injuries. Joe Burrow had been a shell of himself for a month with a calf injury. Thatís a quarter of the league. Additionally, Trevor Lawrence (knee) will struggle to be ready for his Thursday night date with New Orleans. Now add six teams on bye this weekend and itís going to be tough to get normal production from the quarterback position, particularly in two quarterback leagues. Meanwhile, top-five quarterbacks like Josh Allen, Kirk Cousins and even Patrick Mahomes didnít play up to their usual standards in Week 6. What a mess!
3) The wide receiver position is suffering because of the lack of good quarterback play.
Obviously. The league average of wide receiver fantasy points scored for Week 1-4 was 1,118.5 points. That number has taken a nose dive in the last two weeks. Wide receiver production dropped 14% in Week 5 and 15.5% in Week 6.
4) The running back position hasnít escaped this growing trend either.
Of the top-10 running backs, based on FPts/G, four have suffered injuries which could keep them off the field for next weekend. Devon Achane (25.9 FPts/G) and Kyren Williams (18.5) are definitely going to miss multiple games while Christian McCaffrey (oblique) and David Montgomery (ribs) are to be determined. Add in top-five back Zack Moss, now splitting time with the return of Jonathan Taylor in Indianapolis, and fully half the top-10 running backs are in disarray.
5) Tony Pollard misses Ezekiel Elliott.
Fact. In the past, Elliott was given most of the tough yardage assignments (short yardage, goal line) leaving Pollard to enjoy the more explosive plays. Without Zeke, Pollardís rushing average is down from 5.2 ypc last season to 3.9 ypc this season and his receiving is down from 9.5 yards per catch to 7.0 yards. Pollard saw 14.5 touches per game in 2022 and is getting 20.2 chances in 2023. At that pace (322 touches for 16 games), the question is whether the team will wear out the 6í0, 209 lb. running back? Pollard has never been used more than 232 times in any season Ė college or pros.

Lies

"False words are not only evil in themselves, but they infect the soul with evil." - Plato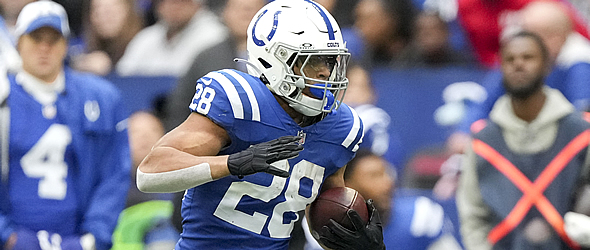 1) Top-10 running back Zack Moss is still a viable top fantasy option.
Iím leaning toward no. All-Pro Jonathan Taylor doubled his touches from his first week back (Week 5) to last Sunday (seven-to-13). Moss went in the opposite direction going from 25-to-13 touches. The percentages are likely to continue in their current directions. Both backs were active in the passing game with Moss leading Taylor in targets 7-6. Both backs have their work cut out for them over the coming weeks facing Cleveland and New Orleans, who rank 8th and 2nd, respectively, in fantasy points allowed to opposing running backs.
2) D.J. Moore, who ranks 11th in fantasy points per game (20.0), is quarterback-proof.
Sorry, no. I have no faith in 23-year old Tyson Bagent from the ďfootball factoryĒ Shepherd Rams. For those who donít know, thatís a Division II school where he threw for 17,034 yards and a DII record 159 touchdowns. Iím willing to bet, however, that none of the defenders he played against in college will be the same as the guys heís got to throw against over the next few games. Iíd have to say, stay away from the Bears passing offense until Justin Fields returns.
3) Dameon Pierce is a viable long-term RB1.
False. Pierce, a fourth-round pick in 2022, may be going the way of James Robinson in Jacksonville and Michael Carter for the Jets. They each exploded onto the scene as a late-round draft choice or an UDFA and become a fantasy stud. Then the team went in a new direction despite the success. Jacksonville drafted Travis Etienne even after Robinson produced 17.9 FPts/G in 2020. The Jetsí Carter averaged 11.2 FPts/G as a rookie in 2021 and then they drafted Breece Hall who averaged 16.7 points last season. The Texans traded for Devin Singletary (free agent in 2024) even after Pierce averaged 13.1 FPts/G last season. Pierce is averaging just 2.9 ypc this season. The running back room may be a long-term weakness and I wouldnít be surprised if the Texans go running back in round two in the next draft.
4) With all the quarterback issues for Week 7, its possible Kenny Pickett could become viable option.
Probably not, though the statistics are mixed. Pickett currently ranks No. 28 among quarterbacks with multiple starts. Even with the expected return of Diontae Johnson the immediate future looks to be a struggle for Pickett. The Steelers have no running game to speak of, Najee Harris and Jaylen Warren have yet to produce. The offensive line has allowed a 29.4% pressure rate - only Zach Wilson, Geno Smith and Daniel Jones have seen more pressure. The only good news is the schedule. The Rams and Jaguars have been very generous over the past three weeks. They rank 31st and 26th, respectively in quarterback fantasy points allowed other that span.
5) If you have been stashing Elijah Mitchell all season, now is your reward.
Nope. First, itís not guaranteed that Christian McCaffrey wonít play in Week 7. Second, even if the 49ers take the prudent strategy and make sure CMC is ready for later in the season and the playoffs, itís not a given that Mitchell is their first option. Mitchell only saw two carries last week while Jordan Mason rushed five times for 27 yards and a touchdown. Mason also saw 10 carries for 69 yards and a score in Week 5. Heís running well. If McCaffrey doesnít play in Week 7, this is likely a split backfield against a Vikingsí run defense which ranks fifth against opposing running backs allowing just 15.7 fantasy points per game.
6) The Eagles just signed Julio JonesÖ there is something wrong with DeVonta Smith.
No, the Eagles signed Jones to a one-year deal for depth and for a veteran who knows his place is to help the starters, former teammate A.J. Brown and the struggling Smith. Jones could be a decent No. 3 receiver taking the place of Quez Watkins and Olamide Zaccheaus. He doesnít have elite speed anymore, but heís still got good hands, something Watkins doesnít have. After a strong start in the first two games, Smith has lost his way just as Brown exploded. Smith has just 17 catches for 156 yards and zero scores since Week 3 while Brown has produced four consecutive games with at least 127 receiving yards. Maybe Smith needs to scream at Jalen Hurts like Brown did after Week 2?