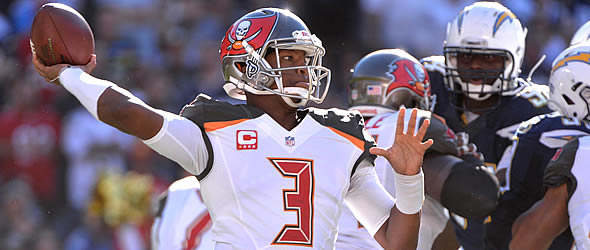 Note: Salary amounts are DraftKings pricing
Quarterbacks
H2H/Cash - Jacoby Brissett vs. Atlanta - $5,200
Brissett has not done much this season to impress you from a fantasy perspective. His 6.1 yard per pass average is one of the worst in the league, and he has yet to top more than 200 passing yards in a game. On a positive note, his 5:1 passing touchdown to interception ratio is pretty good considering he has played two solid defenses on the road in Tennessee and the Chargers. With a home game against Atlanta, Brissett is a cheap source for a decent floor for cash owners with a possibly of a big game in what has the makings of a shootout. I also like that Marlon Mack may be limited, which could force the Colts to throw more than they would like.
Other options to consider - Philip Rivers vs. Houston & Matt Ryan @ Indianapolis
GPP - Jameis Winston vs. New York Jets - $5,400
The Giants allow the third-most points to opposing quarterbacks this season, with Dak Prescott and Josh Allen combining to throw 685 yards and five touchdowns, with 11 combined rushes for 21 yards and a score. Although Winston has been a bust up to this point, I like him to have a big game this week and plan on stacking him with Mike Evans, another player who is due for a bounce-back game.
Other options to consider - Kyle Allen vs. Arizona & Lamar Jackson @ Kansas City
Fade - Dak Prescott vs. Miami - $6,500
Dak has been a stud and will certainly get you some early fantasy production in this game. But with how terrible Miami has played this year and a possible defensive touchdown or two in the realm of possibly, I'm not sure Dak is going to have a monster game in what could be a blowout by halftime.
Running Backs
H2H/Cash - Frank Gore vs. Cincinnati - $4,400
If you are looking for a solid cash game play that is inexpensive, you should look no further than Frank Gore. The ageless one may be collecting social security before he finally hangs up his cleats, but he is in an excellent position to get 20 carries against a terrible Cincinnati run defense that allows the 5th most points to opposing running backs. He is not sexy. He will likely rush for less than four yards per carry. But he has a decent shot to score a touchdown or two and is an excellent value at his price tag.
If you are looking for a high-dollar player who is worth the high cost, Zeke at home against a team that quit before the season started is a nice option.
Other options to consider - Ezekiel Elliott vs. Miami & David Johnson vs. Carolina
GPP - Miles Sanders vs. Detroit - $3,900
Sanders has yet to live up to his draft capital or hype with just 53 yards on 23 touches. He has not been a huge factor in the passing game, with the other ageless one Darren Sproles continuing to be the favorite pass-catching back for Philly. I do like the fact that Sanders is still the first running back on the field, he has been getting red zone touches, and the Eagles may run the ball more this week due to injuries in the passing game. Rolling the dice here, but I think Sanders has a breakout game and is a steal at $3,900.
Other options to consider - Kerryon Johnson @ Phildelphia & T.J. Yeldon vs. Cincinnati
Fade - Le'Veon Bell @ New England - $7,000
Bill Belichick is licking his chops at the prospect of playing against a third-string rookie quarterback this week. As is usually the case for the Patriots, the defense will look to take away the best player on the opposition and force a rookie QB to beat them. Bell will no doubt get a ton of targets, but I anticipate his yardage will be low and owners will not get the return on investment from a 7k player.
Wide Receivers
H2H/Cash - Kenny Golladay @ Philadelphia - $6,600
Despite having a ton of receiving options to choose from, including Danny Amendola, Marvin Jones, and rookie tight end T.J. Hockenson, Matthew Stafford continues to make Kenny G his favorite target with 19 targets in two games, including eight catches for 117 yards and a score last week against the Chargers. As long as Golladay keeps getting close to ten targets, I will continue playing him in DFS.
Other options to consider - Julio Jones @ Indianapolis & Larry Fitzgerald vs. Carolina
GPP – D.J. Moore @ Arizona $5,900
Only Michael Thomas has more targets than Moore this season, making him an exciting option at $5,900 against one of the worst defenses in the league. If you want to get really saucy, stack Moore with Kyle Allen in DFS and surround them with expensive studs.
Other options to consider - Calvin Ridley @ Indianapolis & Demarcus Robinson vs. Baltimore
Fade - Davante Adams vs. Denver - $7,600
As an Adams owner is season-long leagues, it pains me to say this, but I think Chris Harris is going to do a solid job limiting Adams to 50 yards and no touchdowns this Sunday. The possible return of Bryce Callahan to the slot will give Vic Fangio the option of having Harris, one of the better cover corners in the league, shadow Adams.
Tight End
H2H/Cash - Zach Ertz vs. Detroit - $5,700
I find it very difficult to move away from a player like Ertz after he was the recipient of 16 targets in last week's loss to the Falcons. The Eagles are banged up at wide receiver, and Wentz will continue to lean on his favorite target.
Other options to consider - Greg Olsen @ Arizona & Darren Waller @ Minnesota
GPP - Will Dissly vs. New Orleans - $3,400
Dissly posted five catches for 50 yards last week against the Steelers. With Marcus Lattimore taking away Locket or Metcalf outside, look for Wilson to continue to find his favorite tight end target this weekend.
Other options to consider - Austin Hooper @ Atlanta & T.J. Hockenson @ Philadelphia
Fade - Jason Witten vs. Miami $3,700
Witten did the World a favor by returning to the field after a disastrous season as the color commentator on Monday Night Football. With seven catches and two touchdowns in his first two games, Witten has been red zone threat for Dak Prescott. The problem is Witten has just 40 yards on those catches and is the definition of a boom or bust, touchdown-dependent option. I'm not banking on him scoring in three-straight games.
Defense & Special Teams
High Priced Option Worthy of the Cost: Patriots ($3,800) vs. Jets
Well Priced with Upside: Bucs ($2,800) vs. Giants