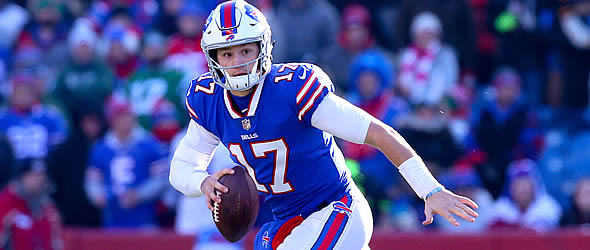 Note: Salary amounts are DraftKings pricing
Quarterbacks
H2H/Cash - Matt Ryan vs. L.A. Rams - $6,300
I am sticking with Ryan in my cash game lineups against the Rams this week based on a number of factors. First, he has thrown for over 300 yards in every game this year. Second, his defense continues to be terrible, and the Rams are going to have a ton of success scoring against the Falcons. And third, this game is indoors and at home. There are many reasons to start Ryan this week and very few to bench him.
Other options to consider - Kyler Murray @ N.Y. Giants & Deshaun Watson @ Indianapolis
GPP - Josh Allen vs. Miami - $6,500
Allen has been a disappointment from a fantasy perspective in 2019, with only one game of 20 or more fantasy points. The rushing yards haven't quite been there, and he's thrown more than one touchdown in only one game this season. Miami is the cure-all for what ails your team, and Allen will be a stud this week.
Other options to consider - Daniel Jones vs. Arizona & Jimmy Garoppolo @ Washington
Fade - Aaron Rodgers vs. Oakland - $6,400
I'm not sure why you would play Rodgers this week when he has practice squad players for a wide receiving corps, especially considering you can play Matt Ryan and save $100.
Running Backs
H2H/Cash - Leonard Fournette @ Cincinnati - $7,000
If you do not play Fournette this week in cash, you are likely going to be at a disadvantage. Yes, he is expensive, and a ton of people are going to play him, but the matchup is too good to pass up, and Fournette's volume continues to be elite.
Other options to consider - Dalvin Cook @ Detroit & Frank Gore vs. Miami
GPP - Devin Singletary vs. Miami - $5,400
I love Frank Gore as a cash play this week against his old team and would not be surprised to see him lead the team is carries. But I also love Singletary in this matchup as a homerun play, with the Bills going up big and Singletary taking advantage of a team tanking for next year.
Other options to consider - Josh Jacobs @ Green Bay & Latavius Murray @ Chicago
Fade - Aaron Jones vs. Oakland - $7,100
The lack of usage and production from last week and the fact that the Raiders are not terrible against the run has me looking elsewhere than Jones this week. It is possible that he has another multi-touchdown game, or he could burn you with Jamaal Williams stealing the show.
Wide Receivers
H2H/Cash - T.Y Hilton vs. Houston - $5,900
Death, taxes, and Hilton posting monster numbers against the Texans are things all fantasy owners can count on as certainties. In 14 career games against Houston, Hilton averaged 103 receiving yards with nine receiving touchdowns. Hilton is not a big TD guy, but he has always torched the Texans. The fact that his salary is so low makes him a no-brainer.
Other options to consider - Julio Jones vs. Los Angeles Rams & Cooper Kupp @ Atlanta
GPP - Robert Woods @ Atlanta - $5,900
Woods scored his first touchdown of the season against the 49ers last week, yet still failed to score double digits in fantasy points. This offense has stunk, and Woods continues to be burned by terrible play by Goff and the offensive line. The only way I would play the veteran wideout is if he had an excellent matchup against a bad defense in what looks like a high-scoring game. This week's game against the Falcons ticks all those boxes.
Other options to consider - Calvin Ridley vs. Los Angeles Rams & Dante Pettis @ Washington
Fade - Michael Thomas @ Chicago - $7,900
Thomas has done a solid job weathering the Drew Brees injury storm with no fewer than 16 fantasy points in a game this year. Sure, he will have a ton of volume in the passing game, but I doubt he will return the cost of his salary in what could be a field goal game between two solid defenses.
Tight End
H2H/Cash - Austin Hooper vs. L.A. Rams - $5,300
Hooper was my cash game play last week and will be again this week at home against the Rams. Not only does this game have the makings of a shootout, but Hooper's average of nine targets in each of the last three games makes him an elite option without having to pay an elite price like for Kittle or Engram.
Other options to consider - Darren Waller @ Green Bay
GPP - Dawson Knox vs. Miami- $3,300
Did you spend all of your money elsewhere and need a tight end with a high ceiling and a low price tag? Knox at home against Miami is your guy. Shockingly, the Dolphins are one of the worst defenses against tight ends, along with every other position on the field.
Other options to consider - Hunter Henry @ Tennessee
Fade - George Kittle @ Washington - $6,700
If you buy into the revenge narrative of Kyle Shanahan going scorched-earth against his old owner, then you do not want to fade Kittle. I think the 49ers win this game easily, but behind a huge day on the ground for the running backs and a monster performance by Dante Pettis.
Defense & Special Teams
High Priced Option Worthy of the Cost: Bills ($5,400) vs. Dolphins
Well Priced with Upside: Packers ($3,400) vs. Raiders