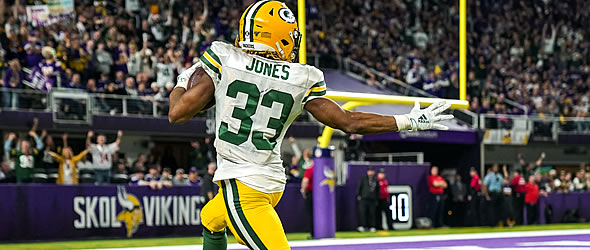 Aaron Jones scored as many touchdowns in 2019 as Leonard Fournette has in his entire career (19).


2019 was not friendly to owners who used a first-round draft pick on a running back. David Johnson, Alvin Kamara, James Conner, LeíVeon Bell, all failed to provide RB1 fantasy production while running backs taken in the second, third, and beyond stepped up and joined the elite RB1 club.

Derrick Henry and Aaron Jones proved to be league winning running backs for owners who were lucky enough to add them in after their respective ADPís of 36 and 28, while Austin Ekeler took advantage of Melvin Gordonís holdout and mediocre production to finish as the No.10 RB on the season.

Who will be the first round busts this year, and who will be the value picks to emerge as RB1s? Only time will tell, and we are way too early in the process with free agency and the draft still down the road.

For those owners out there jonesing for some way too early fantasy rankings, here are my top 12 running backs if I were drafting today.

No surprise here. McCaffrey followed up his third-place 2018 performance with a fantasy season for the ages. He posted 2,392 total yards and 19 touchdowns while adding an impressive 118 receptions on 143 targets. CMC lapped the field, even with Derrick Henry and Aaron Jones delivering breakout seasons. Donít overthink this one. CMC is the clear RB1 again in 2020.

Zeke quietly had a solid season with 1357 rushing yards and 12 touchdowns. Although he did see a drop in his receptions from 77 to 54, he did still provide enough in the air to make him a top-five running back. I like the move to McCarthy at head coach, and I think the Cowboys offense as a whole is going to be one of the best in the league. Some may have Barkley here, but Iíd rather have the safer play in the better offense.

Even with a rookie quarterback and a high ankle sprain that limited him to just 13 games, Barkley proved he is a fantasy force with 1451 total yards and eight touchdowns. His average points per game did fall a bit from 18.3 to 14.8, but I believe that can be attributed to the injury, Daniel Jones, and the offense struggling. I see a bounce back for Barkley and a top-three finish in 2020.

Yes, Henry did trail only CMC in fantasy points per game, while improving his yard per carry average to over 5.0 for the first time in his career. Henry keeps trending in the right direction and looks poised to be a monster again in 2020, assuming he signs with the Titans, and they give him over 300 carries again.

Cook looked to be the steal of the draft with 100 yards and a least one touchdown in his first three games. While he did end up with his first 1000-yard season and double-digit touchdowns, he still managed to play in only 14 games and is still looking to shed the injury-prone tag. If he can stay healthy, the sky is the limit for Cook, and he has the talent to be the RB1.

To put Aaron Jonesí third-year breakout season in perspective, consider this: he scored as many total touchdowns in 2019 as Leonard Fournette has in his entire career (19). The Packers know what they have in Jones, and they will continue to ride their horse with Aaron Rodgers and the passing game taking somewhat of a back seat.

Kamara burned fantasy owners last season to the tune of 797 rushing yards and only six total touchdowns. His 81 receptions helped ease the pain in full PPR formats, but it is safe to say he did not live up to his top-4 ADP. With Brees back again and the Saints offense still projected to be a top-10 unit, Kamara is still worthy of a selection in the back end of the first round.

Only Derrick Henry rushed for more yards last season than Nick Chubb, and Chubb made the most of an otherwise dreadful 2019 season for the Browns with eight rushing touchdowns and 1772 total yards. If the knuckle-head, Kareem Hunt, continues to make bad decisions and gets booted from the team, Chubb could be one of the steals of the draft at the end of the first round.

To say Mixon started slowly would be a gross understatement. He posted five single-digit games in his first seven, including 1.7 points to start the year against Seattle. His finish to the season was a whole different story, with at least 136 rushing yards in three of his last four. I like that the Bengals are drafting Burrow, and hopefully, the offensive line can stay healthy.

Jacobs lived up to his first-round NFL Draft stock with 1150 yards and seven touchdowns in just 13 games. Jacobs averaged nearly five yards per carry, saw at least 20 rushes in half of his games, and posted three multi-score games. The Raiders love him and will get him the ball - fantasy owners should love him as well.

The good news for Fournette is he became a focal point of both the running and passing game for the Jags in 2019, with 265 rushes and a team-high 76 receptions. The bad news is that even with all of that volume, he still finished outside RB1 status in points per game because he managed just three touchdowns. Is positive touchdown regression in his future?

I wanted to put Chris Carson here over Gurley, but Carsonís injuries make me nervous, and I anticipate the Seahawks will pass a bit more in 2020. With regards to Gurley, he did finish as the No.12 RB in large part because of his 14 total touchdowns making up for the worst rushing total of his career. I want to avoid Gurley if possible, but if the team makes the adjustment and improves their offensive line, Gurley could be a great value.