Going Against the Grain




8/23/12



You know what I've always tried to do and have had success with in drafting my fantasy football teams over the last dozen years? Going against what other people are doing. It really does tend to be a good path to success. Others zig, so you zag. Here are some historic examples:
Everyone is drafting RB heavy: Go get a stud WR, maybe two.


No one wants to pay for a stud TE with an early pick: Do it.


Everyone is waiting as long as possible to draft a QB: Hey, the most talented QBs are actually worth a hefty premium (I was admittedly a bit slow on this last one).
Some would call this simply staying ahead of the curve. Some people have legitimate instincts for predicting what is coming next. Me? If I had a superior grasp on seeing the future, I think I'd apply it to other walks of life, like the stock market, currency futures or straight up betting on the NFL (more immediate payouts than fantasy football).
I may not be able to predict the future—or at least want to claim that—but I am able to assess how the majority is drafting, which helps me alter my own draft strategy to take advantage of gaps in value others may be overlooking.
Problem: 2012. It seems there is no single top strategy to fantasy success these days.
We have any of four positions being drafted in the first round. The stud TE became the super-stud TEs (two of them) and don't typically make it through two rounds. The top-tier QBs are gobbled up quickly. Some say you must have a stud QB to compete. Some are still willing to wait. The RB position is thin this year, so more risk has to be taken in trying to find one who earns enough weekly touches (and can be productive with them). The WR position is deep, but drafters still won't let a star WR pass them by, knowing how important those reception points are.
It seems there is less rigid positional strategy than there ever was, and owners are drafting positions in almost any combination through the first four or five rounds to form the core of their team. So if my desire is to go against what others are doing, what is that exactly?
Well, with the last in the series of mock drafts I participated in this summer, I pulled an off-the-wall though not necessarily recommended draft approach that is the complete opposite of what most fantasy "experts" are recommending this year. I didn't plan it going in, as you'll see from the pick commentary below. The draft just evolved into an opportunity to try something completely different.
So…RB thin, WR deep? If that is what everyone is spouting, then let's turn it on its ear and go whole hog at WR and mine for gold at RB—where potential landmines litter the field anyway because of injuries and starters being usurped by the team's next unsung plug-and-play option. Shanahanigans, indeed.
Note that this is a point-per-reception scoring league where you start 1 QB, 2 RB, 3 WR, 1 TE, 1 Flex RB/WR/TE, 1 K, and 1 DEF. I was assigned the fourth pick in the draft, just as I was two months ago. For a more traditional approach to drafting from this spot, check out that draft.
For this one, I ended up waiting to draft my first RB until . . . here it comes . . . the sixth round! My draft went WR-WR-WR-WR-TE-RB-RB-QB through eight rounds.
Again, I'm not necessarily recommending this approach by any means; it is extremely risky and offers practically no flexibility late in the draft. Sometimes you have to stretch the bounds of common sense, though, just to see how it might turn out. This is just a game after all, so why not have some fun with it?
And strangely enough, I'm surprisingly happier with this team than I thought I was going to be when I decided to go down this path. Yes, the RBs are rather pathetic, but heck, look at those receivers! Have fun with your own fantasy draft, and best of luck this season!
- Images courtesy of the Draft Buddy.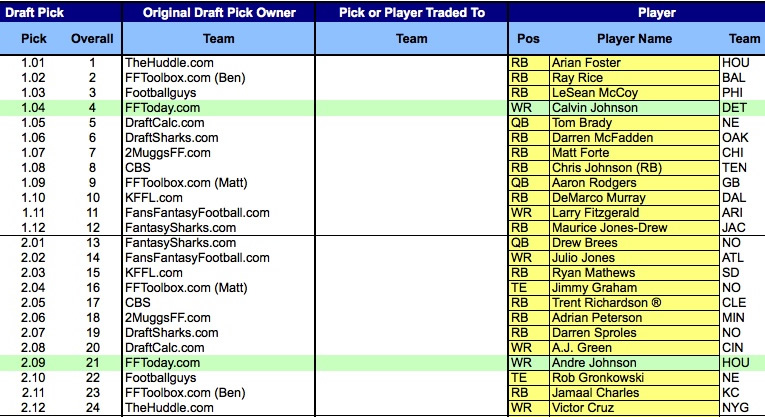 1.04: WR Calvin Johnson, DET
I am pretty tempted to go with an RB given the perceived depth at WR versus RB this year, but Madden curse be damned, I'll take Megatron because he is so dominant at his position.
2.09: WR Andre Johnson, HOU
There are a lot of different directions I could go here. WR-WR to start isn't at the top of people's strategies this year—more like a Plan C or D—but I like Andre Johnson quite a bit, while I'm more even on the available RBs. I'd rather wait at QB. I'm loath to leave that second stud TE for one of the guys who got a top 3 RB already, but c'est la vie. Short of getting Jimmy Graham, I'd rather wait at TE, too.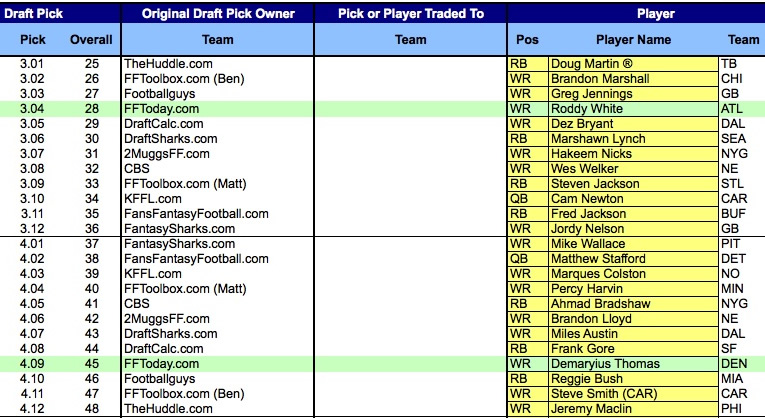 3.04: WR Roddy White, ATL
I was hoping for Jamaal Charles to fall here. And as a Bills fan, I've got too much pent-up angst against Marshawn Lynch to trust him with even the smallest of red flags next to his name on my cheatsheet. White's not a sexy pick, but he's a reliable, high-target guy who people are writing off a little too soon as we're all wowed by the young guy, Julio Jones.
4.09: WR Demaryius Thomas, DEN
Remember that old game show, Press Your Luck? Feels like I'm playing that right now with this mock draft. I know I should be taking an RB here, or a QB or a TE. I had an RB queued up, with the write-up ready to go and everything. And then I thought... what if? Thomas looks really tempting. How is this going to turn out if I grab my Flex starter—another WR—and then still need to fill the other skill positions later? I'll take a hit at RB no doubt, but if I remember last year, in half of these drafts a bunch of my RBs didn't last the season anyway. Okay, lets find out. No whammies!
5.04: TE Antonio Gates, SD
I had Michael Turner, Michael Vick and a pair of TEs pre-drafted at this pick—in reverse order. Gates was my number one choice, although it was really dead even between him and Aaron Hernandez. Already certain I'm going to get raked over the coals for this draft, I'm not going to settle for an average RB in Turner (had he made it) or C.J. Spiller just to finally address the position. I'd rather get players capable of being the best at their position while they are still available, of which Gates, Hernandez and Vick fit the bill.
6.09: RB Kevin Smith, DET
Smith surprised everyone when he was pulled off the street midseason last year and performed well. Off the street, people! Now look at him: the last guy standing from a trio that included Jahvid Best and Mikel Leshoure to start the season, and with a full training camp under his belt. Smith showed his talent as a rookie and has clearly rededicated himself to the game with his comeback. His staying healthy has always been a concern, but with so many pros in his favor—talent, opportunity, high-powered offense, pass-catching ability—he is a good bet to produce what I need, and perhaps then some. I'm happy getting him at this point in the draft when RB pickings are slim.
7.04: RB Donald Brown, IND
With two of the three teams to the left of me passing at QB, I can pass as well and wait until the next round. Of course I have my preferences at QB, and anything could happen in this draft, but playing the odds, I should be in line for a good starter. This allows me to keep digging for a decent RB after my early WR hoarding. Donald Brown—yeah, never been a big fan—has the opportunity to put up some numbers and is a good pass catcher. He's the most experienced running back on the Colts, and the team should lean on him to protect their new prized asset. He's a worthwhile bet at this price.
8.09: QB Ben Roethlisberger, PIT
Not the QB I was hoping for on the way back, but I'm still pretty satisfied with Roethlisberger as a late-drafted starter. He's got a trio of good receivers, now that Wallace is expected back, and the running game looks like a bit of a mess—plus the defense is showing its age. Big Ben could be in line for more passing attempts than we are accustomed to seeing from him. Here is to hoping his stats trend upward, too, and that his body can handle the wear and tear—a legitimate concern, for sure.
9.04: RB Cedric Benson, GB
I'm not loving this pick, but I've backed myself into a corner here in having to take an RB, and Benson seems like a reasonable risk at this point compared to the other options.
10.09: RB Kendall Hunter, SF
The 49ers backfield is crowded, but Hunter looks willing and able to make a strong contribution. I don't expect much from Brandon Jacobs—and this pick was made prior to learning of Jacobs' injury. I'm happy to add Hunter as an RB4, given the strength of the San Francisco running game and the need to limit Gore's carries to keep him healthy.
11.04: QB Matt Schaub, HOU
I could wait for my backup QB a little longer, but with Big Ben as my starter, I should acquire one a little earlier than I otherwise would, plus Schaub seems to be a little undervalued right now. The Texans will be a top contender in the AFC, and Schaub should be in position to put up some strong numbers as a result.
12.09: WR Alshon Jeffery, CHI
Time to add my first WR since Round 4. Pickings are pretty slim at this point, but I'll take a chance on this rookie, who has two pretty good preseason games under his belt and should start ahead of Devin Hester and Earl Bennett. With opposing defenses paying a lot of attention to Brandon Marshall, Jay Cutler should be able to find Jeffery a fair bit.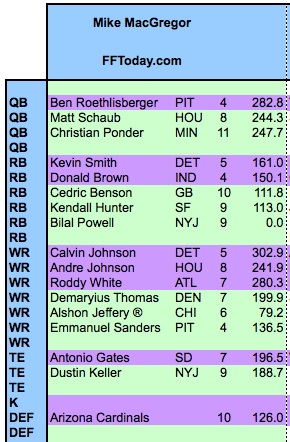 13.04: TE Dustin Keller, NYJ
I think Keller is going to have a hard time making the Pro Bowl in the same conference with Gronk, Hernandez and Gates, among others, but he is the poster boy for the tried and (sometimes) true "Well, someone has to catch the ball" fantasy football theory. Hopefully Sanchez/Tebow can keep up their end of the bargain and the Jets average more than three points a game this season.
14.09: RB Bilal Powell, NYJ
From a handful of boom-or-bust prospects available, I've still got to lean toward RB since I'm more set at WR. Powell gets the nod as the one I least want to let slip away. This is a reach for him here, but he's had a strong camp and I feel he will be next in line if the Jets decide to switch out Shonn Greene.
15.04: QB Christian Ponder, MIN
16.09: WR Emmanuel Sanders, PIT
17.04: DEF Arizona Cardinals
18.09: K TBD
19.04: DEF TBD
20.09: K TBD