Pick 1.08




7/31/12



Here I am, back again with another draft review for our readers to mock. That's why we call it a mock draft, no?

Seriously though, this is the second in a monthly series of mock drafts involving various fantasy football websites. The drafts are 12-team, performance scoring with 1 point-per-reception, using starting lineups of 1 QB, 2 RB, 3 WR, 1 TE, 1 Flex RB/WR/TE, 1 K and 1 DEF.

In June I drafted from the fourth spot and started with Ryan Mathews. For this draft I had the eighth pick overall, so quite a different scenario drafting from past the midpoint of the first round as opposed to being near the top of the order.

I really didn't have a set plan going into this draft, other than waiting to see what choices fell to me in the first then picking the best available player, and then running through my tiered Draft Buddy cheatsheet from that point forward to build my team.

As it turned out, I unexpectedly landed Aaron Rodgers with the first pick. Excellent. That made my first-round choice easier than I thought it would be.

Upon reflection of my overall team, though, I'm not sure how enamored I am with it. It seems a little too much on the risky side, as I took shots on more players than usual for upside.

I usually think of the core of my fantasy teams as my top three or four players within the RB, WR and TE positions. What I need to keep reminding myself is that, oh yeah, I got the best QB in the league, and he makes up for a lot where my normal core is a little weaker than usual.

Overall I couldn't be too much happier with the way Rounds 4 through 9 worked out, but the crucial second- and third-round picks of Jamaal Charles and Dez Bryant will go a long way in determining the success of this team.

There will certainly be doubters about each of those guys. Hey, I have some doubts myself, which is why we mock these things out in the first place. Practice makes perfect. So go ahead, mock away . . .

- Images courtesy of the Draft Buddy.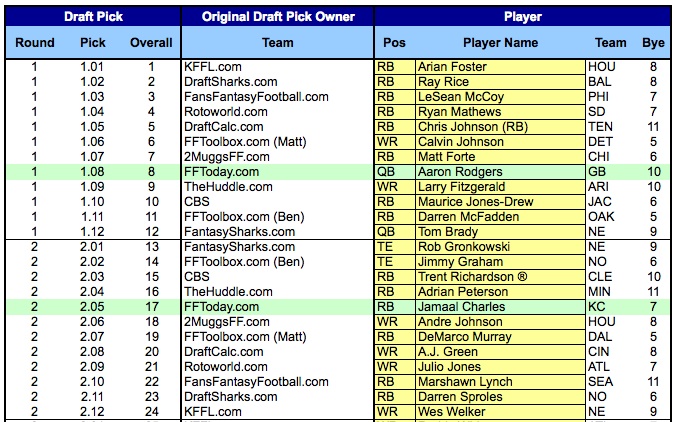 The great thing about fantasy football in 2012 is that you can start with any of the four skill positions to build your team around. I'm not in love with taking a QB this early (old habits), so it isn't something I planned on doing going into the draft. But I do respect the advantage of having Rodgers, so I'll be flexible and tag him to start off this team. I feel fortunate to add him here because in most drafts he won't last until the eighth pick.
Here I really debated between Andre Johnson and Jamaal Charles. Marshawn Lynch was also a consideration prior to his DUI charge. With the depth at WR this season, I decided to grab the best RB on the board. That is debatable of course, as is most everything in fantasy football, but even in the likely scenario that Charles gets less touches than the other RBs drafted in this range, he has shown the elite skills to create more production with the touches he does get. I'm not very concerned with his return from injury, given how early it happened last season.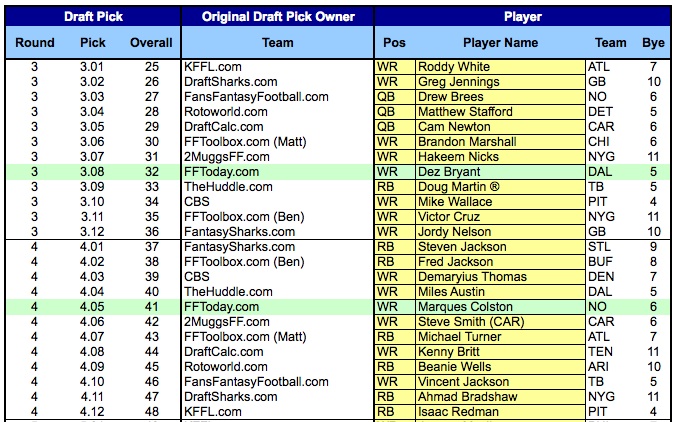 With a QB-RB pairing through the first two rounds, and this being a PPR scoring league, I'm now getting a little nervous waiting for a WR. I log off the website with pre-draft picks of Brandon Marshall, Hakeem Nicks and Dez Bryant, in that order. Then news breaks about Dez's domestic issues with his Mom involving the police, Marshall and Nicks get snatched up, and here I am left with Bryant.
His value is down now and he will likely be taken a little later in drafts; but really, I'm not sure the hit will be that significant. This guy has continued to be drafted higher than his production through two seasons because of one reason—potential. He's still got that potential. He's inherently risky, and we know this, but one of these seasons he may just pay off huge for the risk takers.
A suspension is possible, but given his mother's own apparent troubles, I wouldn't expect one long enough to be the deciding factor in whether this pick was a mistake or not. He'll still play plenty of football. It's what he does in those games that will either wow us or underwhelm us once again.
I'm not excited about the RB choices here, while the top available WRs are getting a little thin. With Bryant in tow as my WR1, and recent news knocking his value down, it feels right to go back to the WR well with a more conservative and reliable option. Marques Colston represents that at this stage of this career: a consistent 80 catches, 1,000-plus yards and 8-9 touchdowns. Even with the turmoil hitting the Saints this offseason, Colston still has one of the best quarterbacks in the league throwing to him, so I feel good about this pick.
Had Jahvid Best made it here, I would have considered pairing him up with Jamaal Charles at RB, but the next best TEs are turning into good value at this point. Ideally I would wait another round, but I don't think either Aaron Hernandez or Antonio Gates are making it back to me if I pass on them here. I like their catch and touchdown potential enough to pay a small premium over the next group at TE—Vernon Davis, Jason Witten and perhaps Jermichael Finley. I'll go with Hernandez, even in his shared role with Rob Gronkowski and with the addition of Brandon Lloyd to the Patriots. Remember, Hernandez was the youngest player in the league his rookie season, and talent-wise he is off the charts, so using the cream-rises-to-the-top philosophy, his 79-910-7 line last year may not be his high-water mark.
6.05 – RB Jonathan Stewart, CAR
Drafting Jonathan Stewart seems to be a recurring theme for me in mock drafts this season. Through four seasons and less-than-expected results, people are shying away from Stewart because he has a tough time earning enough opportunity to be a reliable starting fantasy option. Opportunity can change quickly. Talent can't be taught.
To that end—much like the Dez Bryant and Aaron Hernandez picks—I'll draft Stewart at this price for his talent and take my chances that a better opportunity presents itself to him and he literally runs with it. This may end up being a good example of a risky, high-upside team overall, but if you're going to draft QB, WR and TE early, go for the gusto and take your shots on a handful of talented, high-upside players in the mid to late rounds. If one or more of them pans out, you could really have a dominant fantasy team.
Sure, Reggie Wayne is 33, which marks a downward trajectory to his career from here on out, but I love his value at this stage of the draft and I'm happy to add him as my WR3. I essentially got another Marques Colston three rounds later. Wayne put up 75-960-4 last season with a complete disaster at quarterback when Peyton Manning couldn't guide the ship. Rookie Andrew Luck is an immediate upgrade, and while I'm sure the Colts will continue to struggle to a degree, Luck with Bruce Arians at offensive coordinator will air it out and lean heavily on the established veteran receiver.
I wouldn't have minded James Starks falling to me at this pick, but he went three slots earlier. Peyton Hillis is another player I've drafted heavily this year, whether I've got Jamaal Charles or not. On the safe side, Hillis should have been the pick, since I feel he'll be productive in his own right, as well as being insurance for Charles.
Instead, since this is a mock draft, I decided to roll the dice and see how much further Hillis might fall. The answer: hardly at all, as he went right after this pick. Ben Tate was also a consideration as an important handcuff who produces as a backup. This goes to show that waiting on RB can still be a good strategy because nabbing one or two RBs in this range can net some big results once the season gets going.
Now, finally, on to my actual pick of David Wilson. Wilson is a rookie but steps into a nice, immediate opportunity in sharing the load with Ahmad Bradshaw. The Giants utilize two running backs effectively, and in watching Bradshaw's career with the club since his rookie season, I've never felt they truly trusted him to a great degree. They were sick of Brandon Jacobs' act, so it was no surprise he wasn't re-signed. They invested a first-round pick in Wilson, so clearly he's got some "it" factor the team likes. He's a very risky fantasy starting selection but a great RB3 to RB4 who could pay off handsomely sooner than many fantasy owners think.
9.08 – WR Darrius Heyward-Bey, OAK
I've been drafting DHB as a WR3 in a few mock drafts, so I'm happy to add him as a WR4 here. Denarius Moore is getting a lot of props as a potential breakout candidate, and while I think he is perhaps the more likely to do that, I'd say the competition is a lot closer than most people think. That makes grabbing DHB two rounds later a value pick to me. Once Carson Palmer was on board for the second half of last season, there was a clear uptick in DHB's targets and output, and he was more consistent. I'm expecting that to carry over into this season.
Pure upside pick here, I have visions (note the word "visions"—not the same as "expectations") of a possible Anquan Boldin-esque rookie season from Quick. He's going to start out of the gate and I still think Sam Bradford is a good quarterback. Bradford could easily lean on this guy for target practice. For a WR5, why not take the chance? Other good picks at this spot would have included Randall Cobb, another risky WR in a much better offense but further down the depth chart, a quality backup TE in Brent Celek, or a talented depth RB in Pierre Thomas.
At the previous pick, I had Pierre Thomas pretty high on my cheat sheet relative to other available RBs, but I really thought he was completely off the radar for most other fantasy owners. In fact, I'd myself say he is pretty far off the radar, but he did get snapped up. With a do-over, I take Thomas (Pierre) first and see if Quick falls to the 11th round. Instead I'll have to settle for Daniel Thomas, who backs up Reggie Bush and will compete with Lamar Miller for playing time.
Thomas (Daniel) seems to me to be a little unfairly evaluated from last season. He played hurt and, as has been common among too many rookie running backs to list in recent years, he just wasn't ready to make an impact in his first year. My guess is that he learned a lot from that experience, which will give him a leg up in holding off Miller. Even though we aren't expecting much of anything from the Dolphins offense, Reggie Bush's backup is a position battle to pay attention to, as there are good odds that that player's value will skyrocket quickly.
I'm not a fan of Robert Meachem in the least, and I could give or take Malcom Floyd. Floyd has played in 16 games once in his eight-year career, and never started in more than 10 in a single season. In extremely limited playing time, I liked what I saw from Vincent Brown. He's on the smallish side for a wide receiver, but he has the opportunity in his second year to catch passes from a very good quarterback.
He's certainly not the most exciting of backup QBs to grab, but when you invest in a first-round QB, you can afford to wait and wait at the position. In fact, you'd be silly not to; otherwise you're counteracting the benefit of taking a QB so early. To Flacco's credit, he doesn't miss time, and he's got that cannon arm and pretty darn good skill players to work with, too. Furthermore, his defense might be on the downslide, possibly resulting in more pass attempts in 2012.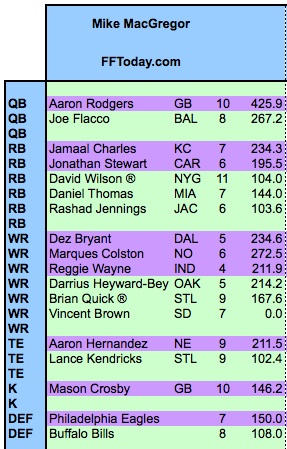 14.05 – DEF Philadelphia Eagles
The high expectations and subsequent crash and burn of the 2011 Dream Team hopefully humbled the Eagles enough to get them back to playing solid football in 2012. I suspect it will for this talented group.
15.08 – RB Rashad Jennings, JAC
I'm not really investing in Jennings because of a possible Maurice Jones-Drew holdout. I honestly don't think MJD will holdout and miss the real season. Jennings is a talented running back in his own right, so this late in the draft I'll take a chance on his returning to form from the injury that sidelined him last year. If he can, he's a valuable backup and handcuff, regardless of MJD's contract situation.
16.05 – TE Lance Kendricks, STL
You could certainly do better for a backup TE, but this late in the draft, when most teams already have two, you could certainly do worse than the upside of Kendricks in his second year. Kendricks looked great in preseason a year ago and then foundered badly once the season started. I don't think he'll be just an annual preseason performer. I think he just needs more time to adjust to the NFL and get on the same page with Sam Bradford.
One talented kicker from a high-powered offense. Check.
Follow up prior defensive selection with a team that could surprise after some bold offseason acquisitions . . . and a bit of homerism, to boot. Check.