Wide Receivers Gone Wild!




10/15/09



Aggressiveness is a characteristic that tends to reward fantasy owners more times than not. In the NFL, an offensive line will sometimes hold up long enough to give the quarterback enough time to beat man coverage down the field and make the defense look foolish against a fierce pass rush. More often than not, though, when a defense brings the heat and forces the action, crisis management becomes the name of the game for the opposing team.

In that same vein, I hope to apply that same kind of pressure to the owners in all of my leagues by beating my opponents to the punch in regards to personnel moves. Sometimes, reaching a conclusion about a player too quickly is much like trying to blitz Peyton Manning – dangerous and painful. However, coming to a correct conclusion two weeks or two minutes quicker than your opponents is considered foresight. Fantasy owners can be a uneasy lot, knowing that one two-or-three-game losing streak can wreak irreparable damage to his/her team's chances to make a visit to the fantasy postseason. But just as it is in the NFL and in life, it's hard to land the big prize by playing scared. Thus, I will strive each week to help each of you become a smart blitzer, so to speak.
---
About three times a season, I really dread Sunday. I suppose the same could be said for most people, but my sense of impending doom isn't due to in-laws or weekend obligations; it's due to the predictable unpredictability of fantasy football. It seems like a few times every season, the NFL flips on its head and churns out stats that make us shake our head and, more importantly for us fantasy leaguers, hands blowout wins to the less fortunate teams in our leagues.

In most leagues (PPR or non-PPR), the teams that possess the top RBs are usually the most consistent and, thus, the most successful. However, there are those weeks that shake the fantasy world to its very core - the weeks where receivers almost single-handedly win games by themselves. Sure, some WRs do it more often than others, which is a big reason why the Andre Johnsons and Randy Mosses of the league go so high in fantasy drafts. But unlike the running back position - where a player will give us at least a hint of a huge game by dropping a couple of games that catch our attention before producing big-time in the right matchup - receivers can deliver amazing statistical performances at any place or at any time.

"Unknown" receivers going off in the passing game is nothing new, but this past week was one for the ages. Of the 21 receivers that posted TDs this week, nine scored twice (and Braylon Edwards could have easily been #10). Of those nine two-TD wideouts, four of them went over the century mark and two went over 200 yards (Roddy White and Miles Austin). Certainly, few will argue that Johnson, Larry Fitzgerald and White were drafted early with the idea being that any one of those players could blow up and produce weeks like Week 5. Brandon Marshall has never been short on talent, T.J. Houshmandzadeh was probably going to give his new team one or two multiple-score games this year and Nate Burleson has produced before but his production less than 18 months after ACL surgery is making me look bad (even if all of his good games have come at home against poor defenses).

So maybe Austin Collie dropped us a couple of hints over the past few weeks with his increased target rate and corresponding stat lines, but nearly 100 yards and two TDs and better numbers across the board than Reggie Wayne? Jeremy Maclin filling in for an injured Kevin Curtis and making all DeSean Jackson owners furious? And the surprise of all surprises...who would have thought that Miles Austin would put up the numbers to make Cowboys' fans forget about Terrell Owens, if only for a day, in his first career start?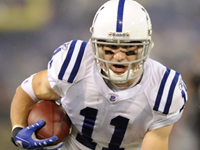 Is Anthony Gonzalez really the #2 wideout in Indianapolis?

I don't claim to have the answers yet regarding the WR situation in Indianapolis, especially if Anthony Gonzalez returns as projected after the Colts' Week 6 bye, which is looking more and more unlikely. Wayne is option #1 and TE Dallas Clark is option #2. After that, who knows? It was obvious listening to Peyton Manning in post-game interviews after Sunday's thrashing of Tennessee that Collie has certainly earned the QB's respect with his attention to detail and work ethic. Pierre Garcon is the team's best deep threat without a doubt, so where does Gonzalez fit? I'll be awaiting the answer, just like everyone else.

If I had to give each of you my best educated guess (which is what it is, a guess, at this point), if Gonzalez is deemed 100% healthy in the next two weeks, he forces Garcon into a five-to-10-play-per-game player. Collie has excelled in the slot, so I'd expect his playing time to remain the same, even if his production drops a bit. I do expect Gonzalez to live up to his preseason hype when he returns, although it'd be foolish of me to suggest it will happen immediately. Timing (and being in football shape) isn't something that occurs overnight, so if any of you are waiting on Gonzalez, view him as a low-end WR3 upon his return and a WR2 about two weeks after that. Optimistically, that may happen around Week 9 vs. Houston or Week 10 vs. New England.

Collie is probably here to stay as a low-end WR3 as probably the best slot option Manning has thrown to since Brandon Stokley years ago. It should be noted that Week 5's standout numbers came as a result of Tennessee's strict adherence to its Cover 2 shell, which takes away the one thing Garcon does well - go deep - and emphasizes the underneath routes - Collie's forte. After the Colts' Week 6 bye, they meet St. Louis, which means it may be Garcon's turn to have a field day.

Of all the undrafted fantasy receivers that have hit big over the past few weeks (Mario Manningham, Mohammed Massaquoi, etc), I think I would spend the most free agent money - and have the highest hopes - for Maclin. Kevin Curtis is reportedly on the trading block and, even if he is not, Maclin is more of a gamebreaker at this point. All the rookie needed since he arrived was for Curtis to become obsolete or miss some time, so Week 5 may have just given Philadelphia enough reason to make a move, be it via trade or a demotion for Curtis. Just like with Collie, keep expectations in check as rookies are inherently inconsistent and the receiver position in general is also inconsistent. Also bear in mind that Tampa Bay gives up the big play routinely, so another 6-142-2 line is highly unlikely. But in Philly's equal-opportunity offense, Maclin could be capable of producing a few more 100-yard, one-score days if defenses insist on doubling DeSean Jackson like the Bucs did.

Just like any other receiver who goes from a part-time role to besting Steve Smith's (CAR) complete-season fantasy point total in just one game, Austin has carved himself a new role within the Cowboys' offense. His Week 5 numbers probably entitle him into a role reversal with Patrick Crayton, if not equal treatment with Roy Williams in Tony Romo's eyes. However, it is worth noting he would be the #3 option for Romo on a team that wants to run the ball. With that said, it took all of one game to prove to HC Wade Phillips that Austin is his best YAC (yards after catch) wideout. Austin has the size and speed to produce on the outside, so he should be a good fantasy WR3 going forward. Bear in mind that while Austin took advantage of his situation, he had a series of events line up in his favor – a limited Marion Barber, an absent Roy Williams and a Chiefs defense that couldn't seem to tackle him - so while he's certainly worth a pickup, I think Maclin is the better pickup for 2009 and beyond.

And now, onto the workload and target breakdowns...

For RBs this week, I drew the line at seven touches/game and for WRs/TEs, I stopped at five targets/game, rounding up if I need to. Again, those are hardly foolproof limits, but once we get lower than those numbers, we are typically dealing with role players at best, which should be available on your league's waiver wire or on the cheap from an owner holding onto that player to fill out his/her roster. Each position will be sorted by touches or targets/game.



There seem to be some people out there touting Cedric Benson as this year's Michael Turner. First off, Turner is a straight-line, 245-pound behemoth that is a battering ram and a big play waiting to happen. While Benson has embraced his size since joining the Bengals, he is a cut-back runner who needs to break a tackle or two to produce a big play. From a fantasy standpoint, hopefully, no one is buying that Benson will hit 1,700 yards and 17 TDs. But the truth of the matter is the Bengals are sticking with the run longer in games more consistently than anytime I can remember since their glory days in the 80's with James Brooks and Ickey Woods. While Rudi Johnson and Corey Dillon each had long runs of multiple 330-carry seasons, Cincinnati is happy to pound Benson against the likes of the Steelers and Ravens in 2009 whereas in previous years, one unsuccessful run would have been followed by multiple Carson Palmer passes. The Bengals will eventually open things up a bit more and back off Benson ever so slightly, but Benson happens to run for one of the few teams that has rarely ever used a committee approach, so as long as he holds up health-wise, he'll be one of the few backs who will continue to average over 20 touches/game.

Much like Benson, Kevin Smith is showing he is up to the physical challenge of carrying his team's running game. The end of his fantasy season doesn't figure to provide much in the way of fantasy points (CIN, BAL, ARI, SF), but the next few weeks should help his owners secure a few wins. Green Bay hasn't exactly been a model of consistency stopping the run, Seattle's defense away from home has been uneven at best while St. Louis and Cleveland should be opponents Detroit can run on all day long.

If the owners of Clinton Portis, Jamal Lewis, Larry Johnson or Fred Jackson can still find an owner out there willing to relive the glory days (in the cases of the first three players) or believe that Jackson will manage a 50-50 split of carries with Marshawn Lynch, pull the trigger. We may be getting close to saying that about Ryan Grant as well, but I have a small place in my heart for any back that can put up double-digit fantasy points in PPR. His non-PPR totals have been less inspiring, but he's not a bad option in either format, just an unspectacular one.

Knowshon Moreno is every bit of the stud I thought he was, but Correll Buckhalter will return to his normal role of stealing 10-15 touches when he returns from his ankle sprain in a couple of weeks. Nevertheless, Moreno is a player that all dynasty leaguers should consider dealing for, as he has top-10 fantasy RB potential, possibly as early as 2010.

I was shocked to discover Addai has moved up to the sixth spot among RBs in my PPR leagues' scoring system. Certainly, 17 catches over the last two games has greatly helped his cause. But the preseason talk of using Addai and Donald Brown based on which back matched up better with the competition has not transpired. Addai has 18 more carries (62-44) and 19 more receptions (26-7) despite running for 3.4 YPC (Brown isn't much better at 3.5). Two years after loving Addai has a fantasy property, I don't trust him anymore and I'd be leery of expecting his incredible production to continue.

I refuse to believe that Ravens OC Cam Cameron got me again. Two years ago, I was so fed up with the way he was using Ronnie Brown (splitting time with Jesse Chatman), I dealt him prior to Week 4, only to have Brown unleash a 211 total-yard, three-TD game against the Jets. Fast forward to this year, Willis McGahee had 31 total touches through two weeks as compared to Ray Rice's 34. Without so much of a whimper, McGahee's touched the ball 15 times in the three weeks since while Rice has 52 touches. Certainly, Baltimore isn't getting in the red zone as it often as it was in the first two weeks, but it seems rather pointless to establish McGahee as a real threat in the first two games of a season only to cut his playing time by more than half after he delivered to the degree he did. Rice has clearly established himself as the lead back, but then again, didn't he do that in the preseason too? I'm ready to hear the rest of this story…

I could almost swear Jets OC Brian Schottenheimer is keeping track of each carry Thomas Jones and Leon Washington has during the course of the game. I follow as many of the games on Sunday as I possibly can and I can't help but notice that if Jones is four carries ahead, it is Leon time or vice versa. The Jets obviously feel more comfortable with Jones at the goal line than Washington or Shonn Greene (despite their insistence that is not the case) as he has scored three times from inside the five while the other two have yet to score period. With Buffalo in town this week though, it may be time for Doug and Washington to reach paydirt and touch the ball 15-18 times a piece.

Much to my chagrin (and contrary to my article last week), Ricky Williams isn't going away. He doesn't finish runs like he used to or have the explosion of Ronnie Brown, but he is as fast now as he was at any point in his prime, if not more so. Just like the millions of others watching Monday Night Football a few days ago, I was shocked to see the ease in which Miami was able to blow Jets' defenders off the ball. With the frequency in which the Dolphins run the ball, Miami will be able to support a legit fantasy RB1 and a mid-level fantasy RB2.





Wes Welker, check. Andre Johnson, expected. Steve Smith (CAR) and Randy Moss, of course. Can someone explain to me how Nate Burleson is being targeted so much? I mean we saw his potential in Week 1 of the 2008 season when he posted a 5-60-1 line before tearing up his knee, the one thing that was supposed to hold him back in 2009. As late as August, he was supposed to split snaps with Deion Branch and rookie Deon Butler. No one would question that a healthy Burleson tops the other two, but he isn't supposed to be there yet. I still expect a dropoff at some point, but congrats on landing a top-notch WR3 at the price of a late-round pick or waiver-wire pickup. Right now, he is holding steady as a top-five or top-ten WR option in most leagues, but I can't see that continuing.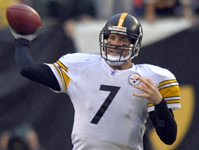 Big Ben has been on target.
I can't help but notice how efficient Ben Roethlisberger has been throwing to Hines Ward and Heath Miller. Of the 40 passes thrown to Ward, 33 have been caught - or 82.5%. As expected, for Miller, it gets even better (29-of-33), or 88%. Granted, many of Ward's receptions are on shorter passes while Miller's catches are dump-offs and flat passes, but that kind of connect rate is incredible. While several TE's are in Miller's neighborhood in this category, Ward's rate is remarkable. By comparison, Wes Welker's connect rate with Tom Brady is 63% and his role isn't all that much different than Ward's. In fact, of the 12 WRs that have 40 or more targets thus far, only the Giants' Steve Smith at 77% is remotely close to Ward's connect rate. I'm not sure that knowledge will help you in your day-to-day activities, but it does speak to the fact that Big Ben is on target when he throws to Ward and Miller and when he does throw short, the ball gets caught.
Assuming he is not limited in any way by the knee injury that knocked him out of the game early in Week 5, I'm still firmly in Calvin Johnson's corner. Before last week's one-target showing, Johnson was averaging 10 targets per game. At that rate, he'll be more than fine against a schedule that doesn't feature any of the elite CBs in the league. Cincinnati (in Week 13) has shown a pretty good knack for shutting down WR1s, but outside of the Bengals, I don't see a team left on the Lions' schedule that Johnson can't burn once or twice. After a fairly slow start, Johnson delivered a performance worthy of his draft status in Week 4 and could have easily done so again vs. a Steelers secondary minus S Troy Polamalu (Dennis Northcutt went off for 5-70-1 in his absence!) Deal for him if you can, because I get the sense he will at least match last year's numbers, perhaps minus a TD or two.
Don't get fooled by Kellen Winslow's incredible Week 5. Many folks are still under the illusion the Eagles' defense is the same one that stifled opponents in 2008, but that is not the case. Winslow may have a connection with new QB Josh Johnson, but neither Johnson nor rookie QB Josh Freeman is good for his long-term value. If I owned him in any league, I'd be thrilled to deal him away in a package for Dallas Clark or Antonio Gates or straight up for Owen Daniels or Chris Cooley. I want nothing to do with the Bucs' offense.
Count me among the many people stunned by the complete lack of involvement DeSean Jackson had in the passing game in Week 5. Certainly, Jeremy Maclin took advantage, but it had to be upsetting for his owners to see a complete lack of targets. Due to the nature of the Eagles' offense, this kind of production will happen from time to time when defenses commit all their pass defense resources to stopping Jackson, but it is these kinds of performances that make Jackson a WR2 instead of a WR1. Don't be too concerned going forward as he rebounded nicely from his three low-target games last season with pretty solid performances the next week. I don't expect a career-best performance from him vs. Oakland, but I believe HC Andy Reid will move him around enough to allow him some useful numbers this week.
I tried locking up Eddie Royal in as many leagues as possible, but alas, I came up empty when each of his owners (well behind in the standings, I might add) asked for players like DeSean Jackson in return. I don't think he should expect to see 15 targets on a regular basis, but I'd be rather surprised if he isn't pushing Brandon Marshall for the team lead most weeks, just as we expected in the preseason. Based on his rookie numbers, he'll likely be labeled a disappointment when the season is over, but that doesn't mean he doesn't have value as a WR3 going forward. If for some reason he has a down game vs. San Diego on MNF this week, see if his owner has had enough.
I'm growing a bit tired of John Carlson. He blew the doors off the Rams in Week 1 - which was somewhat expected - but has been severely limited by the re-emergence of Burleson and a rapidly declining offensive line. I had hoped he would be helped by the return of Hasselbeck, but I think his value lies almost completely on the health of Hasselbeck, which behind a porous offensive line is not a good bet.

College Spotlight
Ryan Mathews, RB Fresno State (5-11, 220)
Pat Hill's Fresno State squad is well known for its "anytime, anyplace, anywhere" approach in scheduling opponents. The same thing could be said about Mathews' ability to strike from anywhere on the field. In each of his first three games this season, Mathews has broken a run of at least 55 yards. I was pretty convinced that Cal's Jahvid Best was going to be the best runner I would see in college football this season when I wrote about him a few weeks back, but this junior tailback has me rethinking that notion. Mathews has been an ultra-productive RB since he first suited up in 2007, but he officially took the nation by storm on a Friday night several weeks ago (September 18) when he almost single-handedly kept the Bulldogs in the game against Boise State that night. Against a Broncos defense that was allowing only 34 yards/game to its opponents entering the game, Mathews ripped off THREE 60+ yard runs. So far this season, he is the nation's second-leading rusher and has five runs of over 50 yards to his credit, which should speak to his "long speed". He further enhanced his stock in my mind by putting up a solid 177 total yards on 40 touches (38 carries, two catches) against Big East power Cincinnati, proving he can hold up well when getting a feature-back number of carries.
At 220 pounds, Mathews is already NFL-size. While he is primarily known as a north-south runner, it would be a misnomer to believe that is all he is. He is an instinctual runner who rarely even gets slowed by the first defender. He runs well behind his pads, shows good balance and is almost always making the right cut at the right time. He doesn't show off his elusiveness all the time, but is quicker than most backs his size and can make a defender look bad in space. The Bulldogs don't call on him much in the passing game, but he has shown the ability to be able to catch poorly thrown or tipped balls on screen passes, so I don't question his hands, although he will be asked to prove that part of his game as he moves along in the evaluation process (12 career receptions). He even shows the willingness to pass block, although from the games I've seen, he'd rather cut a blitzer than to stone him, so if I were to knock him on anything, it would be that.
Mathews has been compared to Colts' rookie Donald Brown and, while I think that is a fair comparison, Brown is more of a grinder while Mathews is more of a game-breaker. So while he be best suited to run in the one-cut, zone-blocking system made famous by the Denver Broncos because of his vision, decisiveness and acceleration, the truth of the matter is that I think Mathews has future NFL star written all over him regardless of whether he is running behind a zone-blocking or a power-based, man-blocking line.

e-mail me with any questions/comments.