Preseason Schedule Analysis




7/19/11



As fantasy football fans of the world start making their post-lockout plans in the event the owners and players' association can bring this CBA quagmire to its rightful end, one can only hope the quality of the on-field product will not suffer in 2011. Since we cannot really dive into that probability at this point (because of no OTAs or mini-camps), I believe the next-best thing we can do as fantasy owners is to bring us back to the point where we left off before the talk of lockout insurance, right-of-first-refusal free agency and rookie pay scales started to dominate the headlines.

With the lockout likely reaching its conclusion, owners need to begin predicting the future once again. I want to do my part in assisting each of you in that preparation, so I will spend the next two weeks – after this one – discussing free agency in this column, with the first article serving as a free agency primer of sorts while the second piece will take a deep, hard look at those players who cashed in and what it means from a fantasy perspective.

But first things first. Last week, I began a detailed look into quarterbacks and running backs that made the most of their opportunities in the fantasy playoffs over the last two seasons. I reviewed what went right, how long they managed to stay relevant in fantasy and their chances for success this season. This week, it is time for receivers and tight ends to receive the same treatment.

Ideally, I hope to reach some solid conclusions rationale on why some players can recreate their magical end-of-season runs while others cannot. Since the elite players tend to remain elite from year to year (and generate most of the word count with a lot of fantasy analysts), the majority of this article will be devoted to the players such as Arian Foster – a relative unknown fantasy property that flashed some production at the tail end of the 2009 season, which served as a precursor to the 2010 season. I also want to avoid players who were rookies during the season of their fantasy playoff emergence in this study simply because many first-year players who end up contributing late in the season are typically high-round picks expected to do so at some point. In addition, I want to stay away from players such as Mike Wallace and Marcedes Lewis – players who starred all season long in 2010. It may help to consider this a study of mostly young veterans who took advantage of their opportunity during the fantasy postseason.

As a reference point, I will include the top finishers – the number of which will vary by year – at each position for some perspective. Ultimately, I want the numbers to speak for themselves with many of the listed players while I discuss the worthy fantasy playoff standouts over the last couple of seasons and their prospects going forward. In the end, I want to answer the questions: 1) why did he have success? 2) how long did it last? and 3) does he have a shot at fantasy relevance this season?

Because of the volume of information I will be sifting through, I will keep this study focused on the last three seasons (the 2008 standouts leading into 2009, the 2009 stars leading into 2010 and what I feel last season's breakouts mean for 2011). Before I start, allow me to explain each of the abbreviations in the columns below to eliminate any confusion. For example:


08 FP – 2008 Fantasy Playoffs (Weeks 14-16)
09-1st – First half of 2009 season (Weeks 1-7)
09-2nd - Second half of 2009 season (Weeks 8-13)

2008

What worked in 2008: Decent health and QB play combined with a lack of other viable options once Joey Galloway was lost for a substantial amount of time early in the season. To be fair, Bryant already had one 1,000-yard season under his belt prior to 2008, but it wasn't until that season that was able to stay healthy and keep his mouth shut at the same time while also benefitting from then-HC Jon Gruden's fascination with quarterbacks. After flirting with some high-target games from Jeff Garcia and Brian Griese earlier in the season, Bryant became the toast of the town beginning in Week 13. From then until Week 17, Bryant posted double-digit target games every week, scoring at least one time and eclipsing the century mark in each week of the fantasy playoffs, highlighted by an incredible 200-yard, two-score performance in a Week 14 shootout loss to Carolina.

How long he maintained fantasy relevancy: Not long. The same knee issues Bryant was able to play through the year before finally caught up to him in 2009. The Bucs smartly applied the franchise tag to him before the season in what was essentially a "prove-it" contract for the mercurial receiver and he responded by missing the entire preseason following meniscus surgery and dealing with a bone bruise suffered in the season opener. Although Bryant found a way to play 13 games in 2009, he showed almost none of the same explosiveness that allowed him to dominate the competition less than a year earlier. He was able to coax another big contract out of the Bengals in 2010, but his surgically-repaired knee failed to respond.

Chances at fantasy success in 2011: Almost non-existent. The last we heard from Bryant, he was filing an injury grievance against the Bengals. While it is possible that some team could give him a shot in camp at some point in the next year or two, it is more likely the 30-year-old Bryant has already played his final NFL snap.

What worked in 2008: Great timing. When Matt Jones - the Jags' top receiver – was lost for the season prior to Week 15 due to suspension (stemming from a felony possession of cocaine charge), the coast was clear for another Jacksonville WR to step up. Because Reggie Williams and Troy Williamson never really did fulfill their potential and Mike Sims-Walker was just a rookie, Northcutt basically moved into the team's WR1 role by default. And since he was the only reliable route-runner David Garrard had on the roster at the time, the QB leaned on Northcutt with 21 targets over Weeks 15 and 16. Just how much did Garrard lean on Northcutt in those two weeks? While Northcutt posted a 13-228-2 line over those two weeks (with at least 100 yards and a score in both contests), the rest of the Jags' receivers combined for seven catches and 74 yards during that same period of time.

How long he maintained fantasy relevancy: He didn't. Jacksonville addressed its receiver shortage the following April by using three draft pickson the position – so far only Mike Thomas has made his mark –leaving Northcutt and his big contract at the time looking for another destination. He was dealt to Detroit that summer in order to play the slot with Calvin and Bryant Johnson manning the outside. He enjoyed two decent fantasy performances in 2009, but lost a roster battle to Derrick Williams the following season.

Chances at fantasy success in 2011: Almost non-existent. Northcutt was released by the Lions just before the start of the 2010 season and did not play in 2010. Because the demand for average receivers who will turn 34 during the season is never all that high, Northcutt may not play another game in the NFL.

What worked in 2008: Someone had to produce in Oakland at some point, even with JaMarcus Russell at QB. In what has to be one of the most dreadful performances by an entire offensive unit in recent league history, the Raiders' receivers combined for a grand total of 82 receptions, 1,166 yards and 11 TDs in 2008. (That 16.6 fantasy point/game average – using PPR scoring – was the worst average produced by a single team's receiving corps since two teams were even more pathetic during the 2000 season.)Getting back to Higgins, however, Oakland had him pegged mostly as a special teams ace, but his shot at success occurred roughly the same time the team determined it wasn't going to get anything from an injured Javon Walker or Ashley Lelie. Since Higgins possessed more quickness and elusiveness than any other player Russell could throw to, the Raiders finally trusted him in Weeks 15-17 – games in which he surpassed 50 yards and a score three consecutive weeks.

How long he maintained fantasy relevancy: He didn't. In fact, Higgins hasn't scored a receiving TD since his aforementioned run from Week 15-17 during the 2008 season. Moreover, he has seen his reception totals drop from 22 in 2008 all the way down to 10 last year and may be on the roster bubble in 2011.

Chances at fantasy success in 2011:Very slim. With the emergence of Louis Murphy and Jacoby Ford over the past two seasons, Higgins is a WR5 in Oakland at best this season. The team also spent a fifth-round pick on Tennessee speedster Denarius Moore – whom the Raiders like as a developmental deep threat, if not more – and will not likely pull the plug on Chaz Schilens or Darrius Heyward-Bey anytime soon. If Higgins somehow sticks in Oakland, it will be because the team wants to take Ford off of kickoff returns or because he outperformed Nick Miller on punt returns during the preseason.


What worked in 2008: He emerged from Jason Witten's shadow in Dallas to starter status in Miami, where had the good fortune of hooking up with a QB (Chad Pennington) that loved to throw to his TEs. Fasano was awfully inconsistent in 2008, but if owners just started and ended the season with him (and avoided him during the middle), it is likely they got more out of him than they could have expected. After scoring his second TD of the season in Week 3 (as well as posting his second game with at least 66 receiving yards), Fasano failed to top 40 yards and scored just once until Week 14, when he (must have) sensed his family and friends needed him in their fantasy playoffs. Even though his yardage totals were somewhat lacking, he scored four times in the final four games, including twice in Week 16.

How long he maintained fantasy relevancy: Not for long. Like many other average talents at TE, Fasano isn't a player that an offensive coordinator will make sure he gets involved each week. As such, he will post occasionally useful stats in fantasy followed by long stretches of minimal production. It also doesn't help that Miami fashions itself as a running team and features one of the better short-area receiving threats in the game (Davone Bess), which is about the only area Fasano will do his damage.

Chances at fantasy success in 2011: Virtually non-existent. With Brandon Marshall, Bess, rookie RB Daniel Thomas (and a likely free agent scatback) all likely to see more passing game work than Fasano, the six-year veteran will be fortunate to come anywhere close to his career-high totals of 39 catches and 528 yards from a season ago. His ceiling is likely 2009, when he posted a 31-339-2 line.

What worked in 2008: A gifted pass-catcher combined with a lack of talent at WR. Excluding Brandon Lloyd – who was with the Bears at the time and about two years from his breakout season – Chicago attempted to scare opposing defenses with Devin Hester (who was just beginning his transition to the position) and Rashied Davis (who made his name in the Arena League along with an aging Marty Booker. Thus, when the Bears were able to mount a rushing attack thanks to rookie Matt Forte, Olsen had more opportunity to stand out than he ever had in 2007. Much like several other players we have discussed this week and last, Olsen flirted with fantasy relevancy early in the season, only to go into a five-week slide following the team's Week 8 bye that season. Then, after recording one catch for seven yards in Weeks 12-13 combined, Olsen emerged as a fantasy playoff savior when he posted three straight double-digit fantasy totals in PPR leagues during the fantasy playoffs.

How long he maintained fantasy relevancy: Throughout the 2009 season, although his stock took an expected dive in 2010 when OC Mike Martz replaced Ron Turner as the offensive coordinator. (What does it say about Martz when he has little or no use for the two players who were late-season standouts for the Bears in 2008 and 2009?) After Olsen scored three times over the final four games of 2008, Turner understood what he had in his young TE. Although he endured a stretch during the 2009 season in which he scored in just one of nine contests, that one game was a three-TD performance. While he lacked consistency as a TD scorer in 2009, he made up for it with a career-high 60 catches and 612 yards.

Chances at fantasy success in 2011: Decent at best. Olsen is a familiar name that owners will draft and too talented to be kept off fantasy rosters entirely, but Martz has become very popular in fantasy circles for his inability to include talented TEs in the passing game. With Johnny Knox and Earl Bennett the likely starters at WR, there is a small chance Martz may dial up a few more opportunities for Olsen this season, but it is much more likely that QB Jay Cutler will make him more of a priority in the passing game than Martz will. He's a solid TE2 in 12-team leagues, but owners would be advised to view him only as a bye-week fill-in.

2009

What worked in 2009: An injury to Devin Hester, a bond with his new QB and Mike Martz had yet to arrive. Despite being inactive for much of the season, Jay Cutler championed Aromashodu's cause continually after the pair worked well together during the preseason. Aromashodu saw his first game action with Chicago in Week 6, but did not catch his first pass of the season until Week 10. His playing time and production remained inconsistent at best until Hester went down with a calf injury in Week 13, giving Aromashodu his shot the following week. From that point on, there were few better than the former seventh-round pick, who impressed the Packers with 76 yards receiving and a score before he was held in check in Week 15 by Baltimore. He responded with two huge fantasy games to close the season (150 yards and a score vs. Minnesota, 46 yards and two TDs vs. Detroit).

How long he maintained fantasy relevancy: One game into the 2010 season. After HC Lovie Smith and Cutler did their best to build the hype for the former Colts' practice-squad player at the end of the 2009 campaign, it took Martz all of one week into 2010 to destroy. One could question why a sharp offensive mind like Martz allowed Aromashodu to start and post a 5-71 line in Week 1 before he concluded the Auburn alum was a poor route runner and blocker who could not play the slot, but that is exactly the reasoning he used to bench the player many fantasy owners expected would lead the Bears in receiving for the rest of the season. Aromashodu started just one more game and finished the season with 10 catches for 149 yards.

Chances at fantasy success in 2011: Slim, at least with Chicago. Martz isn't going anywhere for at least a year and the Bears don't figure to hold on to a player who won't contribute as a slot receiver or special teamer, much less beat out Johnny Knox or Earl Bennett for a starting job. The 27-year-old could turn up with another team early in the season, but he is likely yet another player on this list who has already seen his best days as a NFL receiver.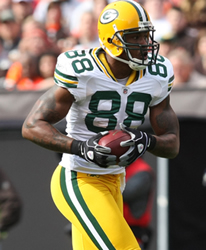 The only obstacle that keeps Finley from being a top 2-3 fantasy TE is injury.
What worked in 2009: He showed grit and determination after a slow rookie season but, most importantly, he stayed healthy during the second half of the season. Among other things, Finley wasn't going to see a great deal of time behind Donald Lee right away being as raw as he was coming out of Texas, but his mouth didn't help him when he criticized the inaccuracy of a pass from Aaron Rodgers in Week 9 of the 2008 season and the coaching staff's use of him during his rookie season. Finley must have received the message as several players remarked on how "unguardable" he was in training camp the following season. He appeared to be gaining some ground on Lee until a Week 7 knee sprain during the 2009 season sidelined him for three weeks. Thankfully, he hit the ground running in his Week 11 return with the Packers using him in much the same way they did in 2010 - at his natural position, in the slot or even lined up outside. Despite their 2008 aforementioned brush-up, Rodgers has been effusive in his praise of Finley since the end of the 2009 season, often referring to him as "the best tight end in the NFL".
How long he maintained fantasy relevancy: To this day, although his owners would really like to see him put together a healthy season or two before getting too optimistic. However, Rodgers has every reason to believe what he says about Finley, because even in this age of athletic TEs, it is hard to argue that any TE has a better combination of talent, scheme and QB than Finley.
Chances at fantasy success in 2011: Excellent, with injury likely being the only obstacle that keeps Finley from being a top 2-3 fantasy TE. Finley sprained his knee in 2009 and then was lost for the 2010 season in Week 4 after he suffered another knee injury (torn lateral meniscus). After a surgery on the second injury, he developed a staph infection – much like Tom Brady did during his 2008 rehab from a torn ACL. At last check, Finley is good to go for 2011. Even as the TE position gets deeper for fantasy purposes, there are few players at the position who are truly receivers in tight end bodies. HC Mike McCarthy uses him that way, splitting him out wide 37.3% of the time in 2010 before his injury. (All of this for a 24-year-old TE who is just now realizing how good he can be.) Even with his injury woes so far in his short career, Finley is a top-five TE pick in redraft leagues.
What worked in 2009: A huge door opened when Chris Cooley was lost for the season with a foot injury for a team that lacked playmakers at receiver after Santana Moss. It wasn't a question of if Davis would play once Cooley was lost for the season with an ankle injury in Week 7, but there were many interested Redskins' fans and fantasy owners who had a right to wonder if the second-year player would do a reasonable Cooley impression upon his promotion. It took a few weeks, but by Week 12, Davis was the receiver of choice for Jason Campbell – especially in the red zone. From Week 12 through Week 15, Davis recorded exactly nine targets in three of the games, scoring five times (with at least one in each contest). Like the rest of his Washington teammates, Davis was dreadful in Week 16, but like I said last week with Campbell, it hardly diminishes what was a spectacular fantasy playoff run for Davis.
How long he maintained fantasy relevancy: Not for long. It wasn't as if Davis was expected to match his 48-509-6 line from 2009 with Cooley returning, but with the Redskins' lack of game-breaking talent at WR, more was expected in 2010. Davis did show some big-play ability (he did have receptions for 62 and 71 yards among his 21 catches) and matched Cooley's three receiving TDs, but as long as Washington continues its search for a legit WR opposite Moss (if the free agent even returns to the team), it needs to find a way to feature both TEs in the passing game.
Chances at fantasy success in 2011: Decent. By "decent", I mean he has a shot at TE2 status in 12-team leagues. The biggest question is whether or not Moss returns to the team because his presence will probably lead to a business-as-usual approach by Team Shanahan while his departure will likely force the team to use both of their TEs with Anthony Armstrong the only receiver on the roster with any kind of track record. In order to get both Cooley and Davis – two noted pass catchers who aren't the greatest blockers – both on the field at the same time, the Redskins may be advised to give Cooley more regular work in the slot while keeping Davis at his normal position. (This is all assuming Moss leaves, of course – so if he does – Cooley could remain a 70-catch player while Davis could return to his 40-catch ways.

2010
What worked in 2010: Injuries to both members of the "T.Ocho Show" allowed a great athlete to make his mark. Through 2 3/4 seasons, the 2008 second-round pick had a mere one catch on his NFL resume. Much of the credit for that lack of production was attributed to a lack of consistency with his route running and hands. (How that description differs from the book on Terrell Owens and Chad Ochocinco, especially in recent years, is beyond my comprehension, but I digress…) But his biggest hurdle may have been his inability to tackle ex-OC Bob Bratkowski's playbook – an observation the Coastal Carolina product made himself back in February. However, once Ocho (bone spurs) joined his buddy Owens (torn meniscus) on the sideline during a Week 15 win over the Browns, the Bengals were forced to turn to Simpson and Andre Caldwell as their starting wideouts. Based on the numbers from the Cleveland game, Caldwell looked to be the prime beneficiary. But it was clear that Carson Palmer's praise about Simpson wasn't hyperbole over the final two weeks of the season as Simpson abused the Chargers in Week 16 (6-124-2) in a game that knocked San Diego out of the playoffs. Simpson backed it up with another huge game in Week 17 (12-123-1) against Baltimore.
Chances at fantasy success in 2011: Great, but not excellent. All comments aside as to the Bengals' ineptitude in realizing what they had in Simpson, his Week 16 performance figures to be his career highlight – at least for a little while. Even though likely new starting QB Andy Dalton had a number of supporters leading up to April's draft, it's still a poor bet to count on a rookie signal-caller to turn each of his receivers into fantasy stalwarts, not matter how talented the supporting cast may be. In all likelihood, Simpson will join another rookie (A.J. Green), Jordan Shipley and TE Jermaine Gresham in what should be an insanely productive passing game down the road. But for 2011, this is a very young group of receivers catching balls from a college spread QB in what figures to be a run-heavy West Coast offensive attack. So while there will be plenty of flashes along the way, inconsistency figures to be more the norm than the exception in 2011.
What worked in 2010: More luck than an average NFL receiver typically receives in a 2-3 week period. As a second-round pick in 2009, Robiskie was touted as his draft's most pro-ready WR in large part because he was the son of long-time assistant coach Terry Robiskie. It certainly didn't hurt the son's cause that he had an advanced understanding of the passing game and route running, with much of the credit going to dad for using his 30+ years of pro coaching experience to help his son. However, the only thing Brian saw upon for most of his two years in Cleveland was a lot of inactivity for a team that still suffers from one of the worst receiving situations in the NFL. But as the 2010 season came to an end, Robiskie started to work his way out of "bust" status a bit with a seven-catch, 50-yard showing in Week 12. He followed with two more dud performances before dropping a completely unexpected 5-82-1 line on Cincinnati in Week 15, thanks in large part to a broken coverage that led to a late score. In Week 16, it was time for another fluky TD as Mohamed Massaquoi took a pitch from Peyton Hillis on a trick play and found Robiskie for a 29-yard score.
Chances at fantasy success in 2011: Negligible. While Robiskie is, in theory, a good fit in new HC Pat Shurmur's West Coast offense, it doesn't bode well for him that Cleveland used a second-round pick to select a player itthinks will be one of the draft's best big-play threats in Greg Little. Combine that with the knowledge that Massaquoi is probably locked into one starting job and also consider the team likes what they have in 2010 sixth-rounder Carlton Mitchell. (And let's not forget all-purpose threat Josh Cribbs.) Long story short, Robiskie is probably starting this season as the team's fifth-best receiver and with a new coaching staff in town, he could already be looking at losing his spot on the roster.
What worked in 2010: Two injuries (one very serious one) to the Giants' record-breaking receiver. One season after Steve Smith shattered the team record for receptions in a single season by 25, it became clear in Week 1 that he was no longer the WR1 in town when Hakeem Nicks scored three times vs. Carolina. Even though Smith wasn't too far off his 107-1,220-7 pace in 2009 halfway through last season, a torn pectoral muscle sidelined him for four games. One game upon his return, Smith was lost for the season – and maybe longer – with a serious knee injury. Enter Manningham, who also dabbled with fantasy relevancy in 2009. Starting in Week 10 of last season – the first game Smith sat out due to his pectoral injury – Manningham was the Giants' receiver to own, leading his position group in fantasy points in five of the final eight contests. (It helped that Nicks was lost to injury in Weeks 12 and 13.) Nicks dominated Eli Manning's attention in Week 14 – but while the second-year WR from North Carolina didn't disappoint in Weeks 15 and 16 – those final two weeks really belonged to Manningham and his big-play ability – he was able to score twice in the former game and able to break loose for an 85-yard TD in the latter contest. For good measure, he added another 92-yard score in Week 17.
Chances at fantasy success in 2011: Somewhere between very good and great. With Steve Smith a good bet to start the season on the PUP list (microfracture surgery), Manningham should enter a season in a starting role for the first time in his pro career. And given that microfracture surgery isn't a ho-hum surgery, the Giants now have to decide whether they can trust the three-year veteran enough to let the injured free-agent-to-be Smith go. (Early indications are that Smith will re-sign.) As his fantasy numbers over the last two fantasy playoffs indicate, Manningham is a very capable receiver in his own right as well as a solid replacement for Smith when he has missed time. But it is worth noting that QB Eli Manning's trust in Manningham has been an issue, enough that some writers who follow the team suggest he should not be asked to be anything more than a third receiver for the Giants. But New York may not have a choice if Smith misses as much time as expected because the team cannot realistically put 2010 preseason sensation Victor Cruz or third-round selection Jerrel Jernigan ahead of Manningham since he has already produced when given the chance. And let's not forget, 2011 will be a contract year for Manningham.
What worked in 2010: The coaching staff's decision to finally let the incredibly-gifted second-year TE play a bit more at the expense of free-agent-to-be Bo Scaife. Before we get started with Cook, it should be noted that one strong showing in the fantasy playoffs hardly constitutes a breakout in most situations, but it does in this case given how late Tennessee decided to feature him a bit more (he didn't even play double-digit snaps in any game halfway through the season). His first signs of a fantasy pulse came in Week 12 when he was targeted nine times by third-string QB Rusty Smith in a humiliating 20-0 loss to Houston. Cook recorded six more targets from Kerry Collins the next week before Scaife stole the show with two scores in a Week 14 loss to the Colts. However, it was Cook's time to shine from then on, posting a decent 3-42 line in Week 15 win over the Texans before producing his best game as a pro in a blowout loss to the Chiefs (five catches, 96 yards and a score) in Week 16. He followed that game with another nine-target game in Week 17, when he caught seven passes for 58 yards.
Chances at fantasy success in 2011: Good. It appears Scaife will not return and new OC Chris Palmer has already gone on record saying Cook is a "special talent". While the thought of rookie QB Jake Locker throwing passes to him doesn't sound all that appealing at first, it's a good bet Tennessee will try to make its new QB as comfortable as possible. With Chris Johnson demanding so much attention from defenses each week and Locker's ability to extend plays, there is a pretty good chance that Cook will be at the other end of those "scramble drills". Because Kenny Britt's availability figures to be an every-week question for the near future, Cook has a fair shot at being his team's most talented receiver (outside of Johnson) week in and week out. Given the fact Palmer already has voiced his opinion of Cook and his solid numbers from Week 12 on last season (24 catches, 292 yards and one TD), Cook could wind up as a TE1 in 12-team leagues this season – he certainly has the talent to do it anyway.
It has been often been said that luck is where preparation meets opportunity. Without trying to sound too simplistic, opportunity must present itself in most cases for a player to break out and he must be prepared to step up to the challenge whether it is in the first half of the first game of the season or at the tail end of a blowout in Week 10. While ineffectiveness from a player higher on the depth chart can create this opportunity, it seems like more often than not the grind of a football season ultimately lends another lesser-known player his 15 minutes (or more) of fame.
Admittedly, I didn't really know what to expect in terms of results when I began this journey last week. But while the sample size is quite small – two years and 22 total players in 2008 and 2009 – this two-week review suggests that owners should be quite skeptical of non-RBs who seemingly come out of nowhere to guide their fantasy teams to a championship. Understand, however, that just like any "rule" in fantasy football, it is meant more to serve as a precaution than anything.
For example, the enthusiasm Cook is generating so far in fantasy drafts should not be ignored; he is a superior talent that was going to require at least two years of NFL coaching to start the process ofmaximizing his considerable upside. The one thing that continually gets lost year after year is that while rookies can have an impact in their first year, instant success should not be expected (one of the very reasons I hate the term "rookie bust"). Getting back to Cook, it didn't make sense for him to be a major contributor in 2009 because Tennessee was such a dominant running team, so using a pass-catching rookie TE that was a liability as a run blocker would have been pointless. As the Titans opened things up a bit in 2010 (since the offensive line had trouble opening holes and the defense struggled), the team needed to find a way to create big plays with Chris Johnson getting bottled up on a more regular basis. Thus, in an effort to create more big plays, it made more sense to see what they had in an athletic freak like Cook as opposed to the low-upside Scaife.
So what can we really take away from this? Bevery skeptical of any non-RB fantasy playoff standout that is returning to a less-than-ideal situation (such as a change in scheme, role or personnel) the following season.In every case with the QBs last week, there was a dramatic shift in philosophy, coaching or personnel. In two instances, the QB was traded (Matt Cassel, Jason Campbell). In others, a significant return or addition pushed the player out of contention (Carson Palmer returned to take over for Fitzpatrick, Cassel nudged Tyler Thigpen out of his job and Brett Favre overtook Tarvaris Jackson). Of all the QBs, only Matt Moore entered the next season with a similar supporting cast and a realistic shot at a starting job.
Is the same thing happening at WR and TE? Bryant hasn't been healthy since 2008, Northcutt was traded the season after his fantasy playoff success and Higgins was supplanted by a productive rookie (Murphy) and a first-round draft choice in 2009 (Heyward-Bey). Aromashodu appeared to have a shot in 2010, but a dramatic scheme change – and the priorities that Turner had for his receivers as opposed to those Martz has – doomed him almost from the start. The same could really be said for Olsen. As for Fasano, noted TE-friendly QB Chad Pennington could not stay healthy in 2009, giving way to Chad Henne. Also, the Miami running game took center stage and Bess began emerging as the team's best short and intermediate threat. Davis was expected to drop off when Cooley returned from injury, so only Finley had a realistic shot to capitalize on his success.
Bringing this debate back full-circle, it's too early to say which 2010 players will continue their success and which ones will join the majority of players I have discussed the past two weeks, primarily because we have not started free agency yet. But in many of these cases, we can draw some pretty strong conclusions – even without knowing what each team's training camp roster looks like now.
Players that emerged in 2010 who are good bets to carry on their fantasy success in 2011: Rashad Jennings, Simpson, Manningham and Cook.
Players that emerged in 2010 who are bad bets to carry on their fantasy success in 2011: Grossman, Torain and Robiskie

Of the four players on the first list, Cook has the biggest difference between his fantasy ceiling and floor, making him the most unpredictable player of the bunch. If the Titans have to begin the season with Jake Locker at QB, then his stock has to take a hit. However, the uncertain status of Britt means Cook has a good shot at being Tennessee's best big-play receiver at any point. Jennings is obviously behind Jones-Drew on the depth chart, but I have a strong feeling Jacksonville will manage MJD's workload more going forward than they have since he became the feature back. Simpson and Manningham should be the safest bets since both players should have starting jobs locked up, but both are far from certain to be valuable all season long with potential threats looming on their own team.
On the flip side, Redskins HC Mike Shanahan has us all believing everyone has missed the boat on John Beck, Torain is a poor bet to stay healthy (and has an explosive rookie to hold off in Roy Helu) and Robiskie may not make the Browns' final roster.

Suggestions, comments, musings about the article or fantasy football in general? E-mail me.
---
Doug Orth has written for FF Today since 2006, appeared in USA Today's Fantasy Football Preview magazine in each of the last two seasons and served as a weekly fantasy football analyst for 106.7 The Fan in Washington, D.C. this past season. He is also a member of the Fantasy Sports Writers Association. You can also follow him on Twitter.