All Out Blitz: Volume 55




11/15/12



Aggressiveness is a characteristic that tends to reward fantasy owners more times than not. In the NFL, an offensive line will sometimes hold up long enough to give the quarterback enough time to beat man coverage down the field and make the defense look foolish against a fierce pass rush. More often than not, though, when a defense brings the heat and forces the action, crisis management becomes the name of the game for the opposing team.

In that same vein, I hope to apply that same kind of pressure to the owners in all of my leagues by beating my opponents to the punch in regards to personnel moves. Sometimes, reaching a conclusion about a player too quickly results in making a bad situation worse. However, coming to a correct conclusion two weeks or two minutes quicker than your opponents is considered foresight and can often lead to fantasy championships.

Fantasy owners can be a uneasy lot, knowing that one two-or-three-game losing streak can wreak irreparable damage to his/her team's chances to make a visit to the fantasy postseason. But just as it is in the NFL and in life, it's hard to land the big prize by playing scared. Thus, I will strive each week to help each of you become a smart blitzer, so to speak.


---

As enjoyable as fantasy football is, doesn't it seem like we spend an inordinate amount of time preparing for the worst?

It should come as no surprise given the violence of the real game, but starting with draft day, most veteran fantasy owners are constantly reassessing their roster in hopes to fortify a weak position one week or acquire a handcuff for a running back another week. We do this primarily because the likelihood that one of our key players will succumb to injury is, well, painfully high. In the overall scheme of things, 16 weeks doesn't seem like a great deal of time. But if fantasy football is anything, it is much more a marathon than a sprint.

Over the course of the season, fantasy owners will experience their fair share of injury scares that turn out to be nothing more than that. Other times, devastating injuries occur without warning and leave the unprepared owner in a state of desperation. While deep-league owners will lament over the potential multi-week losses of Ben Roethlisberger to a rib/shoulder injury and Alex Smith, Jay Cutler and Michael Vick (all to concussions), this week falls mostly under the former description. In other words, if one of these players wasn't on your team and their injuries don't get you thinking about securing a good backup QB for the stretch run, then be prepared for the consequences when fate determines your player is the next one to miss significant time.

The other point to be made in regards to multi-week injuries – especially when they happen at the QB position – is the impact it will have on his teammates, particularly those who catch the ball. For example, when Kevin Kolb went down in Arizona, John Skelton will still favor Larry Fitzgerald in critical situations. The same thing in Chicago when Cutler turned things over to Jason Campbell; the ball is still going to Brandon Marshall. The same cannot be said in a lot of other situations, though, and that is where a savvy owner can take advantage. This week, Colin Kaepernick seemed to focus more on Vernon Davis than Smith has lately. Jeremy Maclin got awful busy once Nick Foles replaced Vick. Byron Leftwich seemed to lean a bit more on Emmanuel Sanders than Mike Wallace, which is typical when one backup QB is used to working another backup WR.

Almost without fail, every week during the fantasy season provides an opportunity to improve your team. It's your job to take advantage.

As you may be able to tell, I'm still working on the most efficient way to present my game observations to you. Here's what caught my eye this past weekend:

Colts-Jaguars

For college football fans, Jacksonville is the anti-Oregon. The Jags play so slow and so conservatively – very few routes go more than eight yards down the field in the passing game – that a person could be fooled the team is using 2012 as an extended preseason, with a high draft pick as their reward for their troubles. Cecil Shorts' routes are the only ones that are designed to create a big play and the box scores tend to reflect that. The run game lacks imagination as well as Rashad Jennings – or Maurice Jones-Drew when he was healthy – rarely has a play drawn to reach the perimeter while Justin Blackmon and Laurent Robinson run what I call "static routes", meaning they are usually stationary when they receive the ball.

While blitzing isn't necessarily the greatest measure of defensive aggressiveness, the Jaguars' defense plays so soft that if teams have the patience to simply string together a long drive, they will probably find the end zone. DC Mel Tucker used the Cover 2 with great success at the end of last season, but even teams known for being predominantly Cover-2 teams (like Chicago) will blitz from time to time. I see very little variation from the Jags as they choose to rush four most of the time and let everything play out in front of their linebackers. Yes, Jacksonville secondary is hurting, but even replacement CBs should be able to run with Reggie Wayne at this stage of his career and at least challenge his catch. All too often, Wayne was running wide open and could have easily had 50-100 yards had the Jags kept this game somewhat competitive. One of the biggest differences – and it is a big one – between Chicago and Jacksonville on defense is that the Bears make offenses work their way down the field and do everything in their power to force a turnover. The Jags only do the first part.

Fantasy implications: We've known for a little while that Shorts was the only player worth playing from the Jags' passing offense. As it turns out, he's about the only player worth playing on the entire Jacksonville offense. Possession receivers should continue to make for good fantasy plays against the Jags' defense while any offense that is patient enough to put together 10-12 play drives in the first half – like Houston next week – will have a fantasy defense worth playing as well as Jacksonville looks completely out of its element when it is forced to pass or even go downfield in regular game situations.

Broncos-Panthers

Denver showed little respect for Carolina's running game and the Panthers obliged by running the ball just nine times in the first half. This was particularly evident once I realized how out of position the Broncos were the six times Carolina attempted a screen pass in this contest. Officially, Cam Newton went 4-of-5 for 73 yards on those plays – his one misfire coming as a result of needing to throw the ball over an unblocked defender. Unofficially, Newton and Stewart connected on a 62-yard screen pass that was called back due to a holding penalty. Three of the four "legal" screens went for at least 17 yards and none were caught by Steve Smith. I mention these observations for two reasons: 1) the Broncos can be run on and 2) "receiving backs" could/should have a field day against a Denver defense that appeared hell-bent on rushing the passer and nothing more. While that approach did lead to seven sacks and forced Newton to throw a pick-six, a more disciplined and balanced offense – with a stronger offensive line – would expose that flaw.

There's little reason not to like Willis McGahee, but he showed in this game why Denver would probably prefer rookie Ronnie Hillman as the passing-down back on a more permanent basis. But McGahee's biggest problem of late has been ball security, which will get his role reduced quicker than any expected second-half fade will (as he turned 31 in October). Over his last three games, McGahee has fumbled three times – losing two – and he's already set career highs in both categories (five and four, respectively).

Fantasy implications: Denver's safety play – at least defending the pass – is marginal at best, which goes a long way in explaining why the Broncos have incredible difficulty defending opposing TEs. Between now and the end of the season, Denver faces Antonio Gates (next week), Brandon Myers (Week 14) and Dennis Pitta (Week 15), so don't hesitate to start them. McGahee is a trusted veteran on a team built to win now, so he isn't likely going anywhere until Hillman plays his way into a timeshare. But while the remaining schedule is favorable and the offense is running smoothly otherwise, owners need to be prepared for a reduced workload from McGahee if his fumbles continue.

Chargers-Bucs

It has taken Danario Alexander about two weeks to do what Robert Meachem has done once all season – produce. There's no question his 80-yard touchdown came as a result of some poor tackling, but I think it is a much bigger deal what he did after that catch. Philip Rivers targeted him on short and intermediate routes while Meachem has spent the majority of his time as a Charger only running deep routes – just as he did in New Orleans. Rivers even trusted Alexander on a timing route over the middle and aired it out to him down the sideline (which was ultimately intercepted) as the Chargers were attempting to rally late in the fourth down by seven points.

To a degree, it was a bit ironic that Josh Freeman was on the same field as Rivers on Sunday. Anyone who has watched the Bucs this season has probably witnessed one of the bigger in-season QB transformations in recent memory. The reason I felt it was ironic that Freeman was on the field with Rivers was because the latter used to be known for his pocket presence and willingness to stand in against the rush until the last possible second, something that really struck me on the drive that led to Tiquan Underwood's TD catch in the third quarter, including the play that produced the score. CBS play-by-play announcer Kevin Harlan smartly pointed out that Pro Football Focus has observed that Josh Freeman is being afforded the ninth-highest amount of time to get his throw off and it shows in the way he carries himself in the pocket.

Fantasy implications: It may seem premature after just two games, but owners may have this year's Laurent Robinson in Alexander. Like Robinson, Alexander is extremely injury-prone, but the next time someone questions either player's talent will probably be the first time. Alexander won't have to battle the likes of Dez Bryant and Miles Austin for his quarterback's attention and should be immediately scooped up in most fantasy leagues. He's a viable WR3 for as long as he can stay healthy. As for Freeman, he looks so much more poised now than he did earlier in the season, which is what can happen when a team discovers a running game and has two big-play receivers. Obviously, one tends to feed off the other and the quarterback tends to benefit as a result in fantasy.

Bills-Patriots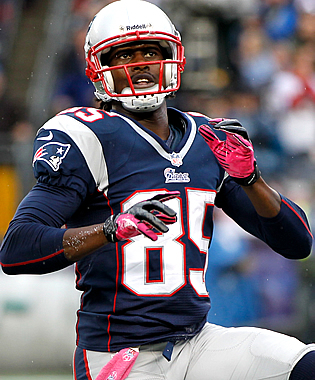 It's been a "what could've been" season for Lloyd.
Brandon Lloyd is a victim of his own past success. OC Josh McDaniels knows his receiver can contort his body in any way necessary and bases most of his use of Lloyd to take advantage of that ability. While Lloyd does his fair share of underneath work, his role in this offense is primarily that of a deep threat with the occasional use of a fade-stop to keep the defense honest. Why is that important? Because of all the Patriots' possible pass catchers, Lloyd's routes are the lowest-percentage ones in a high-percentage offense. Still, he is the most targeted Pats' WR in the red zone and drew two more interference penalties in the end zone in this game – part of a continuing theme with him – one on a slant play and one on a deep throw.
Before its Week 9 bye, the Pats managed to put together their first complete game in a beatdown of the Rams in London. But while the offense has only skipped a beat a time or two this season – a league-low eight three-and-outs all season bear that out – the defense continues to underwhelm. Case in point: Scott Chandler continues to befuddle New England. Against the Pats this season, Chandler has nine catches for 127 yards and three TDs. In his seven other games, his combined line is 18-123-2. At some point, it gets hard to explain how a defense that typically takes away the best thing an opposing offense does can't stop anything Bills HC Chan Gailey throws at it.
Fantasy implications: For Lloyd, it is almost a "what could have been" season. He's not getting a ton of deep-shot opportunities in this offense and he's just missing (typically not his fault) on a number of possible TD catches. If you don't want to believe me on this, just refer back to the Rams' game right before the bye when he hauled in two touchdowns on his only two catches. Pretty much everything I said above about Denver's defense in regards to guarding the TE is transferable to the New England defense as well. While the run defense is still solid, the pass defense is still dreadful; the acquisition of Aqib Talib will help, but only so much.
Raiders-Ravens

My first observation regarding this game has to do with someone that saw all of six snaps, Taiwan Jones. Taking a hardline course of action with a player is one thing when a coach is trying to leave his stamp on a team, but not giving your own team a chance to win as a result of that approach is another. Jones has blocking and fumbling issues, but if Baltimore's defense has shown us anything over the last month or so, it is that it cannot set or defend the edge in the running game. Gifted as Marcel Reece may be, he's not the runner a team or its fans should want leading the team in carries unless the entire RB depth chart is depleted. Jones is raw at this point, but he's the one RB Oakland had in this game that could get to the edge and make something happen. Allowing a practice-squader like Jeremy Stewart to take reps in a 55-20 game in the early fourth quarter is a wasted opportunity to give a talented player like Jones a chance to show he is has grown since the preseason.
Poor safety play may as well have been the theme of Week 10. Of course, the entire Oakland pass defense hasn't been good for most of the year, but each of Joe Flacco's first two TD passes were the result of Raiders' inability to react quickly to basic plays that should not have been a surprise to them. But those two scores only highlighted what was a poor effort by Oakland's secondary – another continuing theme this season.
Fantasy implications: Just because the Raiders didn't take advantage of the edge of the Ravens' defense doesn't mean the next opponent won't. With Pittsburgh on the schedule twice over the next three weeks, look for the Steelers to attempt to get either a healthy Rashard Mendenhall or Chris Rainey to the outside as much as possible. As for the Raiders' pass defense, it's hard to see things getting any better at this point since it was a weakness to begin the season and injuries have only accentuated the problem.
Titans-Dolphins

There are some that would have you believe that Chris Johnson's resurgence was a matter of him running with more desire than before. Johnson was simply getting hit in the backfield so often that it was nearly impossible for him to use his world-class speed. I suggested early in the season his run blocking was among the worst in the league but that it was something that can improve over the course of the season. Early in the season, the Titans couldn't even run a stretch play because of immediate defensive penetration. Now, in consecutive weeks, the Titans have hit big plays against two top-five run defenses* (more on that below). His run blocking has improved dramatically and, not surprisingly, so have CJ's numbers. Don't make the mistake that CJ all the sudden just cares a little more.
I found the quasi-benching of Reggie Bush after his first-quarter fumble curious. Certainly, his numbers haven't exactly been stellar over the past few weeks, but he hasn't exactly been afforded the opportunity to be a feature back recently either. As big of a supporter as I have been of Daniel Thomas, he simply isn't the same level of runner that Bush is. And in this game, it appeared to me that his teammates knew he was getting pulled after the fumble because they went out and played like it from that point on.
Fantasy implications: As much as Johnson's owners would like to believe he is back to CJ2K form, his numbers lie just a bit. Last week's 80-yard TD run was against second-stringers in a blowout and this week's score was on a play where he completely reversed field. While it does speak to his big-play ability, those are not two occurrences owners should expect to happen regularly. Fortunately, the schedule may cut his owners a break the rest of the way. For whatever reason, Miami has lost its edge over the last two weeks and I'm not sure a Thursday night game against a Bills' team that will get to feature C.J. Spiller is the recipe to get it back on track. Overall, I don't see a decline in Bush's play, which makes the benching all the more confusing as he isn't exactly fumble-prone. As much as watching each game reveals about each team, there are some things it can't answer.
Lions-Vikings

Adrian Peterson suggested late in the week – after Percy Harvin was ruled out – that his absence might actually help Christian Ponder since it appeared to him that his quarterback had locked onto Harvin during his recent malaise. However, poor quarterback play can sometimes be attributed to his receivers not gaining separation and it stands to reason that is exactly what happened here since Harvin has no problem in that regard. Combine just one receiver getting open on a consistent basis with a young signal-caller who could easily lose confidence with a prolonged "slump" and it makes sense that Harvin was his one and only look. In this game, Minnesota found a temporary cure for its ills against a zone-heavy Lions defense that didn't blitz all that often. For a quarterback who has looked rattled in recent weeks, Ponder was poised in this contest and could have easily had a better game than he did were it not for some drops.
As an unabashed Calvin Johnson fan, I don't mind mentioning him whenever possible. With that said, I'm not exactly ready to say he is "back" (as in the form he showed for most of 2011). My instincts tell me that one look at this game vs. the first meeting in late September is the difference a healthy Chris Cook can make in the Vikings' secondary.
Fantasy implications: According to Pro Football Focus, Ponder has a QB rating of 96.4 this season in "no pressure" situations and 88.4 when he isn't blitzed, which are much better numbers than his "when blitzed" or "plays under pressure" QB ratings are. The zone-heavy theory test should get a good workout when the Vikings come off their bye in Week 12 at Chicago. Fortunately for Johnson owners, Megatron isn't going to see more than one elite CB the rest of the fantasy season (Johnathan Joseph in Week 12), so his last two weeks of production (19 catches, 336 yards and a score) may just be a sign of things to come so long as his knee holds up.
Falcons-Saints
At some point, it gets old trying to explain why the Falcons continue to feature Michael Turner. If 13 carries for 15 yards against one of the league's worst defenses – against the run (or the pass, for that matter) – doesn't sell Atlanta on it, maybe the fact that he is 3-for-17 on goal-to-go carries should. Either way, it seems pointless to beat it into the ground any further, so let's spend the rest of this time talking about the Saints' rushing attack.
As frustrating as it is trying to figure out why Atlanta seems intent on holding its own offense back, it is equally frustrating watching New Orleans not maximize the wealth of talent it has at the running back position. I believe Mark Ingram could be a featured back for a number of different run-heavy teams, but the recklessness – and I mean that in a good way – of Chris Ivory is such that the Saints do themselves a disservice by "protecting him from himself" by limiting him to 10-15 snaps. I can understand wanting the shorter, more compact Ingram at the goal line, but Ivory is the superior option in most other situations in this offense. Not only is he the only true breakaway threat the team has at the position when Darren Sproles is out, but the energy boost his runs give to his team are evident.
Fantasy implications: The Falcons really need to evaluate how they are going to make a long playoff run with Turner as the bellcow RB. Is Jacquizz Rodgers a Darren Sproles clone? No. But over the second half of the season, I would hope that we see a bit more Rodgers and Jason Snelling. If anything, Atlanta may be just as suited at the current time to use a three-man RB committee as New Orleans. Turner, as his owners already know, is an extreme hit-or-miss fantasy player with a recent history of second-half fade, so I don't suspect more duds may be in his future. While Sproles' owners await news of his return, Ivory seems like the best fantasy option from the Saints' running game because his runs are the most explosive. Pierre Thomas may be the most trusted option in reality (as reflected in his snap count and pass-blocking responsibilities), but 11 combined rushing attempts over a two-week period with Sproles out seems like a complete waste of his abilities.
Giants-Bengals

Give Cincinnati credit for once: the gameplan was to keep Victor Cruz in check as much as possible and let a less-than-100% Hakeem Nicks and Martellus Bennett beat the defense underneath. They couldn't and the Giants paid for it. Eli Manning made two of the worst decisions a quarterback could make on his two interceptions and Cruz dropped the one throw that Eli Manning had that should have went for a touchdown. Avid film watches such as NFL Films' Greg Cosell have suggested Manning has a "tired arm", but I have looked for that in particular over the last two weeks. While I won't debate that might have a little bit to do with Manning's "slump", I see poor decision-making, ill-timed drops and a bunch of throws going out-of-bounds because he isn't trusting his receivers to win their battles like he used to and/or because his receivers aren't getting open downfield.
Although the box score suggests the story of the game was Andy Dalton and the Bengal defense, this was quite possibly the worst performance I have seen from the Giants all season. Despite the fact that Cincinnati's running game offers no threat, New York could not manage a single sack and rarely even pressured Dalton, which is saying something considering the state of the Bengals' offensive line. Given the talent of the Giants' pass rush, it speaks to a team that is either disinterested, distracted or can only preform when their backs are up against the wall.
Fantasy implications: Cincinnati has strung together two very solid performances since the Week 8 bye, but this is still a team I don't trust and, quite frankly, a team that I don't think is all that good outside of A.J. Green, DT Geno Atkins and a few other players. Fortunately for Bengal Nation, the next three games are against the three stooges of the AFC West, which may give owners of Dalton, Green and the Bengals defense a much-needed boost heading into the fantasy playoffs. Disappointing Novembers have become the norm for the Giants and it is really hard to explain why. The destruction caused of Hurricane Sandy could explain a distracted team over the last two weeks and the lack of a team pushing them in their own division could be another explanation, but their play is uninspired to say the least.
Jets-Seahawks

The pass attempts aren't going up at all, but Russell Wilson's efficiency sure is. Week 10 marked the third straight week the rookie's QB rating improved and the fourth time in five games that it was 98 or higher. The four sacks are an eyesore, but overall his decision making is just about everything his supporters suggested it would be after watching him in college. His little flip-pass to Marshawn Lynch that went for 27 yards at the five-minute mark of the second quarter was a great example of a quarterback knowing his offense cold and his movement skills in the pocket are well beyond what anyone should expect from a rookie. The offense will still go through Lynch for the foreseeable future, but the pieces are already in place for Wilson to succeed once the Seahawks turn the offense over to him.
I hate to throw in the towel on any team at this point of the season and it is important to note they just got done playing a Seahawks that is almost unbeatable at home, but the Jets are a mess. They seem willing to work Tim Tebow into the offense, but there seems to be no method to their madness in general. I am far from a Mark Sanchez supporter, but one reason his completion numbers are down in general – in my analysis anyway – is because so many of his throws are down the field and in difficult down-and-distance situations and his supporting cast isn't close to what it used to be. With that said, Sanchez is one of the league's worst starting QBs and has been since he joined the league. If anything, he may be backtracking in that regard. I'm really not sure whether to commend HC Rex Ryan for massaging four wins out of this team or to blast GM Mike Tannenbaum for the collection of talent on this roster.
Fantasy implications: Wilson may not have the pedigree, height or overall numbers of his more well-publicized QB classmates, but that doesn't he hasn't been every bit as impressive. The Seahawks' offense is in good hands going forward, plain and simple. He's already achieved matchup-QB status in 12-team leagues and is really just a philosophical change from being a low-end QB1 in fantasy. Fans in the NYC may be wanting Tebow to take over at some point, but it needs to be said that Shonn Greene is not Willis McGahee and Jeremy Kerley (or Stephen Hill, take your pick) is not Demaryius Thomas. His one-read-and-run pass plays aren't going to work with a middling ground game or without a dynamic receiver, and his trademark QB runs aren't likely to work if used more than 4-5 times behind this offensive line.
Cowboys-Eagles

For the typical NFL team, running a draw play is a change-up to the traditional "power" runs a team usually runs. It also works as a way to keep the defensive line from "pinning their ears back". For teams like Dallas, however, draw plays are almost the only way a team can generate rushing yards and they work particularly well against "wide-nine" teams such as Philadelphia. This week, it really stood out to me how often the Cowboys ran them and it makes sense going forward they continue to do so. I've made my stance on Felix Jones quite clear in recent columns, but it just so happens that his skill set is a good fit in a draw-heavy game plan.
Eagles fans have wanted it for some time: your savior is here. Nick Foles had a fairly nice statistical debut considering the competition, even if his real game wasn't all that impressive. But such is the case for the typical rookie QB. His interception was more bad luck than bad judgment, but his fumble in the end zone could have been avoided. With that said, his favorite receiver appeared to be Jeremy Maclin by a fairly wide margin, although it is important to note that Maclin was not targeted once in the coverage of Brandon Carr or Morris Claiborne in this game, which is rather surprising. Outside of playing favorites, the rookie's arm strength was apparent and he didn't appear to be overmatched, which is certainly a good sign for what appears to be a multi-week stint as the starter.
Fantasy implications: Hopefully, we are getting near the end of DeMarco Murray's recovery timetable because the potential and explosion I saw in Jones during the early part of the 2011 season is not there anymore. I feel confident in saying that Murray would have eclipsed the 100-yard rushing mark against the Eagles if he was given the same plays Jones had. Don't be fooled into believing that Foles is going to fall in line with the other successful QBs from this rookie class. His blocking is the worst of the bunch, but he will be easier to block for simply because he will be more of a timing passer than Michael Vick and the line will know where is at. He does have a great supporting cast, however, and this week the Washington secondary provides a forgiving opponent in his first start.
Rams-Niners

Before I get started with Steven Jackson, what a great and gutsy call the Rams made near the end of the first half when punter Johnny Hekker threw out of his own end zone to an uncovered gunner (backup safety Rodney McLeod). That call may have saved St. Louis from allowing a field goal and ultimately helped the Rams to tie a team they should have lost to.
Now onto Jackson. We established some weeks back that Jackson was Mr. Inside to Daryl Richardson's Mr. Outside. We also know San Francisco's defense is probably the fastest in the NFL. What I did not expect to see was such a heavy dose of Jackson in this game when all we saw during the first half was a fairly equal split. I had no problem with the way Jackson ran over the first eight games, but he displayed an entirely new level of power in this game, which begs the question: was the first half HC Jeff Fisher's way to reduce his carries for a huge second-half workload or was it just the matchup that inspired 31 combined touches?
Another question arose during the course of this game: where is the formidable Niners rush defense? Granted, San Francisco set a pretty high standard last season, but Jackson and his try-hard offensive line bullied the Niners in this game, especially early. The defense did seem to plant their anchor after the first quarter, but last year's unit would have never allowed St. Louis to get a 14-0 lead, much less allow an early 32-yard run to Richardson.
Fantasy implications: Richardson isn't going away, but the optimist in me believes Fisher took one look at the schedule in the spring and decided to preserve Jackson for the second half of the season. A second-half slate that once looked imposing now features the Jets (this week), Bills (Week 14) and Vikings (Week 15) – all teams that have shown vulnerability to the run at various points of the season. Another heavy workload against the Jets would be very good news for Jackson's owners making a playoff push. On the other hand, questions need to start being asked about the Niners' defense. Although a team can't be expected to repeat a season in which they forced 38 turnovers, the sack rate is down considerably while three of their last four opponents have rushed for at least 136 yards. As much as it pains me to say it, they are no longer a must-start fantasy defense.
Texans-Bears

For such a high-profile game, there was very little to take away from this game in my opinion, most of which was due to the weather. If anything, it showed the lack of trust that Houston has in its secondary receivers – since TE Owen Daniels was out – and Chicago has in any passing-game member not named Brandon Marshall. Andre Johnson, despite meager production in this game, obviously took a bit longer than what had been reported to fully recover from his various ailments last season, but I have little problem now with the way he played in this game despite the conditions or his level of involvement in the passing game.
As for Marshall, this game was further proof that he among the most physically-dominant receivers in the game. Marshall doesn't possess great speed, but he's going to be almost impossible to stop anytime the officials allow both teams to "let 'em play" like they did Sunday night. As good as CB Johnathan Joseph is (when healthy, as he now appears to be), even he's not going to be able to slow Marshall down much on a muddy field when the physically-dominant receiver can use his hands to create space 10 yards down the field.
Fantasy implications: Bad-weather games typically are the exception rather than the rule, and it is rare that any element besides heavy winds actually affect the outcome of a game, but there was little doubt this game was the exception. Rain and declining temperatures had an influence on this game – which was likely going to be a defensive battle anyway – more than anyone could have expected. Johnson is going to remain a fantasy WR2 as the Texans really have no reason to veer from their offensive attack right now. With another nine targets in Week 10 – to along with the 32 he had in the previous three games – I feel even more confident in my assessment of him from last week. While he's not quite "quarterback-proof" – Jason Campbell will bring his fantasy stock down a bit this week – Marshall has now reached the point where a six-catch, 80-yard game (at the very least) should almost be expected each week, regardless of opponent. That's an awfully high floor, so unless the Bears are wrecked with injuries at QB in the coming weeks, Marshall remains a top-five WR play for the rest of the season.
Chiefs-Steelers
After watching what I thought was the best game of the week (Rams-Niners), this game was utterly forgettable. Much like the Texans-Bears bad-weather game, I didn't feel there was much to be learned from this contest. Conservative play ruled the day for both sides. While that approach made sense for Kansas City, which actually ran the ball like it should have for most of the season in order to decrease its reliance on Matt Cassel, Pittsburgh kept a bad team in the game way too long. Forget for a second the Chiefs actually rediscovered Jamaal Charles and consider that Kansas City had averaged nearly four turnovers a game was clean until the overtime period. Maybe HC Romeo Crennel's decree that the next player that commits a turnover will see the bench hit home with some players, but it speaks very poorly to the professionalism of a team if that was enough to get them to care about ball security.
Fantasy implications: This performance was more in line with what I expected from the Chiefs this season. For the Steelers, it's hard to understand how they are 6-3 after making Kansas City look the better team for most of this game. Outside of showing good offensive rhythm on their only touchdown – a brilliant catch by Mike Wallace – let's just I have no problem suggesting a performance like that against about 25 other NFL teams would have resulted in a lopsided loss. Kansas City remains a great opponent to play matchups against for fantasy defense purposes, but I am done using the Steelers defense against any opponent until Troy Polamalu returns, if even then.

Suggestions, comments, musings about the article or fantasy football in general? E-mail me or follow me on Twitter.

---
Doug Orth has written for FF Today since 2006, appeared in USA Today's Fantasy Football Preview magazine in each of the last two seasons and served as a weekly fantasy football analyst for 106.7 The Fan (WJFK – Washington, D.C). He is also a member of the Fantasy Sports Writers Association.