All Out Blitz: Volume 54




11/8/12



Aggressiveness is a characteristic that tends to reward fantasy owners more times than not. In the NFL, an offensive line will sometimes hold up long enough to give the quarterback enough time to beat man coverage down the field and make the defense look foolish against a fierce pass rush. More often than not, though, when a defense brings the heat and forces the action, crisis management becomes the name of the game for the opposing team.

In that same vein, I hope to apply that same kind of pressure to the owners in all of my leagues by beating my opponents to the punch in regards to personnel moves. Sometimes, reaching a conclusion about a player too quickly results in making a bad situation worse. However, coming to a correct conclusion two weeks or two minutes quicker than your opponents is considered foresight and can often lead to fantasy championships.

Fantasy owners can be a uneasy lot, knowing that one two-or-three-game losing streak can wreak irreparable damage to his/her team's chances to make a visit to the fantasy postseason. But just as it is in the NFL and in life, it's hard to land the big prize by playing scared. Thus, I will strive each week to help each of you become a smart blitzer, so to speak.


---

Outside of winning a league title, there may be no better feeling in fantasy than to see a player that you are heavily invested in absolutely dominate an opponent. Unlike 2003, when I only owned Clinton Portis on one team the day he exploded for 254 total yards and five touchdowns in the fantasy playoffs, I had the distinct pleasure of tripling my pleasure and tripling my fun when Doug Martin lit up Oakland for 272 yards and four scores.

Obviously, Martin isn't going to approach those lofty standards again anytime soon. So when San Diego holds him to 100 total yards and a score this week, please try to avoid the notion that the "Muscle Hamster" somehow disappointed his fantasy owners. It's the rollercoaster ride that is the fantasy season and it is our job as owners to make sure we smooth out the dips as much as possible.

To that end, one area fantasy owners can steal a few points each week – especially at this point of the season – is by identifying which opponent is ripe for the picking. Many fantasy analysts like to disregard the importance of fantasy defense/special teams units, but I make them a priority in each of my drafts and take advantage of the lack of respect they get at draft time. With that said, opportunities come along each season to take advantage of teams during the second half of the season that might be struggling with injuries, a coaching change or some other kind of conflict that creates indifference and makes them an advantageous matchup for your D/ST.

The following recommendations are based on league scoring that gives defense/special teams units two points for every turnover, one point for a sack and six points for every touchdown.

Kansas City (@PIT, CIN, DEN, CAR, @CLE, @OAK, IND) – The 2012 Chiefs are on pace to allow 214 points to be scored by fantasy defenses – the highest total since at least 2000. Six of eight fantasy defenses have scored at least 10 points against Kansas City and the Chiefs are averaging nearly four turnovers, with at least two giveaways in every game this season. It's gotten to the point that until the Chiefs change their ways, the second-best defensive play each week (behind the Bears) is the defense facing Kansas City. What makes this recommendation even better is that most of the Chiefs' remaining opponents are D/ST's that are likely available on the waiver wire.

Arizona (@ATL, STL, @NYJ, @SEA, DET, CHI) – Whereas turnovers aren't quite as big of deal in the desert as they are in the Midwest, protecting the quarterback is. The 2002 Texans allowed a league-record 77 sacks in their first season as a franchise, but the 2012 Cardinals aren't far behind. Allowing an average of 4.4 sacks per game, Arizona is on pace to surrender 71. Given the fact the Cards have next to no running game and an offense that hasn't topped 17 points in five straight games, using the defense opposing Arizona is another solid play.

Philadelphia (DAL, @WAS, CAR, @DAL, @TB, CIN, WAS) – This one is a bit riskier considering the talent on the Eagles' offense, but Monday night showed us what can happen when a defense pressures an offense missing most of its starters on its offensive line and is led by a quarterback that often lacks pocket awareness. The Eagles have scored more than 20 points in a game just twice this season and surrendered nearly as many sacks this year (27) as they did all of last season (32).

Other opponents I would target on a weekly basis if I didn't own a top-five defense already: Tennessee, San Diego, Dallas and the New York Jets. Each of these teams gives me some pause because they have shown an ability to explode from time to time, so don't consider a bottom-barrel defense against them. With that said, each team has shown the capacity to serve up 4-5 turnovers or sacks in any given week.

And now to our regularly-scheduled programming:

Chiefs-Chargers

Rivers flowing

What are we?
Fantasy implications: If you get a chance, watch at least a few of Philip Rivers' clips from the first half this game; he and his receivers put on an absolute clinic. On just about every pass attempt, the ball was out at the top of his drop. It was during this passing exhibition that I came to the realization that Rivers' struggles have less to do with his perceived diminishing arm strength and more to do with his lack of trust in the Robert Meachems and Eddie Royals of the world (both of which did not play in this game). Even a split-second hesitation from a NFL quarterback can turn a perfect-thrown 40-yard pass into a how-could-you-not-have-seen-the-DB interception. Going back to the first Chiefs game (Week 4), Rivers has thrown seven interceptions. Both of the picks against KC were forced throws which were easily his fault – including the one right before half in this game – but two have been on spectacular plays and the other three have been on throws that Meachem and Royal failed Rivers. When at least 30% - and perhaps 40% - of a quarterback's 10 interceptions this late in the season can be attributed to two lesser-targeted "new" receivers (Meachem and Royal), it often speaks to the fact they don't end up where the quarterback expected them to be. Want statistical proof? Antonio Gates and Malcom Floyd have been targeted a combined 92 times (57 catches) with five interceptions on balls thrown in their direction. Meachem and Royal have been targeted a combined 52 times (25 catches) with four interceptions thrown in their direction.
Jamaal Charles is just one of four backs in NFL history that has rushed for at least 233 yards in a game twice in his career and plays for an OC that stated before the season he wanted to see his backs get 500 touches. Dexter McCluster is a player the Chiefs believe will become one of the league's best slot receivers. So it seems pretty clear to me these two players should see more than 21 combined touches in an offense that needs to do everything in its power to reduce turnovers, possess the ball and keep a struggling defense off the field. The problem is their 21 combined touches were the most the duo has managed over the last three games. Obviously, the quarterback play is going to severely cap the upside of everyone in this offense, but the Chiefs – along with Dwayne Bowe – actually have enough run-after-catch playmakers to make a low-risk, dink-and-dunk offense work. The statistics show that no player is exempt from the blame when it comes to the fumbling woes, but with the combination of Matt Cassel and Brady Quinn under center, Kansas City has to protect itself from its quarterbacks and make sure that if anyone is committing turnovers going forward, it is the playmakers and not the quarterbacks. The running game HAS to be the primary mode of offense until next season, when one would hope the Chiefs take a first-round QB for the first time since 1983.
Cardinals-Packers

Pressure release

Our Housler, in the middle of the field
Fantasy implications: This game was billed as the teams who lead the league in sacks – for and against. What struck me the most about this game was each team's approach to that fact and the realization that each team has reached about its own protection issues. For Arizona, almost everything comes out after a three-step drop in the passing game while draws and delays account for much of the running game. For Green Bay, I must have seen close to 10 different screen passes with a fair amount of what I would call "if-then" runs for Aaron Rodgers. (In other words, if the linebackers line out wide or drop immediately in coverage, then Rodgers has the right to take it up the middle himself if his first two reads are covered. Both approaches are clever ways to address a glaring problem that doesn't figure to fix itself this year. What does it mean for fantasy owners? For one, Cardinals receivers that can't get open immediately (Early Doucet) or are more downfield threats (Michael Floyd) aren't going to see a lot of passes come their way. The Packers, on the other hand, know they have an elite QB that can put the ball wherever he wants to put it, so it is no wonder why they excel at the fade stops and back-shoulder throws because James Jones and Jordy Nelson each have the athleticism to adjust to the ball in the air. Randall Cobb, conversely, just needs open space to make almost any play a big play. On a slightly different note, I was impressed by the power with which James Starks ran the ball late. I've believed all along it is his powerful running style that will most accentuate this dynamic passing game.
I admit my nod to the popular 80s song by the group Madness will go over many people's heads, but I thought it was a fun way to bring up the subject of Arizona TE Robert Housler. The same out and hook routes that I see Jason Witten run week in and week out for the Cowboys were the same ones I saw from Housler in this game. Obviously, those weren't the only ones he ran, but the point to be made here is that after an injury-plagued rookie season, Housler is starting to receive a lot of attention from John Skelton. Over the last three weeks, the second-year TE has 14 catches on 21 targets (5-for-9 in this game) and is routinely open. For a player generally considered to be more of a field-stretching tight end, these developments are positive ones for dynasty-league owners. As long as Arizona's offense remains so limited, however, Housler's immediate upside will be severely capped. But if/when the Cardinals' offensive line starts improving, I've seen enough to believe he will be a more-than-useful fantasy TE. He's someone to remember in 2013 after Arizona addresses its quarterback and offensive line issues in the upcoming draft.
Ravens-Browns

Two-and-out?

Trent "The Real Deal" Richardson
Fantasy implications: Perhaps no play-caller draws as much consistent criticism from fantasy owners than Ravens OC Cam Cameron. The first quarter of this game is yet another example of why this happens. In two first-quarter TD drives, Baltimore called 16 runs and six passes. Joe Flacco completed all six of his attempts for 80 yards while the running game collected 53 yards…sounds like the start of a rout, right? Somehow, over the next five possessions (not including the kneel-down right before half), the Ravens threw more than they ran on every single drive, losing yards on two of those possessions and gaining more than five yards on just one of those drives. Cleveland deserves credit for regrouping, but it appeared as if Baltimore completely abandoned its zone-running attack and was dead-set on establishing Flacco's ability to stretch the field, only using toss plays and "gun-runs". While Ray Rice is one of the crown jewels in fantasy and his numbers always seem to satisfy owners in the end, Cameron's tendency to show his offense has it all working tends to get this team into trouble. That tendency isn't enough to ever bench Rice, but his owners always need to be prepared that next week will be the week the one in which he inexplicably gets nine carries and three receptions during a one-score game.
Unlike Baltimore, I had little problem with the way Cleveland chose to operate on offense in this game. Play-callers need to be able to realize their quarterbacks aren't always going to be on top of their game, so the running game must take priority. Brandon Weeden had one nice touchdown throw to Josh Gordon wiped out due to a penalty, but otherwise suffered from scattershot accuracy most of the day. While it seemed like most of Rice's 25 carries came as a result of holding onto the lead late, Richardson's 25 attempts were sprinkled throughout and were a key reason why the Browns held a short-lived fourth-quarter lead. Following his dreadful Week 7 in which he was pulled in part because of his rib injury, Richardson now looks as good as ever despite likely being in a fair amount of pain. Given the Browns' record and recent history, Richardson isn't going to generate much Rookie of the Year buzz, but the likelihood that he approaches 30 touches in any week is high, making him a very good RB2 in fantasy that will deliver like a RB1 more often than not.
Dolphins-Colts

TY stands for "thank you"

Reggie Bush is back…but does it matter anymore?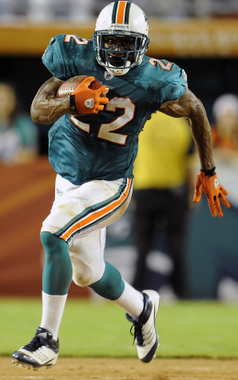 Bush is healthy, but judging by his snap count, you wouldn't know it.
Fantasy implications: There's little doubt Andrew Luck's rookie record-setting performance was the most outstanding part of this game, but it is quite possible that T.Y. Hilton's 6-102-1 receiving line will go completely unnoticed by many owners. While the common logic might suggest that Hilton picked up most of his numbers after Donnie Avery left with a hip injury midway through the third quarter, the reality is that he accounted for just one reception following Avery's departure. Hilton greatly benefited from the absence of Coby Fleener and isn't likely to be a player that will decide many fantasy titles (at least not this season), but with his second 100-yard game this season, his is name to remember going forward. His 36-yard jump-ball TD catch in the middle of two defenders is not the kind of thing we expect from a 5-10 third-round rookie out of Florida International. If Avery's injury lingers at all, the biggest beneficiary from a playing-time perspective figures to be another rookie – LaVon Brazill. But in fantasy, Hilton may end up becoming Luck's second option before the end of the season regardless. While his value will be highest in PPR leagues, Hilton is worth adding in deeper leagues at the very least.
Bush appeared to back to full health in last week's game. His touchdown run in the second quarter displayed just how much he has evolved as a runner in addition to proving his knee was sound. On the play, Bush easily sidestepped early penetration, continued running the play as it was designed, "pressed the hole" and showed the vision and ability to stop on the dime before unleashing a jump-cut that made six defenders stop in their tracks. A second or two later, he accelerated again only to make yet another defender whiff on his way into the end zone. If that description sounds like a feature RB, I'd agree. But for the second straight week, Bush saw fewer snaps than Daniel Thomas– this time, not in a blowout – which begs the question: why? The most confusing part of all this is that Thomas is seeing more time on passing plays as well. Perhaps this is a move designed to preserve Bush for the season, but consecutive weeks of Thomas playing more snaps is more than a bit annoying for Bush owners that hoped his soft second-half schedule would be accompanied by a regular snap count and workload. Next up on the schedule are Tennessee and Buffalo, which should serve to drive Bush's trade value back up. If his snaps/touches continue to be limited in these two upcoming games, it may be time to move him or view him as more of a low-end RB2.
Panthers-Redskins

Uh-oh, "Double Trouble" is back

Cracks in the armor of RG3?
Fantasy implications: The nickname for Jonathan Stewart and DeAngelo Williams, "Double Trouble" made more sense back in the days of John Fox's run-heavy Carolina teams. Now, with Cam Newton and the addition of Mike Tolbert, the Panthers might as well refer to their backfield as a four-way stop. While the notion of employing a backfield where every player is a running threat is a noble one, spreading the wealth for the sake of team unity doesn't make a ton of sense where 33% of the team's carries are being handled by the third and fourth options in the running game. In other words, one game after suggesting it was time to see what Stewart could do once he got into a rhythm, the Panthers did just about everything they could to prevent it in this game. Two of Stewart's four first-quarter rushes went for 10+ yards. Curiously, he did not receive another attempt until the middle of the third quarter, which he predictably broke off for another 21 yards. In short, despite three runs of 10+ yards over his first five carries, Stewart did not receive carries on consecutive plays until early in the fourth quarter. That kind of use begins to why the Panthers find themselves in their current position. If Carolina is resigned to cutting Williams in the offseason – which it sounds like it is – then don't the Panthers owe it to themselves to feature Stewart now?
Casual observers will likely look at the diminishing returns of Robert Griffin III and suggest the rookie is hitting the "wall". While there may be a shred of truth to that, I'm willing to bet that 95% of the cause for his declining stats is his top two playmakers (Pierre Garcon and Fred Davis) are no longer around. With the realistic threat of a downfield passing game all but gone now, defensive coordinators can start scheming to take away RG3's big-play ability as a runner. To be fair, the rookie sensation lost a touchdown run and pass on the same drive to penalty, so his fantasy day should have been better. As a result, until Garcon returns (if he does) or a player like Aldrick Robinson steps up in a big way, RG3 owners need to realize that his best days this year may already be behind him.
Broncos-Bengals

Red-zone animal

Talent doesn't always equate to success
Fantasy implications: Quick trivia: which receiver is tied for the lead at his position group in red-zone targets and tied for the league lead in red-zone touchdown receptions? If you guessed Eric Decker, congratulations. When compared to the player on the opposite side of the field from him (Demaryius Thomas), the natural inclination is to say Decker is the clear WR2. My stance on Decker is the same as it was in the preseason: teams are and will continue to be more scared by Thomas, thus giving Decker more attention. At the same time, Peyton Manning continues to show that he has unlimited trust in Decker (15-6 lead in red-zone targets) and defenses will continue to underestimate him due to Thomas' elite physical gifts. And stop me if you heard this one before: Decker could have easily had a third TD in this game had Manning not led Decker a bit too far (or Terence Newman's not played Decker's slant route so well) on Manning's first interception of the game. But just as I stated some time ago, Thomas and Decker will both continue to be fantasy standouts as options 1A and 1B in this offense. Despite improved play from Carolina's defense in recent weeks, I wouldn't be surprised to see Thomas dominate the box score this time for the Broncos. And just in case you believe Denver can't maintain their current pace in the passing game, take a look at the strength of schedule tool on this site.
It really speaks to the greatness of A.J. Green that he dominates like he does when opponents know he is generally the only Bengal they need to concern themselves with each week. Cincinnati does not lack for the talent to compete with the big boys offensively, but the imagination. I am convinced Andrew Hawkins already has what it takes to be one of the best slot receivers in the league and Jermaine Gresham should annually be one of the top five TEs when it comes to red-zone targets. Yet the Bengals continue to pride themselves an old-fashioned running team content with taking deep shots, using Gresham in the possession receiver role and Hawkins as a part-time role player. I feel I beat this drum on a weekly basis, but until Cincinnati realizes it needs an explosive big-play back, it won't get where it wants to go with this offense. With their current personnel, the Bengals have no excuse to ever let Green come out of a "normal" game with fewer than double-digit targets or to give their running backs more than 20 carries because the former will almost certainly dominate a game with 10+ targets while the latter's upside with 20 carries is about 85 yards. Perhaps their offensive attack would make more sense with a dominating defense, but the Bengals don't have one of those either. As a result, Green is the only player from this collection of talent that can be started on a weekly basis in fantasy.
Lions-Jaguars

Megatron's bad wheel

The value of MJD
Fantasy implications: Following this game, Calvin Johnson disclosed that he had a meeting with Matthew Stafford and much of the offensive staff earlier on Sunday about his troublesome knee. Detroit has understandably been tight-lipped about which knee is injured or the severity of it, but OC Scott Linehan adjusted his gameplan based on the information Johnson provided. My game analysis revealed that most of his early snaps took place on the left side of the formation and were in-breaking routes, suggesting that his left knee could be the injured one since a receiver needs to use his right leg to break in. While a one-wheeled Megatron is still better than many other NFL receivers, the fact that he expects this injury to linger for the remainder of this season means his owners probably need to lower their expectations for him going forward and prepare as if the injury will get worse at some point. Until that time, however, he needs to be viewed as a risky WR1. And if history is any indication, Ryan Broyles should benefit. If this game showed us anything, it is that Titus Young isn't ready to assume a WR1-like role in this offense for any length of time considering Jacksonville was without half of its starting secondary. Broyles – especially in PPR leagues – may be the better option going forward as Stafford has shown a fondness for slot receivers (such as Nate Burleson). Either way, it is hard to recommend either Young or Broyles as anything more than WR3s going forward.
There's an old cliché that suggests that a team a quarterback doesn't pick his team, but that a team picks its quarterback. I often consider variations to that logic when it comes to other positions, like running back. Although no one will question that Maurice Jones-Drew is a superior back to Rashad Jennings, I often find myself watching Jaguars games and thinking "it just seems like MJD benefits from better blocking". This can happen for any number of reasons, including the most likely one – MJD reads his blocks better. With that said, the effort Jacksonville puts forth in run blocking is far superior whenever Jones-Drew is in the backfield as opposed to when Jennings is the featured back. While statistics can often be misleading, there is a definite reason why MJD (when healthy) carried a higher percentage of the offense on his shoulders than any other back over the last 1 ½ years – he had to. In a more perfect world, Blaine Gabbert would only be in his first season under center after entering the league as a raw prospect and his primary receivers wouldn't all be in their first or second year with the team. As thoroughly uncompetitive as they looked in this home loss, though, I'm not sure I see another win on the Jags' schedule…this is a bad team that appears to lose their desire when MJD isn't in uniform.
Bills-Texans

Spiller time?

Andre Johnson – Getting old fast or getting phased out?
Fantasy implications: There's a growing list of running backs that simply play at a different speed: David Wilson, Kendall Hunter, Jamaal Charles and C.J. Spiller, to name a few. Less experienced fantasy owners often get too caught up by "skill sets" and "40 times" and lose sight of the player that either a) has the trust of his team/coach or b) is the better fit for the team's current offense. At this point of their respective careers, I don't think too many people would argue that Spiller isn't a superior all-purpose back to Fred Jackson. This game seemed to be a clear indication to me that Buffalo is ready to ease the transition from a Jackson-led committee to a split backfield to a Spiller-led committee before the year is over. In this contest, Jackson logged 37 snaps while Spiller had 27 but a look beyond the box score reveals they were utilized in similar fashion and, as luck would have it, the tape supports that assertion. I made the claim earlier in the season that after Jackson returned from his injury that he would return to a split backfield for a number of reasons, including that he was the more trusted option. After watching this game and seeing the similar manner in which both players were used, it was almost as if they wanted visual evidence to make a switch. In other words, don't be surprised if Spiller becomes more of the focal point of this backfield over the second half of the season.
Games like Week 9 suggest that AJ still has got "it". No, he's not the dominant talent he was as recently as 2010, but I don't think the Texans think he is ready to be put out to pasture yet either. Although I have really no evidence to support this assertion, I believe the Texans' consciously decided before the season that reducing their passing-game dependence on Johnson (especially in the first half of the season) would be a prudent move in order to preserve him for the stretch run (much like an aging RB) while also increasing his chances to play a full season given his track record for injuries. Take one look at his last three games and compare them to his first five and it is certainly a possibility this was an organizational decision. Johnson obviously cannot be expected to return to top-ten fantasy WR form – at least not this season – but Houston doesn't need him to be either. After this week's inter-conference showdown with Chicago, I think it safe to expect Johnson to continue churning out very serviceable PPR lines like he has over his past three games and to produce at a high-end WR2 level simply because Arian Foster and Owen Daniels are now the preferred red-zone options.
Bears-Titans

So this is what ugly looks like

The new Marshall law
Fantasy implications: After watching this "performance" from Tennessee, it makes me wonder what would happen if the Chiefs (29 giveaways, four defensive touchdowns allowed) met the Bears (28 takeaways, seven defensive TD scored). There's no debate about it: the 31-point margin of this game didn't begin to tell the story of how wide the gap is between these two teams. Each team swapped punts on the first two series of the game and it was still 28-2 at the end of the first quarter. Let's give CB Charles Tillman all the credit in the world for forcing four of the Titans' six fumbles in this game, but the personnel changes I hinted at being made in Tennessee earlier this season need to happen as soon as possible. Performances like this don't happen to good teams (and certainly don't happen more than once a season) and it has become clear the Titans are a long ways away from being that. Chris Johnson's 80-yard TD run was a nice highlight and serves as a reminder that his offensive line has improved since the dark days of September, but his first 15 carries for 61 yards and two fumbles paint a more accurate picture. Apparently, we can now say CJ is not only a matchup-RB, but also one that produces in blowouts as well?
While I could easily just flip the script and spend my time talking about all the positives from the Bears' defense, I really try to make sure to spread the wealth as much as possible in this column. I will note, however, that owners that have Chicago's defense to thank for multiple victories need to be prepared for a drop of production over the next two weeks at least since Houston and San Francisco both do a great job of valuing the football. With that said, let's talk about Brandon Marshall, who may finally be enjoying the Calvin Johnson-like season many suspected he was capable of producing all along. With his personality disorder seemingly under control and his favorite quarterback under center, it's a fairly good bet that he will surpass all of his career-high marks (receptions, yards, TDs) this season even if he succumbs to a few of his next few matchups, such as Houston, San Francisco or Seattle. He dominated in the one game he has played against a top-level secondary (Dallas), but was held in check by another (St. Louis) and almost shut out by Tramon Williams' coverage in Week 2 vs. Green Bay. Still, if we have learned anything about Jay Cutler and Marshall recently, it might be that neither player really cares about tight coverage or suffers from a lack of trust in the other.
Bucs-Raiders

What should we learn from the meteoric rise of Doug Martin?

Reece's pieces
Fantasy implications: For a rookie RB that many analysts suggested was a slightly above-average talent, his rise to prominence speaks to the fact that even the professional talent evaluators (maybe unknowingly) still hold it against players that don't play at the traditional big-name institutions. For the regular readers of this column, Martin's success is not a surprise; even if his level of recent success is. Obviously, history tells us that the latter is unsustainable, so let's focus on the former. Martin drew Ray Rice comparisons coming out of college because of their similar build, quickness and all-around game. From the start, I stated that Martin ran with more power while Rice was more explosive. But perhaps it is both players' balance and vision that befuddled most of today's scouts because they aren't quantitative in nature. In other words, because a number cannot be associated with a player's ability to stay on his feet or identify a hole, it becomes harder for scouts to cover themselves in the event the draft pick doesn't meet expectations. In the fantasy world, owners bailed too quickly on Martin because he wasn't immediately productive and was facing a possible timeshare in the backfield, both perfectly legitimate reasons to sell a fantasy property. The missing piece? While it runs contrary to the "American Way" in where we expect immediate gratification, some players actually need a bit of time to adjust to the next level. The other key part of Martin's success – besides needing to acclimate to the speed of the game – is that Tampa Bay has a pair of receivers opponents must respect and a quarterback strong enough to get it to them. In summary, Martin is set up for fantasy success because he has no gaping holes in his game and a supporting cast that makes keying on him a costly mistake.
As unlikely as Martin's story is – the one where he was nearly moved to defensive back at Boise State because D.J. Harper was a more highly-touted runner coming out of Texas – I cannot recall a more unique transformation recently from the college to the pro game than Marcel Reece. A former college receiver at the University of Washington, Reece has kept much of his athleticism he had a 240-pound junior college receiver so he could make the team as a fullback back in 2009. How athletic can a 6-1, 255-pound fullback really be? On his TD catch in this game, Oakland lined Reece up as a receiver and used a stutter-step to freeze CB Myron Lewis to run right past the third-year CB. Ask yourself how many fullbacks have the ability to set up a defensive back and blow past him on a short go route. Reece is going to be a hot commodity on the waiver wire this week because he is a good bet to see a huge spike in snaps since Darren McFadden and Mike Goodson will likely miss multiple weeks with high ankle sprains. However, it would be a mistake to expect him to get the tough yards in their absence simply because he is a fullback. In fact, I'd be surprised if he sees more than 10 carries over a two-week period based on his previous usage. Despite the "FB" in front of his name, owners really need to remind/educate themselves to the fact Oakland sees him as a passing-game weapon and not necessarily a battering ram. If the aforementioned Raiders' RBs miss time, expect a very pass-heavy approach – approaching 70% passing – to be the new "Raider way" until McFadden returns.
Vikings-Seahawks

The Ponder-Rudolph dilemma

"Showtime Tate"
Fantasy implications: Anyone that has watched Christian Ponder over the last three games knows he is struggling. However, take one look at the box-score returns of Kyle Rudolph and it reveals that when the TE is not getting regular targets, they will both struggle. Tom Pelissero reported in late October that Ponder "seems increasing skittish" about throwing the ball to a covered Rudolph and it is hard to argue that assessment after watching the Vikings in recent weeks. After all, Minnesota has exactly two legitimate passing-game weapons, so Ponder doesn't exactly have a wealth of other options to lean on each week. The problem with Ponder's new thinking is that he excelled earlier in the season – particularly in the red zone – when he forced the ball to Rudolph because defenses don't have a great chance at stopping any pass thrown high in the back of the end zone to a sure-handed, 6-6 athletic tight end. At the very least, Ponder should be able to get Rudolph involved in the same way Tony Romo does Jason Witten in Dallas, that is, with middle-of-the-field hooks and out routes. Rudolph is far from waiver-wire fodder, so owners simply need to realize football is a game of adjustments and counter-adjustments. This is when OCs like Bill Musgrave earn their money; let's see if he can prove me wrong about his ability as a play-caller.
This is a nod to Golden Tate's Twitter handle, which one could make the case he is living up to this season despite being locked into a run-heavy offensive attack. His weekly and total numbers hardly leap off the page, but it gets harder to dismiss a player the more he shows up in the red zone. Somewhat surprisingly, Tate is tied for 13th in the NFL among receivers with nine red-zone targets, one ahead of teammate Sidney Rice. His first score in this game came on a play in which he broke off his route in the end zone and worked his back to the right after he saw Russell Wilson escape the pocket. His second TD was on a bubble screen, eluding three different defenders before taking a spectacular, albeit unnecessary, leap in the air to cross the end line. Tate probably will never emerge into a player that can be a fantasy stud without the benefit of an elite QB, but we are already seeing what is possible from him now with a healthy combination of experience (third year) and solid quarterback play.
Steelers-Giants

Little numbers, Giant problem

Running game revival in Pittsburgh?
Fantasy implications: One look at Eli Manning's recent numbers and it is fair to say he could be in a four-game slump. However, the Blitz tries to dig a bit deeper than that. Manning has completed just 6 of his last 22 passes thrown more than 10 yards downfield over the last two games, but I think it would be unfair to say he isn't playing just a little better than his recent stats indicate. For example, in this game, the Steelers were whistled for 41- and 46-yard pass interference calls that could have just as easily been completions. Starting with the Niners game nearly a month ago – when the Giants surprisingly didn't need their passing game – New York has "settled" for four 1-yard TD runs over the next three games, three of which were set up by passing plays where the receiver was stopped at the 1-yard line. Manning excelled in the one matchup in that time he should have (Washington), completing 65% of his passes for 337 yards, but saw two of those 1-yard runs in that game. The last two opponents (Dallas and Pittsburgh) have each been very stingy vs. the pass, especially lately. As for his struggles in this particular game, rare is the time when a NFL team runs just 48 plays in a game, which is what happened here. In summary, Manning has been extraordinarily unlucky lately. Rest assured the Giants' passing numbers will pick up over the next few weeks against Cincinnati, Green Bay, Washington and New Orleans.
Just as sure as I am the Giants will rediscover their passing game soon, I'm equally unsure if the Steelers' resurgent running game is really back, although it may not matter considering the run-stopping struggles of their upcoming opponents. Can we honestly believe that right-side replacements G Ramon Foster and T Mike Adams are the reasons why Pittsburgh can run now regardless of the running back when it couldn't buy a running game a month earlier? (Remember, it was just Week 6 in which the Steelers could not run on the Titans on a short week.) Once again, let's look at the recent schedule. Cincinnati (Week 7) has alternated between being a good and bad run defense all year long, Washington (Week 8) has seen its once-formidable run defense fall apart in recent weeks and, like the Bengals, New York (Week 9) would just as soon rush the passer than play the run. The schedule sets up nicely for the Steelers' rushing attack in fantasy if nail the "hot hand" each week, but consider me skeptical when a team loses the right side of its line and runs the ball better. There's value to be had here, but guessing which back will run hot from week to week is quite often a losing proposition in fantasy.
Cowboys-Falcons

Splitting hairs

Pick up the pace, would ya?
Fantasy implications: Sometimes, identifying a trend appears to be very easy (Joe Flacco's splits at home vs. the road, for example) while at other times, it is very hard. However, one request I have for fantasy football owners is to look beyond the "easy" comparisons and dig a bit deeper. Prior to last week, Julio Jones was considered a "road warrior" while Roddy White had evolved into a home-dominant player. While football possesses a number of different and complex variables, I'm not sure I'm ever going to buy a home vs. road argument for a receiver simply because his production is almost entirely dependent on what the quarterback does. Under the right circumstances, I can buy the every-other-game argument in this case since Jones and White were essentially swapping WR1 status from week to week. Why? Because it makes sense that Matt Ryan would do his best to keep both of his supremely-talented receivers "in the game". I suspect White and Jones' owners will not be talking home-road splits or every-other-week production over the next month as the Falcons face the Saints twice and the Bucs once. It should be a fun ride for owners invested in the Atlanta passing attack.
The speed at which an offense conducts itself has gained popularity in the NFL given the success of college teams like Oregon in recent years because more plays mean more opportunities. But just as importantly, high tempo wears down a defense – especially the pass rush – over the course of a game. Another benefit is that a quicker pace sometimes energizes a stagnant offense. This was especially relevant in this game because after field goals on its first two drives, Dallas did not score another point until midway through the fourth quarter when it increased the tempo. While the argument could be made that Atlanta simply gave the Cowboys the touchdown because they were leading by 10 points at the time, I disagree; the Falcons appeared to be gassed near the end of the drive. If an offense can get a defense to that point in the second or third quarter instead, it might go a long way in boosting a struggling running game, say, like the Cowboys'. A permanent move to the hurry-up is not the answer for a team like Dallas, but short of an incredible talent gap, there is almost always an answer to the biggest question marks a NFL team has. Ultimately, it boils down to whether or not that team is willing to make the necessary change, assuming the problem is identified. As long as the talent of Dallas' interior line remains a question – which it is currently – then the team needs to pull out the stops to give itself a chance on the ground. Picking up the pace – and not just using it in desperation mode – is one way to do just that.
Eagles-Saints

If two out of three ain't bad, why does four out of five stink?

What's the French word for "underused"?
Fantasy implications: Offensive line play isn't sexy. After all, they are slow-moving (compared to everyone else on the football field) behemoths that must operate as a team within a team. They don't generate easily-assessable stats either, making it even harder for people to appreciate their play. But even the best NFL teams have a hard time covering up the loss of four starters up front and the Eagles are no different. Accentuating the problem is Michael Vick, who still shows a stunning lack of awareness on some plays (look no further than the 7:45 mark of the third quarter for an example of this) despite making great strides as a quarterback under Andy Reid's tutelage. For a big-play offense like the Eagles, quality offensive line play is vital and it isn't happening because Philadelphia doesn't have the horses up front to give him the 4-5 seconds he used to get on his deep shots. One part of the offense that hasn't completely fallen over the cliff is the running game, but HC Andy Reid has admitted countless times his heart is in the passing game. About the only way Reid keeps his job is if he places his fate in the hands of LeSean McCoy and Bryce Brown. Another philosophical change Reid must make is keeping his tight ends to block. Double "A-gap" pressure (on either side of the center) has been a huge problem for this line, but by expanding the defensive end's pass-rush angles, the interior offensive line can focus entirely on preventing immediate inside pressure.
I'm sure I'm going to echo the sentiment coming from a number of Pierre Thomas owners here. In a game in which the Saints were missing their main weapon (Darren Sproles) and held a sizeable lead throughout, it is hard to believe they found just eight touches for one of the league's better all-purpose backs. It is one thing to ask each running back on the roster to share time, it is quite another to run them in and out of a game and expect them to remain completely focused when their next touch may come on the next play or 20 plays later. Sproles' role appears to be the only one that is halfway-cemented (10-12 touches per game), otherwise Thomas can be the battering ram one week and the screen-play back the next. Mark Ingram showed many of the qualities that made him a first-round draft pick in this game, but he is a poor fit in New Orleans. In fact, many believe Ingram's draft status is the only thing keeping him ahead of Chris Ivory on the depth chart. As much potential as this running game has for fantasy owners, Sproles figures to remain the only one worth a starting spot indefinitely.

Suggestions, comments, musings about the article or fantasy football in general? E-mail me or follow me on Twitter.

---
Doug Orth has written for FF Today since 2006, appeared in USA Today's Fantasy Football Preview magazine in each of the last two seasons and served as a weekly fantasy football analyst for 106.7 The Fan (WJFK – Washington, D.C). He is also a member of the Fantasy Sports Writers Association.