All Out Blitz: Volume 56




11/22/12



Aggressiveness is a characteristic that tends to reward fantasy owners more times than not. In the NFL, an offensive line will sometimes hold up long enough to give the quarterback enough time to beat man coverage down the field and make the defense look foolish against a fierce pass rush. More often than not, though, when a defense brings the heat and forces the action, crisis management becomes the name of the game for the opposing team.

In that same vein, I hope to apply that same kind of pressure to the owners in all of my leagues by beating my opponents to the punch in regards to personnel moves. Sometimes, reaching a conclusion about a player too quickly results in making a bad situation worse. However, coming to a correct conclusion two weeks or two minutes quicker than your opponents is considered foresight and can often lead to fantasy championships.

Fantasy owners can be a uneasy lot, knowing that one two-or-three-game losing streak can wreak irreparable damage to his/her team's chances to make a visit to the fantasy postseason. But just as it is in the NFL and in life, it's hard to land the big prize by playing scared. Thus, I will strive each week to help each of you become a smart blitzer, so to speak.


---

NFL players and analysts love to use the phrase "Any Given Sunday" in reference to what can happen on a weekly basis due to the parity that exists in the league. I never have bought into that and probably never will. Why? For the most part, professionals – in any industry – are paid to perform at a high level regardless of circumstances. Drawing upon my own athletic career, I never had the chance to look past an opponent because of their record and never would have because every game was another chance to prove myself. If I – a person who never made a single dollar as a result of my athletic prowess – adopted that approach to my craft, why should I expect people who play sports for a living to do any less?

Especially at this point of the season every year, the cream starts rising to the top and injures – or a lack of depth/talent – tend to separate the contenders from the pretenders. At this point, the NFL is usually a bit more predictable because football is not a sport where teams wallow in misery for half a season, only to do a complete about-face. In my experience, there is almost always a sign from the previous week(s) that a team is starting to get "it". In a number of situations this week, a team that "got it" in Week 11 did so out of thin air.

For example, I refuse to believe the Bills finally found a defense, Jacksonville is now an unstoppable offense, Mark Sanchez can pick apart the Rams' defense more than one out of 10 times or that Matt Ryan will throw five more interceptions the rest of the season. And really, those occurrences in Week 11 were only a handful of the strange happenings that defined the week. Arian Foster seeing his scoring streak coming to an end the same week Houston scores 44 points? The Patriots' running game gets shut down by the Colts and New England still manages to score 59 points? Jacksonville scores nearly as many points against Houston as it had in the previous three weeks combined? Just the tip of the iceberg…

While NFL fans are likely looking at what happened last week from an anything-can-happen perspective, I find it disturbing as a fantasy owner who watches each team play every week. While I will attempt to explain the events of this past week in a bit, I cannot recall another week in all the years I have been following the NFL that so many illogical occurrences all took place in the same week. I would approximate that one week out of every four weeks during the season is odd, but Week 11 was in a word, bizarre.

Dolphins-Bills

The best way I can describe what I see with Miami's offense right now is that it simply lacks sizzle. Holes aren't being opened up when runs are designed to go inside and outside runs aren't being blocked particularly well, which goes a long way to negate Miami's best offensive weapon. The "curious" decision that I detailed last week regarding Reggie Bush's benching really showed up in this game as he ran more to protect the ball than he did to make a play with it. In the passing game, Ryan Tannehill is no longer force-feeding the ball to Brian Hartline and the passing game has predictably stalled.

Outside of Doug Martin's coming-out party a few weeks ago, Thursday Night Football games have been poorly-played, low-scoring defensive battles. I think there is a reasonable explanation for this phenomenon and it revolves mostly around the lack of time offensive coordinators have to install their week-to-week passing-game tweaks. What makes me think twice about that assertion, however, is that I don't recall the teams (Dallas and Detroit) that typically play on Thanksgiving every year suffering from those issues. It's an issue that warrants more research from fantasy owners as well as the league, which is ignoring obvious safety concerns in an effort to get their product on television more often.

Fantasy implications: The past few weeks have turned Bush into a must-have fantasy RB2 with a favorable fantasy playoff schedule into a player owners have to consider benching at a position where so very few all-purpose weapons exist. With Daniel Thomas stealing his goal-line touches and a considerable amount of work outside the red zone, Bush is a dicey play at best the rest of the season. The same could actually be said about the entire Miami offense. Regarding the TNF games, owners need to be aware – especially those with quarterback and receivers playing – that Thursday will be bad news for their players more often than not. The simplest solution to improving the quality of the game and keeping it on Thursday would be to give the competing teams a bye week leading up to it and running them over the regular bye weeks (this year, that would be from Weeks 4-11).

Jags-Texans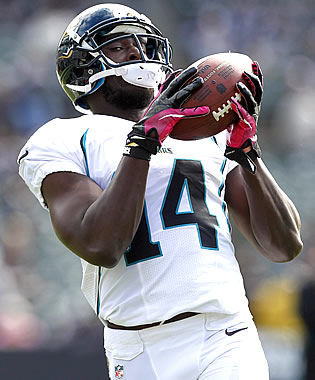 Why isn't Blackmon being used more from the slot?
After seeing Justin Blackmon show off his impressive run-after-catch skills on his first big play of the day out of the slot, I wondered how many times he has actually lined up inside this season. Thanks again to Pro Football Focus, the rookie has taken 53.8% of his snaps from the slot and his 200 snaps from that spot are good for 16th in the league. My question – given the configuration of this team at the moment – is why that number isn't higher. Cecil Shorts has proven to be a game-breaker, so why wouldn't Jacksonville use the big-bodied Blackmon more often in the slot where defenses usually have their smallest defensive backs and play off of Shorts' game-breaking ability?
I don't think this was a letdown game for the Texans after winning in Chicago nor do I feel that Houston was looking forward to playing Thanksgiving Day in front of a national audience. The offense was obviously there as was the run defense. My issue with the Texans in this game was their pass defense, which could only have come to the conclusion that it was going to be an easy day at the office because that is exactly how it covered and tackled early. Despite what some Houston players were saying after the game, Jacksonville has provided no hint this kind of offensive explosion was possible and I found it peculiar that once the Texans' defensive backs realized they were getting challenged, the Jags' big plays stopped happening. Evidence: Chad Henne connected on just two of his final 13 throws.
Fantasy implications: This game was perhaps the most bizarre of them all and, frankly, there probably isn't enough time to get into all the craziness that transpired in this one. With Blaine Gabbert going on IR, Henne will have the opportunity to prove Week 11 wasn't a fluke. The fact Henne finished so poorly further proves my point that Houston's DBs turned it up once they started getting embarrassed. While I was convinced during the draft process that Blackmon is going to be a legit NFL receiver, I don't think this will necessarily be the year he proves it. At the very least, I would like to see him in the slot more often before I start using him in fantasy. In football, it sometimes just takes one player or one unit to make the whole team look bad and I think that is exactly what happened here. While the Texans' pass-defense collapses have been epic this year (the few times they have happened), I don't believe it is the start of a trend either – so long as Johnathan Joseph is healthy.
Browns-Cowboys

Somehow, a Browns' defense without one of the league's best CBs in Joe Haden was basically a shutdown unit through three quarters. Cleveland's defense – thanks mostly to the work of S T.J. Ward – has been very good against tight ends this season, so Jason Witten's meager numbers were hardly a shock. But the rest of the offensive group really needs to look at themselves in the mirror after this one. Let's start at the offensive line, which surrendered seven sacks to a defense that had registered one or fewer in four of its first nine games. Felix Jones continues to be one of the worst running backs in the league and the refusal by the coaching staff to use an up-tempo offense – especially when the regular-tempo offense isn't producing – is mind-blowing to me.
Rather than dwell on how the same Browns' defense that held the Cowboys to three points through three quarters gives up 17 in the fourth quarter or easily allows that same offense to drive 66 yards in just over a minute at the end of the game (thanks to 50 yards of penalties), I will instead focus on how impressive Trent Richardson was in this contest. Granted, injuries to a number of Cowboys' defenders have made it easier to run against, but I don't recall Richardson having the level of lateral agility he displayed in this game. Combined with his impressive power, it will be fun to see what he can do in the years to come with the amount of offensive talent Cleveland has assembled over the past calendar year.
Fantasy implications: Perhaps the Cowboys' o-line took a page out of the Eagles' book after playing them last week, but the amount of pressure Tony Romo was under in this game was ridiculous. While screens and draws can't always be the remedy to poor line play, it may not hurt Dallas to run more of them. Then again, the fact the offensive line is poor is hardly a new problem. Assuming the knee he needed surgery on earlier this year is not going to be a chronic issue for him, Richardson is going to be an absolute joy to own in fantasy going forward as the young Browns start to gel. Frankly, I'm surprised by the level of talent they have acquired recently and look forward to the day when it all comes together. Richardson has a bright fantasy future in front of him.
Jets-Rams

The lack of trust/use of Steven Jackson at the goal line is perplexing to me. After watching St. Louis basically ignore him inside the five – his 16 red-zone carries this season are tied for 21st in the league with RB stalwarts such as Brandon Bolden and Daniel Thomas – has almost made the Rams' goal line predictable in the wrong way. In an offense where the passing game is so reliant on a player that has missed half the season (Danny Amendola), not using such a powerful back in a power situation seems odd at best and basically goes against what OC Bryan Schottenheimer did much of his time in New York with a much less talented back in Shonn Greene.
Somebody was hard at work in the film room last week. All three of the Jets' TDs against the Rams were what I would call "gameplan plays". On Mark Sanchez's one scoring pass to Chaz Schilens, it appeared the coaches' film revealed that rookie Trumaine Johnson would bite hard on screen action or a pump fake because that is exactly what happened when Schilens ran right by him for his score. On the two TD runs, both came on third-and-long situations in which there were huge holes against a light box. One came as a result of a "gun-run" and the other was a quick-hitting trap in which it was clear New York saw a tendency from the Rams to bail out in such situations.
Fantasy implications: Each of the games I have profiled so far met the bizarre criteria I established in the introduction and this game was no different. The same Rams defense that performed so well in the tie at San Francisco appeared to have no idea how to defend a limited Jets' offense that lives somewhere between average and awful. To say I follow Schottenheimer's logic in his usage of Jackson recently would be a complete lie. Over the last two weeks, he has chosen to pound him against one of the better run defenses in the league, only to go right back to sporadically using him against one of the worst. The more I think about it, the more I feel like we need to respect the job OC Tony Sparano is doing with this offense. It lacks consistency because it lacks the talent to be consistent. The fact New York has enjoyed scoring explosions this year has a lot to do with Sparano putting in some serious time in the film room.
Bengals-Chiefs
It's hard to watch teams held hostage by poor quarterbacking. Watching as many games as I do over the course of a week, month or even year, it becomes apparent which receivers and coordinators have confidence in their quarterbacks and which ones don't. Kansas City has good skill-position talent and enough talent on the offensive line – when healthy – to make it go. But when an offense's idea of a big pass play is limited to a tight end breaking a tackle over the middle of the field for a 15-20 gain or a slot receiver making a defender miss and getting the same amount of yardage – and it only happens 1-2 times a game, defenses can basically can do whatever they want so long as they just tackle Jamaal Charles when he gets the ball. The Chiefs can't stretch the field and don't have a QB accurate enough to continually lead 12-15 play drives.
Their Week 11 competition aside, Cincinnati has played some of its best football in recent memory the past three weeks. The defense has had its way with struggling quarterbacks/offenses while the offense has been rather efficient. Yes, I still think it is comical that: 1) BenJarvus Green-Ellis is considered a feature back when Cedric Peerman would give the team a more explosive element and 2) Andrew Hawkins continues to play a bit role, but at least someone got the message that it was time to incorporate Jermaine Gresham into the offense on a regular basis. It's actually stunning that a team in its second year of running the West Coast offense would waste so much time before getting a 6-5, 260-pound TE more involved. The reason this is important is because any player – especially one who can control the middle of the field like Gresham can – makes it very difficult for a defense to double A.J. Green.
Fantasy implications: On the quarterback front with the Chiefs, this is hardly breaking news. Dwayne Bowe will continue being a back-end WR3 in fantasy and it only figures to get worse when Brady Quinn assumes control again in Week 12. We've seen Charles' workloads hit both extremes, but he's going to remain the only Kansas City player owners should start. In PPR leagues, Gresham is the 10th-highest scoring TE (average) over the last three weeks and 12th-highest over the last five. It's not quite where he needs to be yet, but it is close and makes him trustworthy going forward at a position that hasn't really met expectations this season as a whole in fantasy.
Packers-Lions

HC Mike McCarthy proclaimed after this game that he was not happy with James Starks in this game, concluding he "left a lot of production on the field". Frankly, I'm not sure I've been more impressed with a Packer RB all season long. Obviously, McCarthy knows how his plays are drawn up better than I do, but I counted just two times (in 25 carries) where I thought Starks made the wrong cut on a run. He ran with power, did a fine job of not going down on first contact and was – in my opinion – very solid overall. Just to confirm my impression, Pro Football Focus gave him the third-highest grade of any Packer offensive player (behind Randall Cobb and Jermichael Finley) in this game.
Speaking of Finley, he didn't see many targets (three) and he wasn't involved early, but there was a connection with Aaron Rodgers this week that hasn't been there at any point this season. The touchdown catch was a well-designed play call in which the right side of the Packers' line sold a RB screen to the right side of the field to get the linebackers to flow left, leaving Finley with nothing but green grass in front of him for about 15 yards. The pair also hooked up on a 2-yard out route that he turned into a 40-yard gain, showing off his impressive speed and athleticism.
Fantasy implications: Sometimes, it is easy to get too caught up in production and/or averages. Starks never was and probably never will be an explosive RB, but this offense doesn't need him to be. In his prime, Ryan Grant was a rock in this offense despite not possessing one particular skill (besides durability) and he was a fantasy star. Finley has been an incredible disappointment this season and it is too early to tell if this is just a blip on the radar or the beginning of Finley's maturation. He burst onto the scene in 2009 because of his incredible athleticism, but he strikes me as the type of player that was content relying on his natural talent as opposed to putting the necessary time into film study or in front of the JUGS machine. In no way am I ready to say Finley will be a fantasy asset down the stretch based off this one performance, but his game against Detroit was a "mature" one. Going forward, however, he still is a TE2 at best the remainder of the year barring an injury to one or more of the receivers.
Eagles-Redskins
No team does a better job of stopping itself this season than Philadelphia. One can easily get the sense that some of the players want to score so badly inside the 20 that everyone tries too hard. Red-zone issues have long been a problem in the Andy Reid era because he typically falls in love in the pass. Under much different circumstances last year, LeSean McCoy had 58 touches inside the red zone and scored 17 times. This year, he has 25 touches and five scores. Certainly, run vs. pass is not the only issue here and the complete lack of ball security has been a major issue as well, but giving your best player the ball 2.5 times a game in scoring territory is a losing proposition. But the blame goes much deeper than that; the safety play has been abysmal recently and that was especially the case in this game.
People will want to suggest after this game that Robert Griffin III broke out of his "mini-slump". The truth is that his passing performance was much more the product of his opponent than anything else. More than half of his passing yards and two of his four passing touchdowns came via the ineptitude of the Eagles' safeties to do what NFL safeties are supposed to do: play deeper than the deepest and make plays on balls within their catch radius. In no way is this meant to take away from the performance of RG3, but we need to wipe the slate clean in regards to the talent we know the Eagles have on this team. While Philly doesn't strike me as a team that has mailed it in, it is a team that is playing like it wants the season to end now.
Fantasy implications: Pure and simple, the Eagles' offense has no belief anymore that it is going to succeed inside the red zone and the defense has completely fallen apart after a good start to the season. Some players are trying too hard to make plays, others are thinking too much and when one unit tries to compensate for another in the game of football, bad things tend to happen. Philadelphia – despite a wealth of talent on both sides of the ball – has likely emerged as the team owners want their players to play against, be it offensive players or defense/special teams units.
Cardinals-Falcons

It's hard to fathom how Matt Ryan could be so unlucky to throw five interceptions in this game – there were an inordinate number of tipped balls in this game – and probably even harder to understand how any team that has a plus-5 margin in the turnover department can lose that same game. Ryan's first interception came on a bobble of a pass that was a bit behind Roddy White that he usually catches. Interception #2 was the result of a tip at the line, #3 was a ball that sailed on Ryan as he was getting hit, #4 was a forced throw in the flat right at LB Daryl Washington and #5 was again tipped at the line. For a quarterback tagged with five interceptions, Ryan's throws were actually on point for most of the day.
While it appears as if I'm trying to cover for Ryan, I am not. If luck can be defined as preparation meeting opportunity, then give major credit to Arizona for being in the right place at the right time. Obviously, the Cardinals noticed on film that Ryan throws over the defensive ends a lot and there isn't a ton of loft on his short throws, so the coaches likely drove home the point to the defensive linemen to get their hands up as often as possible. And it makes sense with the 6-8 Calais Campbell on one side and 6-4 Darnell Dockett on the other that a quarterback could have some issues with tipped balls at the line of scrimmage on any short, out-breaking route.
Fantasy implications: Take your pick with the bizarre angle on this one. Was it the team with a plus-5 turnover margin losing? Was it the quarterback who got pulled without throwing a pick an odder scenario? Or was it that the losing team won the turnover battle by a significant margin AND doubled the rushing yardage of the winning team and still lost? The nugget I'm taking from this game is that Arizona will – at some point in the very near future – be a fine fantasy defense to own. It is aggressive and has a number of great athletes that find the ball in the air. While a quarterback can't be cleared of all of his mistakes, Ryan's performance is hardly indicative of what we will see from him going forward. He's a top-five QB play the rest of the way.
Bucs-Panthers

One thing that drives me absolutely crazy when I watch the NFL is when a team's clear top receiver(s) isn't the team's leader in targets. Barring shadow coverage from an elite cornerback or bracket coverage, Steve Smith should almost always lead the team in targets and be targeted 2-3 times a quarter. Balance is good in team sports, but balance just for the sake of balance isn't when it limits the number of opportunities an elite player has to make plays. Even at age 33, Smith is a nightmare for most cornerbacks to cover. I rarely ever see Smith run a short route anymore and the fact that he doesn't work out of the slot (23 slot snaps all season per Pro Football Focus) is even more mind-boggling to me. As it has for years, the offense feeds off the play of Smith, so not letting him beat a corner on a drag route or allowing him to use his run-after-catch skills is a complete waste of his abilities.
I cannot recall a time this season – starting in Week 3 when they made Ramses Barden look like Herman Moore in his prime – when the Panthers could stop a slant route. The inability to stop that one play in that game contributed greatly to the Giants' blowout and it helped lead to the Bucs' 11-point rally in less than six minutes in this contest. Understand DC Sean McDermott – from the Jim Johnson school of aggressive defense – probably doesn't feel as if he has much of a choice but to play a lot of zone, but Carolina is showing a disturbing trend this season of snatching defeat from the jaws of victory (you read that right) and its soft defense late is a big reason for it.
Fantasy implications: The fact the offensive line isn't what it used to be makes Smith's usage this season even more curious. Barring a complete sellout by the defense to stop one player, there are typically adjustments that can be made by offensive coordinators to free up their key players, especially receivers. There is very little big-play element to this offense now and the lack of consistent usage of Smith is a big reason why. For that reason, he is slowly creeping into WR3 territory. While I'm hardly a fan of passive defenses for fantasy purposes, the Panthers should be a solid play in over the next two weeks when they meet Philadelphia and Kansas City, arguably the two teams that provide the best matchups for fantasy defenses this season.
Saints-Raiders

It's probably going to be hard to understand how I saw so much good from Oakland in this contest given the score, but for the first time in a while – maybe all season – I see hope for the running game once Darren McFadden returns. Why? First, before a unit can master a skill, it has to show that it can execute it on a regular basis in game conditions regardless of the opposition. For the first time all season, I saw the Raiders' zone-blocking line work in unison and not allow any penetration on running plays. Certainly, run-blocking success against New Orleans isn't worth much in the overall scheme of things, but it is a definite sign of progress.
Injuries are part of football; that much is certain. But what teams and coaches do when injuries strike often define a season. While the loss of McFadden is a negative for the Raiders in general, it is hard not to be encouraged by the emergence of Reece and the creative ways Knapp is getting him the ball (and that is the biggest surprise, in my opinion). Putting a receiver in a fullback's body has mismatch written all over it and you can see in this game how ill-prepared defenses are to defend a player like Reece when he is flexed out as a receiver. Even a simple out-route is an adventure for a linebacker in that situation, which is the very route used to beat the Saints for a 56-yard reception in this game.
Fantasy implications: Owners need to put Reece's rushing success into context. If McFadden was given the same holes to run through that Reece had in this game, it is fair to say that he would have ripped off something more than a 17-yard run. What I do believe, however, is that Reece has moved into the handcuff role for McFadden going forward since Mike Goodson has shown less ability to stay healthy for long periods of time than McFadden has. I drafted Reece in my start-up dynasty league draft this summer because I knew he had the skill to do what he is doing now, but I frankly didn't think Knapp had it in him to use him creatively, so I have been pleasantly surprised in that regard. Let's hope it continues once McFadden returns since he can break open a game if Knapp is willing to think outside the box with Reece and the line continues to block like it did against the Saints.
Colts-Patriots

Perhaps no team plays the "contract game" quite as well as New England. While running-back-by-committee was started in part because it allowed coaches to maximize multiple backs' unique talents, it also does wonders to keep a player's final stats down, which comes in handy for management at contract time. We are seeing a similar scenario play out at receiver in Foxboro, where the Patriots have been trying to prepare for the likely departure of Wes Welker for most of this season. First, the team featured Aaron Hernandez and started Julian Edelman over him. Injuries to both players have kept New England from executing its vision of getting a year's head start on its post-Welker offense, but I believe the team's brass had its mind made up about moving on from Welker anyway. The emphasis on Edelman in this game – and the manner in which he was used (his 47-yard end-around run, for example) – was another reminder the Patriots are already thinking about 2013 while trying to make a Super Bowl run in 2012.
Speaking of depressing a player's stats, New England could not mount much of a running game against the Colts, but that has been part of a surprising trend in recent weeks. After showing a complete of desire to tackle Shonn Greene in the embarrassing Week 6 loss to the Jets, the Colts' run defense has been rather stout. Defenses don't transform into shutdown run units if they began the season out poor, but credit Indy for improving its technique (i.e. improving the tackling and keeping good "run fits" – staying in their lanes and not over-pursuing). Technique is one area that can improve over the course of the season and Week 11 was the latest example of that.
Fantasy implications: Welker keeps hanging onto his fantasy value simply because New England can't seem to keep every one of its receivers or tight ends healthy all at the same time. He'll continue to do so now with Rob Gronkowski out, but owners need to be aware that if Gronk beats his recovery timeline and Hernandez/Edelman stay healthy, Welker's value will go down quickly at the end of the season. I'm also convinced this will be Welker's final year with the team, just as I was at the beginning of the season. Indy's improved run defense should get its stiffest test yet in Week 12 vs. Buffalo, but as long as the Colts remain as technique-sound as they have in recent weeks, it's not a given that C.J. Spiller will have a field day against them.
Chargers-Broncos

Philip Rivers is having another poor season, at least by the standards he has set for himself. But let's give credit where credit is due: this may be his worst offensive line yet. In the first half of this contest, he went 9-of-17 for 60 yards with one sack and one interception and I'd argue that it could have been a lot worse. With the exception of Brett Favre (or to a lesser degree, Jay Cutler), quarterbacks need to be able to step into their throws and it was apparent pretty quickly that Denver's pass rush had rented space in the quarterback's mind (as Ron Jaworski likes to say). The pass protection improved slightly in the second half and, not surprisingly, so did Rivers' numbers. The shame of it was that 5-9 Tony Carter had no shot against 6-5 Danario Alexander and the duo didn't start clicking until the second half, simply because Rivers rarely ever had an opportunity to find anyone besides a running back or tight end for half the game.
We caught a brief glimpse of what life will be like as the Broncos prepare for life without Willis McGahee. It's been speculated all along that rookie Ronnie Hillman would lead a committee attack with Lance Ball (and possibly Knowshon Moreno, who has been inactive for a good part of the season) and that is exactly what transpired. The Broncos did not appear to be concerned that the 5-9, 200-pound Hillman would be overmatched running inside the tackles as the team chose to use him in much the same way I have seen them use the 6-0, 235-pound McGahee. Hillman managed 14 touches in this contest despite not seeing much playing time prior to McGahee's early-second quarter injury.
Fantasy implications: A quarterback's inaccuracy usually comes as a result of one two occurrences: 1) he was never all that accurate to begin with or 2) he isn't stepping into his throws. We know from past experience that the first one isn't true about Rivers, but I think we can certainly conclude the second one is. The addition of Alexander has already done wonders for this offense, but it won't be until the offseason that San Diego can address its biggest problem, the offensive line. Rivers will remain a matchup QB at best until that problem is corrected. As for the Broncos' new running attack, Hillman is the only player worth adding in fantasy at the moment. His speed and quickness in a Peyton Manning-led offense has been an intriguing thought since he was drafted, so a regular 15-touch workload could make him a possible RB2 candidate in PPR leagues or solid flex play in standard leagues.
Ravens-Steelers

Perhaps the biggest travesty of this game was Byron Leftwich getting injured on his touchdown run. But my biggest disappointment wasn't that he wouldn't be able to find Mike Wallace with the deep ball (although that was troublesome to watch against a shorthanded Ravens secondary), but that Pittsburgh stuck with him for the remainder of the game when he went from routinely throwing everything 15+ yards downfield to becoming "Captain Checkdown" around the middle of the third quarter. Had a healthy Charlie Batch been called upon shortly after it became Leftwich was rendered ineffective, perhaps Wallace could have been the factor he should have been. But my biggest frustration was the fact Pittsburgh did such a poor job of testing the perimeter of Baltimore's run defense, which has been its weakness for most of the season – as I discussed in this column last week.
Media types like to ask the question, "Was that bad offense or good defense?" Without a doubt in my mind, this was bad offense on both sides. Both teams quickly adopted the approach they would play not to lose the game and Baltimore did a slightly better job of it. It was almost as if the coaches and players went into this matchup saying, "This is Steelers-Ravens week...we're going to have to win ugly." Outside of the Steelers' run defense, this was not a game that belonged in the pantheon of the classic matchups between these teams over the recent past. It was two teams with good records playing poorly because they expected to play poorly.
Fantasy implications: Thankfully, Pittsburgh has one more healthy quarterback on its roster that it can trust a bit going into Cleveland this week. But it is hard to deny the Steelers have played two awful games over the past two weeks and there isn't much hope it will get better anytime soon with Ben Roethlisberger out for a few more weeks. As third-string quarterbacks go, Batch is a pretty good option, but his presence sinks the value of perhaps every player in the passing game, except maybe Heath Miller. Combined with three-headed monster at RB, we're getting to the point where we can say no Steeler player (including the defense) is a viable option in fantasy.
Bears-Niners
It has been decided; after one start, Colin Kaepernick is the best quarterback ever. In all seriousness, Kaepernick was awesome on a rather big stage. While his final stats were nice, look further than his beautiful corner route throw to Kyle Williams on the first touchdown drive or the pass he made behind Mario Manningham – on purpose – to get the receiver to reverse his tracks and run another 15-20 yards on the play that led to Michael Crabtree's touchdown. Let's also not forget the actual TD pass to Crabtree, which was also another example of high-level quarterbacking.
The next time someone discusses Jay Cutler's "attitude" or his inconsistency, remember this game. It was very clear the offense had little faith in Jason Campbell and the Niners' defense had little respect for him. Worse yet, the offensive line gave up six sacks to a defense that had managed just 17 over its first nine games. All of this speaks to the importance of Cutler to this offense. Like him or not, Cutler's mere presence means Brandon Marshall stays happy – which he clearly was not by the end of this game – and the opposing defense must defend the entire field. The fact that Cutler can make any receiver relevant behind his offensive line is a credit to him.
Fantasy implications: Kaepernick has reportedly been named the starter for this week's game in New Orleans. While there is little doubt he is worth whatever budget or waiver-wire priority you may have, be aware that there has been no official changing of the guard. Don't let one game distort reality either; Alex Smith hasn't exactly done a lot lately to lose his job. With that said, there is a lot of fantasy appeal to a player like Kaepernick because he is one of a handful of quarterbacks in this league who are capable of throwing for 200 yards and rushing for 100 more in the right matchup. While HC Jim Harbaugh decides who his "hot hand" is, Kaepernick is worth a stash on your bench at the very least. Owners desperate for a plug-and-play this weekend should view him as a very solid start against the Saints. As for Campbell, I mentioned a week or two ago that sometimes a team picks the quarterback. Well, in this case, the Bears showed with their actions they only believe in Cutler. While Cutler's presence in and of itself isn't all that important in fantasy, it is apparent that Chicago does not feel like it can function with him out of the lineup, meaning Marshall's elite WR status is threatened whenever he is not playing.
Suggestions, comments, musings about the article or fantasy football in general? E-mail me or follow me on Twitter.

---
Doug Orth has written for FF Today since 2006, appeared in USA Today's Fantasy Football Preview magazine in each of the last two seasons and served as a weekly fantasy football analyst for 106.7 The Fan (WJFK – Washington, D.C). He is also a member of the Fantasy Sports Writers Association.