All Out Blitz: Volume 60




12/20/12



Aggressiveness is a characteristic that tends to reward fantasy owners more times than not. In the NFL, an offensive line will sometimes hold up long enough to give the quarterback enough time to beat man coverage down the field and make the defense look foolish against a fierce pass rush. More often than not, though, when a defense brings the heat and forces the action, crisis management becomes the name of the game for the opposing team.

In that same vein, I hope to apply that same kind of pressure to the owners in all of my leagues by beating my opponents to the punch in regards to personnel moves. Sometimes, reaching a conclusion about a player too quickly results in making a bad situation worse. However, coming to a correct conclusion two weeks or two minutes quicker than your opponents is considered foresight and can often lead to fantasy championships.

Fantasy owners can be a uneasy lot, knowing that one two-or-three-game losing streak can wreak irreparable damage to his/her team's chances to make a visit to the fantasy postseason. But just as it is in the NFL and in life, it's hard to land the big prize by playing scared. Thus, I will strive each week to help each of you become a smart blitzer, so to speak.


---

As we all know, late December is usually considered a time for giving. However, if December 16 could be considered the third day of Christmas (as in the "12 Days of Christmas"), I guess it is only appropriate that French hens are the "gift" associated with that day since there were more goose eggs handed out in Week 15 than I can ever remember during the fantasy playoffs.

On the real playing field, three teams were shut out. It's not surprising the Chiefs finally found a way to get blanked, even if it was a bit odd that Oakland was the team that accomplished the feat. But the Giants and the Bucs? Say it isn't so. I guess the NFL really is a week-to-week league after all.

Seven days after the Giants took advantage of every short field New Orleans gave them en route to 52-point performance, they follow it up with a complete clunker against a Falcons defense that hasn't had much luck in stopping any team's rushing attack. Conversely, how did the Saints – whose defense was on the wrong end of that 50-spot New York laid on it – do the unthinkable and shut out the Bucs offense they had no prayer of stopping back in Week 7? And let's not even get into just how porous New Orleans defense has been all season long.

Less ironic but every bit as hard to explain is how Atlanta – which was supremely outclassed in Carolina last week – could even come close to pitching a shutout to begin with. While I have a ton of respect for DC Mike Nolan, this defense was without SS William Moore and had CB Asante Samuel "limited" by a shoulder injury last week. Furthermore, Roddy White was far from 100% while Michael Turner and Jacquizz Rodgers haven't exactly been tearing it up, so whatever effectiveness the defense figured to have should have been negated by a somewhat stagnant offense.

If there were blowouts and shutouts in the real game, you'd better believe the ripples were noticed in the fantasy football world. To give you a relevant example from my most competitive leagues – four money and two experts – 15 of the 24 teams competing in the semifinals had at least one player score zero (or negative) points in their lineup. Four of those 15 teams were my teams (a fact of which I'm not proud of), but my teams still managed to go 3-1 (which I am proud of and goes to show you that a well-balanced team will typically help you overcome one player's dreadful performance). When five NFL teams score single-digit points and two more score just 10, you'd better believe it's going to be a rough week. One poor owner in my biggest money league finished with 47 points in a PPR league, with Danny Amendola providing 42 percent of his point total – and he was the No. 1 overall seed!

Let's take one more look at the week that was:

Bengals-Eagles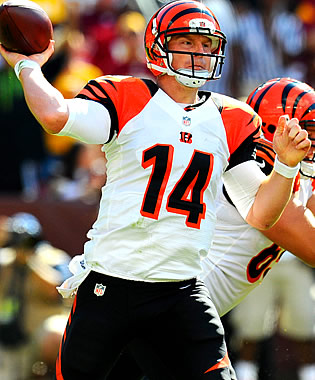 Andy Dalton isn't in the elite QB catergory... yet.
Andy Dalton is in something of a no-win situation. On one hand, he has yet to throw a red-zone interception in his short career. On the other hand, his OC wants him to be more aggressive everywhere, including inside the 20. But sometimes, as was the case in this game, Dalton was high and wide on a number of throws. If a quarterback can sense his control is going to be erratic early in the game, then is he best served to "force it in there"? It's a slippery slope of sorts for Dalton to be sure, since conservatism is what has defined the Bengals for years, starting with owner/GM Mike Brown and trickling on down to HC Marvin Lewis. In fact, it is Brown's conservative nature that has contributed to Cincinnati's "second-chance" program, taking the risk with talented players that may have worn out their welcome somewhere else because they cannot demand the same salary of similarly-talented players with cleaner track records.

Fantasy implications: Early on last season, Dalton was drawing "young Drew Brees" comparisons. Every so often, we see flashes of that ability, but it is highly unlikely Dalton will ever be as aggressive – or as good – downfield as the Saints QB. Great quarterbacks can make good receiver look great and the reverse is true as well. A.J. Green has pretty much already proven himself to be one of the great receivers in the league, but let's make something crystal clear right now: some quarterbacks needs as many as five years to show their "greatness", so the book is far from being written on Dalton. As for this week against Pittsburgh, one would think the Bengals would take one look at the injury-ravaged Steelers secondary and look to throw all day. Despite what his play against Philadelphia and Pittsburgh's effectiveness against the pass this season might say, Dalton should be a solid start this week.
Colts-Texans

As Houston's most likely threat in the AFC South over the next few years, I found it very interesting that Indianapolis chose this game to run a more balanced offense, especially considering the Colts never held a lead. I would guess Indy did this for one of two reasons: 1) the team was without C Samson Satele and RT Winston Justice and wanted to avoid a repeat of Andrew Luck's Week 14 pounding – the most likely reason – or 2) interim HC Bruce Arians really is buying into what he is selling about rookie RB Vick Ballard. With the Patriots providing a blueprint on how to carve up the Texans' pass defense, it was odd not to see the Colts wear out rookie slot WR T.Y. Hilton or get Reggie Wayne on the move more often than they did.
It seems odd to suggest that a 12-2 team has obvious holes to fill, but the Texans probably aren't going to represent the AFC in the Super Bowl because of their injuries on the defensive side of the ball – LB Brian Cushing and slot CB Brice McCain to name a couple – whose absences were huge in the New England game. If that doesn't stop their title quest, the other problem – and one we've known about for some time – is the lack of a dynamic threat that can step up at receiver in the same kind of way Hilton has in support of Wayne. Houston has nice "pieces" at the position, but one reason the Texans had to settle for six field-goal attempts against an average defense like the Colts' is because not every third down will be a short distance in which they can turn to Foster. And in those cases, a swing pass to Foster or waiting for Owen Daniels/Andre Johnson to open up cannot always be the answer.
Fantasy implications: Ballard has proven capable of handling the feature-back role, but his lack of contributions – or catches, as it were – in the passing game will continue to hold him back in fantasy. He could get a break – and a low-end fantasy RB2 nod – next week against the Chiefs, however. For those owners rolling with Luck in Week 16, be sure to check on the status of Satele and Justice before locking him into your lineup. If they are absent, another low-yardage, two-touchdown effort could be in Luck's future. As for Houston, I am very intrigued by the Texans defense going up against the Vikings in Week 16. Houston has done well against one-dimensional offenses this season and Minnesota really offers no other threat than Adrian Peterson. If the Texans can jump out to an early two-score lead, Houston has enough defensive talent to neutralize (relatively speaking, of course) AD if he is its only focus.
Bucs-Saints

As opponents have learned they would prefer not to get beat by Doug Martin, Josh Freeman's play has declined considerably. In this contest, New Orleans appeared to place a heavy emphasis on playing its safeties deep because the Bucs didn't come close to hitting a single deep ball, which became Tampa Bay's bread-and-butter during its winning streak. Three of Freeman's four interceptions were bad throws, decisions or both while the fourth one would probably be considered a desperation heave. It's easy to forget that Freeman entered this game with a 25:8 TD-to-INT ratio, but these last three games are proof that he isn't ready to take that next step into the upper level of quarterbacks yet. While about 40 of his 47 throws were acceptable, most of them were short throws dictated by coverage and the Bucs' huge deficit.
Don't be too quick to make too much Mark Ingram's nice stat line from this game. When comparing this performance (and other recent ones) to his games earlier in the season, it is obvious he is healthier now than before. With that said, most of his yards came against a demoralized defense in the second half that knew it wasn't getting much help from the offense. Furthermore, his touchdown came late in the fourth quarter after Drew Brees had left the game.
Fantasy implications: Owners fortunate enough to survive Freeman's dreadful performance in their league's semifinals probably don't need my approval to bench him in Week 16 vs. the Rams. I'm confident OC Mike Sullivan will work the same kind of magic with him in the coming years that he did with the Giants and Eli Manning as the QB coach, but it will take some patience. Obviously, that doesn't mean he needs playing time for your fantasy team this week. Ingram's fantasy appeal appears to be limited to those games where the Saints are trying to hold a lead and/or run out the clock, two situations that are always hard to predict with a team that has such a poor defense.Darren Sproles remains the only consistent play, including Week 16 against Dallas.
Jaguars-Dolphins

It probably seems odd that I would want to discuss of receivers from a floundering offense that lost 24-3, but that is exactly what I will do here. While he isn't the explosive athlete that Steve Smith was in his prime, Cecil Shorts reminds me a bit of the Carolina receiver. As quick as can be and hard to knock off his feet, Shorts showed no ill effects from his Week 13 concussion and has posted 100 yards, a touchdown or both in each of the last five and seven of the last eight games. While Shorts didn't abuse Miami on slant and skinny-post routes, he picked up a big chunk of his yards on those quick-breaking routes. As for Justin Blackmon, I see him on his first catch of the game – a 38-yard catch-and-run – and he reminds me a bit of a young Anquan Boldin, although he is not quite as physical. As with most talented young players, Blackmon has shown flashes since Chad Henne took over as the starter. He should be in line for a huge jump next season.
Fantasy implications: Even better for Shorts and his owners is the fact that Henne targeted him relentlessly in the final minutes of the game inside the red zone, not the bigger and more physical Blackmon. Speaking of Blackmon, he is getting better at creating separation, but like with most rookie receivers, it may take another year of on-field education for him to fulfill the lofty 70-80 catch potential some had him pegged for in the preseason. Shorts creates separation with ease and has proven he can get open some of the better corners in the league. He'll likely draw rookie Alfonzo Dennard (unless his knee injury turns out to be serious) in Week 16 as Aqib Talib would seem to match up better physically with Blackmon. If Dennard misses the game, Shorts could have a field day against a struggling Kyle Arrington. As such, Blackmon qualifies as a low-end WR3 in Week 16 while Shorts could post WR1-WR2 numbers.
Packers-Bears

James Jones entered this season with a career high of 50 catches, 20 receiving touchdowns over his five-year career and a reputation for being one of the more drop-prone receivers in the NFL. So it shouldn't come as any shock that in Year 6, Jones' catch rate is at 63%, his TD rate is 23.5% (higher than Rob Gronkowski or Jordy Nelson's last year) and that he has been charged with one drop on 81 targets this season. In this game, Jones' huge numbers were simply a result of two favorable matchups that Aaron Rodgers took advantage of and a perfect pass that most NFL quarterbacks wouldn't even attempt. On his first score, Rodgers was almost obligated to go to Jones with the 5-9 CB Kelvin Hayden covering him; it just so happened Hayden bit hard on a fake by Jones and made it an easier throw for Rodgers. On the second TD, Jones beat backup CB D.J. Moore inside on a short slant route. The third pass was against venerable CB Charles Tillman, where it almost seemed Rodgers was trying to help Jones achieve some kind of record. While it was a perfect pass, Tillman couldn't have covered it any better (except perhaps to have being a split-second slower and letting the throw hit him in the backside).
I find it comical when people insist that Matt Forte cannot succeed as a goal-line back. His problem – as it has been for most of his career – is a complete lack of urgency from his line to get a push in those spots. On one crucial late third-quarter drive in this game, Forte was given three carries inside the 5, with two of those occurring inside the 2. The problem? While Chicago ran behind right guard (typically Gabe Carimi, the team's highest-graded run blocker), Carimi wasn't in the game, but his replacement Jonathan Scott was. Furthermore, C Roberto Garza was pushed back on both plays, making it much easier for the Packers to rally to Forte at the line of scrimmage. This has been a familiar theme over most of Forte's career: his struggles at the goal line are much less about him and his ability to find a hole and much more about Chicago's line not being able to push the defense off the line of scrimmage.
Fantasy implications: Nine of Jones' 12 scores have come over four games and he hasn't topped 78 yards since Week 1, so it's hard to say he has "arrived". With that said, he needs to be used in a solid matchup against the Titans in Week 16. Forte is and will remain a good fantasy RB2 for the immediate future simply because he is so heavily involved in the gameplan outside of the red zone. He's never a great bet for a touchdown, but he'll get his shot at another 100+ total yards and 4-6 catches against an Arizona run defense that has fallen off considerably since a solid start to the season. With Michael Bush on IR, he should also get a few more shots at a goal-line score.
Jets-Titans

Typically, I list games in the order they were played. However, I can't stand the thought of my last entry for the Blitz this season to be about this game. If Josh Freeman's four-pick game in Week 15 was awful, then Mark Sanchez's performance on MNF was abysmal. It was a bit ironic to hear ESPN's Trent Dilfer speak about Mark Sanchez following this game because he (Dilfer in 2000) is the last quarterback I can recall that has achieved any significant level of success in the NFL (AFC/NFC title game or Super Bowl) and was generally considered to be "replaceable" the entire time. The difference is that Dilfer knew he had a margin of error with one of the NFL all-time best defenses in the Ravens and halted his poor decisions as the postseason progressed. Sanchez had a nice two-game run in the playoffs at the end of the 2010 season, but outside of being a complementary piece on a team with a solid running game and great defense, he has consistently shown a knack to make the wrong decision under pressure. If you find yourself asking the question, "Is Mark Sanchez a good quarterback in a bad situation?", then ask yourself a second question, "Has Sanchez ever made any of the players around him better?"
Fantasy implications: Quarterbacks will likely always receive too much of the credit and too much of the blame, but when they become the main reason a team loses, then the quarterback becomes replaceable pretty quickly. The Jets have also done their part to ensure that he could not capitalize on his early-career success by failing to add any top-shelf talent to his receiving corps. They compounded the problem by bringing in a player like Tim Tebow that would undermine any ability he had to take to take control of the team. New York would be well-served to throw its offensive depth chart away in the offseason and undergo a Rams-like makeover. As you have probably guessed, your fantasy team is living on borrowed time if it still rolling with any Jets player in Week 16.
Broncos-Ravens

Peyton Manning simply followed the same message that opposing quarterbacks have been putting on film all season: target Ravens CB Cary Williams. An astonishing 11 of Manning's 28 passes went in Williams' direction. To put that number into some perspective, no other Baltimore defender was thrown at more than four times. As you can imagine by looking at the box score, Eric Decker saw him the most. To be fair, Decker also got the best of Jimmy Smith when Manning targeted him (just twice), but not to the degree he did Williams. And in case you are thinking this might be an isolated incident, only one CB (Miami's Sean Smith) has been targeted more (106 times) than Williams (99). Similarly, only DeAngelo Hall (916 yards) has surrendered more receiving yards than Williams (890).
It'd be too easy to knock the play-calling or lack of urgency Baltimore played with on offense under new OC Jim Caldwell, but the problems with this offense run deeper than that. One reason the Ravens' offense had to be hopeful entering the season was they were planning on using a great deal of no-huddle, which tends to simplify coverage – reading it for the offense and the amount of time a defense has to react to the formation. The natural assumption was that in addition to speeding up the offense, the speed of Torrey Smith and Jacoby Jones would open up more underneath routes for Anquan Boldin and Ray Rice. As the season has progressed, none of that seems to be happening anymore.
Fantasy implications: Since Demaryius Thomas seems likely to absorb Browns CB Joe Haden for the better part of Week 16, expect another heavy-target (and likely productive) game from Decker this week. Next up for Williams is likely a heavy dose of Hakeem Nicks in Week 16, which is about all the reason owners should need to start the oft-injured Giants' WR, even if Eli Manning isn't performing at the level he was in 2011. As for the Ravens' offense, Torrey Smith is questionable at best to play in Week 16 with a concussion, which means Boldin and Pitta should be force-fed the ball when Baltimore passes. Caldwell has been put in an impossible situation given his lack of playcalling experience, but before the offense can expect to walk (i.e. run the no-huddle) it needs to learn how to crawl (i.e. preventing penetration in the run game and putting receivers like Boldin in position to win individual matchups by using cluster and bunch formations). But the crux of the gameplan this week should be about wearing out Rice, who may have to play more snaps since backup RB Bernard Pierce is also racing against the clock to recover from a concussion.
Giants-Falcons

I guess the statement "this New York team is a tough one to figure out" could be used for either team that calls the city home and could be made just about every year about both teams. But the saying is particularly true about this Giants' team. Over their last five games, they have scored (in order) 13, 38, 16, 52 and 0 points. The three low-scoring games came on the road while the two high-scoring games came at home, but there's more to it than that. An offensive line that has done a great job at protecting Eli Manning for multiple-game stretches this season did not do a great job at handling blitzes in this game. Last year, that wouldn't have made much of a difference as Manning was brilliant in the face of pressure, completing 69.1% of his throws in that situation (per Pro Football Focus), good for second-best in the league. This season, with a more athletic tight end and better pass blocking, he has dropped to 14th at 59.1%. His deep-ball passing accuracy has also dropped, but the most telling difference could be how poor he has been off play-action (50.7% completion rate).
New York – and its vaunted defensive line in particular – has looked almost disinterested (or dare I say, old?) in recent games. While sack totals don't provide the greatest perspective on overall defensive performance, the Giants have six sacks over their last two wins and one sack total in their three losses over the last five games. Furthermore, they have just 32 sacks on the season, a dramatic drop from the 43+ they have accumulated in four of the previous five years.
Fantasy implications: The Giants are a mystery and I don't think this is a home vs. road question. Under Coughlin, they have always been at their best when the running game has been respectable – which is has been this season – which makes Manning's struggles all the more confusing on play-action passes. Every team produces at least one of those "outlier" games every year and I think this one qualifies for the Giants, who ran just 47 plays against the Falcons. In other words, if you liked all your New York fantasy players last week, I would like them all against at Baltimore against a decimated Ravens' defense in Week 16. The defense, on the other hand, cannot be trusted this week.
Redskins-Browns

Every week seems to produce one of those "don't believe the boxscore" kind of games and that was again the case last week for Trent Richardson. The rookie RB had 24 yards and a touchdown after four carries on the first two drives, then managed just four yards and a score on seven carries over the last 3 ˝ quarters. For the second straight week, he maximized what little space he has to work with once defenses began to wise up and make Brandon Weeden beat them through the air. I won't discount the notion that Richardson is playing hurt, but his short-yardage prowess is as good as there is in the game right now.
If there were two positives to Robert Griffin III missing this game, I would say they were: 1) Kirk Cousins more than proved he can move the offense and 2) we got a taste of what Alfred Morris would life would be like without the injured quarterback – something I feel we might see a time or two over the next few years – that makes his job so much easier. As expected, Morris was more workmanlike than anything, breaking no run for more than 11 yards – which was his shortest long run of any game this season. But the one thing we can almost always count on from a featured back in a Shanahan offense is volume and Morris logged a career-high 27 carries without fumbling, which had become a concern over the previous two games.
Fantasy implications: Stuffing the run became a bit easier for the Redskins when it became apparent Weeden wasn't going to be all that accurate on his short throws. It remains a mystery to me why they didn't take more than four deep shots against a poor secondary when two of them connected for 99 yards and a score. Even more confusing was the lack of downfield presence from Josh Gordon, who really should have had a field day against this defense considering the attention that was being shown toward Richardson. Up next are the Broncos, who entered Week 15 blitzing about 38% of the time. While that has worked well for them in recent weeks, it may also be just the thing Richardson needs to break a long run as well. Morris has likely surpassed even the most optimistic projections this season and he has been something of a rock at a position that is always short of quality fantasy options. Although he didn't have a great stat line in his first go-round with Philadelphia (Washington's Week 16 opponent), Morris is a must-start this week against an Eagles defense that has served up big days to RBs such as a less-than-100% DeMarco Murray, Doug Martin and BenJarvus Green-Ellis recently.
Vikings-Rams

There are a handful of backs in the NFL that defenses had better bring down the first opportunity they have to do so. Adrian Peterson is one of those backs; his league-leading seven carries of 50+ yards this season serves as the proof. And there's really not much more I can say hasn't already been said about AD. His cuts are as sharp and violent as they ever were pre-injury and I would argue he is probably faster – given some of the weight he decided to drop during his rehab – than he was before.
Fantasy implications: In the six fantasy leagues I mentioned above; the only team that owned AD this season and failed to make the fantasy title game was the one who abandoned his team right before the season. It is easy to forget that AD is still less than a year removed from a surgery that – until recently – athletes needed almost two years to fully recover from and perform at a high level. Peterson should easily eclipse 2,000 rushing yards and has a shot at Eric Dickerson's all-time record. Houston does present a formidable challenge to him in Week 16, but short of Houston not missing a single tackle on Sunday, AD seems like a good bet for about another 120-140 yards in an offense he has carried for well over a month.
Seahawks-Bills

Remember how I said in past weeks that defenses need to choose when it comes to the zone read? Well, after a while, it got to be embarrassing how often Buffalo got pulled inside with the fake to Marshawn Lynch in this game. Buffalo has only seen one other team this season run nearly as much zone-read option as Seattle did in this game and that game didn't end well either when San Francisco put up 311 rushing yards in a 45-3 beating in Week 4 – before Colin Kaepernick was named the starter. I'm not sure we'll see the Seahawks run this much zone-read option again for a while, but in another instance of the NFL being a "copycat league", Seattle simply watched the Bills-Niners game on tape and wore it out 11 weeks later. When teams don't make adjustments to the plays/concepts that beat them in the same game, much less multiple games – that is the fault of the coaching staff. All four rushing scores came via outside runs.
There have been several instances that have driven home this point this season, but a game against a fast and physical defense like Seattle only accentuated how much the Bills need to find themselves Ryan Fitzpatrick's successor. HC Chan Gailey has been able to skate by with the likes of Tyler Thigpen and Fitzpatrick for some time, but one of the main reasons teams like Seattle and San Francisco have been so successful against the Bills is because they simply aren't afraid that Fitzpatrick can beat them deep. Steve Johnson looked as healthy as he has all season and had a great game, but it is players like rookie T.J. Graham that go to waste because all the speed in the world doesn't help a receiver if his quarterback can't match it with his arm. Certainly, a big receiver like Cal's Keenan Allen would make everyone's life easier, but a blue-chip quarterback has to be the top priority.
Fantasy implications: After being led to believe the Bills were actually starting to pick up DC Dave Wannstedt's defensive philosophy, it is obvious neither Wannstedt nor his players were expecting this level of zone-read running. While more team speed in the back seven would have helped, Buffalo – and the linebackers in particular – was simply outmaneuvered on a regular basis in this game. Although only two of his three scores can via the zone-read (the other came when Buffalo didn't stay in its pass-rush lanes), Wilson was touched by a defender just once on his three scoring runs (which was made all the more amazing because they covered 52 yards). Expect Seattle to return to a much more traditional offense against a disciplined (and faster) defense in the Niners in Week 16. C.J. Spiller and Johnson can both be safely started in Week 16 at Miami, but that's it for Buffalo.
Panthers-Chargers

Think about how inept an offensive line has to be to allow six sacks on 32 dropbacks. Then again, as the FOX telecast reiterated, the Chargers have seen 15 different offensive linemen start at least one game this season. Solid offensive lines get to be productive units when they develop a sense of timing throughout the course of the season. Having run through the equivalent of three entirely different offensive lines, a pass could be warranted for every skill-position player in San Diego (even if HC Norv Turner doesn't get one himself). I cannot be so kind when it comes to Philip Rivers' fumbles. It's bad enough the league has already reinforced that Rivers holds the ball loosely in the pocket, but combine that with Rivers' knowledge that he has to get the ball out as quickly as he hits his back foot and it shouldn't come as a surprise that San Diego produced just two offensive plays that generated more than 10 yards.
Fantasy implications: Considering how bad Rivers has been in consecutive seasons, it is hard to give him a pass in fantasy. I have to admit, however, that I did not know the aforementioned stat about the number of players that have drawn a start up front for San Diego. Rivers is on pace to double his previous career high in fumbles (he has 13 as of this week), with many of those fumbles coming as a result of a slap to the hand as opposed to a brutal blindside hit or crushing frontside tackle. While a return to his former glory may not happen, I've seen enough against some weaker opponents to say he's not entirely done either. Still, until the Chargers invest a lot of resources into their line over the next season or two, Rivers isn't going to be much more than a matchup play in fantasy at best.
Lions-Cardinals

There was one way that Arizona was going to win this game: find a way to force turnovers in an effort to give its offense a short field and score on defense a time or two. Check and double check. In a game that only Detroit could play, the Lions found a way to give up 38 points to a team that produced less than 200 yards of total offense. Furthermore, not a single one of Arizona's four offensive scoring drives went further than 30 yards! Worse yet was the fact that none of Matthew Stafford's three interceptions were what I would call "forced". But the aspect of this game that probably bothered me the most is Stafford's continued insistence on changing his arm slot on just about every throw. While quarterbacks often need to be able to throw the ball from different angles in order to avoid getting the ball tipped at the line, no quarterback I watch each week throws from a different "platform" needlessly more often than Stafford. Thus, when you mix consistently different arm angles with a quarterback who regularly throws off his back foot, there is potential for disaster.
Fantasy implications: Stafford won't turn 25 until February and he has just three actual years of NFL experience, so it would be harsh to jump to many conclusions at the moment. While no one in their right mind was expecting a repeat of last season, Stafford could struggle to throw for 20 touchdowns the season after he threw 41. In a pass-happy offense that features arguably one of the most physically dominant receivers in NFL history, Stafford could explode in fantasy at any time, but we haven't seen that happen much in 2012 due to the aforementioned mechanics. It's hard to believe many fantasy teams made their title game with Stafford as their quarterback, but expect more of the same frustration for the rest of this season and pray that Detroit encourages Stafford to be more fundamentally sound next season.
Steelers-Cowboys

Rushing for more than 4.0 YPC against Pittsburgh doesn't mean what it has in past years, but this game served as irrefutable proof as to why DeMarco Murray is not only Dallas' clear No. 1 RB, but also one of the more talented all-around backs in the league. That probably comes as a bold statement to some, but durability is the only quality he has lacked so far in his pro career. While he runs with the power one might expect out of a 227-pound back, he looks more like 205 with the speed and quickness to match. It's no small feat that he has managed to post a league-average 4.1 YPC behind a poor offensive line, with last year's 5.5 YPC mark serving as a more accurate indication what he can do behind an average line. Pro Football Focus has charted Murray with forcing 19 missed tackles over eight games, a number that would grow to 38 if prorated over an entire season and likely put him in the top 10 this season – something made more remarkable when you consider Murray hasn't been close to 100% since his return three games ago.
Some of you may be wondering why exactly Tony Romo saw fit to give Jason Witten a red-zone target last week. (For those of you who don't know, Witten – a 6-5, 263-pound TE with 92 catches on 123 targets entering Week 15 – had a mere 11 red-zone targets prior to this game.) For a quarterback who has been one of the worst inside the red zone (10 TDs on 63 pass attempts inside the 20), one would think the quarterback would depend more, not less, on his huge tight end in close quarters. Alas, the most likely reason for Witten's rare red-zone target (and subsequent TD) was because the quarterback spotted inexperienced safety Robert Golden on the field, so a quick look-off was the only thing Romo needed to do to his tight end the ball for the score down the seam.
Fantasy implications: Despite missing nearly half the season (six games), Murray could still reach 35 receptions and rush for about 700 yards behind what many would agree is one of the worst offensive lines in the league. For those owners who have Murray and survived his absence long enough to make it this far, Week 16 – against the Saints – is the matchup you've been waiting for. Regarding Witten, I can't wrap my mind around why Romo focuses less on him in scoring territory, but that's a small flaw for his PPR owners that own the player who is a virtual lock to break Tony Gonzalez's single-season record of 102 catches by a tight end. Like every other part of its defense, New Orleans has been torn apart by tight ends this season, so Witten is a top-five play again this week.
Chiefs-Raiders

I'm not exactly sure what is the problem is, but Darren McFadden really hasn't looked right to me for the better part of the season. Certainly, it is entirely possible he was still feeling some of the effects from his ankle tweak (if not his original high-ankle sprain), but my assessment goes back to the last time I saw him make a great run – Week 3 vs. Pittsburgh. Perhaps I am haunted by the memory of how well he ran last season before his Lisfranc injury (his 172-yard, two-score game against the Jets comes to mind), but he seems to run more upright and stiff now then I can ever recall. We've known for some time now that McFadden isn't a good fit behind a zone-blocking line and the fact he has regressed to the same 3.4 YPC he had the last time he was in such a scheme only drives home the point.
I'm going to say this once and keep it short. When the lone game-breaking player on an offense is a running back and a team finds itself trailing the majority of the time, there is nothing wrong with giving him the ball – via the run or pass – at least 20 times per game. At what point does throwing five-yard outs and hooks to receivers that can't separate consistently beat the threat that Jamaal Charles gives an offense every time he touches the ball? Charles is incredibly likely to break a big play twice a game on 20 touches…who else in Kansas City can we say that about?
Fantasy implications: With five years of lower-body injuries on his resume, it will be hard to recommend McFadden again until he is back in a power-based scheme. The burst he had last season has only revealed itself on a handful of carries this season and I don't particularly like how he is running despite the fact Oakland hasn't been shy about feeding him the ball when he's in the lineup. McFadden just turned 25 during the season, so there is still some hope for him. But if he is going to make it that long, he's going to need to lower his pad level more consistently. In the short term, McFadden is a low-upside RB2 in Week 16 against Carolina. Charles, only because of his inconsistent workload, is also a RB2 – albeit a high-upside one – in a great matchup against the Colts.
Niners-Patriots

In the five games since Colin Kaepernick took over the starting quarterback job, here is Michael Crabtree's line (catches-yards-TDs): 29-358-3. As the last three weeks have shown, Kaepernick really doesn't care who is covering the wideout. In this game, six different defenders were given credit for primary coverage on him – including each of the Patriots' top three corners. Of those three, only Alfonzo Dennard, who was targeted twice – did not give up a reception to Crabtree. (However, the rookie CB made up for it though by surrendering Randy Moss' 24-yard TD.) This has become a three-week trend – Kaepernick targeting Crabtree regardless of the defender –and isn't likely to change simply because it is working. Want proof? Over the past three games, Crabtree has 20 more targets than any other Niner and Kaepernick has a 113.6 passer rating when he targets the No.10 overall pick from the 2009 draft.
Moving from a current Niner to a former one, Brandon Lloyd has been nothing short of sensational over the last two weeks, which should make you wonder two things at the very least: 1) where has this been? and 2) was the only thing that needed to happen was for Julian Edelman to get hurt? To be fair, Lloyd had a nice game two weeks before Edelman got hurt, but over the last two games, he has scorched Johnathan Joseph – who was largely responsible for holding Reggie Wayne to three catches and 14 yards last week – and the tandem of Tarell Brown and Chris Culliver in Week 15.
Fantasy implications: With quarterback changes typically come different "favorite" receivers. While Vernon Davis would seem the player most likely to benefit from Kaepernick's promotion since his speed and size should blend in well with the quarterback's big arm, perhaps it is Crabtree who is staying after practice and working on patterns with Kaepernick more often. Seahawks CB Richard Sherman – assuming he doesn't start his PED suspension this week – will present his most difficult challenge for Crabtree yet since Kaepernick became the starter. Lloyd has gone from midseason non-factor to a must-start with 25 targets, 17 catches and 279 yards during the fantasy playoffs. This week's opponent, Jacksonville, plays a ton of Cover 2, but Tom Brady is hitting him on enough short routes where it probably isn't going to matter if the Jaguars try to take away the deep ball.
---
With this being the final Blitz of the season, I'd like to remind each of you that I will return after a personal bye week with my fantasy column for the NFL Playoffs – Road to the Super Bowl. I'd also like to take this opportunity to thank all the e-mailers and readers for your kind words this season. Last but not least, I want to express my gratitude to the good folks at USA Today Sports who have allowed me to serve as their "expert" for the hour-long pre-kickoff chats on Sundays. It has certainly been a year to remember. I wish you all a happy, safe (and hopefully profitable) holiday season!
Suggestions, comments, musings about the article or fantasy football in general? E-mail me or follow me on Twitter.

---
Doug Orth has written for FF Today since 2006, appeared in USA Today's Fantasy Football Preview magazine in each of the last two seasons and served as a weekly fantasy football analyst for 106.7 The Fan (WJFK – Washington, D.C). He is also a member of the Fantasy Sports Writers Association.