Preseason Matchup Analysis




6/5/12



Relatively speaking, there are a select few in every field that combine the talent with the discipline necessary to do great things. Quite often, greatness happens when preparation meets opportunity – the same recipe that people often use to describe luck. Realizing that we are all flawed is part of what makes it special when we achieve greatness. But once that greatness is achieved, it can set the stage for a dramatic fall because the fame that typically follows also increases expectations – something not everyone is equipped to handle.

Focus can be defined as the "concentrated effort or attention on a particular thing". Quite often, it is one of the select few qualities that allows the elite to separate themselves from the very good in just about any segment of society. While I will undoubtedly spend more time on the importance of focus when it comes to achieving fantasy success as we advance through the summer, the reason I chose to highlight it this week was primarily due to the early Sunday morning arrest of Jacksonville's first-round selection, receiver Justin Blackmon.

Although I possess a psychology degree and it is my job to predict the future – at least as it relates to fantasy football – I would never claim to know if this will be the incident that scares Blackmon straight or if this is just the continuation of a pattern likely started during his college days. We often don't stop to remember that each new wave of players that join the pro ranks every year are men in their early 20s who want to do the same things (sometimes irresponsible) that most of us did following graduation. Thankfully, most of them do a great job of combining "living life" with being a professional and contribute a great deal to their new communities. What I do know is that like a NFL general manager or investment advisor, it is my job to tilt the scales to guaranteed production and growth as much as possible, only entertaining great risk at the point where I don't lose much if my selection tanks but benefit greatly if it thrives.

So, why the heavy introduction into a piece about fantasy rookies? The fact is that most of us can debate the positives and negatives about each and every player from now until their career is over, but one of the greatest factors that will ultimately determine where each player takes his career from this point on is the same subject I just discussed – focus. While a player's ability and determination to digest a playbook is always a good indication of their focus on football, it doesn't help us predict whether their potential personal demons will sabotage their career or not. Since we don't get a say into which players want "it" more than the others, there will always be mistakes made during just about every evaluation process.

Speaking of the evaluation process, we have to finish the initial evaluation of this rookie class. Last week, I began my Preseason Matchup Analysis series by disclosing the bottom half of my top 20 rookie players that I feel will have an impact in fantasy during the 2012 season. While it makes for great discussion, most of those players don't figure to contribute much to the bottom line of championship fantasy teams. The same cannot be said, however, about most of the players I will detail this week. And as an added bonus, I have continued the tradition that I started back in 2010 to rank the newcomers for owners preparing for their rookie drafts in dynasty leagues. While many owners will not need to rank 50 rookies, I have chosen to do so for the brave souls who play in those kinds of leagues.

Much like I said last week, a good part of the preparation process at the beginning of each season is trying to ascertain the floor and ceiling of each newcomer. In most cases, running backs steal the show when it comes to immediate contributions, although a number of players at other offensive skill positions have stolen the show in recent years. Last season alone, Cam Newton, A.J. Green and Julio Jones quickly made their presence felt in fantasy, matching – if not exceeding – the high bar set by players such as Sam Bradford and Rob Gronkowski in 2010. While we can only speculate on which rookies will deliver the most impact this season, there are some guidelines we can follow and questions we can ask in order to help us identify the players who have the best shot at becoming the next big thing. The following questions give us a good starting point:

Is he in a position to succeed? For a RB, does he have a good line to run behind and an OC that likes to run the ball? For a QB, does he have a good pass-blocking line and 2-3 quality options in the passing game? For a WR or TE, does he have a good QB throwing him the ball? Does he operate opposite a star WR or is he being counted on to carry the passing game?


What are his most obvious obstacles? This question goes hand-in-hand with the first question, but the successful fantasy owner cares just as much about why a player will likely fail as he/she does about how/why a player will thrive. For example, how much do we penalize Brandon Weeden or Trent Richardson – one of the best RB prospects to come out of the draft in recent memory – because they will play five fantasy games each year against Pittsburgh, Baltimore and Cincinnati? Is natural talent along with a huge void for a playmaker at receiver going to be enough for Brian Quick to overcome a huge step up in competition and make an immediate impact in St. Louis?


Is he an offensive building block, complementary piece or role player?


How is the "fit" with his new team and does his style mesh with what the team is trying to accomplish or is the offense going to cater to his talents? (Unfortunately, we can't take for granted that personnel departments always do this for themselves – need can be a terrible evaluator of talent.) Can we really expect Justin Blackmon to adequately fulfill the Roddy White role in new HC Mike Mularkey's offense for Jacksonville? How much of a boon is it for Alshon Jeffery and Michael Floyd that both players will have established Pro Bowl receivers opposite them…or will it stunt their development? How quickly can we really expect significant contributions from Andrew Luck and Robert Griffin III and will each team make good use of their incredible athletic ability?
Certainly, there are more questions that can be asked, but to establish a baseline for a rookie, I think this gives us a pretty good start. Over the next two weeks, I will evaluate the likely top rookies from this class – covering the back half of my top 20 this week and the top half next week – and present a compelling case as to whether or not they are worthy of your consideration in fantasy. At the very least, I hope to provide each of you with my early assessments on each player (complete with player strengths and weaknesses) before I really buckle down on player evaluations in July and August, courtesy of the newly renamed method I use for my fantasy predictions – Preseason Matchup Analysis.

Note: The rankings below are for the 2012 season only and are ranked in order of likelihood of fantasy impact. (For example, QBs like Brandon Weeden or Ryan Tannehill may accrue more fantasy points given the nature of their position, but the chances of them impacting a fantasy team are slimmer than say, a potential fantasy WR3 in a three-WR league, because the WR may end becoming an every-week fantasy starter.)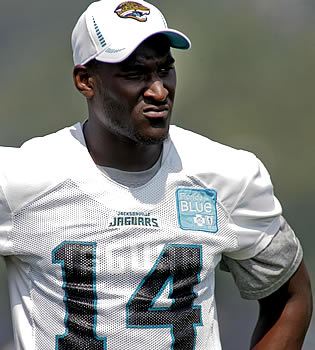 Blackmon: A potential menace for defenses in the NFL if the Jags feature him in the slot on a regular basis.
10. Justin Blackmon, WR Jacksonville
2012 Projected Role: Offensive building block.
Positives: Some players just play bigger than they really are. Such is the case for the 6-1, 207-pound Blackmon, who has a thick build and often plays like a receiver who is about 2-3 inches and 10-15 pounds bigger than he is. He also plays the ball in the air about as well as any receiver in this draft class. Although the typical college "spread receiver" isn't always schooled well on the ability to read coverage – as opposed to reacting off what his defender is doing – such is not the case for Blackmon as he generally shows he has a pretty good idea what the defense is doing pre- and post-snap. Even though the two-time Biletnikoff Award winner is sure to create fear wherever he is lined up, he could be a potential menace for defenses in the NFL if the Jags feature him in the slot on a regular basis in part because he knows how to "sit down" in zone coverage and is so thick that nickel CBs will be hard-pressed to play him without drawing a penalty. Last but not least, Blackmon will begin the season as an unquestioned starter for a Jacksonville team that hasn't had a receiver that struck fear into a defense in years. Blackmon should quickly establish himself as one of the better run-after-catch receivers in the league.

Negatives: Unlike the top receivers from the 2011 NFL Draft, Blackmon does not possess the elite size/speed/quickness combination of A.J. Green or Julio Jones. This is not to say he doesn't have enough of each, but rather that his play-caller (HC Mike Mularkey) will need to be a bit more creative with him than the play-caller Green or Jones (who, incidentally, was also Mularkey) in order to get Blackmon the numbers a lead NFL receiver should have. Blackmon also isn't as quick off the ball as one might expect from the top receiver in a draft class, although given his build and athleticism, it is probably only a matter of time and professional coaching before that problem corrects itself. His consistency as a blocker is lacking and he will need to sharpen his route-running skills as he gets older since he won't always be able to count on winning a jump-ball situation in the NFL. Of course, Blackmon's ability to contribute as a rookie will be directly affected by the improvement of QB Blaine Gabbert, who was clearly rushed into the starting lineup in 2011. And just this past Sunday morning, Blackmon was arrested for an aggravated DUI after police discovered his blood-alcohol level was three times over the Oklahoma state limit.
Fantasy Assessment: Drawing apt comparisons to Dwayne Bowe and Hakeem Nicks throughout the draft process, Blackmon has the opportunity (clear path to starting job), talent and a viable threat opposite him (free-agent WR Laurent Robinson) to produce for owners right away. He even has an elite running game working in his favor, which should make it highly unlikely that he ever has to face anything more than single or zone coverage early in his career. Thus, the question will be to what degree Gabbert improves. In a league where 60% is considered to be on the low end of an acceptable completion percentage, Gabbert stood at just 50.8% in 2011. As the "Z" receiver (Roddy White's position in Mularkey's offense), Blackmon has 60-70 catch upside already this season if Gabbert is able to operate closer to a league-average level than he was able to last season. It says here he'll improve, but more like at a 56-58% clip than 62-64%. As a result, Blackmon will fall short of being the most productive rookie receiver in this class because of Gabbert, but mostly due to the games he will miss as a result of being a repeat DUI offender.
Fearless early-June prediction (12 starts): 48 receptions for 610 yards and five TDs
2012 Projected Role: Complementary piece.
Positives: During the 2010 season, Jeffery dominated some of the finest teams in college football as a sophomore, posting a 8-192-2 line against eventual national champion Auburn and a 7-127-2 line against Alabama en route to eight 100-yard receiving games. Jeffery plays much bigger than his current 6-3 and 215-pound listing suggests since he has 33" arms, 10 ¼" hands and impressive jumping ability to boot, making him a wonderful complement to Brandon Marshall, who has long dominated in the short- and intermediate-passing game when his head is in the game. His new position coach, Darryl Drake, has praised Jeffery's hands repeatedly since the Bears drafted him. It also helps that Drake is recognized as one of the best WR coaches in the business, so the second-round selection will have that working in his favor as well. Jeffery also lands in a pretty good spot for future NFL production, because despite the brutal conditions the Bears sometimes play in, Jeffery's ability on deep balls should play well with Jay Cutler's strong arm in just about every game.
Negatives: Despite being listed at 6-4 and 230 pounds during his junior year (Calvin Johnson-like physical dimensions), Jeffery has never been nor will ever be "Megatron". While he does have good timed speed for a receiver of his size, he is a long strider who wins more jump balls than foot races downfield. His biggest concern during the draft process was the fear he lost substantial weight for his pro day (213 pounds) after playing most of his final season at South Carolina around 235-240. It was that weight fluctuation (and the subsequent work ethic questions) as much as anything that thwarted any chance Jeffery had of challenging Justin Blackmon and Michael Floyd as the top receivers in this draft class. Jeffery's 2011 season was also great affected by South Carolina's musical-chair approach at QB – caused mostly by Stephen Garcia's inability to take advantage of a number of chances to correct his off-field behavior.
Fantasy Assessment: One has to wonder how much blame for 2011 goes to the QB situation and how much goes to the weight gain. And despite swearing he will never play at 230+ again, the question must be asked: will he let himself go again once he gets his first big paycheck? It's enough to cast doubt on him, but Jeffery won't be asked to carry the passing game like some of the higher-ranked receivers on this list will, so he will have a bit more time to learn the nuances of his position and ease into his role more smoothly than they will. NFL Network's Charles Davis used Marques Colston as a NFL comparison to Jeffery and it was probably a very apt statement to make (without Colston's injury history, of course). With Marshall around, Jeffery probably will not set the world on fire in the reception department, but he should be a valuable red-zone threat as soon as he is named the starter.
Fearless early-June prediction (13 starts): 39 receptions for 580 yards and six TDs
8. David Wilson, RB New York Giants
2012 Projected Role: Complementary piece.
Positives: In a lot of ways, Wilson is a lot like Ahmad Bradshaw – the running back he will be partnered with over the next few seasons minus the injury history. Wilson is very explosive (as evidenced by his 41" vertical jump at the Combine) and quick-twitched, which gives him the ability to show off his track background. He hits his top speed very quickly and does not shy away from contact like other young 5-10, 206-pound running backs might. Part of the reason for his fearlessness is because he wears his size well (in other words, he is strong for his size). Although he wasn't asked to catch the ball all that often at Virginia Tech (37 receptions), his hands are good enough to get him on the field in passing down situations once he shores up his blocking technique, something that come rather quickly given his willingness to absorb contact.
Negatives: There's rarely ever a dull moment with Wilson, which is both good and bad. The ACC Player of the Year made several highlight runs in college by reversing field, a move that winds up losing yards much more often in the NFL than in college football. Wilson's pad level can also get high when he goes into "playmaker mode", which often lends itself to turnovers and/or injuries. In fact, a lack of ball security is probably the main reason he wasn't considered a surefire first-round prospect. While there is something to be said about the ability of a running back to make something out of nothing, that same player also needs to learn that not every play is "the big one" and let his offensive line do their job in order to make his easier. Wilson doesn't always show enough patience in this regard, often believing he has to deliver the "knockout shot".
Fantasy Assessment: Bradshaw is the clear starter in New York, but the Giants already know he's not a 20-plus touch/week feature back, so they would prefer not to expose him to that kind of punishment. And although Bradshaw has played through an incredible amount of pain in his career, his durability will likely remain a question for the rest of his career. While Andre Brown has reportedly added weight in the offseason to become the Giants' new Brandon Jacobs, Wilson should see the same kind of workload Brandon Jacobs did before giving way to Brown or Bradshaw in the red zone. Since the two veterans figure to be the likely goal-line backs, Wilson will need to convert a few big plays in order to become a flex option in fantasy or an injury to Bradshaw to be considered a fantasy RB2.
Fearless early-June prediction (two starts): 118 carries for 480 yards and three TDs; 14 receptions for 95 yards
7. Coby Fleener, TE Indianapolis
2012 Projected Role: Complementary piece/likely starter.
Positives: The most obvious advantage Fleener has going into his rookie season is that he will be catching balls from the same player who helped him score 18 touchdowns – including 10 in 2011 – at Stanford, Andrew Luck. As for the physical gifts he brings to the table, Fleener has more than enough athletic ability to be used as a slot receiver, making him an obvious mismatch for just about any defensive player since he is 6-6 and 247 pounds. He uses that size well to separate from defenders and had the benefit of operating in a pro-style based offense in college, which certainly did not hurt him when it came to reading coverages, selling routes (usually off play-action in Stanford's power-rushing attack) and finding the weaknesses in coverage. Fleener finds the ball in the air, has top-notch run-after-catch ability and will almost certainly be the "move" TE for the majority of his career in Indianapolis, which should help him produce immediately despite his notable shortcomings – a below-average blocker who is somewhat surprisingly average coming off the line of scrimmage.
Negatives: It is a bit disturbing that a tight end playing for one of the most physical running teams in the nation enters the NFL as a below-average blocker. Still, it's a skill that can be developed and something he will undoubtedly improve at given his size and the fact he has shown improvement in that area as his college career came to a close. Another surprising shortcoming is his tendency to get knocked off his route, be it because of a jam or later in the route. While Fleener couldn't have asked for a better situation to start his career (with Luck), his immediate production may take a hit with the selection third-round TE Dwayne Allen, who was regarded as this draft's most complete tight end. In fact, unless Fleener is able to become a passable blocker relatively early in his career the few times he will be asked to block in-line, his playing time may fall behind Allen's since the Colts want to be a physical, run-oriented team under new HC Chuck Pagano.
Fantasy Assessment: Even though they sometimes surprise us, it's often a good idea to set low expectations on rookie tight ends given the complexity and all-around nature of the position. Given his skills and relationship with Luck, the chances are quite high that Fleener will post fantasy TE1 numbers on occasion in 2012. While few will argue that Indianapolis is in rebuilding mode and Fleener should be the offense's top target in the passing game, we can't completely dismiss the possibility that he may not even see more playing time than Allen nor can we forget about Reggie Wayne or Austin Collie. It's a lot to ask of Luck to make four receivers/tight ends fantasy worthy in his rookie season, so it's a good bet at least two – if not all four – fall a bit short of expectations in what the coaching staff hopes will be a run-based offense. For those reasons, Fleener should be considered a top-end to middle-of-the-pack TE2 in his rookie season from a consistency standpoint.
Fearless early-June prediction (13 starts): 48 receptions for 620 yards and four TDs
2012 Projected Role: Complementary piece/likely starter.
Positives: Much like the receiver across the field he will try to emulate in Larry Fitzgerald, Floyd shines when he is asked to adjust to a less-than-perfectly thrown ball because he possesses such good body control and is not afraid of traffic. He also has prototypical size for a receiver (6-3, 220) and puts it to good use after the catch, showing uncommon power and vision in the open field. His size also serves him well as a blocker, a quality that will help him stay on the field in just about every situation. Unlike many other top-rated rookie receivers from this draft class, Floyd has the benefit of learning the craft from perhaps the most respected receiver in the game today in Fitzgerald, who will also ensure the rookie will probably never see anything more than single coverage for the first 2-3 years of his NFL career. In addition to adjusting well to poorly-thrown balls, Floyd has repeatedly shown an ability to use his length in order to secure the catch in the tightest of spots.
Negatives: Floyd doesn't possess the awesome speed and quickness combination of other blue-chip receivers taken in recent drafts although he is still above-average in both areas for a receiver with his size. Even though his timed speed at the Combine turned heads, he does not play that fast and makes about the same number of plays above his defender that he does past him. For a receiver with his physical dimensions, he is not as strong as one would expect and has dealt with a number of injuries (knee, shoulder and hamstring) throughout his career already. Training with Fitzgerald this summer will undoubtedly accelerate his learning curve, but he may need more than one offseason to sharpen his route-running abilities in order to create more separation on a regular basis. Like many top college receivers every year, Floyd can get away with a sloppy route-running technique because his defender does not possess the same kind of size/talent he does. In a division that is quickly collecting quality defensive backs, he will need to correct that flaw.
Fantasy Assessment: Unlike some of the receivers on this list, Floyd will not be asked to carry the passing attack. Like many of his fellow draft classmates, there is some question as to how good the quarterback play will be (or in Arizona's case, which QB will be throwing him the ball?). For the foreseeable future, though, Floyd won't be asked to do much more than produce more than the combination of Andre Roberts and Early Doucet did as starters while making defenses pay for committing too many resources to stop Fitzgerald. That in itself should lead to a fair amount of fantasy consistency – especially for a rookie – even if it doesn't allow him to become anything more than a respectable WR3 over the next year or two. In no way will Floyd make the Cardinals forget about the days of Anquan Boldin working opposite Fitzgerald, but he certainly has the necessary tools to turn in a 60-catch season as a rookie if Arizona settles on a QB early on and trusts him enough to run a balanced offense.
Fearless early-June prediction (15 starts): 52 receptions for 675 yards and five TDs
2012 Projected Role: Offensive building block.
Positives: Quick possesses just about all the characteristics a fantasy owner could ask for in a rookie receiver, especially for a non-first round selection. Aside from the fact the Rams do not have a reliable option that possesses the size and talent of Quick in their receiving corps, the Appalachian State product is virtually a healthy version of Danario Alexander (6-4, 220) in terms of size and is an excellent blocker. He is a former basketball player and high jumper, two skills that carry over to his play on the football field. Despite his relative inexperience as a football player, he has a knack for getting open and understands how to run good routes. As one might imagine, his size and long arms (34 ¼") allows him to be an asset in the short passing game. New Rams WR coach Ray Sherman told Yahoo! that Quick reminded him of another small-school player he coached several years ago: "I see a lot of similarities to Terrell Owens. The way the kid goes and gets the ball, the physicality, the desire…he has a chance to be special, no doubt."
Negatives: As is the case with just about every player who comes from a non-BCS school, Quick's level of competition will be questioned as will his relatively limited experience in football. Throughout his college season and during the pre-draft process (most notably, during the first 1-2 Senior Bowl practices), Quick appeared overwhelmed by the magnitude of the moment only to rebound as the game (or week) moved on, almost to the point where he was dominating the competition once he got comfortable. Regardless, just because Quick is immensely talented, it wouldn't be a surprise to see Quick struggle mightily early on in 2012 only to have the light come on near the end of the season.
Fantasy Assessment: It's hard to remember the last time a Day 2 or 3 receiver basically walked into a situation in which the WR1 role for his team was pretty much a formality. A healthy Danny Amendola will likely finish the 2012 with better overall receiving stats, but Quick will almost certainly be the focus of defensive coordinators when the Rams find themselves in known passing downs and should be Sam Bradford's favorite red-zone option the day he first steps on the practice field. Whether or not that will mean only 4-5 touchdowns playing for an offense like the Rams remains to be seen, but given how impressed the Rams have been with Quick so far (in his pre-draft individual workout and rookie minicamp), he'll be given every chance to beat that number.
Fearless early-June prediction (16 starts): 56 receptions for 740 yards and five TDs
4. Andrew Luck, QB Indianapolis
2012 Projected Role: Offensive building block.
Positives: Luck has been called the best quarterback prospect to enter the league since John Elway. The first quality of his that leaps off the film is his accuracy, which is already among the best among NFL quarterbacks. Luck may not have a cannon for an arm, but his understanding of the game and uncanny accuracy help "make up" for the above-average arm strength he does have. Unlike many other college quarterbacks, Luck is solid mechanically, has a great deal of experience running an offense from the line of scrimmage and is comfortable going through his progressions, all qualities that are rare for even the highest-rated QBs. At 6-4 and 235 pounds, Luck is physically proportioned well enough to absorb punishment, but he moves and slides well enough in the pocket (and gets rid of the ball quickly enough) so that he rarely ever takes a big shot from a defender. Perhaps the most underrated part of his game, however, is his athleticism. Casual observers sometimes make the mistake of taking the Peyton Manning comparisons to an extreme, but Luck's Combine numbers are actually quite similar to Cam Newton's. Luck has the build to run over unsuspecting defenders and speed to pick up first downs with his feet. Although his new team's supporting cast will be a question mark, he will get to work with his college tight end (Fleener) and an experienced NFL play-caller in new OC Bruce Arians, formerly of the Steelers.
Negatives: Especially for an early-entry quarterback, it speaks volumes that Luck's biggest "weakness" as he begins his NFL career is the team he will be joining. Reggie Wayne is in decline, Austin Collie and Donnie Avery each have significant injury histories and the new starting tight ends are both rookies. At running back, Indianapolis doesn't exactly have a set of players yet who figure to threaten the defense on a weekly basis. As for Luck himself, most of his perceived flaws either never had much credibility (arm strength, for example), were functions of a run-based offense with limited talent at receiver or a combination of both. Granted, he does not possess Elway-like arm strength, but who does? If he does have one minor flaw, it might be that he knows he is accurate and has forced the ball into double coverage on rare occasions. But as a whole, he is rarely ever fooled and does not make many mistakes.
Fantasy Assessment: Luck, Newton and Robert Griffin III are part of the new wave of quarterbacks who just also happen to be incredible athletes. Like with any rookie signal-caller, early growing pains should be expected with Luck, but it also wouldn't be terribly surprising if he throws for 3,500 yards and accounts for upwards of 25-30 total touchdowns as a rookie either. After all, he will be forced to throw a lot to compensate for a weak defense and may end up as his team's best red-zone runner in 2012 since no one from the group of Donald Brown, Vick Ballard and Delone Carter may emerge as an above-average goal-line option. The Colts face long odds in reaching .500 this season, but it won't be because Luck failed. With his talent and iron-clad starting status, fantasy owners should view him as a high-upside QB2 already this season.
Fearless early-June prediction (16 starts): 322-of-513 for 3420 yards, 17 TDs and 12 INTs; 62 rushes for 325 yards and two TDs
3. Robert Griffin III, QB Washington
2012 Projected Role: Offensive building block.
Positives: It's not a stretch to say Griffin is a better, more developed version of a young Michael Vick. In fact, RG3 may be the best athlete to play the quarterback position since Vick went No. 1 over 10 years ago. Where Griffin is better than Vick is his accuracy and feel in the passing game – his dropbacks are better than one might expect for a player who spent the majority of his time in the shotgun formation and his comfort level is high while in the pocket. Based on his traditional pure quarterbacking skills alone (and not on his speed or quickness), RG3 may still have been a first-rounder. However, the part of Griffin's game that allowed him to challenge Luck as the No. 1 overall pick this year was what he can do on the edge and after a play breaks down, something that HC Mike Shanahan will take advantage of from Day 1. In a Shanahan offense, the running game will always be a threat, meaning Griffin's elite speed and quickness will put defenses in a bind when he bootlegs. Safeties that typically move up a few steps to stop the run will almost certainly be forced to play back since he has more than enough arm to also stretch the field vertically. Obviously, all of this means Griffin should have ample opportunity to make linebackers look silly in the open field when they are put in one-and-one situations. Griffin will also be joining a vastly improved supporting cast in Washington (as opposed to the one Rex Grossman and John Beck had last season) with deep threat Pierre Garcon joining athletic TE Fred Davis and a running game spearheaded by explosive second-year running back Roy Helu.
Negatives: Although he showed the nation last season he is not just a running quarterback, it wouldn't be surprising to see RG3 run a bit more often that he or Shanahan would prefer initially as he tries to acclimate himself to the speed of the pro game, both from an offensive and defensive perspective. Griffin did not regularly need to identify complex coverage, make many hot reads or work through his progressions all that often in Baylor HC Art Briles' offensive system. On the other hand, Griffin is certainly a bright enough person to pick up the nuances of the pro game in short order. Perhaps his biggest correctable shortcoming right now is his short-ball accuracy. While his intermediate and deep-passing skills are well above average, RG3 doesn't always remember how strong his arm is and can put too much muscle into his underneath throws.
Fantasy Assessment: Initially, it will be RG3's world-class athleticism that makes fantasy owners drool. His height (6-2) was a slight cause for concern for talent evaluators, but Shanahan's system should go a long way in easing those fears. It is not entirely out of the question to think Griffin could enjoy a Cam Newton-like rookie season, but in the end, look for Shanahan to do what he can to maximize his runs rather than to repeatedly put his new quarterback in harm's way by using him often as a runner. While this will hurt his fantasy upside, it should keep him healthy enough to play a full season. Still, his potential for huge fantasy games – and there will be some in 2012 – makes him worth considering as a low-end QB1 candidate in 12-team leagues, although he will ideally be one of the first QB2s off the board instead.
Fearless early-June prediction (14 starts): 255-of-435 for 3210 yards, 19 TDs and 16 INTs; 84 rushes for 555 yards and five TDs
2012 Projected Role: Offensive building block.
Positives: One of the "core covenants" new HC Greg Schiano preaches is ball security, which only begins to explain why Tampa Bay saw fit to trade back into the first round to select a runner after LeGarrette Blount fumbled the ball much too often in 2011. In addition to the fact Martin is more careful with the football than Blount, he is a thick yet explosive runner who can be trusted in just about every facet of the game. He is adept at running inside, decisive as a ball carrier and can be trusted in late-game situations. While he lacks the explosion of the NFL player he was compared to during draft season (Ray Rice), he has more than enough athletic ability to get to the edge and turn it upfield in a hurry. Thanks in large part to his size (5-9, 223 pounds) and fearlessness, he hits the hole hard. He can also make a defender miss in space although that is not typically his style. Martin is also ahead of the game when it comes to his abilities as a receiver out of the backfield. Although he is not the kind of athlete coordinators will necessarily try to isolate on linebackers in the slot, he is more than capable of cleanly catching the ball out of the backfield to keep the offense on schedule and convert on third down.
Negatives: About the only knock on Martin is the lack of one truly special skill. He could stand to be faster and more dynamic as a receiver in the passing game once he gets his hands on the ball, but those are minor complaints at best. Although he values the ball more than Blount, he does tend to carry the ball away from his frame; his fumble percentage (1.13) is merely average and too high for a Schiano RB. Even though Martin will enter training camp as the prohibitive starter (and likely three-down back), there is a strong chance he'll receive Blount's best shot as the veteran makes his case that he could at least share carries with the rookie. Martin is the better back and should win easily, but Schiano may try to ease the load on him a bit with a motivated Blount looking for another chance to prove himself.
Fantasy Assessment: Martin hasn't (and won't) receive the same fantasy fanfare of Trent Richardson – the one back selected before him in this draft – but he probably should. Not only does Martin possess many of the qualities necessary for a huge fantasy season for a running back – talent, solid run-blocking offensive line and receiving skills among them – he should also rarely ever leave the field since he is already the team's superior short-yardage option as well. In fact, my only concern with Martin at the moment is the degree to which Schiano will try to appease Blount. Will he only come in when Martin needs a rest or will the coach manufacture a small role for him? It's enough of a question to keep Martin from being ranked No.1 on this list for now, but not so big that he won't produce at a top-end RB2 level this fall.
Fearless early-June prediction (16 starts): 248 carries for 1150 yards and eight TDs; 38 receptions for 230 yards and one TD
1. Trent Richardson, RB Cleveland
2012 Projected Role: Offensive building block.
Positives: There's very little not to like about Richardson, a player many analysts suggest is the best runner to come out of the draft since Adrian Peterson. The comparisons are apt to a degree, making him one of the few true bellcow running backs to enter the league lately. Richardson is extremely physical and has a devastating stiff arm to boot, making him a handful to tackle. He also is one of the best college running backs in recent memory at running through initial contact; rare will be the time he'll go down on the first square hit he receives, much less an arm tackle. While other bigger backs rely on their size to overwhelm an oncoming defender, Richardson has incredible patience and vision and can make a linebacker miss in the hole just as much as he can run him over. Similarly, Richardson's fire-hydrant frame (5-9, 227) combined with his track speed (4.49 at the Combine) make him an absolute nightmare once he gets to the perimeter or into the secondary. Although he is not a natural receiver in terms of route running, he is more than capable at catching the ball and using the same urgent running style he does in between the tackles that he does when he is in space.
Negatives: If anything, Richardson almost runs with too much power, something that may catch up to him down the road and make him something of an injury risk. Like Martin, he's adept at catching passes and will be a plus in the screen game, but he's probably not someone Cleveland will flex out as a slot receiver because he is so proficient at running routes. Other than that – and perhaps the one reason Martin may outproduce him as a rookie – is a limited supporting cast. Cleveland is slowly assembling some young talent on offense, but it might take more than a year for the Brandon Weeden-Greg Little connection to scare defenses enough not to load the box on Richardson. Although he will still get his share of yards, they will come harder for Richardson than they will for Martin.
Fantasy Assessment: There is little doubt Richardson is one of the better RB prospects to come along the last 5-10 years. In fact, about the only concerns he has at the moment is the rugged, defensive-oriented division he plays in and his long-term health due to his fearlessness and willingness to absorb contact. In a league where fewer and fewer running backs are logging 300 carries, Richardson has a realistic shot at not only hitting that number, but leading the NFL in that category in his rookie year if he stays healthy. Another consideration is a healthy Brandon Jackson, who is a good bet to replace him on obvious passing downs, meaning Richardson's ceiling is probably 30-35 receptions. Still, given the knowledge that he will be so heavily involved in the offense and his obvious talent, Richardson is one of the few rookie running backs in recent years worth considering as a low-end fantasy RB1.
Fearless early-June prediction (15 starts): 297 carries for 1320 yards and eight TDs; 26 receptions for 175 yards and one TD
---
As I have done for the past two seasons, I'd like to once again provide a bonus for the dynasty league owners out there that want another opinion on the players they should target in their upcoming rookie drafts. In my hope to remain consistent, I will use the same kind of criteria to rank the prospects of this class that I did for my dynasty rankings back in April. The major difference, however, will be that I will be stretching the "elite production" time limit out to 5-10 years since most of these players are in their early 20s. "Proven consistency" is also a non-factor since these players have yet to play a pro down.
Some notes:

1) I will likely always value potential three-down RBs higher than any other position – even though their careers will be shorter – because finding those players is still the name of the game (in my opinion) given the dearth of acceptable RB1 options;

2) While I will not comment on each rookie below, I will focus primarily on the players who have yet to be mentioned in this series;

3) The contract status – in terms of the veterans these rookies may soon replace – will be a consideration in the ranking of these players as will the depth at each position. (In other words, the fact this class was loaded with good, but not great, receiver prospects will push their collective value down);

4) More than anything, what I'm trying to do here is try to predict how these players will come off the fantasy "Big Board" in about three years. While my focus is the same 5-10 years I stated above, understand the roster turnover rate in the NFL is roughly 25% each year. When most of the players hit their prime, they will be doing so with a completely different supporting cast.
Here is my early-June long-term overview on the class of 2012:
1. RB Trent Richardson, Cleveland

2. QB Andrew Luck, Indianapolis

3. QB Robert Griffin III, Washington

4. RB Doug Martin, Tampa Bay

5. RB David Wilson, NY Giants

6. TE Coby Fleener, Indianapolis

7. WR Michael Floyd, Arizona

8. WR Brian Quick, St. Louis

9. WR Kendall Wright, Tennessee

10. WR Justin Blackmon, Jacksonville*

11. QB Ryan Tannehill, Miami

12. WR Alshon Jeffery, Chicago

13. WR Mohamed Sanu, Cincinnati

14. RB Lamar Miller, Miami

15. RB Isaiah Pead, St. Louis

16. QB Russell Wilson, Seattle

17. WR A.J. Jenkins, San Francisco – Should be a consistent contributor opposite Michael Crabtree once Randy Moss leaves (likely after this season) and Manningham follows (signed contract that ends after 2013 season).

18. QB Brandon Weeden, Cleveland

19. WR Marvin Jones, Cincinnati

20. WR Chris Givens, St. Louis

21. WR Rueben Randle, NY Giants

22. WR Stephen Hill, NY Jets

23. WR Jeff Fuller, Miami

24. RB Ronnie Hillman, Denver

25. TE Dwayne Allen, Indianapolis

26. RB LaMichael James, San Francisco

27. WR Ryan Broyles, Detroit – It may take two years to nudge Nate Burleson out of the mix at receiver, but if he can stay healthy, he should have a long successful career in the slot.

28. WR Devon Wylie, Kansas City – Ditto the Broyles comment, adding Steve Breaston's name and subtracting Burleson's.

29. TE Ladarius Green, San Diego – Love the athleticism Green possesses and although he will need time to develop, he has a great mentor in Antonio Gates to emulate and an offense that throws to the tight end.

30. WR Juron Criner, Oakland

31. WR Tommy Streeter, Baltimore – Very raw receiver, but upside is through the roof if he can be developed.

32. WR Greg Childs, Minnesota

33. TE Adrien Robinson, NY Giants – Could easily be TE coach Mike Pope's next third-day draft find. Along with the player ranked right below him (Thompson), he has the athleticism to be the best tight end from this draft.

34. TE Taylor Thompson, Tennessee – Is blocked by the highly athletic Jared Cook, but former DE is the tight-end version of Streeter.

35. RB Vick Ballard, Indianapolis

36. QB Ryan Lindley, Arizona – There's just enough mediocrity at QB in Arizona that Lindley – who certainly has a NFL arm but needs help with his footwork and accuracy – has an outside shot at a starting job by 2014.

37. RB Terrance Ganaway, NY Jets – Will probably make the Jets' roster based on his versatility, but has an outside shot at a starting job in 2013 if the team passes on re-signing Shonn Greene.

38. RB Robert Turbin, Seattle – Marshawn Lynch should just be entering his prime, but his underachieving history gives this rookie a bit of hope since Lynch will also be nearing 1,500 career carries with another huge workload this season.

39. WR Nick Toon, New Orleans

40. WR B.J. Cunningham, Miami

41. RB Chris Rainey, Pittsburgh – New OC Todd Haley has his new Dexter McCluster. If any player from this class could emulate the 2011 version of Darren Sproles, it is probably Rainey.

42. RB Bernard Pierce, Baltimore

43. QB Nick Foles, Philadelphia

44. WR T.Y. Hilton, Indianapolis – It's unclear if he'll ever have a major role for the Colts outside of special teams, but if he is ever given the opportunity to man the slot full-time, his speed and explosion could easily make him fantasy worthy.

45. WR Keshawn Martin, Houston

46. WR LaVon Brazill, Indianapolis

47. QB B.J. Coleman, Green Bay – The Packers hope they landed the player that will give them the same piece of mind Matt Flynn did over the last two years. It's quite possible Coleman is that guy.

48. TE Orson Charles, Cincinnati

49. WR Travis Benjamin, Cleveland

50. RB Michael Smith, Tampa Bay
* Dropped due to recent concerns about DUI

Suggestions, comments, musings about the article or fantasy football in general? E-mail me or follow me on Twitter.

---
Doug Orth has written for FF Today since 2006, appeared in USA Today's Fantasy Football Preview magazine in each of the last two seasons and served as a weekly fantasy football analyst for 106.7 The Fan (WJFK – Washington, D.C). He is also a member of the Fantasy Sports Writers Association.