One reason why the NFL Draft seemed like it lacked fantasy star power was because the month-plus leading up to it had no shortage of big names. No fewer than seven players who have recently been drafted in the first 3-4 rounds of fantasy drafts changed teams in the offseason, with most of them departures improving their fantasy situations as a result.

The NFL is a constantly-evolving machine. Very little stays the same from year to year, but as fantasy owners, we almost need to assume some situations will remain static so we can make reasonable guesses about how the new (rookies) and old (free agents) players fit into their current situations. After all, if we treat the players whose situations remain pretty much the same from the previous year as constants, then it is the ability to predict the variables (such as how the players adapt to their new environment and the positive/negative impact they can have on the constants) that can sometimes determine which fantasy owners excel and which ones do not.

So far, I have provided my thoughts about the incoming rookie class (11-20) and (1-10). In the coming weeks, we'll move on to the two-part Early Observations phase of my Preseason Matchup Analysis series. After that, we'll revisit each teams' red-zone activity in Red Zone Report and break down how often opportunity really leads to success in Opportunity Breeds Success. Then the fun really begins as we tackle two divisions at a time as all the hard work leads to the projection half of my PMA series.

But for now, let's turn our attention back to old faces in new places. (The players will be separated initially by position then ordered by likely "impact" in 2013):

QB Carson Palmer
2012 Team: Oakland
2013 Team: Arizona

Fantasy Analysis: Arizona is typically a hotspot for people ready to retire, but the Cardinals are hoping to put off Palmer's walk by into the sunset at least 2-3 years after trading for him in April. Statistically, the former No. 1 overall pick had his finest season since 2007, but so much of his production in 2012 was inflated by garbage-time production that it is really difficult to say he was as good as his numbers suggest he was. (Palmer threw for 4,018 yards, 22 touchdowns and 14 interceptions last season. Of those totals: 2,972 yards, 20 TDs and 11 INTs were accumulated when Oakland trailed.) To his credit, Palmer did appear to be healthier than he had been in years; his arm strength was better in Oakland than it was at any point since he suffered his elbow injury in Cincinnati. In new HC Bruce Arians' vertical-based offense, his deep ball will need to be every bit as good as Arians believes it is. (Arians recently told Yahoo! Sports that Palmer is ""as pretty a deep-ball thrower as I've ever seen".) Palmer will have arguably his deepest, most talented group of receivers and tight ends to work with in his career, so a Kurt Warner-like, late-career resurgence is not totally out of the question. However, he'll need Arizona's beleaguered offensive line to improve dramatically – not a given despite the selections of guards Jonathan Cooper and Earl Watford in the draft. With the quarterback position experiencing something of a youth movement over the past year or two – and thereby adding to the quality fantasy QB1 options in fantasy – Palmer should be targeted as a high-upside QB2 in redraft leagues this summer.

QB Alex Smith
2012 Team: San Francisco
2013 Team: Kansas City

Fantasy Analysis: After experiencing six mostly disappointing years (with more play callers than any quarterback should have in his career) in San Francisco, Smith enjoyed a renaissance under HC Jim Harbaugh and OC Greg Roman in 2011. Under Harbaugh and Roman, Smith went from a turnover-prone player to a signal-caller worthy of making consistently good decisions with the football. Although he'll be attempting to learn yet another offensive system, Smith will benefit by playing for another pass-friendly coach in Andy Reid, who succeeded with quarterbacks less talented than Smith in Philadelphia. Reid, who has openly stated his love for the passing game on several occasions, is unlikely to go against his pass-heavy roots. However, Reid's willingness to bring in offensive consultant Chris Ault (the creator of the "Pistol" formation) and embrace the up-tempo approach sweeping through the NFL are signs he is willing to adapt. Smith has yet to throw for more than 18 TDs in a season and isn't a strong bet to do so in 2013, but if there is one coach who can coax that kind of production out of him, it might be Reid. Smith will have very good skill-position players such as Jamaal Charles and Dwayne Bowe to lean on and his ability to run will help his value, but he still faces an uphill climb to be anything more than a mid-level fantasy QB2 this season.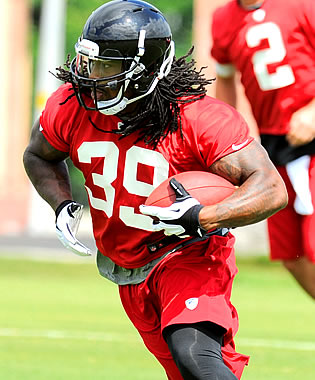 Situation and talent should allow SJax to finish among the top 10 fantasy running backs this season.
RB Steven Jackson
2012 Team: St. Louis
2013 Team: Atlanta
Fantasy Analysis: Few, if any teams, did more to improve themselves at one position during free agency than the Falcons when they signed Jackson. Michael Turner showed serious signs of decline in 2011 and had no "Burner" left in him in 2012. Although Jackson is only about 1 ½ years younger than Turner, the ex-Ram seems like a good bet to be productive throughout most – if not all – of his new three-year contract. Jackson hasn't caught fewer than 38 passes – exactly twice the career-high 19 receptions Turner recorded last season – since becoming a full-time back in 2005 and will have the benefit of facing seven in the box on a regular basis for the first time in his career. Jackson is no longer the size-speed dynamo he used to be and will turn 30 in July, but has consistently produced a solid yards-per-carry average playing behind an abysmal offensive line in St. Louis. It's also quite likely that with Jackson's receiving prowess, Jacquizz Rodgers will play a reduced role in the offense once again. Motivated to make the playoffs for the first time since his rookie season in 2004, Jackson could easily push his career high for rushing scores (13 in 2006), which is hardly a stretch considering Turner had 10 in 2012. Jackson's slightly declining numbers, career workload and age might push him into the RB2 discussion in redraft leagues this summer, but his situation and talent level should allow him to finish among the top 10 running backs in fantasy this season.
RB Reggie Bush
2012 Team: Miami
2013 Team: Detroit
Fantasy Analysis: With Jahvid Best facing long odds to return to the field, the Lions found their passing-game complement to Mikel Leshoure in Bush. Although HC Jim Schwartz has suggested Bush would be used like he was in New Orleans, it would be mildly surprising if Bush doesn't become more than just a "satellite back". The No. 2 overall pick in the 2006 draft averaged 58.8 receptions with the Saints despite playing only 12 games per season, making Schwartz's prediction that Bush could catch as many as 80 balls for Detroit in 2013 a pretty realistic ceiling. Playing on turf once again, Bush will have to prove his knees can hold up as well as they did on the grass in Miami, but that would seem to be about the only real obstacle he has to overcome to be the dynamic PPR player that Best could/should/would have become in this offense. It should come as no surprise that if the 28-year-old stays healthy all season, he should be able to collect at least 175 carries in addition to all those receptions, totals that should give him more than enough opportunity to be a solid RB2 in standard leagues and a top 10 candidate in PPR formats.
RB Rashard Mendenhall
2012 Team: Pittsburgh
2013 Team: Arizona
Fantasy Analysis: More than anything, Mendenhall picked a bad time to get hurt. First of all, he tore his ACL in Week 17 of the 2011 season, meaning he had to enter his contract year far less than 100%. Secondly, he had the misfortune of suffering the same kind of injury as Adrian Peterson, who merely raised the bar on ACL rehabs impossibly high by nearly breaking the single-season rushing mark the year after he underwent his knee surgery. Mendenhall will never be mistaken for a special talent, but he'll get a chance to re-establish himself as a feature back with the Cardinals under new HC Bruce Arians, who served as his play-caller in Pittsburgh. As any serious fantasy owner likely remembers, Arizona was so awful on offense that it made Larry Fitzgerald nearly irrelevant. The Cardinals can't be expected to turn that around in one year, but the addition of Palmer at quarterback and Cooper to the offensive line through the draft (plus better luck in the health department up front) should allow Mendenhall to reclaim the same kind of fantasy value he enjoyed as a Steeler for a coach who believes in him as a three-down back. With so many teams using the committee approach at running back, fantasy owners need to keep an eye out for any player at the position that is a realistic threat for 250-300 touches. Mendenhall is one of those players and, as a result, he should be a fine RB2 in fantasy if he proves to be all the way back from his injury.
RB Chris Ivory
2012 Team: New Orleans
2013 Team: New York Jets
Fantasy Analysis: Few players in recent memory have captured the imagination of their team's fan base and been rewarded with less playing time than Ivory in his three years with the New Orleans Saints. One of the most physical runners in the NFL, Ivory had the misfortune of being an injury-prone "hammer" for a team that used a first-round pick (Mark Ingram) to do the same thing in one of the most prolific passing attacks the league has ever seen. It is quite possible that Jets new GM John Idzik, who came over from Seattle, identified Ivory as the back he needed to bring the same kind of physicality the Seahawks got when they traded for Marshawn Lynch. Although Ivory has played in 24 games and received 259 touches in his NFL career, he has only three catches to his credit. Furthermore, his running style is so violent that he is a good bet to spend a fair amount of time in the trainers' room – one of the main reasons he was unable to ever make a serious move up the Saints' depth chart. Like most of the other rushers above him on this list, Ivory has very little in the way of real competition for touches. Unlike the other backs, the Jets' offense is lacking in talent. Combined with his lack of receiving ability and propensity for injury, Ivory should probably be considered a strong flex option in PPR leagues and low-end RB2 in standard leagues.
RB Shonn Greene
2012 Team: New York Jets
2013 Team: Tennessee
Fantasy Analysis: One of the few backs in recent year to carry the "feature-back" tag in recent years – and seemingly disappoint every one of his owners in the process – took his show on the road to Tennessee, where the Titans hope he will reprise the role LenDale White used to have. Tennessee defended the signing by suggesting Greene is a big back that will help the team in goal-line and short-yardage situations, but the former Jet has rarely ever played with the power expected out of a 5-11, 226-pound back. HC Mike Munchak suggested Greene reminded him somewhat of Eddie George, but OC Dowell Loggains has stated publicly that he expects his new back to serve only in a change-of-pace role. Greene's saving grace could come in the form of his offensive line, which has a chance to be one of the more talented in the league if it can stay healthy this season. Greene has virtually no shot to come anywhere close to White's memorable 2008 season (200 carries and 15 TDs), but 75% of the workload and perhaps a third the scoring sounds realistic enough. As is the case with most backup running backs, Greene figures to have more value to Chris Johnson owners than those hoping to strike it rich with a late-round pick at the running back position.
WR Mike Wallace
2012 Team: Pittsburgh
2013 Team: Miami
Fantasy Analysis: In an odd twist of fate, Wallace was used less as a deep threat last season in Pittsburgh while Ryan Tannehill emerged as one of the more accurate deep-ball (attempts 20+ yards downfield) passers per Pro Football Focus (43.1 % was good for seventh in the NFL, which was better than Matthew Stafford and Andrew Luck among others) despite having only Brian Hartline to throw to in those situations. With Wallace the clear WR1 in Miami and the team fashioning itself as a contender, the Dolphins figure to get their money's worth out of one of this free agency market's big prizes. Wallace was forced to become more of a short- and intermediate-receiver in OC Todd Haley's offense with Pittsburgh in 2012 – an experience that figures to serve him well this season and beyond since Hartline doesn't command the same kind of respect that Hines Ward and Antonio Brown have throughout Wallace's career. Still, deep balls and big plays are almost certain to remain Wallace's bread-and-butter while Hartline and Dustin Keller focus more on moving the chains. Few receivers have the kind of speed to burn defenses that scheme to eliminate deep throws, but Wallace is one of those players. Entering the prime of his career (will turn 27 in August), Wallace is a solid bet to have a career year across the board. In fantasy, he should make for a top-end WR2 who could serve as an owner's WR1 should he/she load up at other positions first and wait a bit on receivers.
WR Percy Harvin
2012 Team: Minnesota
2013 Team: Seattle
Fantasy Analysis: For most of the early part of Harvin's career, he was labeled as an injury risk in part due to migraines, which he has been able to overcome once it was discovered he was dealing with sleep apnea. Over the past two seasons, he went from "injury-prone" to "malcontent" (regarding his contract situation), which helped expedite his exit from the Vikings. Fantasy owners will be quick to cite Harvin's versatility, familiarity with OC Darrell Bevell and the fact that he is going to a team in Seattle with superior quarterback play, but the Seahawks are unlikely to throw the ball much more than they did last year (536 rushes vs. 405 pass attempts) since Seattle should be playing with the lead more often than not. Harvin may also get some touches out of the backfield over the course of the season, but the Seahawks have an embarrassment of riches at running back, so those opportunities figure to be limited. None of this is to say that Harvin won't still be a WR1-caliber receiver in PPR leagues, but rather that it seems unlikely he'll maintain the same level of fantasy value he enjoyed last season before his ankle injury. Instead, he's a better bet to settle in slightly above the level he produced at in Bevell's final season in Minnesota (5.1 catches, 70 yards from scrimmage and .43 touchdowns per game). Over a full 16-game season, that works to 82 receptions for 1,120 scrimmage yards and six TDs – acceptable numbers for a low-end fantasy WR1 or top-end WR2.
WR Greg Jennings
2012 Team: Green Bay
2013 Team: Minnesota
Fantasy Analysis: If Jennings can simply post the numbers for the Vikings this that he accumulated against them in 14 career games (64 catches, 957 yards and 10 TDs), Minnesota will likely have no issue with the five-year, $45 M contract it handed him this offseason. Jennings will move into the "Z" receiver (flanker) opening that was created when Harvin was traded to Seattle. To say the least, it is an interesting landing spot for Jennings, who goes from one of the top options in pass-happy Green Bay's offense to the only proven wideout with the run-heavy Vikings. Harvin generated 79 targets in eight full games before getting hurt last season and, like his predecessor, Jennings is equally adept at working outside the hashes or in the slot. In other words, Jennings can expect to be busy as long as he can hold up (13 games in 2011, but only eight in 2012). However, Jennings is almost five years older and isn't the same kind of dynamic runner after the catch as the 25-year-old Harvin – two qualities which figure to make him less attractive in fantasy than the new Seahawk. Jennings will also have raw but talented rookie Cordarrelle Patterson opposite him at some point while Kyle Rudolph will likely be more consistent with another year under his belt – two things that really helped Harvin pad his target totals last season. Durability figures to be the biggest question Jennings needs to answer since he will be the clear No. 1 option in the passing game if healthy. A top 15-20 finish at his position is easily achievable for him in PPR and standard formats if he plays 16 games.
WR Anquan Boldin
2012 Team: Baltimore
2013 Team: San Francisco
Fantasy Analysis: Perhaps no player saw his stock skyrocket more this offseason than Boldin, who was reportedly on the verge of a release from the Baltimore Ravens due to his $6 M base salary. Just over two months later, Boldin became the Niners' de facto lead receiver in the wake of Michael Crabtree's Achilles' injury, which will likely cost him most – if not all – of the 2013 season. The Sacramento Bee reported in late May that Boldin – who will remain at the flanker position while a host of receivers vie for Crabtree's split-end opening – was the top target for all of the Niners' quarterbacks during mini-camp, even ahead of Vernon Davis. While no one should expect Boldin to pick up where Crabtree left off, Boldin has a wonderful opportunity to turn back the clock for a year. Although he is entering his age-33 year and creates very little separation, Boldin showed he was still a more-than-capable receiver as he put the Ravens' offense on his back at times during their Super Bowl run. In San Francisco, he joins an offense led by Colin Kaepernick and Frank Gore that makes defenses respect the run to the point where Boldin is unlikely to ever see double coverage. It's a recipe for fantasy success, so assuming he can stay on the field like he did in three years in Baltimore (three total missed games), Boldin could flirt with high-end fantasy WR2 value in all leagues in 2013.
WR Domenik Hixon
2012 Team: New York Giants
2013 Team: Carolina
Fantasy Analysis: There's a pretty good chance by the time fantasy drafts roll around this summer, most people will forget about Hixon and even more will have no idea (or care) he landed in Carolina. Hixon fought through an ankle injury and concussion in 2012 after returning from two ACL tears in his right knee in successive seasons. There's not a ton of appeal for a player with that kind of recent injury history, but Hixon was almost guaranteed the WR3 job the moment he signed with the Panthers in April. Despite some productive moments in 2012, Brandon LaFell hasn't really taken hold of the WR2 job in Carolina (44 catches, 677 yards, four TDs – all career highs) after three years. Hixon performed well when given the opportunity to fill in for an injured Hakeem Nicks last season and is a bit of a deep sleeper to steal LaFell's job and provide some sneaky WR4-WR5 value for owners late in their drafts. At the very least, he has a shot at giving Steve Smith, Greg Olsen and Cam Newton a slight boost as a receiver who can hurt a defense for not paying enough attention to him. The upside is not incredibly high, but he should provide quality depth on fantasy owners' benches in 2013.
TE Jared Cook
2012 Team: Tennessee
2013 Team: St. Louis
Fantasy Analysis: A lot of coaching is about recognizing a player's strengths and putting them in a position to succeed. Former Titans OC Chris Palmer deserves much of the blame for failing to get the most out of Cook, who was annually underused because he never evolved into a great blocker. While he was the play-caller for the New York Jets, Rams OC Brian Schottenheimer utilized a similarly-skilled– albeit less talented – player in Keller and managed to coax a 65-catch, 815-yard, five-TD season out of him in 2011. Cook is not a high-volume receiver per se (the Rams will have rookie Tavon Austin for that), but he is a big-play tight end the team will almost certainly use in the slot opposite Austin in four-wide packages. (Based on the team's current roster, it would not be the least bit surprising if St. Louis goes four-wide on a fairly regular basis.) It would also not be surprising to see Cook and Brian Quick serve as the outside receivers nearly the goal line (given that both players are 6-5) or to see Cook get some snaps on the outside when Quick needs a rest. Cook is going to get used a lot and he could easily lead the team in receiving yards and touchdowns as a result. This should be the year he finally realizes his low-end TE1 potential in 12-team leagues.
TE Martellus Bennett
2012 Team: New York Giants
2013 Team: Chicago
Fantasy Analysis: For the first month of last season, Bennett became a fantasy stud seemingly overnight as he posted solid receiving totals and scored in each of his first three games. He quickly fell back down to earth once he suffered what was thought to be a hyperextended knee in Week 5 but was later discovered to have involved a torn capsule and bruising to the ACL and PCL. It also didn't help matters that defenses also started giving him the kind of respect afforded to a player who can score in three straight games. The Giants were unwilling to get into a bidding war for the free agent and Bennett cashed in with Chicago, where he will be used all over the field to create mismatches and stretch the seam down the middle of the field in new HC Marc Trestman's offense. Bennett – one of the league's better blockers at his position – will be a three-down player and stands a pretty good chance of building on the success he enjoyed for parts of last season. Jay Cutler has gotten (and maybe even earned) some bad press as being a one-read quarterback that a team cannot count on every week. However, Bennett represents one of the pieces Chicago has brought in over the past year that has given Cutler as much talent as he has ever had to work with – including his days in Denver, where he made Tony Scheffler a household name in fantasy. Bennett has serious fantasy TE1 upside if he can remain healthy.
TE Dustin Keller
2012 Team: New York Jets
2013 Team: Miami
Fantasy Analysis: With the additions of Wallace and Keller, the Dolphins made it clear they would be attacking more often downfield in 2013. Unlike Wallace, Keller will have an opportunity to play with a quality quarterback for the first time in his career. Furthermore, Keller will join OC Mike Sherman and HC Joe Philbin – coaches that have been important parts of the offensive staffs that guided the likes of Bubba Franks, Owen Daniels and Jermichael Finley to some of the best seasons of their careers. In other words, Keller's one-year contract was more of an admission on his end that he believes he is something much closer to his 2011 numbers (65-815-5) than his injury-plagued 2012 stats (28-317-2 in eight games). With Wallace likely to command so much respect from safeties and Brian Hartline able to work more often in the short- and intermediate-passing game, Keller should enjoy a bit of a rebirth and possibly even become Ryan Tannehill's preferred red-zone target. Keller's fantasy arrow is pointing up in a big way, but he should come reasonably cheap in fantasy drafts given his aforementioned numbers from a season ago. Keller has low-TE1 upside and should be considered a good bet to finish among the top 20 at his position.
TE Brandon Myers
2012 Team: Oakland
2013 Team: New York Giants
Fantasy Analysis: The automatic assumption among many fantasy owners will be: if Bennett could do what he did last year and Myers could catch 79 balls for Oakland, then Myers can be a fantasy force with Eli Manning in New York, right? Not so fast. Myers became one of the bigger beneficiaries of garbage-time football in recent memory in 2012 when Palmer knew he could not always rely on the likes of Denarius Moore or Darrius Heyward-Bey, whether it was due to injury or poor route-running. Myers is a big talent downgrade from Bennett (and far worse blocker), although the University of Iowa product revealed that he played through a sprained AC joint in his left shoulder. That fact alone could not have helped his cause against defensive ends when he was asked to remain in-line. However, he has two factors working in his favor this season: good hands and the presence of TE coach Mike Pope, one of the best position coaches in the league. Still, the Giants only signed him to a one-year deal for a reason: bridge the gap between Bennett and talented but raw second-year Adrien Robinson. In short, Myers will probably be one-and-done in New York if Robinson progresses as hoped and could even lose playing time to him if he proves ready for more action in 2013. Myers is a risky, low-upside TE2.
This concludes the should-be-drafted portion of our segment. Below is a list of players that could find themselves fantasy-relevant at some point should things go their way (sorted by position and then alphabetical order):
QB Matt Flynn
2012 Team: Seattle
2013 Team: Oakland
Fantasy Analysis: For the second straight season, Flynn walks into a situation in which he should emerge as the starter, but has a talented rookie pushing him. No one will mistake Tyler Wilson for Russell Wilson, but the fact of the matter is that the only factor that kept Russell Wilson from being a first-round pick was his size while Tyler Wilson's hang-up is that he developed some bad habits playing while getting the tar beat out of him behind a porous line. Tyler Wilson was considered by some to be the best quarterback prospect in the 2013 NFL Draft prior to last season and a potential top-10 overall pick, so Flynn is living on borrowed time. The Arkansas alum stands a good chance at stealing the job from Flynn before midseason, assuming the rookie doesn't win the job outright in camp.
QB Kevin Kolb
2012 Team: Arizona
2013 Team: Buffalo
Fantasy Analysis: Kolb is a player that probably will get drafted late in deeper leagues, but probably shouldn't. First and foremost, even if Kolb starts Week 1, rookie first-rounder E.J. Manuel is the future at the position and it is a good bet that HC Doug Marrone and OC Nathaniel Hackett will want to get to that point sooner than later. Just as importantly, Kolb hasn't proven he can stay healthy for any length of time, which may ultimately be how he ends up handing the job to Manuel.
RB Mike Goodson
2012 Team: Oakland
2013 Team: New York Jets
Fantasy Analysis: Goodson did a fine job picking a team which would allow him to be a committee back. While he obviously had no control over the Jets trading for Chris Ivory, he appeared to have a chance to be the pass-catching complement. However, his choice of teams was perhaps the last good decision he made. Without detailing his entire month of May, Goodson is staring at a long list of legal issues that could end up in his eventual release. Assuming he is somehow retained by the Jets, Goodson has probably dug himself a hole that he won't be able to crawl out of this season. If he can somehow make good with the league and the team, he could have some RB5 value during the season in PPR leagues.
RB Danny Woodhead
2012 Team: New England
2013 Team: San Diego
Fantasy Analysis: Depending on the point of view, Woodhead's signing with the Chargers is an indication of the new regime's belief in Ryan Mathews as a solid early-down back or a slap in the face to his ability to contribute on third down. Woodhead is not much of a threat to share carries with Mathews – nor is Ronnie Brown – but will definitely be in play as a passing-down and/or two-minute back. Given Mathews' durability issues, Woodhead actually makes sense as a RB5 candidate in PPR leagues. But considering he was a fringe fantasy player in New England, it is hard to make the argument that his stock will increase much – if at all – in San Diego.
WR Donnie Avery
2012 Team: Indianapolis
2013 Team: Kansas City
Fantasy Analysis: Avery shockingly stayed healthy enough to record 60 receptions, 781 yards and three scores last season. However, Avery moves from former Colts OC Bruce Arians' vertical offense to Chiefs HC Andy Reid's West Coast attack, which doesn't figure to be the greatest fit for a speed receiver like Avery. Ideally, either Jon Baldwin (unlikely) or Dexter McCluster steps up enough to allow Avery to be a situational deep threat. Either way, the combination of Reid's offense, Avery's proneness to injury and drops as well as the drop-off from Andrew Luck to Alex Smith figure to make Avery hard to use in fantasy.
WR Davone Bess
2012 Team: Miami
2013 Team: Cleveland
Fantasy Analysis: If there is one player from this undrafted section that could find his way into decent fantasy value at some point, it is probably Bess – and that was before Josh Gordon's two-game suspension was announced. On the surface, Bess doesn't fit the mold of a receiver in a Norv Turner offense, but Bess is a solid chain-mover that can become fast friends with a quarterback like Brandon Weeden who is playing for his job in 2013. He's unlikely to maintain the kind of fantasy-backup value he had in PPR leagues as a Dolphin, but he could come close.
WR Darrius Heyward-Bey
2012 Team: Oakland
2013 Team: Indianapolis
Fantasy Analysis: Although the Colts probably upgraded the talent of their receiving corps by replacing Avery with DHB, they essentially traded one wideout with inconsistent hands for a bigger one with the same problem. It is also unclear if the former Raider will share snaps with smallish playmaker T.Y. Hilton or back him up. In OC Pep Hamilton's West Coast offense, Heyward-Bey makes more sense as a bigger target, but it is just as likely the Colts turn him into a situational deep threat. If he can share snaps with Hilton, he warrants a late-round fantasy pick simply because he'll be playing with a quarterback that can make him relevant. Anything less than that, however, means DHB should go undrafted.

Suggestions, comments, about the article or fantasy football in general? E-mail me or follow me on Twitter.

---
Doug Orth has written for FF Today since 2006 and appeared in USA Today's Fantasy Football Preview magazine in 2010 and 2011. He hosted USA Today's hour-long, pre-kickoff fantasy football internet chat every Sunday this past season. Doug regularly appears as a fantasy football analyst on Sirius XM's "Fantasy Drive" and for 106.7 The Fan (WJFK – Washington, D.C). He is also a member of the Fantasy Sports Writers Association.