While scouts and general managers will use the same terms and similar methods to evaluate players from year to year, the evaluations themselves change as much from year to year as the players do. From an overall talent perspective, the 2013 NFL Draft was considered a "big-boy" draft, meaning teams that remained true to their boards were more likely to grab an offensive and defensive lineman than a skill-position player.

Obviously, when a draft lacks potential elite players at quarterback, running back, receiver or tight end, it puts more fantasy emphasis on the veteran players who either changed teams or used the offseason to their advantage. With that said, no draft class is completely devoid of impact fantasy players, which makes it important that we take the time to evaluate each one.

Last week, I began my Preseason Matchup Analysis series by disclosing the bottom half of my top 20 rookie players that I feel will have an impact in fantasy during the 2013 season. While it makes for great discussion, most of those players don't figure to be the key players on many championship fantasy teams. The same cannot be said, however, about a few of the players I will talk about this week. While I will break tradition and not rank the top rookies for dynasty purposes at the end of this article, I think you will find my new dynasty series to be much more useful.

Like I said last week, a good part of the preparation process at the beginning of each season is trying to ascertain the floor and ceiling of each newcomer. In a league where very little stays the same from year to year, rookies represent the greatest of all unknowns. Running backs continue to steal the show when it comes to immediate contributions, but we have all been witness to incredible seasons from rookies at quarterback, wide receiver and tight end in recent years. While we can only speculate on which rookies will deliver the most impact this season, there are some guidelines we can follow and questions we can ask in order to help us identify the players who have the best shot at becoming the next big thing. The following questions give us a good starting point:

Is he in a position to succeed? For a RB, does he have a good line to run behind and an OC that likes to run the ball? What is the likelihood of a consistent workload? For a QB, does he have a good pass-blocking line and 2-3 quality options in the passing game? For a WR or TE, does he have a good QB throwing him the ball? Does he operate opposite a star WR or is he being counted on to carry the passing game?


What are his most obvious obstacles? This question goes hand-in-hand with the first question, but the successful fantasy owner cares just as much about why a player will likely fail as he/she does about how/why a player will thrive. For example, how much do we penalize Tavon Austin for his lack of ideal size? Is natural talent along with a huge void for a playmaker at receiver going to be enough for Aaron Dobson to overcome a huge step up in competition and make an immediate impact in New England? Does the fact that Eddie Lacy was drafted ahead of Johnathan Franklin have much/any impact on which player will be the better fantasy performer?


Is he an offensive building block, complementary piece or role player?


How is the "fit" with his new team and does his style mesh with what the team is trying to accomplish or is the offense going to cater to his talents? (Unfortunately, we can't take for granted that personnel departments always do this for themselves – need can be a terrible evaluator of talent.) Does the return of zone-blocking guru Alex Gibbs to Denver help or hurt Montee Ball? Are Tyler Eifert's deep-ball skills a good fit in Cincinnati's West Coast offense? Can we trust OC Todd Haley will get the most from Le'Veon Bell in Pittsburgh?


Certainly, there are always going to be more questions than answers at this point of the year. But to establish a baseline for a rookie, I think this gives us a pretty good start. Over the next two weeks, I will evaluate the likely top rookies from this class and attempt to detail their situations in an effort to answer whether or not they are worthy of your consideration in fantasy. At the very least, I hope to provide each of you with my early assessments on each player (complete with player strengths and weaknesses, mostly from a fantasy perspective) before I really buckle down on player evaluations in July and August using Preseason Matchup Analysis.

And now, your top 10 fantasy rookies:

10. Markus Wheaton, WR Pittsburgh

2013 Projected Role: Steelers eventual WR2; complementary piece.

Positives: The Steelers weren't going to meet Mike Wallace's asking price on the free-agent market, so they went out and found the closest facsimile in the draft instead. Like Wallace, Wheaton's best quality is his game-breaking speed. Again, like Wallace, Wheaton isn't just a "track guy" and can do something with the ball after the catch. While Wheaton doesn't appear to have a great chance to begin the season as a starter, Emmanuel Sanders has hardly been the picture of health through three NFL seasons. Heath Miller is also no lock to return to pre-injury form early in the season, meaning Wheaton stands a good chance at being productive early while making a case as to why he should start ahead of Sanders opposite Antonio Brown. Wheaton showed the ability to play through pain in college, which will only help his rise up the depth chart.

Negatives: Wheaton is proportioned like the track star he is, meaning he will have some work to do in the weight room in order to consistently hold up against physical coverage in the NFL and last 16 games. If Miller is able to return to form more quickly than it appears he will at the moment, Wheaton could be limited to clear-out routes early in his career, although it will be hard for the Steelers to ignore his ability to change the game in one play. Wheaton is a more willing than able blocker at this point and could get off to a slow start because he will miss most of OTAs due to Oregon State's late graduation, both of which may also limit his snaps for part or all of 2013. While he is very fast and quick, he isn't overly elusive.

2013 Fantasy Assessment: Despite some of his obvious shortcomings at the moment, Wheaton brings too much to the table in terms of big-play ability to be given a "redshirt" year in 2013. Wheaton will be asked to bring many of the same qualities to the Steelers' offense that Wallace did and is polished and talented enough to overcome some of the initial hurdles he has been handed. Miller's health will play a large role in his early production (or lack thereof), but the likelihood of an injury to Sanders will probably end up being the event that allows him to step into the starting lineup and put a stranglehold on the job. Given his uncertain early-season status, Wheaton should be drafted as a WR4 in fantasy with potential to be a high-upside WR3.

Fearless early-June prediction (six starts): 36 receptions for 655 yards and five TDs

9. Travis Kelce, TE Kansas City

2013 Projected Role: Chiefs TE1; complementary piece.

Positives: Arguably the most complete tight end in this draft, Kelce is actually a good combination of the players he will be competing against this summer: Tony Moeaki and Anthony Fasano. He's a gifted receiver like Moeaki without the long injury history and able to block like Fasano but with better athleticism. Furthermore, Kansas City's receiving talent falls off significantly after WR Dwayne Bowe and RB Jamaal Charles, giving Kelce a grand opportunity to step up and be the clear third option in an Andy Reid offense. The former high school quarterback is a bit of an underrated receiver simply because he only got to show off that skill in his final collegiate season. For most of his time as a Bearcat, he was asked to stay remain at the line of scrimmage to block. His run-blocking prowess only figures to accelerate Kelce's rise up the depth chart and, like a poor man's Rob Gronkowski, Kelce is a tough man to bring down after the catch.

Negatives: The main reason for Kelce's slide in the draft was character-related as he was suspended for the entire 2010 season. His focus (late on snap counts and off the ball) has been called into question as well. While Kelce is athletic, he's not overly explosive. His route-running also needs to be refined, probably as a result of spending so much time in-line for most of his college career. He is below average at finishing routes, making it harder on himself to take advantage of his run-after-catch skills. It also needs to be said that while Moeaki and Fasano do not represent the stiffest competition to Kelce's path to the starting lineup, they are hardly slouches – meaning Kelce may not be a Week 1 starter.

2013 Fantasy Assessment: Kelce has drawn some Gronkowski and Heath Miller comparisons, which are not entirely unwarranted. The Chiefs' rookie isn't going to explode on the scene like the Patriots' star, but he could (and probably should) rise to the top of the depth chart in short order and be one of Alex Smith's favorite red-zone weapons at the very least. Although the new staff is said to be high on Dexter McCluster, it is just as likely the Chiefs will opt to flex Kelce out, much like Baltimore does with Dennis Pitta. Kelce will be a factor sooner than later assuming he is past his off-field transgressions, so owners should value him as a top 20 TE option with potential to threaten the top fantasy TE2s in 12-team leagues.

Fearless early-June prediction (14 starts): 42 receptions for 505 yards and five TDs

8. Aaron Dobson, WR New England

2013 Projected Role: Patriots WR2; complementary piece.

Positives: NFL Films' Greg Cosell recently suggested Dobson's size/hand combination (at times) reminds him of Larry Fitzgerald, which should serve as an indication of the ceiling he possesses. Recruited to play basketball by several Division I schools coming out of high school, Dobson is the kind of tall, smooth, high-cut receiver New England has not employed in several years. While the 6-3, 210-pound Dobson is extremely likely to invite Randy Moss comparisons (wrongfully so) because he is a tall and talented receiver from Marshall, Dobson will make his mark on the league like Fitzgerald does – as a player that can make a play down the field thanks to strong hands and superior ball skills. Perhaps the biggest feather in Dobson's hat is the lack of competition he figures to have for his spot. Fellow rookie Josh Boyce is more a burner than complete receiver at this point while Michael Jenkins – despite being a good blocker – is hardly a threat in an otherwise dangerous offense. Donald Jones rounds out the competition.

Negatives: Despite solid timed speed (4.4-40), it takes a bit for Dobson to build up to it, which will likely pose problems for him as he tries to separate from coverage in the short and intermediate passing game. His production in 2012 in 10 games (57 catches, 679 yards and three touchdowns) was not overly eye-popping and only good for third on his own team, although his 49-668-12 campaign in 2011 is probably more representative of his abilities. While he improved as a blocker and showed more aggressiveness in 2012, Dobson is not the most physical receiver, which could lead him to share duties with Jenkins initially on running downs. Unlike someone like Cordarrelle Patterson – a similar-sized receiver – Dobson isn't going to make a lot of tacklers miss in the open field although he will break a tackle from time to time.

2013 Fantasy Assessment: The Patriots have a terrible track record of drafting receivers under Bill Belichick, but the odds are pretty good they landed a keeper here. The lack of receiving talent on the roster behind Danny Amendola almost guarantees Dobson will be in the starting lineup right away while his hands are so reliable that he is a solid bet to earn Tom Brady's trust quickly. Dobson is replacing Brandon Lloyd at the "X" receiver spot – a position that generated 130 targets last season in New England. His size makes him a solid bet for red-zone production as well, especially if Rob Gronkowski has any more setbacks above and beyond the ones he has already dealt with this offseason. Dobson will not be an upgrade over Lloyd initially, but the Patriots don't need him to be either. He may be fourth in line for Brady's attention, but expect New England to utilize his red-zone talents on a regular basis – particularly if Gronkowski is sidelined for any part of the season.

Fearless early-June prediction (12 starts): 45 receptions for 680 yards and six TDs

7. Johnathan Franklin, RB Green Bay

2013 Projected Role: Packers RB1 (B); complementary piece.

Positives: Not unlike the back UCLA coach Jim Mora Jr. once coached and compared him to, the 5-10, 205-pound Franklin has a lot of the same qualities that helped Warrick Dunn carve out a productive career. Franklin is a darting back with more power than a back his size typically does with the ability to run inside, although he made his name as a big-play back with the Bruins. Green Bay already views him as a "natural" returning kicks and punts (even though he did neither in college). He will be expected to step in immediately as the passing-down back for one of the league's top aerial attacks while competing for snaps on running downs with fellow rookie Eddie Lacy. Franklin was arguably the most complete back in April's draft and possesses more three-down traits than Lacy, which could work in his favor down the road. Franklin is tough as nails, has proven to be very durable for a player his size and proven to be an asset as a blocker and receiver – all of which will ensure he sees a healthy number of snaps each game.

Negatives: UCLA's all-time leader in rushing and all-purpose yards is on the smallish side for a NFL back, which will hurt his chances in winning any competition with the more physical Lacy. His size – along with the fact that Green Bay drafted a big back like Lacy in front of him– will also limit his chances at earning significant red-zone carries. Beyond those obstacles, about the only thing that stands in Franklin's way is the importance (or lack thereof) of the running game in Green Bay's attack, not to mention how many weapons they feature in the passing game. While both have positives attached to them, Franklin's touches will almost certainly be capped at no more than 10-12 per game simply because there are 3-4 other mouths that need to be fed in the explosive Packers offense.

2013 Fantasy Assessment: Franklin is at worst a complementary back in the NFL and, at his best, a hard-nosed player that a coach cannot take off the field. Ideally for Green Bay, Lacy works first and second down as well as goal-line situations while Franklin contributes on third downs and screen/swing passes. However, there's a very good chance Franklin will emerge as the more valuable fantasy property – especially in PPR leagues – sooner than later as his skills are a much better fit for a Packers' offense that has relied on the passing game in recent years. Lacy, on the other hand, represents the offense Green Bay was trying to establish early last season prior to Cedric Benson's injury. As a result, there's a very good chance Franklin could end up being the more valuable fantasy back long-term. Draft him as a RB4 in standard or PPR redraft leagues and feel comfortable that he will deliver flex-worthy numbers more than half the time in 2013.

Fearless early-June prediction (seven starts): 132 rushes for 580 yards and three TDs; 35 receptions for 260 yards and one TD

6. DeAndre Hopkins, WR Houston

2013 Projected Role: Texans WR2; complementary piece.

Positives: Very few rookies are handed a starting spot, but Hopkins will be the exception. The Texans simply have not enjoyed a viable threat at receiver opposite Andre Johnson since they drafted him 10 years ago, so expect them to break him in immediately. Houston is a run-heavy team with Andre Johnson and Owen Daniels drawing the most attention in the passing game, so Hopkins will rarely be a central focus of the defensive gameplan, at least early on. Three of the best qualities "Nuk" brings to the table are quick feet, ball skills and strong hands – making him the ideal complement to Johnson. HC Gary Kubiak has already raved about his first-round pick, comparing him to Rod Smith and calling him "special" after three days of rookie mini-camp. The Texans are said to love his big hands (10") and long arms (33 3/8"), traits that help explain why he scored an ACC-record 18 touchdowns in 2012.

Negatives: Hopkins was selected late in the first round mostly because he didn't time particularly well at the NFL Combine (4.57-40), but most of the negatives associated with Hopkins are typical of most rookie receivers. The 2012 third-team All-American needs to be able to use his hands better in order to escape the jam and needs to polish up his route running but, again, those observations can be made of most college receivers – especially ones coming from a spread attack. The most immediate obstacles to solid fantasy production are Houston's run-heavy attack and his aforementioned Pro Bowl teammates (not to mention Arian Foster, who has averaged 53 catches since becoming the full-time starter in 2011). Even though Johnson and Daniels are getting older, both players have already established a strong bond with QB Matt Schaub. While the duo will ensure that Hopkins will always see single coverage, it will also mean he could be the fourth read on some plays.

2013 Fantasy Assessment: As "average" as Kevin Walter was, he averaged 51.5 receptions over his final six full seasons in Houston, which gives fantasy owners a pretty good idea of what the rookie's floor should be. Hopkins has drawn some comparisons to Roddy White and judging by his hands and long arms, it isn't hard to see why. But the most telling comparison should be Kubiak's, since the coach served as Smith's OC for most of his career and was instrumental in the undrafted free agent turning into a three-time Pro Bowler. Hopkins could not have landed in a much better situation than Houston, which has the luxury of picking and choosing its spots with Hopkins rather than counting on him to be the featured receiver from Day 1. It would be mildly surprising if the Clemson standout doesn't push 60 catches and 800-900 yards in his first season, making him a fine WR3 prospect in 2013.

Fearless early-June prediction (15 starts): 58 receptions for 780 yards and five TDs

5. Giovani Bernard, RB Cincinnati

2013 Projected Role: Bengals RB2; complementary piece.

Positives: For a smaller back (5-8, 202), Bernard can run inside despite carrying a reputation as a perimeter back. Bernard should be a decent fit in the Bengals' zone-block running game since he possesses good vision, anticipates blocks well and can make a defender miss when he gets through the hole. However, the main reason the Bengals drafted him was because of his ability to provide big plays in the passing game. The North Carolina standout should be an immediate contributor as a punt returner and, with BenJarvus Green-Ellis the incumbent starter, Bernard will have an immediate role as the team's passing-down back to begin the season. Assuming he shows well in that role, he could quickly earn a 50-50 split of the carries since the "Law Firm" brings very little in terms of receiving ability or explosiveness.

Negatives: Bernard brings a bit of an injury history with him (torn ACL in 2010 and a knee injury that sidelined him for two games in 2012) and has been irresponsibly compared to Ray Rice by various league evaluators. Bernard – at least at this point of his career – doesn't generate a lot of yards after contact and probably won't do so anytime soon in part because he runs with a narrow base and is not an overly powerful runner. While he looks solid and confident as a route-runner and even lined up as a receiver from time to time, Bernard too often goes for a cut block in pass protection – a tendency that could cost him playing time. Perhaps his biggest obstacle is his new employer; the Bengals have stubbornly prided themselves as a power-rushing team for some time now, even after it became clear that A.J. Green should be the centerpiece of the offense. Whether or not the selections of Tyler Eifert and Bernard signal a change in that thinking is unclear.

2013 Fantasy Assessment: Some league personnel suggested before the draft that Bernard was similar to Rice, but that is not who he is. Bernard found a good landing spot for his fantasy future with the Bengals but, like Johnathan Franklin, the better all-around back may not necessarily win the job. Cincinnati has a long history of leaning on bigger backs (like Green-Ellis) and sprinkling in their complements when it has one worthy of playing time (like Bernard), so immediate production cannot and should not be assumed simply because Green-Ellis is one of the least talented starting backs in the NFL. This is not to say he won't eventually make himself impossible to keep off the field, but rather that he has some history to fulfill his fantasy potential. Bernard should assume about 40% of the touches of the backfield when all is said and done, making him a solid RB3 in most leagues – especially PPR – with RB2 upside.

Fearless early-June prediction (zero starts): 120 rushes for 555 yards and three TDs; 46 receptions for 380 yards and two TDs

2013 Projected Role: Packers RB1 (A); complementary piece.

Positives: Power. From the time Lacy first steps onto the field until the time he walks off of it, he should be the clear-cut red-zone/short-yardage/end-of-game back for the Packers. Despite the fact that power is his game, his spin move serves as a wonderful complement since defenders can't be entirely sure that Lacy will be there to hit when they load up to deliver a big shot to him. Lacy should be able to capably fit in the Packers' zone-blocking scheme in between the 20s and serve as the team's "hammer" at the goal line, assuming Green Bay doesn't opt to go with FB John Kuhn in those situations. The Packers prioritized adding a bit of physicality to their Aaron Rodgers-heavy offense, so Lacy not only fills a need, but symbolizes a change in offensive mentality. Lacy doesn't have any real competition for running-down or short-yardage duties, so those roles appear to be his going forward assuming he can stay healthy.

Negatives: While his reported "toe fusion" surgery led to his surprising fall in the draft, it could have very well only been part of a bigger concern among teams. (Click here and go about halfway down the page for a detailed rundown of his recent injury history.) Despite 355 college carries, a number of scouts told the Milwaukee Journal-Sentinel one of their main concerns was that Lacy always seemed to be hurt. Beyond durability issues, Lacy isn't likely to ever be a dynamic big-play threat or better-than-average receiver, which is where fourth-round selection Johnathan Franklin comes into play. As one of the draft's more complete backs, Franklin could easily turn the Green Bay backfield into a timeshare situation or possibly steal the job outright should Lacy be unable to stay healthy. Lacy also will need to adjust to a Packers' offensive line that hasn't proven to be better than average as a run-blocking unit – which will be a drastic change from what he leaves behind at Alabama.

2013 Fantasy Assessment: Lacy is perhaps the trickiest of all the rookie evaluations. First of all, there is the injury concern that allowed him to be available at pick No. 61 to begin with. Just as importantly, however, is how long it will take for Green Bay to go from what they are (a passing team that has to pass – which fits Franklin better) to what they want to be (a passing team that can run when it wants to – which fits Lacy better). There's little doubt that a power back like Lacy should thrive against defenses that dare use nickel and dime packages when he is on the field, but how often will he be available to the Packers? If it is for an average of 15 carries over 16 games, Lacy could easily be a top 10 fantasy back. But Franklin poses a real threat to his touches since he is more of an asset in the passing game and more than serviceable in short yardage. Lacy should be drafted as a RB3 because while he has RB1 upside, the chances are just as good he gets injured or watches Franklin become the primary back.

Fearless early-June prediction (nine starts): 155 rushes for 645 yards and eight TDs; 14 receptions for 90 yards

2013 Projected Role: Rams WR1; building block.

Positives: Versatility, elusiveness and playmaking ability. The Rams traded up for the most dynamic offensive player in the draft and will waste no time in making sure they get as much as they can out of him. Austin has the ability to be a difference maker in the return game, as a receiver out of the backfield or in the slot (where he will likely spend most of his career). In other words, he is the ultimate moveable "chess piece" and space player that defenses must spend hours gameplanning against each week. Although he is much smaller (5-8, 174) than teams would prefer, Austin is so sudden and explosive that he rarely ever takes a big hit, which goes a long way in explaining his durability. In St. Louis, Austin will be asked to immediately fill Danny Amendola's shoes plus create an occasional big play out of the backfield – much like Percy Harvin and Randall Cobb have been asked to do in recent years.

Negatives: While durability has not been a question for Austin, there will be concerns about his ability to consistently remain healthy over a 16-game schedule – despite his ability to make tacklers miss in the open field. His lack of size also hurts his chances at seeing significant snaps on running downs (when he isn't the featured runner) since he won't be asked to block in the slot and is too small to realistically handle a regularly-sized NFL cornerback. Although he will obviously be a featured part of the Rams' passing attack, St. Louis has done a fine job at adding offensive talent under HC Jeff Fisher's watch. While this will eliminate the need for the Rams to lean on him too heavily, there is a chance TE Jared Cook could siphon his value somewhat (much like Dennis Pitta did with Anquan Boldin in Baltimore in 2012) since both players will spend so much time in the slot.

2013 Fantasy Assessment: Size (or the lack thereof) obviously does not guarantee durability in the NFL, but Austin will be one of the first at his size expected to be a multi-faceted threat in all three phases of the game from the get-go. From a usage standpoint alone, Austin figures to assume all the work Amendola left behind in the passing game plus semi-regular snaps out of the backfield and in the return game. While it isn't a recipe for disaster, it does set up the likelihood that he will wear down as the season progresses. With that said, redraft owners should embrace Austin as a player who is Amendola-plus until he proves that he isn't. In PPR leagues, the rookie has a real chance at finishing at the top 15-20 at his position – making him a solid fantasy WR2. In standard leagues, he belongs more at the end of the WR2 line.

Fearless early-June prediction (three starts): 20 rushes for 130 yards and two TDs; 77 receptions for 900 yards and five TDs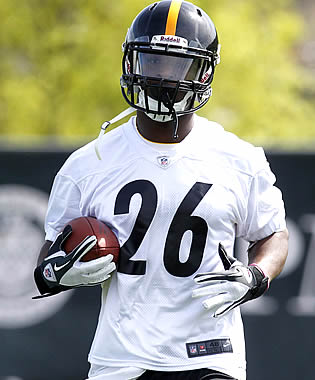 An improved offensive line in Pittsburgh should help Le'Veon Bell make an immediate fantasy impact.
2. Le'Veon Bell, RB Pittsburgh
2013 Projected Role: Steelers RB1; building block.
Positives: Unlike Montee Ball in Denver, Bell has a pretty clear path to playing time – and lots of it. Jonathan Dwyer, Isaac Redman and LaRod Stephens-Howling are all committee backs at best, meaning Bell probably will remain on the field as often as possible. The most obvious positive Bell brings to the table besides his size (6-1, 230) is his ability to contribute in the passing game – particularly as a receiver. Further helping Bell's cause is Pittsburgh's plan to incorporate some zone-blocking concepts into their rushing attack, which – while not the best fit for him personally – will allow him to do what he wants more often, namely to get on the perimeter of the defense. Perhaps his best trait, however, is that he has proven to be durable (never missed a game with an injury) and has shown good ball security over 749 career touches at Michigan State.
Negatives: Despite his impressive size – which has led to irresponsible comparisons to Steven Jackson and Eddie George (the latter made by Steelers OC Todd Haley) – Bell relies much more of lateral agility and jump cuts than power. Due in part because of his combination of size and running style, Bell doesn't usually create his own running room and typically only gets what is blocked. Bell runs with power, does a good job of fighting for extra yards and can drag tacklers – all on occasion – but he doesn't appear to have embraced the concept of being a power runner yet (although that could easily come in time). He also doesn't play to his timed speed (4.63-40), making him something of an odd combination of an elusive runner with big-back size and little breakaway ability.
2013 Fantasy Assessment: Bell doesn't run with the power expected of someone with his size, but it is also possible he is bit ahead of his time when it comes to self-preservation for a big back, which is not entirely a bad thing. Pittsburgh's running backs (not including fullbacks) recorded 368 carries and 64 receptions in 2012 in what was a down year for just about everything Steelers, so Bell could be in for a significant workload if he is able to earn anywhere from 65-70% of the touches. With the healthy return of last year's first-round pick RG David DeCastro, the Steelers' offensive line should be the best it has been in years. With so little talent at the position to challenge him plus the fact that he is an accomplished receiver and has the size teams want at the goal line, Bell is probably the safest of all the rookies in fantasy this season, even if he isn't the best or brightest talent.
Fearless early-June prediction (15 starts): 257 rushes for 1,065 yards and seven TDs; 44 receptions for 280 yards and one TD
2013 Projected Role: Broncos RB1; building block.
Positives: Cosell – the aforementioned NFL Films' guru - believes Ball is an "ideal fit" for the Broncos' offense, citing his burst, fluidity and ability to get skinny at point of attack. It's not hard to understand why as the Wisconsin standout works well between the tackles, has the necessary patience to let holes develop and fights for extra yards. Broncos executive VP John Elway even went so far to compare Ball's running style to Terrell Davis. Ball is a proven workhorse running back that broke the all-time FBS touchdown record for most touchdowns at a major college, so his production is not empty. The running game will take a back seat to Peyton Manning and the passing game in Denver, but that doesn't mean Ball won't be involved heavily at some point (more on that in a bit). Willis McGahee is still a serviceable but aging back, Knowshon Moreno has proven to be an average runner at best and Ronnie Hillman figures to be little more than a receiving back, meaning Ball has a shot at early playing time.
Negatives: Ball will enter the league after 983 offensive touches as a Badger. While durability wasn't an issue in college, there is a school of thought that suggests he may be pressing his luck in that regard in the pros. Although he did break off his share of big runs in college, Ball does not qualify as a big-play back either and won't exactly make his mark as a pile-mover. The 5-10, 214-pounder also didn't get much of a chance to show off his skills as a receiver, although that was more likely a function of the Wisconsin offense than any shortcomings Ball has in the passing game. Ball's biggest obstacle may very well be HC John Fox's longstanding reluctance to trust rookie runners. While he has been quick to praise Ball to this point, it is entirely possible the coach stays true to his reputation and makes his rookie "earn it".
2013 Fantasy Assessment: After much debate on whether I should trust the situation or Fox's penchant for sticking with veterans, I chose the former and made Ball the top rookie in this class. It is not hard to imagine a scenario in which McGahee and Ball share the load on running downs while Hillman grabs most of the receiving work. But assuming Ball grabs the lead-back role at some point early in the season, he possesses top 10 fantasy RB potential. Manning has a long history of making running backs relevant in fantasy in large part because he commands so much of the defense's attention, so Ball will likely run against nickel and dime defenses for most of the early part of his career (and certainly his rookie season). He is the probably the best young back Manning has had to work with since his early days with the Colts (Marshall Faulk, Edgerrin James), so the fact he has shown to be such an accomplished short-yardage runner makes him all the more attractive .
Fearless early-June prediction (14 starts): 244 rushes for 1,150 yards and nine TDs; 36 receptions for 250 yards and one TD

Suggestions, comments, about the article or fantasy football in general? E-mail me or follow me on Twitter.

---
Doug Orth has written for FF Today since 2006 and appeared in USA Today's Fantasy Football Preview magazine in 2010 and 2011. He hosted USA Today's hour-long, pre-kickoff fantasy football internet chat every Sunday this past season. Doug regularly appears as a fantasy football analyst on Sirius XM's "Fantasy Drive" and for 106.7 The Fan (WJFK – Washington, D.C). He is also a member of the Fantasy Sports Writers Association.