About the only guarantee at this time of year is that someone will emerge from relative anonymity to become his fantasy football's team second-half stud. Last year alone, owners that were brave enough to take a chance on Geno Smith, Edwin Baker, Cordarrelle Patterson or Marcedes Lewis were handsomely rewarded.

In past years, the list of fantasy playoff saviors doesn't exactly read like a Who's Who of the NFL or look like a list of players that should expect a call from Canton. Do you remember Patrick Jeffers in 1999 or the famed Billy Volek to Drew Bennett connection of 2004? How about Jerome Harrison in 2009?

The examples of clutch play – at least for fantasy purposes – is certainly not limited to the names above, but the aforementioned names should at the very least provide a bit of hope to those owners who get the sense they are one or two players away from making a championship run and no longer have the ability to make a trade to acquire those assets.

As I often say, I believe one of the keys to winning consistently in fantasy football is staying a week or two ahead of your competition. This approach often requires working in a bit of a gray area since a fair amount of recommended players have yet to establish playing time and/or solid body of quality work. As such, my goal for this week is to provide a list of 16 players/teams that will be on most leagues' waiver wire – they are in the majority of my 12-team leagues with 18-man rosters – that could have the goods to be the next Volek, Harrison, Jeffers or Bennett.

I will rank each player by position and then in order of how I would view their upside as potential stretch-run or fantasy-playoff saviors:

Quarterbacks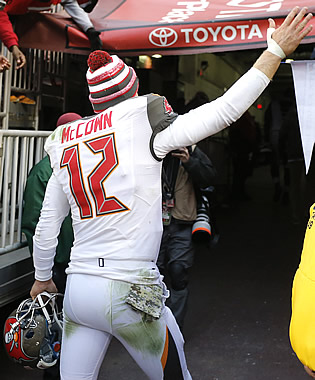 The Bucs QB can push your team into the playoffs.
Josh McCown, Tampa Bay – Quarterback is often called "the most dependent position in football". A quarterback can do everything right on his end and still look bad when a receiver runs a hitch and turns inside when he should have turned outside or when a receiver stops on a route (I'm looking at you, Kelvin Benjamin). With that in mind, can needy owners really thumb their nose at a quarterback that can get a few fantasy points each game on the ground and has options like Mike Evans and Vincent Jackson? I recognize how hard it is for owners to forget the last time they saw a quarterback perform (for most fans, that time was the Week 3 blowout loss to Atlanta in which he injured his thumb, leading to a five-game absence). Since his return to the field in Week 10, the journeyman signal-caller has thrown for at least 288 yards and two scores in each of his two games. As luck would have it, Tampa Bay's opponent this week is his last employer (Chicago), which just happens to give up the most points to opposing fantasy quarterbacks. Weeks 13 (Cincinnati) and 14 (Detroit) are less forgiving matchups, but McCown wraps up the fantasy season on the road against Carolina and at home versus Green Bay, both of which are in the top half of the league in most fantasy points allowed to fantasy quarterbacks.
Brian Hoyer, Cleveland – Remember what I just said about quarterback being the most dependent position in football? The same logic applies here, if not even more so. It is probably fair to say Hoyer has held onto this job longer than anyone expected, especially without Josh Gordon (or a healthy Jordan Cameron, for that matter) to this point, and probably is a really bad half (in any of his upcoming games) away from watching Johnny Manziel try to prove that he is the future in Cleveland. Hoyer is also coming off a 20-of-50 effort against a below-average Houston secondary, but let's not forget how sneaky good he was for a brief stint last year when Gordon came off suspension and Hoyer was healthy. Yes, current OC Kyle Shanahan isn't going to pass the ball nearly as often as former OC Norv Turner, but common sense suggests that Shanahan and Hoyer aren't going to wait long to feed Gordon.
Kyle Orton, Buffalo – A slightly more tolerable option for less risk-averse owners may be Orton, who has proven capable of exploiting a solid matchup since his Week 5 promotion. With the 32-year-old, it boils down to whether or not he has a healthy Sammy Watkins and/or whether or not his rookie receiver is facing an elite cover corner that week. The Bills actually have a relatively tame remaining schedule in terms of fantasy points allowed to opposing fantasy quarterbacks. This Sunday, Orton draws the Jets, who coughed up four touchdowns to the man once known as "Neckbeard" in Week 8. (Keep in mind that western New York is getting pounded by snow this week, so unfavorable weather will almost certainly be a factor.) Cleveland (Week 13) actually shows up the most difficult fantasy matchup Orton has on his remaining schedule, although it is almost comical how few quality quarterbacks the Browns have faced since Week 6. (Take a peak here for the proof.) I wouldn't exactly be thrilled about trusting Orton going forward, but as a Cam Newton owner in two leagues, I feel justified saying that I don't trust the Bills' current quarterback any less. Feel better?
Ryan Mallett, Houston – While there is not a doubt in my mind that Mallett is the most talented quarterback on this list, I think his Week 11 performance (20-of-30, 211 yards and two touchdowns) is near the ceiling of what owners should expect for the rest of the season. The Texans' remaining schedule is loaded with defenses that Arian Foster and/or Alfred Blue should be able to have success against – Week 16 versus Baltimore may be the one exception – meaning prospective and current owners need to hope that HC Bill O'Brien opts to go away from Foster and ride his inexperienced quarterback in the red zone, which seems unlikely at best. I think Mallett will play the game-manager role better than Ryan Fitzpatrick did, however, so perhaps this helps owners in two-QB leagues feel better about Mallett going forward.
Wild-card pick
Jimmy Clausen, Chicago – Be honest, you didn't know he was still in the league, did you? All kidding aside, Jay Cutler hasn't put together a full 16-game season since his first year as a Bear in 2009. Clausen worked with HC Marc Trestman when he was preparing for the draft in 2010 and impressed the current Bears' coach enough in that time that he sought out the former second-round pick when he was available this past offseason. Clausen was sharp in preseason action and the Bears obviously have a talented supporting cast capable of making almost any quarterback a low-end fantasy QB1 more weeks than not. Cutler's owners may actually find the Notre Dame alum is more valuable as a handcuff than the current backup quarterback on their roster, so for the poor souls that might be going with Derek Carr or Alex Smith as their backup to Cutler, take some time to consider Clausen instead.
Running Backs
Latavius Murray, Oakland – This size/speed freak has been on the radar of dynasty leaguers for some time now and, to a lesser extent, deeper redraft leagues. I mentioned him a few weeks back and will do so again because he is the very essence of the player I'm trying to highlight this week. The 2013 sixth-round pick from UCF saw a career-high (and team-high) 27 snaps in the Raiders' Week 11 loss to San Diego and, even more notable, all of his touches came with the game still somewhat in doubt. At 0-10, Oakland has little reason to continue to give significant snaps to Darren McFadden and Maurice Jones-Drew and there is now reason to believe Murray's time is coming sooner than later. As with about any Raiders' player in regards to fantasy, Murray is a stash-only option at this time. And even if Oakland were to hand him the feature-back job at some point, it is unlikely he'd more than a flex option with the Chiefs (twice), Rams, Niners and Bills left on his fantasy schedule. Still, the running back position isn't one in fantasy where many owners can ignore a big-play back capable of 60-plus yards rushing that can contribute in the passing game.
Dan Herron, Indianapolis – I recall saying Herron was an average-at-best talent when he was drafted in the sixth round by the Bengals in 2012. He's more explosive now than I recall him being at Ohio State and it is for that reason alone he may be worth a stash, especially in light of Ahmad Bradshaw's season-ending leg injury. How the Colts decide to spread around Bradshaw's touches now is far from certain, but it does seem logical they will at least try to use Herron in a somewhat similar fashion – albeit with fewer touches and goal-line opportunities. Then again, there is always the possibility that Indianapolis just decides to throw more often, which is why Herron isn't exactly a no-brainer addition in fantasy this week.
Juwan Thompson/Kapri Bibbs, Denver – I'm going to assume C.J. Anderson is owned in the majority of competitive leagues by now. And as far as I'm concerned, Anderson is the Broncos' back to own for the rest of the season barring injury. (There's some that would have said he should have seen his opportunity long before now.) With that said, it doesn't mean owners should stop tapping into that Denver running back pipeline. The reasons Thompson and Bibbs (in that order) appear here even though they are clearly blocked at the moment are: 1) when injuries strike one team at a position, they seem to strike hard and 2) the Broncos actually have five backs (obviously including Montee Ball and Ronnie Hillman) on their roster and practice squad that are usable in fantasy if they were handed the feature-back role. The upcoming schedule is far from easy with Miami, Kansas City (which has yet to surrender a rushing score) and Buffalo coming up over the next three weeks. However, I'll always be happy taking my chances with a running back in a Peyton Manning-led offense over all but about a handful of more-established backs. In the leagues I have Anderson, I'm going to do what I can to stash Thompson.
Wide Receivers
Kenny Britt, St. Louis – Opportunity and some good luck (or bad luck for their teammates) must shine favorably upon certain players in order for them to deliver at the end of the season. And let's face it: there's not a ton of fantasy upside with the Rams right now, outside of perhaps Tre Mason as a flex option. When looking for upside where seemingly very little exists, owners often rationalize that "someone has to produce" in that offense and there is really little question that Britt is the best candidate for that honor in the St. Louis passing game. Brian Quick had a nice run before his injury, then Jared Cook caught fire for a bit before Shaun King replaced Austin Davis under center. I'd hate to be in a position where I'd have to count on Britt for a prolonged stretch, although upcoming matchups against Oakland, Washington and Arizona may just be good enough to pencil him in as a WR3. Make no mistake about it, though, Britt was getting open at will against Denver last week and was an underthrown ball away from scoring two long touchdowns on his first two catches.
Chris Hogan, Buffalo – It's always a good sign when a receiver earns the nickname "7-11", right? Chain-moving receivers aren't glamorous or particularly high-scoring fantasy players, but they do offer a fair amount of consistency and that is exactly what Hogan has done over the Bills' last five games. The former lacrosse player from Penn State and Monmouth product has at least five catches for 57 yards in four of his last five games and probably isn't going to drop off much as Watkins likely sees a lot of Joe Haden and Aqib Talib in Weeks 13 and 14, respectively. Hogan has attracted 16 combined targets and full-time snaps over the last two weeks (60-of-72 in Week 10 and 49-of-62 in Week 11), making Mike Williams a bit of an afterthought in the offense. It wouldn't come as a complete shock if he eventually steals Scott Chandler's role in the red zone as well, assuming he hasn't already.
Charles Johnson, Minnesota – The Packers' seventh-round pick out of Grand Valley State a year ago, Johnson has been a magnet for receiver-needy NFL teams ever since Green Bay let him go last summer. He was impressive in Browns' camp this summer and the team held him as long as it could on the practice squad until the Vikings – likely at the urging of old friend Norv Turner, who got to see Johnson in Cleveland last year – snatched him up in mid-September. Johnson had limited opportunities to perform until last week, when he took advantage of injuries of Jarius Wright and Greg Jennings to haul in six catches for 87 yards against Chicago. Perhaps it is just a blip on the radar, but it's not usually a good idea for fantasy owners to ignore highly athletic 6-2, 215-pound receivers that run under 4.4-40s on teams that need a playmaker to step up.
Wild-card pick
Marquess Wilson, Chicago – How much did the Bears miss Wilson? Well, after getting placed on the IR/designated for return and missing the first 10 weeks of the season, Chicago let him play 58 of 78 snaps in Week 11. The 6-4 wideout is a longshot for redraft value assuming Brandon Marshall and Alshon Jeffery remain healthy, but that hasn't exactly been a given this season. With that said, the high snap count suggests either the Bears really wanted to spread things out against Minnesota (Josh Morgan also saw one of his highest snap totals of the season) or was an indication that Chicago wants to rely heavily on the added downfield dimension Wilson can bring. The second-year receiver out of Washington State was highly impressive over the summer, so it is not a stretch to say the heavy snap count is an indication of things to come. Perhaps he is nothing more than an occasional deep threat for the rest of the season, although the upside with him is huge if something happens to either Marshall or Jeffery.
Tight Ends
Marcedes Lewis, Jacksonville – Owners probably don't need to be reminded about how bleak the tight end landscape is, so desperate times call for desperate measures. Lewis' nine-touchdown season in 2009 might as well have been a lifetime ago, but there is a small glimmer of hope that he could be a stretch-run star. First of all, Denard Robinson has given the Jaguars a ground game (without the blocking exploits of Lewis, who is considered one of the best blockers at his position in the NFL). Secondly, the loss of Allen Robinson frees up a pretty sizeable chunk of production that needs to be filled by at least one player – if not multiple players. Last but not least, only Houston (Week 14) ranks in the bottom half of most points allowed to opposing fantasy tight ends. In fact, the Colts (Week 12), Giants (Week 13) and Titans (Week 16) all rank among the top 11 in terms of most points allowed to the position. Perhaps Lewis gets the Kyle Rudolph treatment this week and plays limited snaps, but it just as possible that Lewis' red-zone presence will be needed immediately versus Indianapolis.
Jermaine Gresham, Cincinnati – To be completely honest, I'm trying to wrap my mind around the idea of trusting the Bengals' pending free agent. However, it is notable that since Week 6, Gresham is a top-12 tight end. In case readers think that might have coincided with Giovani Bernard's absence, the running back was hurt in Week 8. Amazingly, Gresham has seen as many red-zone targets on the season as Travis Kelce (eight) and one fewer than Rob Gronkowski (nine), so he's getting the opportunities – at least in comparison to his peers at his position. The next two weeks are bad matchups for him – Houston defends the tight end better than any team in the league and Tampa Bay isn't far behind – but the fantasy playoffs provide neutral or favorable opponents for him. Tyler Eifert appears to be on the verge of being ruled out for the season, pretty much leaving all the meaningful playing time at the position to Gresham.
Wild-card pick
Tim Wright, New England – Handcuffs aren't just for running backs. Let this be another reminder that as good as Gronkowski has been lately, he hasn't made it through a full season since 2011. While no one is going to replicate Gronk's numbers in the event of an injury, it has become abundantly clear that Tom Brady loves throwing to his tight ends in the red zone. I've already discussed the state of the tight end position, so Gronk's owners could do much worse than to secure Wright just in case.
Defense/Special Teams
Rams – Even since St. Louis rediscovered sacking the quarterback in Week 7, the Rams have amassed 18 sacks over the last five games after posting one over their first five. Wait, it gets better. Although San Diego isn't an overly enticing matchup this week, the Chargers are dealing with injuries up front and to Philip Rivers. The Rams host Oakland the following week and face Washington the week after. Need I remind each of you that Washington managed to make the Tampa Bay defense look dominant a week ago? Arizona (Week 15) is a less than thrilling matchup, but the Giants (Week 16) are yet another favorable opponent given Eli Manning's propensity to post multi-interception games. Also bear in mind that DE Chris Long should be joining the fray over the next week or two after returning to practice prior to St. Louis' win against Denver. The Rams were a highly-regarded fantasy defense before the start of the season, so perhaps this is a case of better late than never.

Suggestions, comments, about the article or fantasy football in general? E-mail me or follow me on Twitter.

---
Doug Orth has written for FF Today since 2006 and has been featured in USA Today's Fantasy Football Preview magazine since 2010. He has hosted USA Today's hour-long, pre-kickoff fantasy football internet chat every Sunday over the past two seasons and appears as a guest analyst before and during the season on Sirius XM's "Fantasy Drive" as well as 106.7 The Fan (WJFK – Washington, D.C). Doug is also a member of the Fantasy Sports Writers Association.