"Fly Eagles Fly" may be the fight song of the Philadelphia Eagles, but it also proved to be a fitting description to capture the comings and goings to and from their roster this offseason. Behind the Eagles' massive makeover was the mad scientist known as Chip Kelly, who had yet to secure a head-coaching job at any level as recently as nine years ago. He left no doubt that he is running the show in Philadelphia this spring, however; Kelly had a hand in more than his fair share of the key personnel moves (trades or free agency) that will be discussed below.

So far, I have provided my thoughts about the incoming rookie class (11-20) and (1-10). This week, I'm going to turn my attention to the veterans that have found new homes. (The players will be separated initially by position, and then ordered by likely "impact" in 2015. I'll briefly discuss some other notable players that probably should go undrafted in most traditional 16-round drafts at the bottom of the article.)

Note: Bits and pieces – not to mention a much shorter version – of this story can be found in the 2015 USA Today Fantasy Football Preview magazine.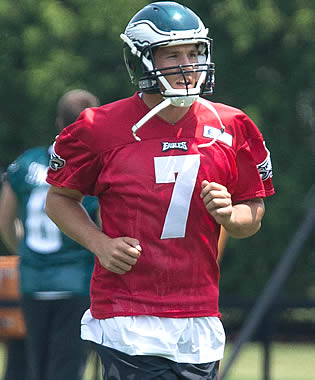 Bradford is the type of QB2 owners need to target.
QB Sam Bradford
2014 Team: St. Louis
2015 Team: Philadelphia
Fantasy Analysis: Near the end of his rookie season in 2010, then-CBS Sports (and current NFL Network) analyst Charley Casserly called Bradford one of the five best young quarterbacks in the league. It has been pretty much downhill for him ever since, taking too much punishment behind the Rams' often-lackluster offensive line while waiting for the team's assortment of below-average receivers to get open when he was healthy, and missing a total of 31 games in the three of the five seasons in which he was unable to play a full 16-game schedule due to serious ankle and knee injuries. Virtually no one is going to argue he is a risky investment, but when is the last time any owner considered him an every-week fantasy QB1? Although I know readers are sure to roll their eyes at the following statement, I feel compelled to say it anyway: Bradford is exactly the type of backup quarterback owners need to target – a player in a contract year with proven accuracy in an offense designed to put up big numbers and discounted due to his lengthy injury history (none of which are chronic). The former No. 1 overall pick's current ADP ranges between the end of the 10th and middle of the 11th round as the 15th passer off the board. The departure of all of the important receivers and backs that made Kelly's system work over his first two years does cast a bit of doubt on Bradford's ability to be a QB1, but I'd still argue that Philadelphia's current supporting cast – including the offensive line – is a huge improvement over any collection of offensive talent St. Louis had over the past five years. Kelly has the resources (scheme, line, etc.) to protect Bradford better than the Rams ever could and his offense is similar to the one Bradford operated at Oklahoma. It is probably unrealistic to expect 16 games out of Bradford in 2015, but I still like him as one of the top fantasy QB2s with the most upside; if he can make it from beginning to end, it would not surprise me in the least if he ends up being a top-10 fantasy quarterback. I feel only slightly less optimistic about Mark Sanchez, who should be ready and able as he appears to finally be fully recovered from the shoulder injury that essentially ended his tenure with the New York Jets.
QB Nick Foles
2014 Team: Philadelphia
2015 Team: St. Louis
Fantasy Analysis: Want to get an idea about job security in the NFL? During an early December 2013 press conference, Kelly gave Foles the ultimate vote of confidence after his 5-1 start by saying he would be "the starting quarterback for the next 1,000 years here". The former third-round pick started 13 more games with the Eagles after that remark before suffering a collarbone injury during the middle of last season and getting dealt this offseason to the Rams for Bradford. Entering his fourth NFL season, Foles came in under Andy Reid's pass-heavy West Coast offense before spending two years with Kelly in his up-tempo spread attack. In 2015, he'll run an offense that is unlike either of the first two in St. Louis under first-time OC Frank Cignetti Jr. that will keep the same principles the Rams utilized under former OC Brian Schottenheimer, but attempt to simplify the playbook. Wonderful. So what we have here is a quarterback that was dinged for his footwork and lack of accuracy last year moving to his third offense in four seasons and working for a first-time NFL play-caller that may or may not have his game-changing running back ready for the start of the season (No. 10 overall pick Todd Gurley). It is hard to believe with so much working against Foles in 2015 that he can also overcome a less-than-stellar receiving corps in order to be useful in fantasy leagues. The Rams want to win games by running the ball and playing defense, which is a recipe that will probably keep Foles below 20 passing scores in his contract year. As a result, it is hard to imagine him as anything more than a bye-week plug-and-play option in 2015.
RB LeSean McCoy
2014 Team: Philadelphia
2015 Team: Buffalo
Fantasy Analysis: The first domino to fall this offseason was easily one of the two most surprising in fantasy circles. There were hints that Kelly and LeSean McCoy were not in perfect harmony in their second season together, but it seemed like a relative longshot that Philadelphia would part with him because of philosophical differences or salary-cap reasons. Buffalo jumped at the chance to acquire McCoy, parting with talented yet injured LB Kiko Alonso in order to add one of the league's top running backs. In a bit of twist of irony, McCoy (instead of Murray) could very well lead the league in carries and touches this season as the Bills do their best to hide E.J. Manuel, Matt Cassel or possibly even Tyrod Taylor. While McCoy disappointed many owners last season, he did so behind an offensive line that was in chaos for much of the season. Even if Buffalo's offense this season is relatively vanilla (to cater to HC Rex Ryan's ground-and-pound philosophy) under new OC Greg Roman, the team has enough threats in TE Charles Clay as well as WRs Sammy Watkins and Percy Harvin to make opponents respect the passing game. McCoy will also have the benefit of running behind one of the game's best fullbacks in Jerome Felton. As a result, McCoy should be expected to improve on his 4.2 YPC from a year ago and outperform Murray in fantasy this year.
RB DeMarco Murray
2014 Team: Dallas
2015 Team: Philadelphia
Fantasy Analysis: Few personnel men have the guts necessary to trade away a player like McCoy without a capable in-house replacement already under contract. That is exactly what happened in Philadelphia, which set its sights on Frank Gore only to be jilted at the altar. Murray, who won the league's rushing title in 2014 with the Cowboys, ended up being the Eagles' consolation prize when Dallas refused to pay the four-year veteran anything close to the five-year, $40 M he received from Philly. While the Eagles' spread offense wouldn't appear to be a great fit for a player like Murray that spent the majority of his time in his career operating out of the "I" or as a lone setback, Kelly wants a one-cut runner to execute his ground attack and Murray did that as well as any back in the league last year. McCoy dances in the backfield more than Murray and that is ultimately the main reason why Kelly shipped him off to Buffalo. Since acquiring Murray, Kelly has been consistent in saying the Eagles will "spread it around" in the backfield, so owners should not expect anything close to the 449 regular-season touches he received last year. For a back with such an extensive injury history coming off a high-usage season, the odds are stacked against Murray surpassing 300 touches and/or being very effective this season. The Philadelphia offense and his projected workload (if he stays healthy) is enough to keep him in the RB1 conversation, but he is very risky.
RB C.J. Spiller
2014 Team: Buffalo
2015 Team: New Orleans
Fantasy Analysis: Remember the good 'ole days when owners in PPR leagues could treat Darren Sproles as a RB1 when he was still a member of the Saints? History could very well be repeating itself in New Orleans. Sproles is in Philadelphia, Pierre Thomas is unsigned and a backfield that averaged 189 targets per year since Sproles joined the Saints in 2011 is down to one established pass-catching threat out of the backfield. The composition of New Orleans' backfield in 2015 (Mark Ingram, Khiry Robinson and Spiller) as well as the flurry of offseason moves the team made suggests the team is very serious about running the ball this season, but will it really cut the number of passes to its running backs in half? As a bigger version of Sproles, Spiller has all the makings of the player that HC Sean Payton has wanted in his "satellite back" since he became the coach nearly 10 years ago. A healthy Ingram will almost certainly pace the Saints in carries by a large margin, but don't be surprised if Spiller receives over 100 rushing attempts and comes close to doubling his career high of 43 catches. Payton already understands the No. 9 overall pick in the 2010 draft is better in space than any coach he had in Buffalo since Chan Gailey, who oversaw Spiller's incredible 2012 campaign. The Clemson alum isn't going to repeat that 250-touch season in his New Orleans' debut, but 2015 should end up being his best fantasy effort since that year. He's a very good bet to post high-end RB2 numbers in PPR and low-end RB2 stats in standard leagues.
RB Frank Gore
2014 Team: San Francisco
2015 Team: Indianapolis
Fantasy Analysis: Rare is the day when a franchise's all-time leading rusher is valued more by two organizations than he is by the one he spent his entire career with, but that ended up being the case with Gore this offseason. The 32-year-old five-time Pro Bowler reportedly had his eye set on Philadelphia on the onset of free agency, but pulled out after a number of media outlets suggested the contract was a done deal. Gore quickly found his new home in Indianapolis and HC Chuck Pagano has seemingly been singing his praises ever since. "I don't think we would've gone after him, made the investment (three years, $12 M) and made the decision to bring him in if we didn't feel that way (about him being a bell-cow)," Pagano told reporters back in March. "Based on what we saw on tape, there's video evidence that he's more than capable of still being that guy." While Gore's year-to-year consistency, elite pass-protection skills and last season's strong finish back up the first part of Pagano's quote, there really isn't much evidence to reinforce the second half. Prior to ripping injury-ravaged defenses in San Diego and Arizona for 302 yards in the final two games of last season, Gore was well on his way to a fourth straight season in which he had a lower YPC in the second half than he did in the first. The Colts' dynamic passing game will empty out the box for Gore – whose straight-ahead style is exactly what Pagano and OC Pep Hamilton has been seeking – but Indianapolis' failure to address its offensive line may negate whatever net gain the team made by adding the ex-49er. Gore should be the unquestioned goal-line back, however, which should allow him to carry RB2 value in most leagues if he remains healthy and finishes anywhere close to the 255 carries he toted last year.
RB Shane Vereen
2014 Team: New England
2015 Team: NY Giants
Fantasy Analysis: Vereen fled New England for New York, leaving one running back committee for another to remain a passing-down back… end of story, right? Not so fast. Rashad Jennings turned 30 in March and was unable to stay healthy last season while Andre Williams was largely ineffective in the role (early-down pounder) he was drafted for as a rookie and offers very little in the passing game. Vereen may very well begin the 2015 season as a third-down back, but it should come as little surprise if he ends up being the Giants' most valuable runner in fantasy this year. First and foremost, New York likely wants to utilize a lot of no-huddle. Secondly, LT Will Beatty tore a pectoral muscle while working out this spring, leaving raw first-round rookie Ereck Flowers as his likely replacement and Marshall Newhouse as the new right tackle. (Newhouse is on his third team in three years and was signed to be a backup.) Vereen played 16 games for the first time in his four-year NFL career in 2014, setting career highs in carries (96) and catches (52), and could easily be in line for a similar workload this year. Jennings has yet to make it through a season and Williams will almost certainly see his 235 touches from a year ago cut in half at least, giving Vereen more than enough opportunity to be more valuable in fantasy than he ever was in New England. The former Patriot is a dark-horse pick to be a RB2 in PPR formats and should be a viable flex play in standard leagues.
RB Ryan Mathews
2014 Team: San Diego
2015 Team: Philadelphia
Fantasy Analysis: Mathews' courtship to Philadelphia pretty much summed up what was a bizarre yet productive offseason by the Eagles. After the Chargers showed little interest in retaining the No. 12 overall pick in the 2010 draft, Mathews was going to be the runner that helped Kelly fill the role he had envisioned for Gore. Murray ended up beating Mathews to the dotted line, however, leaving the latter in a bit of a quandary. Mathews ultimately bought into Kelly's "spread it around" plan and inked a three-year deal for $11.5 M, presumably to serve as 1B in the Eagles' backfield to Murray's 1A (with Darren Sproles operating in his usual "satellite" role). Here is where it gets interesting: Murray and Mathews are both quite injury-prone. As a result, any number of scenarios could play in Philly's backfield this year, including Murray crumbling early after his huge workload last season, Mathews breaking down (he played only six games last year and has lasted no more than 12 in three of his five seasons), both players missing significant time or both players staying healthy for all 16 games thanks to the reduced wear-and-tear. In Kelly's perfect world, I'm betting he'd like to see 225-250 carries for Murray, 125-150 for Mathews and about 40-50 for Sproles (with Bradford getting next to none, which should add 50-75 more carries to the mix). That kind of workload means Mathews could have reasonable flex value with significant upside behind the injury-prone Murray.
RB Darren McFadden
2014 Team: Oakland
2015 Team: Dallas
Fantasy Analysis: Depending on your perspective, McFadden is either the poster child for hamstring injuries or one of the few remotely valuable fantasy properties to call Oakland home in the last 10 years. The 27-year-old (28 in August) topped 1,000 rushing yards only once in seven seasons as a Raider, enjoying great success in then-HC Hue Jackson's power-running scheme. For the most part, he has mostly failed to live up to expectations throughout his career thanks to injury and poor offensive line play. The latter shouldn't be a problem anytime in Dallas, which believes its dominant front five and a little good luck on the injury front can help McFadden fulfill the potential befitting of the No. 4 overall pick in the 2008 draft. In his corner is RB coach Gary Brown, who was the position coach in Cleveland when McFadden's former college teammate Peyton Hillis ran for over 1,000 yards and he was still in place when Trent Richardson nearly did the same as a rookie in 2012. "I like what I see," Brown told ESPN Dallas. "(McFadden) works hard. He had tremendous burst, tremendous speed." His main competition for the starting job with the Cowboys is Joseph Randle, who manages to keep himself in the news despite having 105 NFL rushing attempts to his name through two seasons. Randle is the presumptive Week 1 starter despite the attempts to sabotage his own career, so McFadden will need a strong (and healthy) camp to earn the right to run behind one of the best (if not the best) offensive lines in the league. That fact alone puts him on the flex radar if he ends up as the change-of-pace back or even as a handcuff, although his most likely value in fantasy circles will probably be as a RB4.
RB Reggie Bush
2014 Team: Detroit
2015 Team: San Francisco
Fantasy Analysis: For the first time in his college or pro career, Bush's arrival in an NFL city comes with little pomp or circumstance. The soon-to-be 10-year-veteran has only played two full seasons in his NFL (2006 and 2012) and reinforced the notion he is an injury-prone receiving back during his two-year stay in Detroit after a largely successful two-year stint in Miami. Now 30 years old, Bush will likely watch Carlos Hyde and rookie Mike Davis handle early-down work while he contributes in the return game and tries to hold off a challenge for passing-down snaps from Kendall Hunter, who is recovering from a torn ACL. But does it really matter to owners if he does? San Francisco running backs (including the fullback) never combined for more than 52 catches in four years under former HC Jim Harbaugh, which is only slightly more than the 47 receptions Bush averaged himself as a Lion. New HC Jim Tomsula is a defensive coach at heart and new OC Geep Chryst is a first-time NFL play-caller, suggesting San Francisco will play it conservatively in 2015. Perhaps part of that conservative plan will include "safe" throws from Colin Kaepernick to Bush, but it is doubtful he'll exceed 40 catches as a Niner or get enough chances as a runner to make up for the lost receptions. In short, he is a longshot to approach the value he enjoyed in Detroit and should go late in fantasy drafts.
RB Roy Helu
2014 Team: Washington
2015 Team: Oakland
Fantasy Analysis: While the Raiders have made significant improvements nearly across the board, reaching .500 is still a lofty goal at this point. Latavius Murray should hog most of the early-down carries, but common sense suggests that Helu was brought in to do pretty much the same thing he did as a Redskin: take the majority of snaps on passing downs. As one could have easily concluded from the first sentence, the four-year veteran should see at least as much work as he did in Washington last year: 40 carries and 42 catches. The difference is that while Alfred Morris has proven his durability, Murray has not. If Trent Richardson is unable to shed the bust label in what will likely be his last shot in the NFL, then Helu becomes the lead back. At the very worst, Murray's owners should invest a late-round pick in the Nebraska alum, especially in PPR formats.
RB DeAngelo Williams
2014 Team: Carolina
2015 Team: Pittsburgh
Fantasy Analysis: Williams warrants a late-round draft pick, but only as a player to provide depth for an owner that is either dealing with Le'Veon Bell's three-game suspension or to bridge the gap for the owner who drafts Todd Gurley but misses out on Tre Mason (assuming the rookie isn't ready Week 1). Why should he only be considered "depth"? I don't see a ton of production coming out of Williams since his three feature-back games will come at New England, versus San Francisco and at St. Louis.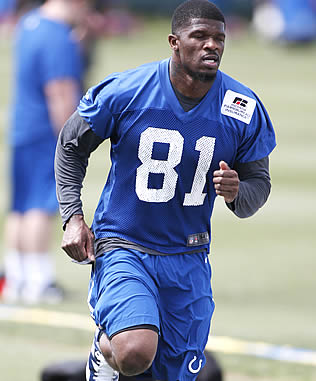 AJ's move to IND does wonders for his fantasy ceiling.
WR Andre Johnson
2014 Team: Houston
2015 Team: Indianapolis
Fantasy Analysis: Although the Texans likely made the right long-term choice in releasing Johnson (he was due $21.5 M over the final two years of his contract in Houston), they stand the very real chance of getting embarrassed by the franchise's all-time leading receiver over the next year or two as he moves from one of the league's worst quarterback situations to one of its best. ESPN reported in late May that Johnson will have "a significant part" in Indianapolis' offense this season. Although the 33-year-old (34 in July) is no longer the dominating presence he once was in his heyday with the Texans, don't lose sight of the fact he still managed to post 85 receptions last year from quarterbacks named Ryan Fitzpatrick, Ryan Mallett, Tom Savage and Case Keenum. Johnson will let T.Y. Hilton and/or Donte Moncrief and/or Phillip Dorsett stretch the field and be a possession receiver for Andrew Luck – a role that could easily allow him to repeat his 2014 catch total and set a new career high for touchdowns (he had nine in 2009). I am going to make a strong push to keep my fantasy teams young this year, but I'm willing to bend that rule for Johnson, who I firmly believe will finish with around 90 receptions, 1,000-plus yards and 8-10 touchdowns if he plays every game.

WR Brandon Marshall
2014 Team: Chicago
2015 Team: NY Jets
Fantasy Analysis: While Johnson got to choose his next employer and learns what life is like with the game's best young quarterback in a dynamic offense over the next 1-2 years (or more), Marshall had little say about being dealt for a fifth-round pick to the Big Apple, where he will presumably serve as the top option for Geno Smith. The news isn't all bad, however, as the five-time Pro Bowler will be featured in an offense run by new OC Chan Gailey, who has coaxed career years out of Dwayne Bowe (Kansas City) and Steve Johnson (Buffalo). With Eric Decker opposite him and rookie Devin Smith possibly adding a vertical element to the passing attack, Marshall should be able to operate in a fashion similar to the way he did over the last two years under then-HC Marc Trestman in Chicago. Marshall's 2014 season was pretty much ruined shortly after it started as ankle injuries bothered him for most of the first half of the season before fractured ribs and a collapsed lung in Week 14 left him short of 80 catches for the first time since his rookie season. Owners may be quick to slight the ex-Bronco, Dolphin and Bear because of the quarterback situation in New York, but when one actually considers that Jay Cutler is the best one he has played with in his career, the possible combination of Smith and Ryan Fitzpatrick (both of whom have done their best work in spread offenses) doesn't seem like such a big deal. The quarterback situation is enough to keep him out of the WR1 conversation, but Marshall's history suggests he'll find a way to be a quality fantasy WR2.
WR Mike Wallace
2014 Team: Miami
2015 Team: Minnesota
Fantasy Analysis: Of all the notable receivers to change places this offseason, one would be hard-pressed to find a better match between player and scheme than Wallace in a Norv Turner offense. The six-year veteran tied a career high with 10 receiving touchdowns last season as he proved to be a better red-zone receiver than many believed he could be (nine of his scores came inside the 20), yet Miami was quick to deal him along with a seventh-round pick in exchange for a fifth-rounder in a clear salary dump when it became obvious he and Ryan Tannehill could or would not coexist. It is too early to say after one season if Teddy Bridgewater will end up becoming a good deep-ball passer, but it seems likely he will be better at it than Tannehill, who is a combined 52-for-168 on passes 20 or more yards down the field over his three-year career. Since Bridgewater cannot be expected to produce at the same level Ben Roethlisberger did while Wallace was in Pittsburgh, it would be unreasonable to expect the speedy wideout to replicate his best years as a Steeler. However, there is little doubt he should win some weeks for his fantasy owners due simply to his big-play ability. With Adrian Peterson back and likely to command eight-man boxes once again, Wallace is easily capable of producing WR3 numbers. He'll likely be inconsistent – most receivers whose main job it is to stretch defenses usually are – but his final numbers may be good enough to get him inside the top 20 at his position.
WR Jeremy Maclin
2014 Team: Philadelphia
2015 Team: Kansas City
Fantasy Analysis: Alex Smith has started more than half of his team's games in all but two years since he was the No. 1 overall pick in 2005. Outside of a 15th-place finish (in PPR formats) by Michael Crabtree that was aided by the emergence of Colin Kaepernick, the next-best fantasy finish by a receiver with Smith as his main quarterback was 29th (Isaac Bruce, 2008). While the case can be made that Maclin is the best all-around receiver Smith will have had at his disposal in his career, history is certainly working against the former Eagle to justify the $11 M per year he will make on average over the next five seasons. Maclin is more than a deep-ball receiver, but consider this: according to Pro Football Focus, Maclin had nine downfield catches of 20 yards or more last season. In short, Maclin had five more downfield catches for 221 more yards than the Chiefs' entire receiving corps combined on similar receptions last season. Maclin's arrival should boost that number (especially since he is already quite familiar with HC Andy Reid's system from their years together in Philadelphia), but Smith has a far longer track record of minimizing risk and avoiding turnovers. In other words, Maclin's final two healthy seasons with Reid (63-859-5 in 2012 and 69-857-7 in 2013) should represent the absolute ceiling of what he will do with Smith. That puts him squarely in WR3 territory in fantasy.
WR Torrey Smith
2014 Team: Baltimore
2015 Team: San Francisco
Fantasy Analysis: Despite occasional flashes, Smith's game never evolved outside of being one of the league's best deep threats in Baltimore, which makes the five-year, $40 M deal he got from the 49ers look a bit pricey. The contract looks even worse when referencing Pro Football Focus: Smith's 18.33 percent drop rate among receivers was the second-highest mark in the NFL while his 11 drops tied Julian Edelman (103 catchable targets) and Kelvin Benjamin (84) for the second-most in the league (on 60 catchable targets). In theory, the Maryland product will give San Francisco the deep threat it needs to open up things underneath for Anquan Boldin and maybe even TE Vernon Davis as well as the running game. However, the reality for fantasy owners is that Smith could run more hot-and-cold this year than he ever has simply because he's not a volume receiver and extremely unlikely to come anywhere close to the 11 touchdowns he scored last season. While there will be more of an emphasis on Kaepernick getting the ball down the field this year, Smith will still very likely be the second option in the passing game behind Boldin and shouldn't be expected to deliver anything more than low-end WR3 value at best.
WR Steve Johnson
2014 Team: San Francisco
2015 Team: San Diego
Fantasy Analysis: People are going to be sleeping on Johnson, who went from catching passes from E.J. Manuel and Jeff Tuel during an injury-riddled 2013 to being a sub-package player behind Boldin and Michael Crabtree last year. One could easily wonder if his 2015 role will be any different, but let's remember that Johnson is ticketed for the same spot that allowed Eddie Royal to score 15 touchdowns over the last two seasons. The 28-year-old Kentucky product (29 in July) should be an upgrade over Royal in terms of size and versatility, with the ability to work out of the slot as well as the outside. While he is no threat to Keenan Allen's starting job, he will probably keep the third-year pro from reaching the statistical glory he enjoyed as a rookie in 2013 and could easily beat out Malcom Floyd for the starting job if San Diego doesn't mind using similar receivers in two-wide sets. Entering his age-34 (and final) season in the NFL, the Chargers may decide to save Floyd's legs a bit by making him a part-time vertical threat instead of a full-time one. If that happens, Johnson could easily perform at a WR4 level in standard and PPR leagues.
WR Kenny Stills
2014 Team: New Orleans
2015 Team: Miami
Fantasy Analysis: Of all the moves New Orleans made this offseason, the most perplexing (not surprising) may have been the trade of Stills to Miami. The second-year pro was beginning to show he was more than just a deep threat and would have been under contract for two more years at a very reasonable price had he stayed with the cap-conscious Saints ($585 K in 2015 and $675 K in 2016). Stills will need to show off his all-around game as a Dolphin, however, since Tannehill's aforementioned deep-ball accuracy is still in question. DeVante Parker's recent foot surgery should pretty much allow Stills to begin the season as a starter – assuming he beats out Greg Jennings – but his role after the first-round rookie returns is murky at best. When that happens, he should be, at best, third in line for targets and that assumes TE Jordan Cameron continues to struggle with injuries. Stills-to-Miami has all the makings of being one of those trades that was a good move for the Dolphins in terms of the talent the team received for what they gave up (LB Dannell Ellerbe and a third-round pick), but ends up being a bad move because the fit with Tannehill is poor.
WR Michael Crabtree
2014 Team: San Francisco
2015 Team: Oakland
Fantasy Analysis: It took six years, but some Raiders' fans got their wish. For those that don' t remember, the late Al Davis passed on Crabtree at No. 7 in 2009 to select the size/speed specimen that became his trademark (Darrius Heyward-Bey). Outside of one magical year in 2011, DHB fell woefully short of expectations while Crabtree's star began to shine brightly across the bay. Unfortunately, the No. 10 overall pick's ascending career was cut short by an Achilles' tear during the 2013 offseason and he hasn't been the same since. Crabtree, who dropped 12.82 percent of the catchable passes thrown in his direction last season (the fourth-worst mark in the league) didn't generate much interest in the free-agent market and ultimately signed a one-year deal with Oakland, where he will play second fiddle to rookie Amari Cooper. The Texas Tech alum should benefit from the attention Cooper will command and see more accurate passes from Derek Carr than he got from Colin Kaepernick, but there isn't much upside here. On a team that wants to pound the ball in 2015, Crabtree's absolute ceiling should be in the 60-catch, four-touchdown range.
WR Dwayne Bowe
2014 Team: Kansas City
2015 Team: Cleveland
Fantasy Analysis: It is hard to muster up confidence in just about any Browns' player this year. Among that group is Bowe, who will be asked to lead the Cleveland wideouts one year after he was the top receiver on a team that did not get a single touchdown from its receivers. Being a lead receiver for any NFL team usually guarantees a player some sort of fantasy relevancy, but I can't get excited about Josh McCown throwing to receivers not named Brandon Marshall, Alshon Jeffery, Mike Evans or Vincent Jackson. Brian Hartline isn't going to burn a lot of defenses, nor should the running game be expected to perform better with running-game savant (and former OC) Kyle Shanahan now in Atlanta and first-time play-caller John DeFilippo calling the shots. It's a bad situation all the way around, so feel free to pass on Bowe as long as you want. He's got a reasonable floor of 45-50 catches, but the upside is so low that he shouldn't be considered anything more than a fantasy WR5.
WR Percy Harvin
2014 Team: NY Jets
2015 Team: Buffalo
Fantasy Analysis: Remember the days when Harvin was the apple (or one of them) of Brett Favre's eye? Since his two-year run with the old greybeard, Harvin has been saddled with Tarvaris Jackson, Christian Ponder, an aging Donovan McNabb, Russell Wilson, Geno Smith and an aging Michael Vick. Throw Wilson out of that bunch and it looks remarkably similar to the trio of quarterbacks he'll be catching passes from this year: Cassel, Manuel and Taylor. Granted, Harvin gives his fantasy owners more yardage as a runner than most receivers, but that is a small consolation considering he is an injury-prone player that could easily be the third option in the passing game for one of the run-heaviest teams in the league this season. As gifted as the ex-Gator is, it is hard to get excited about his situation as a receiver when all three of his quarterbacks are noted for being a journeyman or their inaccuracy. Harvin is coming off the board late in the ninth (standard) or early in the 10th round (PPR), but let someone else pay that price. I'm sure not going to.
TE Jimmy Graham
2014 Team: New Orleans
2015 Team: Seattle
Fantasy Analysis: If the McCoy deal didn't raise the most eyebrows this offseason, perhaps the trade of Graham to the Seahawks on the eve of free agency did the trick. The former University of Miami basketball player went through a contentious contract ordeal with the Saints last spring, but was unquestionably Drew Brees' favorite passing-game target. There is plenty of room to debate whether or not a 36-year-old Brees (as the better pure passer) or a 26-year-old Russell Wilson (as the better athlete with the ability to extend plays) is better for Graham's fantasy prospects, but the obvious downside that most people can agree on is Seattle probably will not be able to give him the 125 targets he received in 15 games last year, which was a four-year low. But folks seem to be overreacting just a bit when it comes to the impact Seattle's running game will have on Graham's likely 2015 production. The Seahawks scored touchdowns on only 51 percent of their red-zone trips last year, highlighted by the Malcolm Butler interception in the Super Bowl that cost Seattle back-to-back titles. It would come as a huge shock if Graham: 1) doesn't improve that percentage substantially and 2) scores fewer than 10 touchdowns. Sure, he probably isn't going to catch 85 passes again anytime soon, but he only averaged 10.5 YPC last year. If he lifts that average back up to 12-13 YPC, which is certainly possible considering how much attention the Seahawks' running game will command, then he only needs about 70 receptions to match what he did yardage-wise in a disappointing 2014 campaign by his standards.
TE Owen Daniels
2014 Team: Baltimore
2015 Team: Denver
Fantasy Analysis: Despite joining his third team this offseason, Daniels has never played pro football without Gary Kubiak running the offense. The former fourth-round pick out of Wisconsin has never been much of a field-stretcher, but he is a near-perfect fit for what Kubiak wants out of his tight ends and so the marriage continues. Perhaps what we saw in Baltimore last year (48 catches on 79 targets) is about what we should expect in Denver considering the Broncos want to expand the role of Virgil Green, but I suspect Peyton Manning will push Daniels' reception total closer to 60 as a chain-moving and/or check-down option in the balanced offense Kubiak wants. After all, few play-callers keep their tight ends more involved than Kubiak and few quarterbacks have consistently allowed their tight ends to make more noise in fantasy than Manning (Ken Dilger, Marcus Pollard, Dallas Clark, Jacob Tamme and Julius Thomas). In fact, the averaged PPR finish by a top-producing tight end on a team that played at least 13 games that season in a Manning offense since 2000 is 8.6. Taken one step further, only three times since 2000 has that same tight end not finished among the top 12 at his position. In a hobby where we are often made to choose from the best option based on small sample sizes, there is a lot of evidence to suggest Daniels and/or Green is going to be a top-10 tight end this season.
TE Jordan Cameron
2014 Team: Cleveland
2015 Team: Miami
Fantasy Analysis: Cameron is pretty much everything owners could ever want in a middle-round tight end: tall, fast and athletic with a recent history of production. So why is his ADP in the middle of the eighth round? Each of his last three seasons have been either partly ruined or mostly ruined by concussions. Predicting (or worse, expecting) a history of head/brain injuries to take a year off is a game I have no interest in playing, which pretty much pushes Cameron into the low-end TE1 or TE2 discussion in my opinion. On the plus side, getting out of Cleveland can only help the USC alum, even if Tannehill's deep-ball woes keep him from doing what he does best – getting downfield. Miami has made it clear it wants to attack the middle of the field more often this season and Cameron give the Dolphins more of an opportunity to do that than Charles Clay, so if owners are willing to overlook the distinct possibility their TE1 will likely miss a handful of games, then they could be rewarded handsomely in the games he does play.
TE Julius Thomas
2014 Team: Denver
2015 Team: Jacksonville
Fantasy Analysis: As a whole, notable tight ends got paid this offseason. With that said, I'm not sure a single one (outside of Daniels) landed in a better fantasy situation than the one he left and that is definitely the case with Thomas, who trades in Manning and play-caller Adam Gase for Blake Bortles and new OC Greg Olsen. Thomas has been injured most of his four-year NFL career, missing 12 games in each of his first two seasons and playing at far less than 100 percent with an ankle injury for a good chunk of 2014. In Jacksonville, the former Portland State basketball player will be the unquestioned top receiving option in the red zone for an offense that will be run-heavy after serving as the second option in a pass-heavy attack in Denver. That is about the only thing that improved about Thomas' situation; the downgrade in quarterback, play-calling and supporting cast is immense from what he experienced as a Bronco. Talent alone dictates that Thomas remain a fantasy TE1 at a position that drops off pretty fast after about the first three or four. With that said, I have no desire to spend a late-sixth (standard) or early-seventh pick (PPR) on Thomas given his injury history and situation. I'll be more than happy to wait two rounds and take Daniels or 3-4 rounds to nab either Antonio Gates or Josh Hill. In fact, I think I'd rather grab another position player in the sixth or seventh and settle for Delanie Walker at his 12th round ADP or Kyle Rudolph in the 13th round.
TE Charles Clay
2014 Team: Miami
2015 Team: Buffalo
Fantasy Analysis: Clay finds himself in the rare position of seeing his fantasy stock fall despite an upgrade in his overall supporting cast. It's hard to argue that McCoy, Sammy Watkins and Percy Harvin don't strike more fear into the heart of opponents than Lamar Miller, Mike Wallace and Brian Hartline. So what's the problem (besides trading in the warm weather of South Beach for New York winters)? The three-man tag team of Cassel, Manuel and Taylor probably isn't going to be able to perform at the level of Tannehill. Clay should salvage his value somewhat by being on the receiving end of the same kind of short throws he often took advantage of in Miami, but volume will be a problem and his place on the passing-game priority list will probably alternate between third and fourth after Watkins and McCoy. Clay has also missed at least two games in three of his four seasons as a pro and doesn't offer the kind of size (6-3, 239) that would make him a more inviting red-zone option than any of the other Bills' featured offensive weapons, so he will likely be hard-pressed to approach the 58-605-3 line he posted in 2014.
This concludes the should-be-drafted portion of our segment. Below is a list of players that could find themselves fantasy-relevant at some point should things go their way, some of which I will keep very short (sorted by position and then alphabetical order):
QB Josh McCown
2014 Team: Tampa Bay
2015 Team: Cleveland
Fantasy Analysis: LeBron James returned to Cleveland with great fanfare. Unfortunately, the Browns have no "king" at quarterback that is pining for a return home (this assumes Bernie Kosar isn't able to turn back the clock almost 30 years). McCown may end up being a bit of an upgrade on Brian Hoyer thanks to his scrambling ability, but the Browns are giving him very little chance to thrive with Bowe, Hartline and Rob Housler as his primary options. Rookie third-rounder Duke Johnson could become fast friends with McCown as a passing-down weapon in the mold of Giovani Bernard, but passing games led by running backs are rarely the stuff of fantasy legend.
RB Trent Richardson
2014 Team: Indianapolis
2015 Team: Oakland
Fantasy Analysis: There were a lot of people who proclaimed T-Rich as the best back to be selected since Adrian Peterson when he was drafted three years ago and, unfortunately for those people, his last reach chance to prove them wrong will come in Oakland. I'm not one that believes Richardson is as much of a bust as I think he has been the victim of some bad timing and fits, but he is also not the runner I remember from his college days at Alabama. I don' t think he's going to find what he is looking for with the Raiders either since Latavius Murray is a faster runner and just as physical (if not more so) than the pro version of Richardson.
RB Zac Stacy
2014 Team: St. Louis
2015 Team: NY Jets
Fantasy Analysis: It's hard to blame the Jets for burning a seventh-rounder to protect themselves in case Chris Ivory gets hurt again or Stevan Ridley (ACL) has a setback. The former Ram would probably be in line for passing-down snaps if New York wasn't so infatuated with Bilal Powell in that role. Ultimately, there are a lot of things that have to go Stacy's way in order to have the slightest amount of impact in fantasy this season. While either of the first two backs could get injured or Powell is deemed expendable, the combination of all three happening is extremely unlikely.
WR Greg Jennings
2014 Team: Minnesota
2015 Team: Miami
Fantasy Analysis: There is a case that could be made for drafting Jennings, especially now that rookie first-rounder DeVante Parker (foot surgery) could miss a significant portion of training camp. For as productive as Tannehill was last year, only Wallace (mostly early) and Jarvis Landry (late) were consistently usable fantasy assets. Jennings is best in the short and intermediate passing game at this stage of his career – which suits Tannehill's strengths nicely – but he's roughly the fourth-best option in that area even without Parker. Landry is going to command a ton of the short targets while Stills and Cameron will do more of the work in the intermediate area. If Parker comes back healthy and justifies his draft position (No. 14), which is a distinct possibility, Jennings could become the fourth receiver in a passing game that might be able to support one – or at most two – receiver(s).
WR Cecil Shorts
2014 Team: Jacksonville
2015 Team: Houston
Fantasy Analysis: Consider for a second that all-time Texan great Andre Johnson was reportedly told by Houston HC Bill O'Brien that he would only catch about 40 balls if he returned to the team in 2015. O'Brien didn't stop there: he also reportedly suggested that Johnson may not even be a starter all of next season. While we can't make assumptions about whether or not O'Brien was simply trying to end a relationship that was going to end eventually is a subject for another day, but it seems he gave Johnson's successor a pretty good idea of what he should expect production-wise. Shorts can play inside and out, so he'll give himself a shot at beating O'Brien's estimate for Johnson if he can stay healthy, but I doubt it will be by much. There could also be a push by the end of the season to get third-round rookie Jaelen Strong more involved as well. The bigger point to be made, however, is that O'Brien's declaration about Johnson should pretty much guarantee DeAndre Hopkins' ascension into fantasy WR1 status.
TE Robert Housler
2014 Team: Arizona
2015 Team: Cleveland
Fantasy Analysis: Few tight ends that will likely go undrafted in fantasy have a better opportunity in front of them than Housler, who is an athletic "Y" in the mold of Cameron with very little decent competition for targets at his position or at receiver in Cleveland. Like his predecessor, Housler has a lengthy injury history, which is a part of the reason he should remain on watch lists heading into the season. McCown is unlikely to make any of the members of the Browns' receiving corps into a star and DeFilippo probably isn't the second coming of Norv Turner or Kyle Shanahan (Cleveland's play-callers over the last two seasons). The Browns should be thrilled if is able to match the totals of his career-best season in 2012 (45 catches, 417 yards).

---
Doug Orth has written for FF Today since 2006 and appeared in USA Today's Fantasy Football Preview magazine in 2010 and 2011. He is also the host of USA Today's hour-long, pre-kickoff fantasy football internet chat every Sunday. Doug regularly appears as a fantasy football analyst on Sirius XM's "Fantasy Drive" and for 106.7 The Fan (WJFK – Washington, D.C). He is also a member of the Fantasy Sports Writers Association. E-mail Doug or follow him on Twitter.