As I enter my seventh year of writing this postseason column, I hope I have helped some of you along the way supplement your regular-season fantasy prize winnings. I was able to finish second out of 50 entries in one of my Fuzzy's Fantasy Football playoff leagues last year, so let's keep the good times rolling this year.

While I still consider playing Fuzzy's as my first foray into daily fantasy, I officially took the DFS plunge this season and glad I did so. In the last four weeks of the regular season, I managed to finish first in a Monday-Thursday league with nearly 7,800 entries and came up just short of winning $2,000 in a DraftKings Super Booster contest in Week 17 when two of my entries barely missed out on the top 200. (I'd like to thank Ryan Fitzpatrick for playing his worst game since suffering his hand injury in Week 8 for part of that. If he simply matches his worst fantasy performance over that same stretch last week, I'm a much richer man. Jeremy Maclin's ill-timed hip injury also did me no favors. With that said, 190-plus points in any DFS format should be enough to get paid, but I digress.)

As a result of becoming a DFS veteran, I've decided to change up the process for this column a bit this year in order to hit on all the different postseason competitions I (and I'm sure many others reading this column) will be indulging in over the next month. Just as I have since the beginning, I will share my thoughts on the NFL.com Playoff Challenge and postseason money leagues with Fuzzy's Fantasy Football. My goal over the next four weeks will be to help each of you through your decision-making process as you attempt to boost your bottom line.

NFL.com

For a complete rundown of how players will score fantasy points for your team, click on the "Rules & Prizing" link on the NFL.com entry page. Much of the content immediately below is included on the "How to Play" page, although the information I provide below should be more than enough to follow along easily.

NFL.com Playoff Challenge scoring system



The requirements: one QB, two RBs, two WRs, one TE, one K and one D/ST. You will earn fantasy points based on their on-field performance during their game, and if your player's team wins, you will have the option to carry that player over to the next round, where he will earn a bonus point modifier to his score (which will be referred to as 2x, 3x and 4x from here on out).

For example, if you pick Aaron Rodgers in the Wild Card round and the Packers win, you can carry him over to the Divisional Round, and earn two times (2x) the points he earns in his divisional round game. If Green Bay wins again, you can carry Rodgers into the Conference Championship round for 3x the points and, if the Packers make the Super Bowl, you can earn 4x the points. In addition, a user can select a player/defense in the Wild Card round even if their team has a bye into the Divisional Round. In this case, the user would not earn any points for the Wild Card round, but be eligible to earn 2x points in the Divisional round, since the player was on the teamís roster for two weekly scoring periods. Further bonus point modifiers would also apply as long as that playerís team continues to advance in the NFL Playoffs.

Before we get into the picks, let's briefly review the rules and how we may use them to our advantage: 1) passing TDs are worth four points, so passing yards are valued more highly here than in the Fuzzy's leagues I'll discuss later; 2) all field goals under 50 yards are worth three points, which means we are more concerned about volume of field goals than distance – unless we can find a kicker who regularly converts from 50-plus (DraftKings does not use kickers); 3) this is a non-PPR format, which obviously favors the big-play threats (both Fuzzy's and DraftKings are PPR); and 4) team wins are worth five points, so picking a "winning" defense is worth almost a touchdown.
Let's get the No. 1 rule of this game out of the way right now: if you have a good feeling about which two teams will meet in the Super Bowl, build your lineup exclusively from players from those two teams. Last year's champion built his lineup with only players from the Seattle Seahawks and New England Patriots. (In other words, he took a zero in the first week since both the Seahawks and Patriots were on a bye.) The multipliers are everything in this contest, so playing the week-to-week matchups is nearly meaningless. Think about it this way: if I told you that your regular-season fantasy team's scoring would double in Week 2, triple in Week 3 and quadruple in Week 4 if you simply left it the same, would it affect your draft strategy? Of course it would. The big week your team might post in the first week of this challenge - in the somewhat unlikely event you played the matchups to a tee - is going to seem rather insignificant in early February when every passing touchdown is worth 16 points and every other TD is worth 24 and the top teams in this competition are scoring 200-300 (or perhaps more) points.
Therefore, the main challenges are (in order): 1) correctly predicting the two conference winners and 2) forecasting the best fantasy players in that hypothetical Super Bowl matchup. With that in mind, I'm going to focus most of my time talking about the teams in the first part of this section and focus on the individuals a bit later. Much like in daily fantasy, the chalk plays probably aren't going to win. (Of the hundreds of thousands of entries NFL.com receives, how many do you think are lining up their fantasy squads exclusively with players from Carolina, Arizona, Denver and New England?) Even if you nail the correct one- and/or two-seeds, how many other owners do you think did the same? In short, be bold! It's a free contest after all, so crashing and burning - even if it is in front of an audience like what I'm doing - isn't such a bad thing when you consider the reward is much greater than the risk involved.
Below you will find the 12 playoff teams ranked in order of the (percentage) odds I believe they have of making the Super Bowl. I'll spend a bit of time after that talking about each team and attempt to nail the bracket before moving talking a little DFS.
1. Arizona (40%)
2. Seattle (32%)
3. Carolina (25%)
4. New England (33%)
5. Kansas City (33%)
6. Denver (15%)
7. Cincinnati* (12%)
8. Pittsburgh** (8%)
9. Minnesota (1%)
10. Houston (1%)
11. Washington (1%)
12. Green Bay (1%)
* - Assumes Andy Dalton will be out this weekend
** - Assumes DeAngelo Williams will be out this weekend
Arizona - The most complete team in the NFL, which has to mean something when trying to project a Super Bowl winner. The Week 17 debacle at home versus Seattle is a bit of a bummer, but it should provide plenty of added incentive for the Cardinals in the likely event they meet their NFC West rival again in the divisional round. The loss of do-it-all CB/S Tyrann Mathieu cannot be understated either. Although I can't defend why Arizona played like it had nothing to play for in Week 17, I put a lot more emphasis on what the team did in games that "mattered" this season and less on what happened last week.
Seattle - It makes perfect sense in a season in which there is no overwhelming favorite that a No. 6 seed that has played without its former offensive centerpiece would rank anywhere close to the top of this kind of list. The transition to an offense built around Russell Wilson that I thought would happen at the beginning of the season happened during the middle of the season instead. While I can somewhat understand how the Cardinals failed to put up a fight in Week 17, the Seahawks' loss to the St. Louis Rams a week earlier is a bit more concerning to me. Seattle's defense is also not at the level it has been at in recent years.
Carolina - How on earth can a 15-1 team be third on any list? First and foremost, the odds are strong the Panthers will have to face the top two teams on this list if they want to make the Super Bowl. Secondly, their major weakness now (the secondary after Josh Norman) is one both the Cardinals and Seahawks can expose. Carolina also has been living off turnovers a lot this season. While that isn't a bad thing by any means, I get the feeling Seattle and Arizona won't be giving the ball away at the same rate as some of the Panthers' opponents did against them during the regular season (11 of their 16 opponents committed at least two turnovers).
New England - There's no way a team that has lost four of its last six should be considered the best in its conference, but there is also something to be said about having the fewest question marks of the six AFC representatives. Tom Brady (high ankle sprain) is expected to be fine in two weeks, Julian Edelman (broken foot) should be good to go as well and the defense is solid. The combination of Edelman and Rob Gronkowski together should be enough to mask most of the team's offensive line deficiencies, but make no mistake about it: New England could get easily get beat by any of the next three AFC teams on this list if even a little something goes awry.
Kansas City - Aw, yes, here we have the wonderful story of a team that starts the season 1-5 with its best player (Jamaal Charles) for five of the first six games and closes out winning its last 10 without him. The Chiefs have yielded an average of 12.8 points during their winning streak and have a more-than-capable running game, even without Charles. Like Carolina, it is fair to wonder if Kansas City can keep forcing turnovers in the playoffs. The Chiefs averaged a NFL-best 10.5 points off turnovers in Weeks 7-15 while handily winning the majority of those eight games. The bad news? Kansas City has forced only one turnover three times during their win streak. In those games, the Chiefs defeated the San Diego Chargers, Cleveland Browns and Oakland Raiders by a combined 17 points. Here's another question: can we really buy Alex Smith as a quarterback capable of guiding his team to multiple playoff wins?
Denver - In any other year of Peyton Manning's career, it would have been unthinkable to suggest the combination of his quarterbacking and the league's top-ranked total defense wouldn't result in an easy run to the Super Bowl. This season, the Broncos somehow managed to draw the top seed in the AFC despite scoring 20 points or fewer seven times and watching its defense spring some leaks down the stretch. In order for Denver to make it to the Super Bowl, it will need the ground game to perform like a typical Gary Kubiak-coached rushing attack typically does and the defense to start dominating again. There's not much recent evidence to suggest either one or both can happen in consecutive games against the best teams in the AFC.
Pittsburgh - Last year, the Steelers lost Le'Veon Bell in Week 17 to a knee injury after a stellar campaign and paid for it in the playoffs the following week. This year, they likely lost DeAngelo Williams and could find themselves suffering a similar fate. Ben Roethlisberger has been average at best in six road games this year (5:9 touchdown-to-interception ratio, with three of those scores coming against Cleveland in Week 17). Making matters worse, Big Ben hasn't exactly had much success with the Bengals this year (average of 272 yards passing, one passing touchdown and four interceptions). That's not good news for a team that will have to win three games away from Heinz Field in order to make the Super Bowl and may have to do it without either one of the aforementioned two running backs.
Cincinnati - At the very least, AJ McCarron is proving himself to be a capable NFL backup. And wouldn't it be fitting for the early part of Andy Dalton's career if the team's 25-year drought of getting a win in the playoffs came to an end in a game that he couldn't start (especially since durability has been one of his biggest strengths as a pro)? If Dalton can return by the Divisional Round and somehow quickly regain the form that made him such a standout in fantasy over the first half of the season, the Bengals have a strong argument to be considered the best (and most complete) team in the AFC. Dalton can't be expected to do that, however, so it is nearly impossible to suggest Cincinnati will enjoy a long stay in the postseason. Of course, even that assumes the Dalton-less Bengals can skate past the DeAngelo Williams-less Steelers this weekend.
Minnesota - The Vikings are probably one year ahead of schedule and in the playoffs this season for two main reasons: HC Mike Zimmer can coach defense and Adrian Peterson is still capable of carrying an offense. Playing stout defense and running the football is a time-tested recipe for success, but Minnesota's path to the Super Bowl is potentially the most difficult of any of the 12 remaining teams. Seattle already trounced the Vikings at home in Week 13 and the Cardinals defeated them in Arizona a week later. Assuming Minnesota could somehow avenge those two losses, it would travel to Carolina for the NFC Championship, meaning the Vikings would have to knock off the top three teams in my rankings just to get to the Super Bowl.
Houston - Take a second to understand what Bill O'Brien has done in his first two years as a NFL head coach. The Texans have posted a combined 18-16 regular-season record despite lining up Ryan Fitzpatrick, Ryan Mallett, Case Keenum, Brian Hoyer, T.J. Yates and Brandon Weeden for major snaps at quarterback. (Let's not forget Tom Savage and B.J. Daniels have also seen limited action there as well.) The backfield has been without Arian Foster in 15 of those games, meaning Houston hasn't really enjoyed the slightest bit of offensive continuity during a pair of nine-win seasons. What the Texans do have is one of the best receivers in the league (DeAndre Hopkins) and one of the best defenses. Will that be enough against the best teams in the AFC? Doubtful. They went 1-3 against playoff teams this year and averaged a whopping 13.3 points in doing so.
Washington - I find it nearly impossible to take the Redskins seriously, although Kirk Cousins deserves a ton of credit for evolving into a quality quarterback this year. After earning a reputation as a signal-caller unable to avoid the multiple-interception game, the fourth-year pro has thrown a total of three since Week 6. My problem with Washington isn't Cousins or the passing game, both of which are probably good enough to scare the top teams in the NFC. My concerns are the complete lack of a rushing attack, an opportunistic defense and a coach (Jay Gruden) I don't believe in yet. The Redskins are one of nine teams in the league to give up at least 6,000 yards on defense this season, which means Washington could easily have a very difficult time stopping what has been a lackluster Green Bay Packers offense this weekend.
Green Bay - The Packers are to drafting receivers as the Patriots are to taking tight ends, so how's it possible that none of their wideouts can get open this year after that seemed to be all they did last year? Losing Jordy Nelson hurt, but his absence alone doesn't explain why the offense appears to be hopelessly disjointed and the receivers seem like they are running through mud. The line is in shambles, further complicating things. I'm tempted to give Green Bay the nod here over Washington because of Aaron Rodgers, but I'll be the first to admit that is based solely on his past success and not on how the team has played for the majority of the season. The Packers are 4-6 since their 6-0 start and needed a Hail Mary against Detroit to avoid being 3-7 over the last 10. It would not surprise me in the least if Green Bay beat Washington by three touchdowns this week, nor would it shock me if the Packers struggled to hit 17 points. That's not the kind of team fantasy owners want to invest in for this kind of challenge.
With that summary out of the way, let's next focus on my week-to-week playoff projections and then the players I feel are realistic alternatives for this four-week sprint to the finish:
AFC - Wildcard: Chiefs over Texans, Steelers over Bengals
NFC - Wildcard: Seahawks over Vikings, Packers over Redskins
AFC - Divisional: Broncos over Steelers, Chiefs over Patriots
NFC - Divisional: Seahawks over Panthers, Cardinals over Packers
AFC - Conference Championship: Chiefs over Broncos
NFC - Conference Championship: Cardinals over Seahawks
Super Bowl: Chiefs vs. Cardinals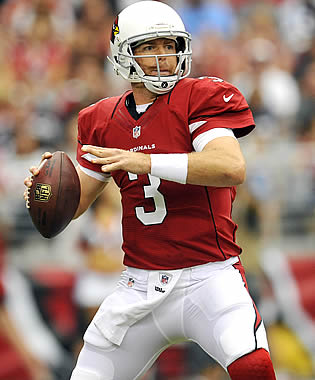 Carson Palmer and the Cardinals have enough fire power in all three phases for a Super Bowl run.

Quarterbacks

Cam Newton/Tom Brady/Carson Palmer/Alex Smith/Russell Wilson

The call: Carson Palmer. If I'm going to roll the dice on one team in this wide-open field, it is going to be the Cardinals. Time is running out on Palmer to make it to and win a championship; he's got a running game and a defense to support him in his quest for the first time in his career. The Cardinals' aggressive offense is an obvious plus for fantasy purposes and very few defenses have been able to contain this passing attack for more than one half.

Newton will probably be the highest average scorer of all the quarterbacks, but I see his run stopping in the conference championship. Brady is always a smart pick in this challenge, but I'm not sure the Patriots can win in Denver and it obviously wouldn't surprise me at all if they got knocked off by the Chiefs either. Smith would be the ultimate contrarian play for those owners that believe Kansas City's running game and defense will be enough to power the team through the AFC half of the bracket. Like Smith, Wilson comes with four-game upside and the potential added bonus of a lot of rushing yards. I suspect Wilson will be the top quarterback play this week, even if most owners are starting him because he put up five touchdowns against Minnesota a few weeks ago. If I wasn't fairly confident in Arizona making the Super Bowl, Wilson would probably be my choice as well because he plays for the team that has the best shot to go all the way of the teams playing this weekend.

Running Backs

Jonathan Stewart/James White/David Johnson/Charcandrick West/Spencer Ware/Marshawn Lynch

The call: David Johnson and Charcandrick West. It stands to reason that if I believe the Cardinals will be busy in early February, I'm going to want to hitch my wagon to their all-purpose dynamo. The only fear here is that Chris Johnson will somehow find his way onto the field for more than a few token carries on Super Sunday. West is probably a stunner, but probably no more of a stunner than the Chiefs making the Super Bowl for the first time since Len Dawson, Otis Taylor, Mike Garrett, Buck Buchanan, Willie Lanier and Bobby Bell all reached the mountaintop together following Super Bowl IV. West bested Ware in standard scoring for the first four of the five weeks that both have been healthy. Considering the high quality of run defenses Kansas City is likely to face during its potential Super Bowl run, I'll opt for the between-the-20s runner and take the yardage over the 1-2 potential short-yardage scores Ware might get over that time.

I can't blame anyone for picking Stewart since Carolina's 15-1 record would suggest he has the best shot to make it to the big game. On the downside, Newton is a much better bet to call his own number at the goal line, as Stewart's regular-season owners already know. White is a completely different back than Stewart, but the situations are similar from a fantasy perspective because they will likely need to score from 10-plus yards out in order to find the end zone. With that said, Carolina-New England is a perfectly legitimate Super Bowl 50 prediction, so Stewart-White could easily end up being the right combination. Lynch is a complete wild-card in this challenge because we really have no idea how he will be used upon his return or if he will be anything close to the "Beast Mode" we have come to know and love. The upside is that he is one of the few backs on the remaining teams that has a shot at 20 weekly touches and goal-line work.

Wide Receivers

Julian Edelman/Larry Fitzgerald/Michael Floyd/John Brown/A.J. Green/Jeremy Maclin/Antonio Brown/Doug Baldwin/Tyler Lockett/Jermaine Kearse

The call: Michael Floyd and Jeremy Maclin. Isn't it funny how there are no shortage of quality of receivers during the regular fantasy season, but a disturbing lack of quality alternatives at the position that make for good plays in this challenge? I can make cases for and against every Cardinal receiver, but I believe I'm ultimately going to settle on Floyd simply because he'll have two weeks to rest his injured knee, which is the only strong case I can make to sit him. Much like Wilson and Lynch at their positions, Maclin - along with Baldwin - is probably the best bet of players playing this weekend that are capable of giving owners four weeks of production.

There's not guarantee Edelman will be 100 percent by next week, which is the one big reason why I'm opting against him. The other is the fact he is a PPR machine in a standard scoring format that plays for a team that I believe will fall short of the Super Bowl. Fitzgerald and Brown are real considerations here because they both obviously play for one of the two teams I have making the big game. Ultimately, Fitzgerald's lack of touchdowns over the second half of the season and Brown's somewhat inconsistent role over the same time period will probably keep me away from them. I mention Green simply because he could be a money pick for a team that has four-game upside if it can somehow survive without Dalton for a week or maybe even two. Brown has monster three-game upside in my opinion, but I don't think the Steelers have a realistic shot at the Super Bowl. I can make the same case for Baldwin, Lockett or Kearse as I did for Maclin above. The biggest problem I have with any Seattle receiver is that I don't see a great deal of passing-game upside for any team that will travel to frigid Minnesota this weekend, then to Carolina to face the Panthers in what would probably be a low-scoring battle and finishing off against Arizona's stout secondary.

Tight Ends

Greg Olsen/Rob Gronkowski/Tyler Eifert/Jordan Reed/Travis Kelce/Luke Willson

The call: Travis Kelce. This decision is going to go right down to the wire. Kelce finished 66 fantasy points behind Gronkowski despite playing one more game and recording the same number of catches (72). The odds are fairly strong Kelce isn't going to post massive point totals in the playoffs since he only had four double-digit efforts this season and Maclin has essentially taken over as Kansas City's top receiving threat. The upside to using Gronkowski is obvious and the payoff is that even if he only dominates in two games, I can always switch back to Kelce for what I think will be a meager total in the Super Bowl in my projected matchup versus the Cardinals.

Olsen would be a fine selection, if only because he will need to be a critical part of the Panthers' offense should Carolina reach the Super Bowl. If I thought that was going to happen, he would have been choice. There isn't enough evidence to support the McCarron-Eifert connection is anywhere close to being as strong as the Dalton-Eifert connection. I also doubt the Bengals will be in the playoffs long enough for any kind of gamble with Eifert to pay off. Reed will be the clear frontrunner at his position in DFS, but Washington could easily be one-and-done. Willson makes some sense as a talented player with four-game upside, but he has yet to exceed two catches in any game this season.

Kickers

Brandon McManus/Graham Gano/Stephen Gostkowski/Chandler Catanzaro/Cairo Santos/Steven Hauschka

The call: Chandler Catanzaro. There's not much really to debate at either one of the next two positions. Since I have more conviction in my Cardinals' Super Bowl pick than my Chiefs' one, Catanzaro will be my choice.

Defense/Special Teams

Broncos/Panthers/Patriots/Cardinals/Chiefs/Seahawks

The call: Cardinals. My logic for defense/special teams will be the same as it was at kicker. It helps the Cardinals are such an aggressive outfit. The Chiefs and Seahawks offer more upside simply because they have the potential to play one more game, but the five fantasy points that come as a result of a team win cannot be understated here. If Arizona wins the Super Bowl, I will have scored 45 extra points in this competition based solely on the 2x, 3x and 4x multipliers.

DraftKings/Fuzzy's

Since the pick-your-studs competition with Fuzzy's and the salary cap game of DraftKings essentially use the same PPR scoring (six points for passing touchdowns with Fuzzy's versus four fantasy points with DraftKings; three bonus points for 300 yards passing or 100 yards rushing/receiving versus no such bonus with Fuzzy's being the biggest differences), I'm going to essentially combine the two this postseason. I think by projecting each remaining team one week at a time, I will be able to kill two birds with one stone in this regard.

Below you will find my position-by-position projections. The players I have highlighted in red are ones I feel should be roster staples. Please note I have included DraftKings' dollar value to each player I have projected, followed by their projected point total in that format (DraftKings and then Fuzzy's). Because I went into some detail above, I won't spend explaining each projection here - only some of the more notable ones. Each position is sorted by my DraftKings' projected point total.

Key for quarterbacks, running backs, receivers and tight ends:
P Yds - Passing Yards
P TD - Passing Touchdowns
INT - Interceptions
Ru Yds - Rushing Yards
Ru TD - Rushing Touchdowns
Rec Yds - Receiving Yards
Rec TD - Receiving Touchdowns
Rec - Receptions


Let's be clear right away: in no way, shape or form am I suggesting that Smith and/or McCarron are the smartest or safest plays this week. As with any set of projections, it is merely a reflection of how I think things will play out. I imagine most owners will probably roll with Wilson or Roethlisberger (and perhaps a few with Cousins) given recency bias and their overall numbers this season. I'm probably going to steer clear of all three for the following reasons: 1) Green Bay has allowed only one quarterback (Newton) to throw for three touchdowns this season, suggesting Cousins' ceiling isn't too terribly high, 2) Roethlisberger has struggled mightily against the Bengals this season and not performed well on the road and 3) as much as I like Wilson, I just can't see the Seahawks and Vikings scoring a lot of points in the bitter cold of TCF Bank Stadium. The wind chill in Minnesota is expected around minus-7 degrees, which is hardly conducive to offensive fireworks of any kind and could put a hard cap on the passing-game numbers of the Seahawks.


Running Backs
Player
DK $
DK Pt Total
Fuzzy's Pt Total
Ru Yds
Ru TD
Re Yds
Re TD
Rec
Marshawn Lynch
$6,500
16.0
16.0
65
1
15
0
2
Eddie Lacy
$4,500
14.5
14.5
45
1
20
0
2
Adrian Peterson
$7,300
11.0
11.0
65
0
15
0
3
James Starks
$3,600
10.0
10.0
25
0
35
0
4
Charcandrick West
$5,700
9.5
9.5
60
0
15
0
2
Giovani Bernard
$4,000
8.5
8.5
15
0
30
0
4
Pierre Thomas
$3,400
7.0
7.0
15
0
25
0
3
Jerick McKinnon
$3,800
6.5
6.5
10
0
25
0
3
Jeremy Hill
$5,000
6.0
6.0
45
0
5
0
1
Akeem Hunt
$3,000
6.0
6.0
20
0
20
0
2
Alfred Blue
$4,200
6.0
6.0
45
0
5
0
1
Jonathan Grimes
$3,000
6.0
6.0
15
0
15
0
3
Fitzgerald Toussaint
$3,900
5.5
5.5
40
0
5
0
1
Spencer Ware
$4,000
5.0
5.0
35
0
5
0
1
Alfred Morris
$3,700
4.0
4.0
40
0
0
0
0
Fred Jackson
$3,500
3.5
3.5
5
0
10
0
2
Chris Thompson
$3,000
3.0
3.0
10
0
10
0
1
Jordan Todman
$4,100
3.0
3.0
10
0
10
0
1
Christine Michael
$4,400
1.0
1.0
10
0
0
0
0
Bryce Brown
$3,500
0.5
0.5
5
0
0
0
0
Chris Polk
$3,400
0.5
0.5
5
0
0
0
0

Just like I stated above at quarterback, do not feel the need to automatically plug Lynch and Lacy into your lineups. Lynch is no sure thing to receive a full workload - despite hints from OC Darrell Bevell to the contrary - and it would be borderline irresponsible of the Seahawks to push him that hard given the nature of the injury he is returning from (sports hernia) and the harsh conditions I've mentioned above. Lacy will almost certainly need a touchdown in order to be worth a fantasy start. I'd be very tempted to roll with Starks instead, counting on his contributions in the passing game and perhaps breaking a screen for a big play instead. I don't know how anyone could trust any member of Washington or Houston's running game and, with DeAngelo Williams still in a walking boot, good luck if you decide to ride Toussaint to fantasy glory after he averaged two yards on 12 carries against the Browns last weekend. I don't ever believe on "punting" at a position in any fantasy sport, but I would highly recommend spending as little as possible at running back this week. In a pick-your-studs format like Fuzzy's where managing a cap is not a concern, I'd probably be tempted to start Lynch and Peterson simply because they are the safest bets for 15 touches. As if you couldn't tell, picking a starting running back is an absolute crapshoot in my opinion this week.


Wide Receivers
Player
DK $
DK Pt Total
Fuzzy's Pt Total
Ru Yds
Ru TD
Re Yds
Re TD
Rec
DeAndre Hopkins
$8,400
29.5
26.5
125
1
8
A.J. Green
$7,500
28.0
25.0
120
1
7
Antonio Brown
$9,600
22.0
22.0
90
1
7
Jeremy Maclin
$6,400
20.0
20.0
80
1
6
DeSean Jackson
$4,500
17.5
17.5
75
1
4
Randall Cobb
$5,800
17.0
17.0
5
0
55
1
5
Jermaine Kearse
$3,300
15.5
15.5
65
1
3
Doug Baldwin
$6,700
11.5
11.5
65
0
5
James Jones
$4,100
10.5
10.5
65
0
4
Marvin Jones
$3,700
9.0
9.0
50
0
4
Pierre Garcon
$4,200
8.5
8.5
45
0
4
Markus Wheaton
$4,000
8.5
8.5
55
0
3
Jaelen Strong
$3,000
8.5
8.5
45
0
4
Jarius Wright
$3,000
8.0
8.0
40
0
4
Tyler Lockett
$4,400
7.5
7.5
45
0
3
Albert Wilson
$3,500
6.5
6.5
35
0
3
Martavis Bryant
$5,600
6.0
6.0
40
0
2
Davante Adams
$3,400
5.5
5.5
35
0
2
Mike Wallace
$3,400
5.0
5.0
30
0
2
Stefon Diggs
$4,300
4.5
4.5
25
0
2
Jamison Crowder
$3,800
4.5
4.5
25
0
2
Cecil Shorts
$3,300
4.0
4.0
20
0
2
Mohamed Sanu
$3,000
3.5
3.5
15
0
2
Chris Conley
$3,000
2.5
2.5
15
0
1
Ryan Grant
$3,200
2.0
2.0
10
0
1
Jason Avant
$3,000
2.0
2.0
10
0
1

Finally, some clarity. Hopkins and Green need to be in 100 percent of DFS or pick-your-studs lineups this week. Not only are both among the best at their position, both have already torched the opponents they face this weekend (although Chiefs CB Sean Smith was on suspension when Hopkins went off for 9-98-2 in Week 1). Brown is nearly impossible to pass on, but his exorbitant DK price tag makes him difficult to use, especially since I don't like his chances of scoring a touchdown. I'll probably roll with him in all my Fuzzy's leagues, however.) Things have changed dramatically for Maclin since he posted a 5-52-0 line against the Texans in Week 1. As my projections indicate, I think he stands a great chance of being nearly as productive as Brown at a fraction of the cost. Jackson is an interesting case since he is Cousins' favorite wide receiver (and the quarterback has publicly stated he wants to get his receivers more involved), but the boom-bust factor with him is still too great in my estimation. Cobb has done virtually nothing to warrant a DFS start of late, but slot receivers have thrived against Washington lately; Jordan Matthews (6-104-1) and Cole Beasley (5-53-2) have been huge against the Redskins over the last two weeks. If there is one player I probably have too low, it is Bryant. Roethlisberger called him out this week, but I'm not going to allow that to serve as enough reason to inflate his overall projection when he hasn't exactly feasted on the Bengals' defense in either of his first two tries this season (4-49-0 and 7-49-0).


Tight Ends
Player
DK $
DK Pt Total
Fuzzy's Pt Total
Ru Yds
Ru TD
Re Yds
Heath Miller
$3,300
21.0
21.0
80
1
7
Jordan Reed
$6,300
20.0
20.0
80
1
6
Travis Kelce
$4,500
17.5
17.5
65
1
5
Richard Rodgers
$4,000
14.0
14.0
40
1
4
Tyler Eifert
$5,000
10.0
10.0
50
0
5
Kyle Rudolph
$3,500
4.5
4.5
25
0
2
Ryan Griffin
$2,600
4.0
4.0
20
0
2
MyCole Pruitt
$2,500
2.0
2.0
10
0
1
Luke Willson
$2,600
2.0
2.0
10
0
1
Demetrius Harris
$2,500
2.0
2.0
10
0
1

Reed is far and away the smartest play of the week at tight end. If there is one I think can out-produce him this week, it is Miller. In two games versus Cincinnati, Miller posted half of his four double-digit fantasy-point games, catching 20 passes (10 each time) on 23 total targets. In his other 13 games, Miller totaled 40 catches on 58 targets. There is always going to be some risk with a $3,300 player on DraftKings, but that recent history alone makes him a very interesting contrarian play over Reed or a solid candidate for the flex spot for any owner wanting to lock up all the top receivers. Kelce scored twice against Houston in Week 1, but I've already discussed why that is unlikely to happen again (Maclin). Rodgers has a strong case as well based on how awful Washington has been against tight ends this season. However, if I'm struggling to start Cobb against a defense that has shown it can't defend slot receivers, you can imagine I'm not going to be in much of a rush to play a touchdown-dependent tight end from the same offense.



Key for kickers and defense/special teams units:




XP -

Extra point


FG -

Field goal


PA -

Points allowed


TO -

Total turnovers


TD -

Defensive/return touchdowns




Defense / Special Teams
Player
DK $
DK Pt Total
Fuzzy's Pt Total
PA
Sacks
TO
TD
Chiefs
$4,000
12.0
10.0
13
4
2
0
Seahawks
$4,100
9.0
7.0
13
3
1
0
Bengals
$3,200
9.0
9.0
23
3
3
0
Texans
$3,900
8.0
7.0
20
4
1
0
Redskins
$3,300
6.0
6.0
24
4
1
0
Vikings
$3,000
6.0
7.0
17
3
1
0
Packers
$2,800
6.0
7.0
17
3
1
0
Steelers
$3,700
6.0
6.0
20
3
1
0
---
Doug Orth has written for FF Today since 2006 and been featured in USA Today's Fantasy Football Preview magazine since 2010. He hosted USA Today's hour-long, pre-kickoff fantasy football internet chat every Sunday in 2012-13 and appears as a guest analyst on a number of national sports radio shows, including Sirius XM's "Fantasy Drive". Doug is also a member of the Fantasy Sports Writers Association.