Fantasy football is a wonderful hobby when everything goes according to plan, every one of our players keeps the job they had to begin the season and/or they all stay healthy. (The opponents in my most important leagues this week better appreciate their luck in this regard.) But for 99 percent of us, we don't get to live in that reality. (I certainly don't anyway.)

In one of my two aforementioned leagues, Ezekiel Elliott is all that remains from the Week 1 starting lineup that will take the fantasy field this week. The depth I initially built at both running back and receiver is virtually gone, and the few Week 1 starters that remain on my roster are no longer worth starting. If that doesn't sound like a recipe for disaster, I'm not sure what does. Yet, some savvy adds and trades along the way have netted me Derek Carr, Philip Rivers, Thomas Rawls, Pierre Garçon, Taylor Gabriel and C.J. Fiedorowicz among others.

My story is not unique, as I'm sure most have a team in which only one or two of their initial "building blocks" are still contributing on a regular basis. Most of us know how important winning the waiver wire is to our success in this hobby and one could argue it is arguably more important to win it now than it is in September. The downside is owners in a similar position don't have the option of being wrong about placing their trust in unknown quantities anymore. There is no next week to rebound. The cliché "win-or-go-home" is not just a saying; there is no more "I learned my lesson." At least not in 2016.

At this point of the season, I think the most any self-respecting fantasy analyst can do is help owners figure out what emerging under-the-radar players might be for real (at least as when it comes to the final two weeks of the regular season) and which ones are not, with the obvious caveat being embarrassingly small sample sizes in a lot of cases.

I'm limiting my scope this week to players who I believe would generally be considered fringe options at best. The one exception to that rule is immediately below, as there is plenty of talk about a certain player taking the fantasy playoffs by storm for a second straight season. While not a fringe player per se, I felt his emergence was important enough to discuss outside of the parameters I intended to stay within for this story. I've placed the players in the order I would trust them by position.

Running Backs

Bilal Powell, NY Jets

Powell is a strong plug-and-play candidate should Matt Forte be unable to play through his knee injury, which seems like a distinct possibility at the moment. However, consider me skeptical about his ability to the answer to your fantasy prayers. Yes, I'm well aware of what he did last week in San Francisco, but the 49ers are among the worst in history at stopping the run this year. The bigger concern is the state of the offensive line, which lost LT Ryan Clady early in the season as well as C Nick Mangold and RT Breno Giacomini in recent weeks. (That is unlikely to play well against a front four of DTs Ndamukong Suh and Jordan Phillips as well as DE Cameron Wake and Andre Branch. Furthermore, the Jets have been highly inconsistent in regards to calling run plays all season long.) Miami just did a fine job against David Johnson (albeit in a rainstorm) in Week 14 and it isn't blasphemous to say that Powell is no Johnson and the Jets' supporting cast doesn't possess the same talent as the Cardinals.

Powell would seem to be on the verge of becoming a fantasy playoff stud for the second straight year, but something doesn't feel right here. Last year's Jets had multiple weapons and could exploit just about any weakness an opponent had, so when Chris Ivory got hurt, Powell could step up. This year's squad doesn't appear all that thrilled about using its best weapon (Brandon Marshall), watched QB Bryce Petty get sacked six times last week by the 49ers, fell behind San Francisco 14-0 in a heartbeat and is playing for next year. What's worse for Powell's immediate value is that Miami (Week 15) and New England (Week 16) each very much have something to play for the rest of the way. Of course, this all assumes Forte will miss this week, which isn't even a sure thing. I've been wrong before and I'll be wrong again (probably in the very near future, if not on this matter entirely), but I could easily envision a scenario in which potential second-stringer Brandon Wilds plays enough to make Powell more of a lead back than a featured one.

Verdict: With or without Forte the rest of the way, I can only trust Powell as a flex. He deserves better because he is an explosive player with a well-rounded game, but the last time the Jets played somebody in the playoff hunt (Colts in Week 12), New York laid a complete egg at home in primetime and three Jets running backs combined for 16 touches (C.J. Spiller, who was let go hours after the game, received three touches to Powell's one) in one of the best matchups they had all season, so forgive me if I don't see Powell as a slam dunk against Miami this week or New England next week.

Kenneth Farrow, San Diego

I spoke a bit about Farrow in The Tantalizing 10 back in mid-October (it turns out I did a fairly good job with the list) and how he reminded me of a less versatile version of former Charger do-it-all back Jacob Hester. I feel the same way after watching him again last week in relief of Melvin Gordon, who is likely week-to-week after leaving early with a hip strain and knee sprain against the Panthers. Box-score watchers will certainly point to his 22 touches in Week 14 and immediately hope they have landed a flex option at worst. They might be right, although it could very well be for the wrong reason. Ronnie Hillman has bounced around the NFL more than most this season, but he was inactive against Carolina, which left Farrow as the only active back. Hillman will almost certainly operate as the change-of-pace or breather back in Week 15 and beyond should Gordon not play, possibly limiting Farrow's workload. With that said, San Diego's remaining opponents are Oakland and Cleveland, which rank ninth and third, respectively, in terms of most fantasy points allowed to running backs. Farrow showed he was a capable receiver last week and figures to keep the early-down/goal-line work, so it is not a big ask for him to catch 3-5 passes and get in the end zone once in each of the next two contests. He lacks the statistical upside of Powell, but I think he is actually a safer play.

Verdict: I'd hate to be in a position where I had to depend on Farrow giving me 10 points in PPR and he is almost certain to lose at least a bit of work to Hillman for however long Gordon is out, but the plus-matchups should keep him on the flex radar. His ability to be useful to title-contending owners over these next two weeks will depend heavily on whether Oakland (12 rushing touchdowns allowed to running backs) and Cleveland (14) continue to be as kind to opposing rushers as they have been for most of the season and just how much Antonio Gates' pursuit of the touchdown record for tight ends becomes a central focus for the offense.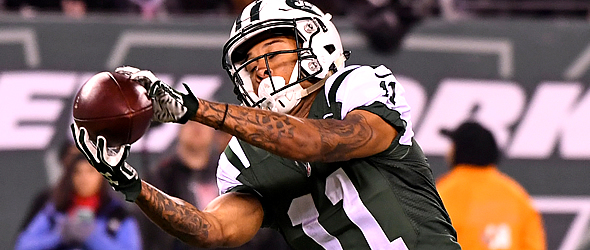 Move over Marshall: Make no mistake, Robby Anderson has become the No. 1 receiver for the Jets.
Wide Receivers
Robby Anderson, NY Jets
Make no mistake, Anderson has become the No. 1 receiver for the Jets, and it just so happens Petty has enough arm strength to take advantage of his speed. Like it or not (I don't), the undrafted rookie free agent has certainly proven to be more than just a deep threat since Petty's promotion, however, and this quarterback-receiver connection isn't new: Petty and Anderson connected on a regular basis during the preseason as well. The Temple product has actually seen as many targets as T.Y. Hilton (23) over the last two weeks since Petty became a starter two weeks ago, although Hilton has a decided advantage in catches over that time (18-10). New York is likely to be playing from behind a lot down the stretch, so his opportunities are unlikely to dry up anytime soon. Finding a receiver on the waiver wire who is a near-lock for 10 targets - remember New York rarely throws to the tight end - at this time of the year is highly unusual and it should be noted the Dolphins (Week 15) haven't fared too well against deep threats for most of the season. Many will suggest Bilal Powell is the waiver-wire darling of the week, but I'm going to lean toward Anderson.
Verdict: Quite often, the second consideration for owners (after winning, of course) when setting a lineup is being able to make peace with their lineup choices in the event they lose. Anderson has quickly become one of those players I am willing to make peace with despite a very limited track record. The talent and the opportunity are there, and Brandon Marshall figures to remain the central focus for opponents in the passing game the rest of the way regardless of his recent production. Amassing 23 targets in two weeks is a big deal regardless of who the quarterback is or how much of a big-play threat the receiver is. If Anderson is available and there is a void in your lineup for a high-upside WR3/flex, I would not hesitate starting him. Game script is almost certainly going to work in favor of the Jets passing 40-plus times over the next two weeks.
Ted Ginn Jr., Carolina
There's nothing safe about starting Ginn this late in the season. Quite honestly, I hope you don't have to. But if you are in a spot like I am in my two most important leagues - where my top three or four receivers have either been rendered nearly obsolete in fantasy due to injury or someone else passing them on the depth chart - then meet your new dance partner for at least one week. There is an inherent danger in trusting big-play receivers who don't see a ton of targets and we saw again it last week with Ginn, as he was targeted only four times in a game Carolina controlled. That seems less likely over the next two weeks, however, as Washington (Week 15) and Atlanta (Week 16) are next up on the schedule. Both opponents will likely force the Panthers out of their run-heavy shell and probably aren't going to make stopping Ginn a priority near as much as keeping Greg Olsen and Kelvin Benjamin under wraps. While that could be said about every team Carolina faces, Benjamin will likely see plenty of old teammate Josh Norman this weekend. Ginn's most likely foe? Bashaud Breeland, who is ranked 98th of 120 qualified cornerbacks, according to Pro Football Focus. Ginn may not be the best play in Week 16 as second-year LCB Jalen Collins has really played well since becoming a regular in Week 9.
Verdict: There's a lot of reason to believe in Ginn this week at the very least, although next week is another story. Breeland and slot CB Kendall Fuller (ranked 94th by PFF) will likely see the most of Ginn, so the matchup is about as good as he'll see the rest of the season. As you might imagine, Ginn will occasionally work out of the slot.
Tight Ends
Trey Burton, Philadelphia
Lost in the huge recent spike of production from Zach Ertz is the re-emergence of another Eagles tight end. In Week 13, Burton logged 53 offensive snaps and was targeted nine times. In Week 14, he played 37 offensive snaps and was targeted 10 on them. He even served as the team's third-string long-snapper after second-stringer Brent Celek went down. Essentially put into offensive hibernation after showing what he was capable of on Monday night in Week 2 against Chicago (5-49-1), Burton has seen his two highest snap counts in the last two weeks and the production has followed. He is fourth (!!!!) among tight ends in targets over the last three weeks despite barely playing in Week 12. Carson Wentz barely underthrew him on what would have likely been a 43-yard score last week or else he would probably be among those mentioned as the top waiver pickup ahead of Week 15.
If his solid all-around play doesn't warrant it on its own, his role is probably only going to grow over the final three games of the season. In a lot of ways, it already has. He lined up virtually everywhere a pass-catcher could line up last week (in the slot, out wide, in-line, as a fullback, etc.). Ertz and Jordan Matthews can only absorb so many targets and Philadelphia will probably have little choice to throw against the Ravens and Giants over the next two contests. Darren Sproles took a massive blow to the head while attempting to field a punt against Washington and could easily miss a game or two with a concussion. And let's not forget the receiver situation in Philly is as bad as any in league even with Matthews. Second-string tight ends are about as risky as it gets during the fantasy playoffs, but feel free to remind me again just how many quality players there are at the position this season. (If you need further convincing, consider Burton has outscored Greg Olsen and Martellus Bennett among others over the last three weeks.)
Verdict: If there is someone from this piece I trust more going forward than Robby Anderson, it is Burton. He's seeing significant time in the slot, which takes him out of the discussion when it comes to Baltimore's (mostly) shutdown tight end coverage. He obviously has quite the rapport with Wentz as well, and Philadelphia has no one at receiver to threaten his playing time. I'll stop just short of calling him a top 10 play at the position this week, but he could be the only means by which the Eagles can move the ball. I'll go one step further and say it would not surprise me at all if Burton saw more targets and more production this week than Ertz.
Jack Doyle, Indianapolis
In PPR scoring, Indianapolis Colts' tight ends trail only Washington's as the most productive in fantasy. I mention this because while Jordan Reed and Vernon Davis are owned in a number of leagues, Dwayne Allen and Doyle are not. A few folks likely chased Allen after his three-TD blowup on Monday Night Football in Week 13, but he took a back seat to Doyle again last week and is the better blocker, which actually means something for owners moving forward. The Colts lost standout LG Jack Mewhort for the rest of the season from an offensive line that couldn't afford it in Week 14, which increases the possibility Allen will be staying in to block more often. Furthermore, Donte Moncrief aggravated a hamstring injury and appears unlikely to miss Week 15 at the very least. Further consider the upcoming competition: Vikings top CB Xavier Rhodes will likely shadow T.Y. Hilton when he lines up outside in Week 15 before the Colts face Oakland in Week 16. One would think Minnesota isn't going to let Hilton - especially without Moncrief around - be the reason it loses to Indianapolis. On the other hand, the Raiders have yielded a number of productive PPR performances to tight ends this season even though they haven't surrendered a touchdown to the position since Week 8. Doyle is beloved by his teammates in Indy and I've already laid out the reasons why he is probably no worse than second in the passing-game pecking order. Better yet, we've seen Doyle have a few blowup games this season, so he's already shown he is capable. In the leagues where I need a tight end, it will be a close call between Burton and Doyle.
Verdict: I don't blame you if you don't want to trust Doyle at this point of the season, given how inconsistent his production has been. However, with Moncrief out and the offensive line likely to struggle, Andrew Luck is going to need as many short-range options as possible. I would not discount the possibility of Doyle finishing with about six or seven catches and a touchdown in either one or both of the next two weeks.
Ryan Griffin, Houston
Griffin got a mention here last week and, as luck would have it, he has a shot at being front and center on the fantasy radar this week after C.J. Fiedorowicz suffered an apparent concussion in Week 14. Hitching your tight end wagon to a player on such a dreadful passing offense in a difficult matchup (Jacksonville) is not usually how owners survive and advance in the fantasy playoffs, but bear with me on this one. The Jaguars have been stingy against receivers for most of the season and Brock Osweiler has really struggled to get them involved even in plus-matchups for most of the season. They've also defended tight ends well, but that has also been the position Osweiler has leaned on for about two months. Since Houston is also not getting running backs involved in the passing game, it means the Texans will either run all day and/or force-feed the tight ends. To that end, Houston tight ends combined for seven catches and two touchdowns on 10 targets in the teams' first meeting back in Week 10. Remove Fiedorowicz from the picture and there might be a situation worth taking advantage of, at least for one week.
Verdict: Much will depend on whether Fiedorowicz is cleared to play or not by Week 15. I expect another heavy dose of tight end targets against the Jaguars despite their ability to defend the position and believe Griffin has the best chance of all Houston players to score this week. Assuming Fiedorowicz is back for Week 16, I'd be thrilled to play him versus the Bengals, who ranks second in terms of giving up the most fantasy points to tight ends. For fantasy purposes, Griffin is essentially interchangeable with Fiedorowicz and would likely be a target monster in both games should the latter need more than two weeks to return.
A.J. Derby, Denver
Let's be clear: Derby is a much better dynasty prospect than likely fantasy playoff stud, so he's only for the truly desperate over the next week or two. With that said, he's playing in an offense that can't run the ball at all and would be well-served to find a reliable third option in the passing game beyond Demaryius Thomas and Emmanuel Sanders. I'm not sure if five targets in a game in which the quarterback threw 51 times (last week against Tennessee) qualifies as developing into a third option or not, but let's remember he's only been with the team since late October since getting traded from the New England Patriots. The Broncos told him shortly after acquiring him they wanted him to contribute as soon as possible and we are starting to see that play out (snap counts of 45, 40, 34 and 36 over the last four games). He's not going to be an option in Week 16 against the Kansas City Chiefs, who usually use safety Eric Berry in shadow coverage against tight ends, but he makes for an intriguing play this week against his former team. The Patriots would probably rather not let their old teammate have a field day, but the priority will be stopping Thomas and Sanders, so it would be far from surprising if Derby enjoyed his best day as a pro.
Verdict: By no later than 2018, we could easily be talking about Derby as a fixture inside the top 10 tight ends. How much sooner it happens depends almost entirely on how quickly the Broncos want to make him the unquestioned starter at the position. Until then, I think it is reasonable to view him as a TE2 with low-end TE1 upside in any game in which one or both Denver receivers could get limited by superb defensive talent or due to game plan (such as the one the Broncos will likely see from DC Matt Patricia and HC Bill Belichick this week). It's safe to view Derby as being the replacement for the team's nonexistent running game. My only apprehension about using Derby this week is the projected increase in snaps I expect this week go to Virgil Green instead. It is only for that reason I rank Derby below Burton, Doyle and Griffin.
Jermaine Gresham, Arizona
The Cardinals were supposed to be an offensive juggernaut again this year. Instead, we are at a point of the season where Gresham is actually a decent option. How did we get here? Carson Palmer is a shell of himself. The vertical-based offense has turned into David Johnson left and David Johnson right with a heavy dose of David Johnson and Larry Fitzgerald in the short passing game. John Brown has dealt with the effects of his sickle-cell trait all season. Michael Floyd has been Michael Floyd all year and was released this week after picking up his second DUI in five years. Fourth receiver Jaron Brown was lost earlier in the season with a torn ACL. Despite HC Bruce Arians' fondness for him, J.J. Nelson is probably never going to be able to be a full-time receiver in the NFL. The offensive line has fallen apart. Did I get all the reasons?
Back to Gresham. With all the aforementioned chaos in Arizona, Arians is short on pass-catchers. Since Palmer unable to threaten defenses deep anymore, considerably more opportunities within five to 10 yards of the line of scrimmage have opened up. Gresham has seen at least six targets in four of his last five outings and is the TE11 in PPR over that same time period. The former Bengal isn't an upside play by any means, but his steady Fiedorowicz-like floor may be of interest to owners who would be thrilled to get roughly 10 PPR points from their tight end.
Verdict: This is a floor play with very little upside in my opinion. Despite their reputation as a bad defense, the Saints have been much better since rookie DT Sheldon Rankins joined the lineup. New Orleans has bottled up Eric Ebron and Cameron Brate over the last two weeks and each boasts more fantasy upside than Gresham. I don't think he's a much better bet in Seattle against the Seahawks next week either.

---
Doug Orth has written for FF Today since 2006 and been featured in USA Today's Fantasy Football Preview magazine since 2010. He hosted USA Today's hour-long, pre-kickoff fantasy football internet chat every Sunday in 2012-13 and appears as a guest analyst on a number of national sports radio shows, including Sirius XM's "Fantasy Drive". Doug is also a member of the Fantasy Sports Writers Association.