As I have for the past seven-plus years, I will share my thoughts on my NFL.com Playoff Challenge entry and playoff money leagues with Fuzzy's Fantasy Football as we head into the second week of our postseason odyssey. Last year, I combined the latter with DraftKings to provide an even more comprehensive NFL Playoff resource. Let's get right to it:



NFL.com



For a complete rundown of how players will score fantasy points for your team, click on the "Rules & Prizing" link on the NFL.com entry page. Much of the content immediately below is included on the "How to Play" page, although the information I provide below should be more than enough to follow along easily.

NFL.com Playoff Challenge scoring system



The requirements: one QB, two RBs, two WRs, one TE, one K and one D/ST. You will earn fantasy points based on their on-field performance during their game, and if your player's team wins, you will have the option to carry that player over to the next round, where he will earn a bonus point modifier to his score (which will be referred to as 2x, 3x and 4x from here on out).

For example, if you pick Aaron Rodgers in the Wild Card round and the Packers win, you can carry him over to the Divisional Round, and earn two times (2x) the points he earns in his divisional round game. If Green Bay wins again, you can carry Rodgers into the Conference Championship round for 3x the points and, if the Packers make the Super Bowl, you can earn 4x the points. In addition, a user can select a player/defense in the Wild Card round even if their team has a bye into the Divisional Round. In this case, the user would not earn any points for the Wild Card round, but be eligible to earn 2x points in the Divisional round, since the player was on the teamís roster for two weekly scoring periods. Further bonus point modifiers would also apply as long as that playerís team continues to advance in the NFL Playoffs.

Before we get into the picks, let's briefly review the rules and how we may use them to our advantage: 1) passing TDs are worth four points, so passing yards are valued more highly here than in the Fuzzy's leagues I'll discuss later; 2) all field goals under 50 yards are worth three points, which means we are more concerned about volume of field goals than distance – unless we can find a kicker who regularly converts from 50-plus (DraftKings does not use kickers); 3) this is a non-PPR format, which obviously favors the big-play threats (both Fuzzy's and DraftKings are PPR); and 4) team wins are worth five points, so picking a "winning" defense is worth almost a touchdown prior to factoring in the modifiers.

Let's get the No. 1 rule of this game out of the way right now: if you have a good feeling about which two teams will meet in the Super Bowl, build your lineup exclusively from players from those two teams. Most previous playoff challenge champions' lineups are made up entirely of Super Bowl participants. (In other words, it is important to project the Super Bowl entrants first and figure out what players from those teams to use second.) The multipliers are everything in this contest, so playing the week-to-week matchups is nearly meaningless. Think about it this way: if I told you that your regular-season fantasy team's scoring would double in Week 2, triple in Week 3 and quadruple in Week 4 if you simply left it the same, would it affect your draft strategy? Of course it would. The big week your team might post in the first week of this challenge - in the somewhat unlikely event you played the matchups to a tee - is going to seem rather insignificant in early February when every passing touchdown is worth 16 points and every other TD is worth 24 and the top teams in this competition are scoring 200-300 (or perhaps more) points per week.

I went 3-for-4 with my straight-up picks last weekend, which means I'm one step closer to identifying the correct Super Bowl teams. While Seattle's win changed the NFC matchups I expected for the Divisional Round, it doesn't affect the teams I anticipate winning this weekend. Since I made no changes to my lineup, I will spend much more time this week on the DFS/Fuzzy's section.

Quarterbacks

Tom Brady/Alex Smith/Ben Roethlisberger/Dak Prescott/Matt Ryan/Russell Wilson/Aaron Rodgers

The call: Matt Ryan (x2). The expected matchup isn't what I planned (I predicted Lions over Seahawks, which would have resulted in a Falcons-Packers matchup this weekend). No matter, as I knew I was going against the grain a little bit by predicting Detroit and made my selection of Ryan last week with the knowledge Seattle could be the opponent in the Divisional Round. The Seahawks are the worst of the four remaining NFC teams remaining in my opinion, getting their only road wins of the season versus the Jets, 49ers and the Patriots. S Earl Thomas' absence should really show up this week as Atlanta's front five should be able to hold up against Seattle's talented defensive line, and the Falcons have multiple receivers (Julio Jones, Taylor Gabriel and Aldrick Robinson) who can get behind any defense.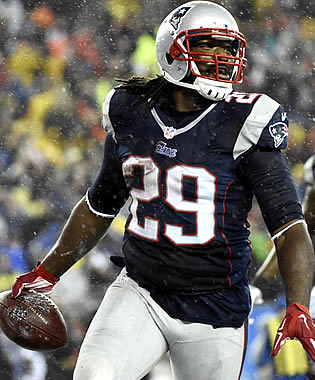 Pats a huge favorite? Blount usually finds the endzone.

Running Backs

LeGarrette Blount/James White/Dion Lewis/Spencer Ware/Le'Veon Bell/Lamar Miller/Ezekiel Elliott/Devonta Freeman/Tevin Coleman/Thomas Rawls/Alex Collins/C.J. Prosise/Ty Montgomery/Christine Michael/Aaron Ripkowski

The call: LeGarrette Blount (x2) and Devonta Freeman (x2). If Houston beats New England in Foxboro this weekend, perhaps we should prepare the apocalypse. The Patriots should control this game throughout and may be able to do the same to either the Chiefs or Steelers in the AFC Championship game as well (given Kansas City's inconsistent offense and Big Ben's road struggles). New England has relied on Blount all season to put teams away in the second half and I don't anticipate a shift in that thinking until at least next season.

Since the Falcons are my surprise NFC winner, it shouldn't come as any surprise I choosing to go with their top back over everyone's favorite rookie (Elliott). It's not a given Dallas will win at home against Green Bay, and Atlanta strikes me as the NFC team most capable of overcoming its biggest weakness (defense) because it has the most complete offense. It doesn't matter to me if Freeman has a slow day this weekend because my priority is to make sure I have the guys on my team who have a great shot to have 4x next to their names a few weeks from now. I think Freeman and Coleman are those guys in the NFC.

Wide Receivers

Julian Edelman/Chris Hogan/Michael Floyd/Jeremy Maclin/Tyreek Hill/Antonio Brown/Eli Rogers/DeAndre Hopkins/Dez Bryant/Cole Beasley/Terrance Williams/Julio Jones/Taylor Gabriel/Mohamed Sanu/Doug Baldwin/Jordy Nelson/Davante Adams/Randall Cobb

The call: Julian Edelman (x2) and Julio Jones (x2). There's not really much to say here that I didn't say last week or haven't already stated this week. Edelman and Jones are the clear No. 1 receivers for the Patriots and Falcons, respectively, and should be well-positioned to score their fair share of fantasy points if New England and Atlanta both advance to the Super Bowl. Both players have a tendency to be immune to defensive schemes in crunch time, which is a big deal since we don't exactly get to pick and choose our matchups in this competition.

Tight Ends

Martellus Bennett/Travis Kelce/Ladarius Green/Jason Witten/Jimmy Graham/Jared Cook

The call: Martellus Bennett (x2). I really wish there was another option, but if New England and Atlanta meet in Super Bowl, we will be left with Bennett versus Austin Hooper and Levine Toilolo (or Joshua Perkins). Even if Dallas or Green Bay make it all the way, I'm not sure Witten or Cook thrill me any more than Bennett.

Kickers

Stephen Gostkowski/Cairo Santos/Chris Boswell/Dan Bailey/Matt Bryant/Mason Crosby

The call: Matt Bryant (x2). Bryant was fantasy's top-scoring kicker and comes attached to a team that I believe will make it into February. An added bonus this week is the Falcons could be forced to settle for more field goals than usual against the Seahawks. Another bonus: Bryant averaged 2.3 field-goal attempts and 3.6 extra-point kicks this season, making him a high-floor option with about a 10-point floor.

Defense/Special Teams

Patriots/Chiefs/Steelers/Cowboys/Falcons

The call: Patriots (x2). New England D/ST has, by far, the easiest of the four Divisional Round matchups this weekend, so it boils down to whether the Patriots take care of business or choose to believe they have this game won before kickoff. Twelve of the 23 turnovers New England forced this season came over the last five weeks of the season. While none of the Patriots' opponents over that stretch can be considered offensive powerhouses (Rams, Ravens, Broncos, Jets and Dolphins), neither can Houston. This could be a potential blowup spot for New England, which could have another favorable matchup next week if Kansas City can beat Pittsburgh at home.

DraftKings/Fuzzy's

Since the pick-your-studs competition with Fuzzy's and the salary cap game of DraftKings essentially use the same PPR scoring (six points for passing touchdowns with Fuzzy's versus four fantasy points with DraftKings; three bonus points for 300 yards passing or 100 yards rushing/receiving versus no such bonus with Fuzzy's being the biggest differences), I'm going to essentially combine the two again this postseason. I think by projecting each remaining team one week at a time, I will be able to kill two birds with one stone in this regard.

Below you will find my position-by-position projections. The players I have highlighted in red are ones I feel should be roster staples. Please note I have included DraftKings' dollar value to each player I have projected, followed by their projected point total in that format (DraftKings and then Fuzzy's). Because I went into some detail above, I won't spend a great deal of time explaining each projection here - only some of the more notable ones. Each position is sorted by my DraftKings' projected point total.

Key for quarterbacks, running backs, receivers and tight ends:
P Yds - Passing Yards
P TD - Passing Touchdowns
INT - Interceptions
Ru Yds - Rushing Yards
Ru TD - Rushing Touchdowns
Rec Yds - Receiving Yards
Rec TD - Receiving Touchdowns
Rec - Receptions


DraftKings did a pretty good job pricing quarterbacks this week, as the clear top-five options all will cost at least $6,000. Of the top five, Brady might be the riskiest since the Patriots are going against old friend Bill O'Brien and probably won't need three touchdowns from their quarterback in order to create the separation they need. I do want some exposure to him, but certainly not more than the other four. The next riskiest is probably Wilson, since it somewhat possible the Seahawks continue to ride their ground game against a defense that hasn't always proven it can stop opposing runners.

Here's a troubling stat for Wilson fans: in road games against the Jets and Patriots, he threw for six touchdowns versus one interception. In the six other non-CenturyLink Field contests, his TD-to-INT ratio was 2:7

. It seems like a pretty good bet Wilson will be needed as a runner this week, however, so he should provide a safe floor.

The three quarterbacks I will invest most heavily in this week are Ryan, Rodgers and Prescott. Ryan torched the Seahawks with Earl Thomas in Seattle earlier this season (335 yards, three TDs) and I don't suspect the Falcons will have much more success running the ball this week than they did in Week 6 (Freeman and Coleman combined for 50 rushing yards and 67 total). Rodgers is doing a fantastic job of carrying the Packers to heights they really shouldn't be able to reach so far, but Green Bay's injuries (especially in the secondary and now receiver) are going to catch up with them sooner than later. As you might be able to conclude from the gaudy totals in the D/ST below, I have 73 total points being scored in Packers-Cowboys, so I am projecting a few garbage-time points for Rodgers. While I'm typically not a fan of relying on first-time playoff starters putting up monster numbers at quarterback, Prescott appeals to me simply because the Packers are masking a lot of deficiencies at cornerback. I'm not sure DC Dom Capers will be able to do that again considering his top priority has to be stopping Ezekiel Elliott this week. The Packers don't have an answer for Dez Bryant and it is questionable if they even have one for Cole Beasley.

Running Backs
Player
DK $
DK Pt Total
Fuzzy's Pt Total
Ru Yds
Ru TD
Re Yds
Re TD
Rec
Le'Veon Bell
10,500
39.0
36.0
125
1
55
1
6
Ezekiel Elliott
8,500
33.5
30.5
130
2
25
0
3
LeGarrette Blount
5,800
19.5
19.5
60
2
5
0
1
Lamar Miller
5,600
16.5
16.5
55
1
20
0
3
Darren McFadden
3,000
12.0
12.0
25
1
15
0
2
Spencer Ware
5,200
11.0
11.0
65
0
15
0
3
Aaron Ripkowski
3,200
11.0
11.0
15
1
15
0
2
Devonta Freeman
5,900
10.0
10.0
50
0
20
0
3
C.J. Prosise
4,200
10.0
10.0
15
0
35
0
5
Ty Montgomery
5,300
9.5
9.5
30
0
35
0
3
Dion Lewis
3,900
8.5
8.5
35
0
30
0
2
James White
3,400
8.5
8.5
10
0
35
0
4
Patrick DiMarco
3,000
7.5
7.5
0
0
5
1
1
Thomas Rawls
6,900
7.0
7.0
50
0
10
0
1
Tevin Coleman
4,500
5.0
5.0
25
0
15
0
1
Charcandrick West
3,400
5.0
5.0
15
0
15
0
2
Marcel Reece
3,000
3.5
3.5
0
0
15
0
2
Christine Michael
4,300
3.5
3.5
35
0
0
0
0
Alfred Blue
3,300
3.0
3.0
15
0
5
0
1
Jonathan Grimes
3,000
2.0
2.0
5
0
5
0
1
Alex Collins
3,500
1.0
1.0
10
0
0
0
0
DeAngelo Williams
3,200
0.5
0.5
5
0
0
0
0

I'm relatively new to the DFS game, but I don't recall any player on DraftKings ever being priced as high as Bell this week. Placing him in your lineup this week means owners will have an average of less than $5,000 to spend at the other eight positions (typical average starting out each week is just over $5555). While that may not seem like much on the surface, the gap between Bell and Elliott's price is the same as Davante Adams and Cole Beasley. That's a big deal when trying to assemble 200-point lineups, which is usually what it takes if you hope to come away with a decent payout. My projections above suggests Bell is worth the investment, but doing so means owners are going to have to bite the bullet throughout the rest of their roster. Elliott should easily be worth his cost by comparison, if only because there is such a huge chasm between him and Bell and the rest of the running back field. Blount didn't close the season with a bang, but he's easily the best bet of the remaining backs to find the end zone (and he could do it more than once if the Patriots can create some early separation). The only concern with him might be Lewis, who may have been getting "saved" for a playoff run. In a bit of a projected shootout in Seahawks-Falcons, it might also pay off to be heavily invested in Prosise, as Atlanta has been shredded by running backs in the passing game for most of the season.


Wide Receivers
Player
DK $
DK Pt Total
Fuzzy's Pt Total
Ru Yds
Ru TD
Re Yds
Re TD
Rec
Julio Jones
8,400
32.5
29.5
155
1
8
Julian Edelman
6,800
30.5
27.5
115
1
10
Antonio Brown
9,600
26.5
23.5
115
1
6
Dez Bryant
6,600
24.5
24.5
75
2
5
Doug Baldwin
8,100
17.0
17.0
90
0
8
Davante Adams
7,000
21.5
21.5
85
1
7
Tyreek Hill
5,500
20.0
20.0
25
0
65
1
5
Paul Richardson
4,100
18.0
18.0
80
1
4
Taylor Gabriel
4,400
17.5
17.5
75
1
4
Randall Cobb
5,700
17.5
17.5
65
1
5
Brice Butler
3,200
12.5
12.5
35
1
3
DeAndre Hopkins
5,800
11.5
11.5
65
0
5
Jeremy Maclin
4,300
11.5
11.5
65
0
5
Cole Beasley
5,000
9.5
9.5
45
0
5
Mohamed Sanu
4,000
8.0
8.0
40
0
4
Geronimo Allison
3,900
7.0
7.0
40
0
3
Michael Floyd
3,800
6.5
6.5
35
0
3
Aldrick Robinson
3,400
6.5
6.5
45
0
2
Malcolm Mitchell
4,700
6.0
6.0
40
0
2
Terrance Williams
3,100
6.0
6.0
40
0
2
Eli Rogers
3,900
5.0
5.0
30
0
2
Will Fuller
3,600
4.5
4.5
25
0
2
Chris Hogan
3,900
4.5
4.5
25
0
2
Chris Conley
3,000
4.5
4.5
25
0
2
Keith Mumphery
3,000
4.0
4.0
20
0
2
Jermaine Kearse
3,300
4.0
4.0
20
0
2
Sammie Coates
3,000
3.0
3.0
20
0
1
Tanner McEvoy
3,000
2.5
2.5
15
0
1
Cobi Hamilton
3,000
2.5
2.5
15
0
1
Albert Wilson
3,000
2.0
2.0
10
0
1

It should come as no surprise with so many quarterbacks projected to do well above, receivers are going to prosper. While it is true that Richard Sherman has strayed away from LCB at times, he is unlikely to be a true shadow this weekend. RCB Deshawn Shead is hardly a slouch either. However, if there is a weak link at cornerback for Seattle this year, it is slot corner Jeremy Lane. I expect all of the Falcons' primary receivers to get their shot in the slot this week, but I'd be stunned if OC Kyle Shanahan didn't do everything in his power to scheme Jones open and, thus, give him more inside exposure than usual. The best value on the board is Edelman, who won't have to contend with top outside corners A.J. Bouye or Johnathan Joseph and obviously won't have to worry about losing targets to someone like Rob Gronkowski. Edelman has been targeted at least 11 times in all but one game since Week 10 (Gronk missed Week 11 and injured his back the following week) and has the best matchup of all New England receivers. He will likely appear in all of my DFS lineups. Like Sherman, Chiefs CB Marcus Peters rarely moves off his LCB spot, so owners concerned about Brown for that reason can relax. Big Ben's home-road splits are a much bigger worry, but not so much that Brown can't take at least one short pass to the house. Week 16 may have been the coming-out party most owners were hoping for from Bryant. As usual, volume will be an issue, but if the Cowboys are going to get involved in a shootout - and it says here they will - Bryant will need to throw up the "X" at least once. While I don't like him as much as Edelman this week, he figures to be another DFS staple for me at his cost. For the folks who care about such things, Green Bay was the opponent two years ago when people who thought they knew what a catch was in the NFL learned they didn't know as much as they thought.

Falcons slot CB Brian Poole finished as the 29th best corner according to Pro Football Focus, so he should be a formidable matchup for Baldwin. None of the Seahawks' receivers did much of anything in the Week 6 matchup, but I believe Baldwin is going to get a lot of his production as Seattle tries to rally late - something it didn't have to do in the first meeting. Adams and Cobb will be popular picks this week given the likely absence of Jordy Nelson, although folks need to understand the Cowboys are probably going to have more success staying on the field than the Giants did, thus limiting the number of opportunities Rodgers will have to expose the Cowboys' defense. Cobb benefited greatly from the early losses of Nelson and Dominique Rodgers-Cromartie, who typically mans the slot for New York. That perfect storm - plus the fact he was healthier than he had been in weeks - helped create his Wild Card round masterpiece. He's highly unlikely to have as much success against Orlando Scandrick this week. With that said, he has a very nice price for a player with 20-plus point potential. The last of the top-shelf plays this week in my opinion is Hill. I hate the fact he comes attached to Alex Smith, but if the Chiefs find themselves in need of points - and that's a distinct possibility against Pittsburgh - Hill will need to be a big part of the effort to score and score quickly. DraftKings rewards both the D/ST and the player on return touchdowns, which gives Hill another avenue to reward his owners.

Of the remaining non-elite options, the wideouts I plan on investing in the most will be Richardson, Gabriel, Butler and maybe Allison. While I didn't know Richardson had one-handed catches in his bag of tricks, I did mention him as a great value at his cost (I did the same with Stills and Marvin Jones Ö good week for me). Injuries have been the biggest obstacle in his career so far, so now that he appears to be healthy and gaining Russell Wilson's confidence, the absence of Tyler Lockett doesn't seem so big anymore. Gabriel was a second-half darling for a number of owners and there's no reason he can't continue producing despite limited opportunities. Atlanta has too many weapons for defenses to treat Gabriel as a primary threat and Shanahan does a great job dictating matchups. Butler is probably the least likely of the aforementioned four players to "hit", but he's a bigger-bodied receiver who has a better shot at scoring in the red zone than Terrance Williams does on a deep shot. Allison's stock is obviously on the rise with Nelson unlikely to go. While it is clear he has earned Rodgers' trust (and that alone is reason enough to list him here), one would have to think he is no better than fourth in the pecking order, so go easy on his ownership as well.
Tight Ends
Player
DK $
DK Pt Total
Fuzzy's Pt Total
Re Yds
Re TD
Rec
Travis Kelce
6,100
21.0
21.0
80
1
7
Jared Cook
3,900
17.0
17.0
60
1
5
Martellus Bennett
4,000
13.5
13.5
35
1
4
C.J. Fiedorowicz
3,600
9.5
9.5
45
0
5
Ryan Griffin
2,600
9.0
9.0
50
0
4
Jimmy Graham
4,900
7.0
7.0
40
0
3
Jason Witten
3,500
6.0
6.0
30
0
3
Austin Hooper
2,900
4.0
4.0
20
0
2
Luke Willson
2,500
3.5
3.5
15
0
2
Jesse James
2,800
3.5
3.5
15
0
2
Levine Toilolo
2,500
1.5
1.5
5
0
1
Demetrius Harris
2,500
1.5
1.5
5
0
1
Richard Rodgers
2,500
1.5
1.5
5
0
1

It's going to be hard for me to pay up for Kelce this week despite the fact he scored 13.3 points against the Steelers in the first meeting and considering Pittsburgh surrendered at least 14.2 fantasy points to a tight end in three of its final four regular-season games. At $6,100, Kelce probably needs to score 20 in order to be worth his price tag, so while I will have some shares of him in my DFS lineups, I'll likely load up on Cook and Bennett instead. Graham at $4,900 is intriguing (he was $5,300 last week), but I'm scared off by the fact all six of his touchdowns the season came in Seattle. Given Russell Wilson's inconsistency on the road, it gives me further reason to avoid Graham. Dallas has been carved up by tight ends all season long and Aaron Rodgers recently credited Cook as being the biggest difference between the second-half (of the season) Packers and the first-half version. As much as I can't understand the reason why the Cowboys have been so pathetic at defending the position this season (they were the stingiest unit in that regard last season), Cook is in a blow-up spot this weekend. Bennett continues to underwhelm and faces the league's third-stingiest defense against tight ends this season in the Texans. I try not to overthink positional matchups too much when it comes to a Brady-led offense, but there's no question Rodgers is on the same level. Taking all that into account, Cook's matchup is significantly better than Bennett's, making him the easy choice.

Of the remaining options, I expect Fiedorowicz and Griffin to post usable stats as Houston racks up garbage-time numbers in the passing game. Griffin's price tag makes him a worthy punt at the position, but Fiedorowicz is too expensive in relation to Cook and Bennett.

Key for kickers and defense/special teams units:
XP - Extra point
FG - Field goal
PA - Points allowed
TO - Total turnovers
TD - Defensive/return touchdowns



Defense / Special Teams
Player
DK $
DK Pt Total
Fuzzy's Pt Total
PA
Sacks
TO
TD
Chiefs
3,400
13.0
13.0
27
3
2
1
Patriots
4,000
13.0
13.0
10
3
3
0
Falcons
2,600
10.0
10.0
27
4
3
0
Steelers
2,900
9.0
9.0
24
3
3
0
Seahawks
3,000
3.0
3.0
30
2
1
0
Cowboys
2,700
3.0
3.0
31
2
1
0
Texans
2,300
1.0
1.0
27
1
0
0
Packers
2,800
-1.0
0.0
42
1
0
0

Considering the plethora of points I am projecting this weekend, there could be some surprisingly decent options here. I'm projecting a return touchdown for the Chiefs (shocker), which allows them to finish in a tie for first above. In reality, that's a hard thing to count on, so I would limit my exposure into the Kansas City D/ST as much as possible (unless you are counting on a Big Ben implosion). DraftKings apparently decided to get out in front of the masses in their pricing of the Patriots, who spent most of the season disappointing in the fantasy box score before fattening up on a host of bad offenses down the stretch. Unfortunately for the Texans, they belong in that group of bad offenses. If you don't want to count on the Chiefs D/ST scoring another return touchdown or pay up for New England ($4,000 is steep for a D/ST), the next best option very well could be the Falcons. There isn't a ton of upside to rolling with any of the bottom four defenses in my projections, and I'll admit the Steelers are going to need some luck in order to turn Kansas City over three times, which brings us back to the Atlanta D/ST. NFL sack champion Vic Beasley could pick up a couple quarterback takedowns this week against a poor Seattle front five, while Russell Wilson's aforementioned road struggles could provide a few more points. The safest option of this bunch is obviously the Patriots, but if rolling with the Falcons allows you to play Antonio Brown over Doug Baldwin, then I'd recommend going with the cheaper defense.


---
Doug Orth has written for FF Today since 2006 and been featured in USA Today's Fantasy Football Preview magazine since 2010. He hosted USA Today's hour-long, pre-kickoff fantasy football internet chat every Sunday in 2012-13 and appears as a guest analyst on a number of national sports radio shows, including Sirius XM's "Fantasy Drive". Doug is also a member of the Fantasy Sports Writers Association.