Last week's question: What's a fair trade for Amari Cooper?



In my column for Week 8, I suggested that Amari Cooper's unexpected move to Dallas made him almost impossible to value for trade purposes. Clearly, I was wrong to assume that this would prevent trades from happening, as I heard from plenty of readers about trades that were accepted (not just proposed) shortly after he left the Raiders.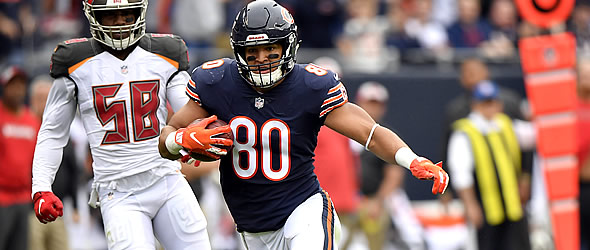 Most of the trades had Cooper as part of a package deal, but only two 1-for-1 swaps came to my attention. The first (short and sweet) involved Jim, who was able to get Cooper for Ronald Jones in a league that requires 3 running backs. (Jones wasn't injured at the time of the trade.)
The second 1-for-1 swap of Cooper for Trey Burton came with a bit of a storyline from Michael, who captures the agony of owning Cooper:
I (regrettably) drafted Amari in our 10-team .5 ppr league. I got lucky and managed to start him for his two great games and bench him for the rest, but I was tired of having him take up a valuable bench spot. And tired of agonizing over whether I could keep my luck going by successfully picking any blowup games he had left this year.

After he was traded to Dallas, I figured it was the time to make something happen. Coming out of week 7, I am in first place in the league with a 6-1 record. I'm strong everywhere (lineup below), but TE had been a constant black hole in my lineup. I drafted Evan Engram, and then used Jared Cook during Engram's injury and basically got nothing out of him (missed his two blowup games). After Engram returned from injury in week 7, he posted a 2-catch stinker for 3.6 fantasy points in my starting lineup. I also happened to catch about five minutes of the NYG game on tv, and what I saw was discouraging: Eli and Engram clearly miscommunicating on a route in the flat, and Eli showing explicit exasperation with Engram. I decided I was done with the Giants offense, and I wanted to be done with the Raiders' tanking offense. So, I approached an owner in my league who had drafted Travis Kelce and has been reaping the rewards all season. He had Trey Burton sitting on his bench, and at 4-3, the obvious whole in his lineup was WR. His two starting receivers are Jarvis Landry and Tyler Boyd. So he was willing to give up Burton for Cooper's upside in hopes that Amari would turn it on in Dallas (personally, I have no faith in that happening). I was happy to rid myself of Cooper and be able to start Burton every week from here on out (Burton's floor looks solid and his bye week is in the rearview mirror). Even swap: Cooper for Burton.

I then dropped Evan Engram and picked up Tre'Quan Smith off the waiver wire. I have more confidence in Smith becoming a reliable starter with a high ceiling for the fantasy playoffs than I had in Cooper being a reliable starter. So, win-win for me: with the waiver transaction and the trade, I swapped Amari Cooper and Evan Engram for Trey Burton and Tre-Quan Smith.

My week 8 starting lineup: Mahomes; Conner; Mixon; Hopkins; Sanders; Burton; Chubb; NE D/ST; Butker
The way that Engram & Cook & Burton played in Week 8 was a cruel joke on Michael, who sent me a follow up note on the subject, but it doesn't change the outcome of his trade (which could very easily work out more favorably for him than for the new Cooper owner).

There isn't room to include every package deal that readers mentioned involving Cooper, but the examples from Chris, Jason, and Eric are representative. Chris acquired both Cooper and Mitch Trubisky for Nick Chubb in his PPR 2RB 2WR Flex league. Jason traded Cooper and Ian Thomas for O.J. Howard and Quincy Enunwa in a league with 18 active players on 40-man rosters with 2 starting TEs. Eric dealt both Cooper and Kenyan Drake for Mohamed Sanu and Le'Veon Bell. ("Hopefully it works out!" he added.) It will definitely work out for someone. Time will tell who that is.

The most striking package deal came from AP's league, which does not require owners to start a TE:
I am in a league where WR and TE are interchangeable. We basically have to start 3 Receivers of any type. Half Point PPR.

I went heavy RB in my draft and when the time came for receivers I ended up with choosing TE's because they seemed more valuable and consistent compared to the WR's left. So I got Kelce, Gronk and Rudolph. I've since replaced Rudolph with Kittle. I have no good WR's to speak of - my "best two" are D. Westbrook and K. Cole, both part of the dumpster fire that is Jax.

I was offered Amari Cooper and John Brown from the Ravens for Travis Kelce. Two for 1 and I would cut Albert Wilson as he went on IR. I jumped at it.
I also heard from some folks involved in Cooper trades before he became a Cowboy. Greg traded Corey Clement & Mike Williams for Cooper & Phillip Lindsay in Week 6. Jason traded Cooper and Demaryius Thomas (before either was traded in the NFL) for Josh Gordon and Allen Hurns. If you're wondering why anyone would trade for Hurns, Jason mentioned that he only cared about Gordon and was "ready to drop both [Cooper & Thomas] anyway" because of the frustration that came with not knowing when to start them.

Cooper's tendency to boom or bust didn't keep Francisco from scooping him off waivers even though he had to drop his kicker to create enough roster space. "So far every kicker I've picked up has performed lousy no matter who or what he's done previously, so I'm fine running without a K," he wrote.

I also heard from a number of readers about the trade involving David Johnson and Leonard Fournette. As Mike Krueger pointed out, Doug Orth's recent trade of Royce Freeman & Corey Davis for Fournette & Q. Enunwa makes for a worthy contrast with the Johnson deal.
A reader named Clancularius mentioned that he had "just proposed DJ for Fournette to someone" in his league. So that swap apparently makes sense in multiple contexts. However, another reader (Chris) was less enthusiastic:
Now [Fournette] is going to split time with Carlos Hyde and T.J. Yeldon. So he's not getting 20 carries. Its likely Fournette now gets 12-15 touches a game with Hyde getting 8-10 and Yeldon getting 5-6. DJ could actually become very productive with Leftwich as the OC. I hate this trade.
Right or wrong, at least Chris knows where he stands.
Thanks to everyone who responded (via comments or email). Sometimes people are reluctant to make trade offers because they don't know where a negotiation could realistically begin. These examples of real trades involving Cooper (and Fournette) are a great place to start.

This week's question: Does your league rate teams before the season begins?

Do any leagues out there go through a formal process of ranking teams after a draft, such as asking each owner to indicate which team appears the strongest before the season begins? Most electronic drafts get a computerized prediction of a league champion, but no one takes those seriously. Most leagues also have a guy who studies all the teams as soon as the draft is over before pronouncing one team (not always his own) the strongest. Sometimes he is taken seriously; sometimes not.

But are there any leagues out there that actually require owners to grade the drafts of their competitors and keep records about such things?

I'm asking on behalf of a reader named Bruce, but this one really seems like a longshot. (Still, I'm interested to know, so I appreciate the question.) Please answer by posting a comment below or emailing me.

Survivor Pool Picks

Trap Game: Bears at Bills

The only double-digit spread of the week has the Bills as 10-point dogs at home vs. the Bears. But where is the evidence that the Bears can win on the road? The only road game Chicago has won all season was a 16-14 squeaker against the Arizona Cardinals. The Bills are roughly the same level of terrible as the Cardinals, so why couldn't Buffalo find its way to the field goal that Arizona needed against the Bears in Week 3? Sure, Mitch Trubisky has had an impressive run, but the Bills have a decent defense that spells regression for the Chicago offense. Avoid.

Pick #3: Raiders over 49ers
(7-1; GB, NO, CHI, LAC, CIN, car, TB, IND)

The 49ers host their Bay rivals on Thursday evening. Despite the untested Nick Mullins starting in relief of C.J. Beathard (who was already filling in for the long lost Jimmy Garoppolo), San Francisco is favored by Vegas. That seems to be stretching the idea of home-field advantage too far, especially with this game as the last opportunity for Raider fans to "visit" San Francisco before their franchise relocates to Las Vegas. If you add Mullins' inexperience to a rowdy Raider fan base in San Francisco and throw in how well Derek Carr played last week without either Beastmode or Amari Cooper, this seems likely to be a win for Oakland.

Pick #2: Chiefs over Browns
(6-2; no, LAC, hou, GB, CAR, MIN, IND, PIT)

With the firing of both Hue Jackson and Todd Haley in Cleveland, Gregg Williams is suddenly the Browns' interim head coach. Sometimes teams respond surprisingly well to midseason shake-ups like this one, but the question to ask yourself about this game is whether the Browns have enough talent to keep up with the Chiefs even if the unexpected coaching change produces the best results imaginable. My take is that Patrick Mahomes, Kareem Hunt, Tyreek Hill, and Travis Kelce are more than the Browns can handle no matter how glad the Dawg Pound may be to have the Jackson era in the rearview mirror.

Pick #1: Cowboys over Titans
(7-1; BAL, LAR, min, JAX, NO, GB, LAC, CHI)

Full disclosure: I'm looking at this game through doubly rose-tinted glasses because I'm both a Texan and an Amari Cooper owner. To be clear, I'm not a fan of the Cowboys, but the thing about Texas is that life is better here when Dallas wins. Dak Prescott and Zeke Elliott were winners as rookies back in 2016, and maybe they can be winners in the second half of 2018 with the addition of Cooper as a legitimate receiving threat to the most remarkably unremarkable receiving corps in the NFL. Whether or not Cooper comes through (which I need him to do because of bye weeks and injuries), the Cowboys should still be able to outscore a Titans team that has generated only 31 total points in its last three games.

---
Mike Davis has been writing about fantasy football since 1999--and playing video games even longer than that. His latest novel (concerning a gamer who gets trapped inside Nethack after eating too many shrooms) can be found here.