In 2015, I preached the Zero RB approach in this column, and I practiced it at my drafts. In my most important league, I took Odell Beckham Jr. at 1.11, Julio Jones at 2.02, & DeAndre Hopkins at 3.11. They finished as the 2nd, 5th, & 6th most valuable fantasy WRs that year.

That should have been enough for me to cruise to a championship.

But it only gets better. Since I knew I wasn't going after RBs in the early rounds, I decided in advance to take a chance on the murky Atlanta backfield. There was some preseason hype about Tevin Coleman. I grabbed him in the 5th as my RB1 and snagged Devonta Freeman as a handcuff to Coleman in the 8th.

That was the year Freeman set the NFL on fire. I didn't merely cruise to the championship. I never even hit a speed bump.

It's usually not possible to win a league on draft day, but my Zero RB approach won me a championship on draft day back in 2015.

The point that goes underappreciated by most is this: I didn't simply end up with Freeman on my team in addition to having a trio of great wide-outs. I ended up with Freeman on my team as a direct consequence of having a trio of great wide-outs.

Because I went with WRs for the first four rounds (Jordan Matthews, my 4th-round pick that year, was a bust), I had to settle for scraps at RB. It was Dan Quinn's first year in Atlanta. No one knew what to expect. The Atlanta backfield definitely qualified as scraps. If I had taken an elite RB in the early rounds, there's no way I would have chosen to carry both Coleman & Freeman on my roster.

Put simply, the excellent choices I made in the first three rounds forced me into making that lucky choice (Freeman) in the 8th.

I don't think that's likely to happen with the Zero RB approach in 2018.

On the contrary, I think the people who make the best choices at running back in rounds 1-3 this year will be the ones who are forced into making lucky choices at WR in rounds 5-8.

Why?

Because it's only June, and 2018 is already shaping up to be the year of 1 & 1A confusion at the wide receiver position. Are you absolutely certain that Tyreek Hill will outperform Sammy Watkins in Kansas City? How much do you prefer Stefon Diggs to Adam Thielen in Minnesota? Josh Gordon to Jarvis Landry in Cleveland? Marvin Jones to Golden Tate in Detroit? Will Amari Cooper finish as the leading receiver in Oakland--or will that honor go to Jordy Nelson . . . or Martavis Bryant (assuming he's not suspended)? Remember the chemistry between Deshaun Watson and Will Fuller? Are you 100% certain Hopkins remains the No.1 target in Houston this year? And yes, Iíll even dare to utter the greatest blasphemy of all: I can imagine a universe in which JuJu Smith-Schuster outperforms Antonio Brown in 2018.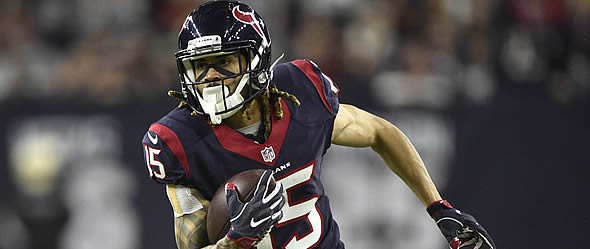 The quality WR options in the middle rounds makes a Heavy RB drafting approach more appetizing.
In addition to teams with Cadillac problems at receiver, what about the other end of the spectrum? How confidently can you predict the leading receiver for Dallas in 2018? With Dez Bryant & Jason Witten gone, will it be Cole Beasley, Allen Hurns, Tavon Austin, or rookie Michael Gallup? (Right now my money's on Ezekiel Elliott to lead the Cowboys in receiving yardage.)
Minnesota and Dallas may be at opposite ends of the WR talent spectrum, but the overwhelming question from a fantasy perspective is identical: Whoís the true No.1?
So let's say you take a Zero RB approach this year and snag Brown, Watkins, Diggs, and Gordon. Will you better or worse off than a competitor who picks up Smith-Schuster, Hill, Thielen, & Landry?
Slice it and dice it however you like. The point is we have every reason to anticipate that in 2018, a larger-than-usual number of receivers taken early will either underperform teammates drafted later or outperform them too marginally to justify the increased draft price.
In the past there have been particular 1 & 1A situations that invited exploitation in the draft. ďInstead of paying up for Demaryius Thomas or Amari Cooper, Iíll just grab Emmanuel Sanders or Michael Crabtree at a bargain.Ē Youíve seen that thought pattern before, no doubt.
But itís not just Denver or Oakland this year. The lack of clarity is everywhere.
And thatís what will drive some folks to embrace Zero RB. ďAha!Ē they will think, ďit must be more important than ever to get an Odell or a Julio or some other undisputed No.1.Ē
But that perspective overlooks the Devonta Freeman part of my Zero RB story.
Since the probability of 1s being eclipsed by 1As seems so high in 2018, I believe the shared characteristic of most championship fantasy teams at the end of the year will be a handful of 1As drafted in the middle rounds.
I donít have any idea which 1As will dramatically exceed expectations, but I am confident that we have at least 4 to 6 such surprises in store in that department.
Whose teams are they going to end up on?
The owners who already have Antonio Brown & Odell Beckham?
Really? Are those the owners who will need to commit to Will Fuller or Josh Gordon?
Isnít it more likely that the owners who snagged elite RBs in the early rounds will be the ones forced to pull the trigger on the likes of Martavis Bryant?
Although Iíve been an ardent supporter of Zero RB in the past, the league-wide 1/1A confusion in 2018 makes me want to focus on RBs who can catch in the early rounds before taking my chances on the leftover receivers later onóbecause a reasonably high percentage of those leftovers will turn out to be main courses in disguise. If you go Zero RB, you wonít have any of those leftovers on your team because youíll spend the middle rounds gambling on RBs.
At least, thatís my thinking in June. One never knows where one will end up in August.
Soliciting Feedback on Smaller Fantasy Leagues

Earlier this month, a reader named Brian sent me a great note about all the reasons he loves playing in his small (8-team) league. Before engaging some of his great points in July, I want to invite other readers to chime in on the subject by emailing their thoughts on the subject of smaller leagues to me or posting them into the comment section below.



---
Mike Davis has been writing about fantasy football since 1999--and playing video games even longer than that. His latest novel (concerning a gamer who gets trapped inside Nethack after eating too many shrooms) can be found here.