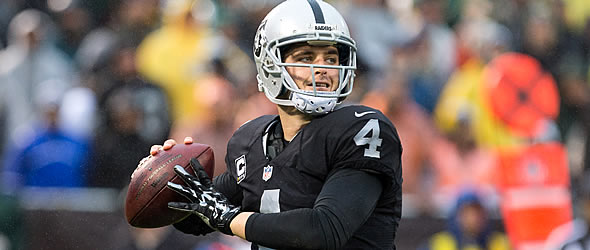 Every so often, I write an article about my afterthought approach at the QB position in fantasy drafts. Iím a late-round QB sort of guy who would much rather focus on RBs, WRs, & TEs through the first 10 rounds of almost any draft--perhaps because the only championship I ever won in my 36-team mega-league came when I took Philip Rivers in the 11th round.

I invariably get pushback from a handful of readers. Some suggest that itís incredibly difficult to find a suitable fill-in at QB on waivers when a late-round QB is overmatched by a quality defense. I genuinely have no idea what theyíre talking about, as itís never taken me more than a few minutes to find an unclaimed QB who is up against a soft defense & will finish in the top 15 at his position. You donít need a great QB every single week to win fantasy leagues; you just need to be competitive at a position where the statistical difference between the 6th- and 12th-place finishers is often trivial. In my experience, itís usually far more important to be dominant at the difference-making skill positions of RB, WR, & TE.

Itís also extremely difficult to project QB performances accurately, as those who took Deshaun Watson, Drew Brees, or Aaron Rodgers ahead of Patrick Mahomes, Matt Ryan, and Ben Roethlisberger were reminded in 2018--so Iím just not receptive to the idea of blowing early picks on QBs.

In my mega-league last year, I pulled the trigger on QB a little early because Andrew Luck was irresistible in the 9th. And this is where some of that reader pushback actually starts to make sense. As one critic wrote to me, ďWhen you get to your championship game, thereís nothing as comforting as having a solid gold performer like Aaron Rodgers on your roster.Ē

I had no idea how prescient that remark was until I reached the championship in my mega-league last year. Andrew Luck was better than Rodgers on the season, but in the championship game, Luck had a ho-hum performance, whereas Rodgers absolutely destroyed the New York Jets in Week 16. That victory certainly justified my opponentís decision to use an early pick on Rodgers (who is reliably an elite performer at his position when healthy).

So in this article, even though I would never consider paying as much for Rodgers as it takes to get him, I canít reasonably argue that doing so is a mistake.

In fact, Iíll go ahead and give a pass to anyone who wants to take any of the top 5 QBs (according to Fantasy Football Calculatorís current ADP) in 2019. I wonít be tempted to take Patrick Mahomes at 2.11 or Andrew Luck at 4.05 or Aaron Rodgers at 4.11 or Deshaun Watson at 5.10 or Baker Mayfield at 5.12. In my opinion, the only one of the bunch who is likely to return value at his current price is Rodgers, but I canít realistically foresee gambling on a QB before having at least 2-3 RBs + 2-3 WRs + 0-1 TEs (depending on league format). Even so, I can understand the allure of all 5 players. Mayfield seems like a heck of a gamble to me, but heís certainly talented, and he could definitely light up the scoreboard with weapons like Odell Beckham, Jr., Jarvis Landry, and the underrated Antonio Calloway at his disposal. If you feel compelled to snag any of those 5 QBs, we can simply agree to disagree.

But if you spend a pick on any of the QBs going in the 6th and 7th rounds, I think you are objectively making a mistake.

Letís start with my most extreme case, Matt Ryan, who finished as the No.2 QB in 2018. How can I say that his current price (6.05) is too steep?

To be clear, Iím not saying that it IS too steep. Iím saying that in light of Ryanís streakiness from one season to the next, itís too steep to be a gamble worth taking in my opinion. Ryan didnít even finish in the top 12 at his position in 2017. Sure, heís a talented guy with great weapons (Julio Jones and Devonta Freeman (both of whom have health question marks). But he has failed to deliver with comparable talent in the past. The RB, WR, and TE available just before Ryan are Tevin Coleman (6.04), Jarvis Landry (6.05), and Hunter Henry (6.05). Those picks are all as risky as Ryan in my opinion, but they have just as much upside at far more valuable positions. Give me Landry if heís still available even though itís anybodyís guess what OBJís impact on his productivity will be. The RB, WR, and TE going just after Ryan (all tied at 6.08) are Jordan Howard, Alshon Jeffery, and Evan Engram. My earlier evaluation applies concerning upside and risk, and once again, I would personally roll the dice on the receiver (Jeffery in this case). Ryan isnít even tempting by comparison.

The other 6th-round QB is Drew Brees (6.09), who barely finished as a QB 1 in 2018 and turned in 3 consecutive disastrous performances in the fantasy playoffs (Weeks 13-15). I have tremendous respect for Breesí talent and achievements, but if you donít realize that heís a bit past his prime, youíre either his mother or his wife. He will have great games in 2019, but he will also have multiple duds--and I can get those same results from turnover-prone Jameis Winson at 10.06. The 3 players going immediately after Brees are Tyler Boyd (6.10), Rashaad Penny (6.12), and Robby Anderson (7.02). The 3 immediately following Winston are the Jaguar and Charger defenses along with Trey Burton. If you would rather have Brees and a defense than Winston and Penny, I think youíre nuts.

The next QB by ADP is Russell Wilson (7.03), who just lost Doug Baldwin and also just got paid. Heís a great competitor, so perhaps itís unfair to focus on the payday, but the Baldwin hit is incontestable. If you have your heart set on a mobile quarterback with a nice deep ball and an unproven receiving corps, why wouldnít you take Josh Allen at 11.07 instead? Itís entirely possible that Wilson and Golden Tate (11.03) will outperform Allen and Will Fuller (7.06), but my moneyís on the younger duo all day every day.

The other 7th-round QB is the oft-injured Carson Wentz (7.10), who continues to be touted as a running QB even though his rushing yardage in 2018 came to a grand total of...wait for it...93 yards. How about instead of going for a QB who is reputed to run, you grab one who actually runs, such as Lamar Jackson (12.04)? Jackson didnít single-handedly win any fantasy games in 2018, but he was competitive at his position in Weeks 11-16 of his rookie season. If you have good reason to believe he wonít take a step forward in 2019, fine. My bet is that he will. If you would rather gamble on Wentz and the Dallas defense (12.05) than Jackson and Vance McDonald (7.07), we see the world differently.

Attentive readers will have noticed that although I provided late-round comps for Brees, Wilson, and Wentz (with Winston, Allen, and Jackson), I failed to mention a particular alternative to Ryan.

Thatís because you probably would have stopped reading if I had begun by confessing that I vastly prefer Derek Carr at 14.03 to Ryan in the 6th. Thereís a narrative that Carr simply hasnít been the same since his injury in 2016. But how could he be with so many changes occurring around him? For me, heís a poor manís Matt Ryan at an irresistible bargain. Just as Ryan has one of the best WRs in the game in Jones, Carr now has the inimitable Antonio Brown. And just as Ryan has a potential top-10 RB in Freeman (if heís truly healthy), Carr has a potential top-10 RB in Josh Jacobs (if the rookieís skillset translates to the NFL as well as the Raiders hope). Both Ryan and Carr have proven that they are capable of outperforming and underperforming expectations, but I see more positive developments happening for Carr than for Ryan in 2019 (the biggest negative for Ryan being lingering concerns about Jonesí foot injury). The personnel changes on Oaklandís offensive line are no guarantee of success, but should result in a drastic improvement over a dismal 2018, and in light of Carrís gaudiest measurable (his deep ball accuracy), the addition of deep threat specialist Tyrell Williams could realistically return huge dividends (especially if Brown draws as much coverage as one would expect). Thereís no doubt in my mind that at their current ADP, Carr has a much better chance at returning value than Ryan in 2019, but Iíll go even further: I think thereís at least a 50% chance that Carr outperforms Ryan straight up on the season. If that upsets you, come at me (@GuyNAustin) on Twitter or in the comment section below or via email.




---
Mike Davis has been writing about fantasy football since 1999--and playing video games even longer than that. His latest novel (concerning a gamer who gets trapped inside Nethack after eating too many shrooms) can be found here.