Last Week's Question: Are there any fun ways to replace kickers?
My column for Week 10 featured Jeremyís question about how to replace kickers with something more fun & meaningful for fantasy enthusiasts. He accurately pointed out that finding the right kicker each week seems to be less a demonstration of prognosticatory prowess than the random act of ďthrowing a dart.Ē He added that kickers ďarenít worth anything in a trade.Ē The latter comment seems especially on point to me because I havenít had a reader send me a question about a trade involving a kicker in years.
Seriously, has anyone out there executed a trade involving a kicker in 2020? I have to wonder if it happens at all anymore.
Kickers are such a crapshoot from week to week that we donít use them at all in the FFToday Staff League (FFTSL). I know they remain important in some old school leagues based on scoring only (though performance leagues that track yards, turnovers, sacks, etc. are far more common these days). In a sense, I guess we could think of these scoring leagues as having a ďkicker premiumĒ (akin to tight end premium scoring), but when owners win because of their kickers in such leagues, do they think of themselves as skilful--or just lucky?
The simplest answer to Jeremyís question came from Phil, who doesnít see why kickers need to be replaced by anything:
Just eliminate the kicker and enjoy a simpler league less dependent on luck. IDPs end up with the same issue as Ks (too much luck vs skill in predicting performance), and it sounds like superflex is already in play. If it's an absolute must to keep roster slots status quo for some reason, add another WR or additional "regular" flex. I'd go a step further and suggest dumping DEF/ST as well!
Phil makes a good point. If most owners are annoyed by kickers because the outcomes are too random for anyone to deserve credit for the points they get, then the important thing is simply to get rid of that position--not necessarily to replace it. As Phil suggests, the superflex option wonít work if Jeremyís league is already using 2 QBs, but it could work to fill the vacant roster spot in leagues that havenít already embraced the superflex approach. Putting pressure on everyone to start a second QB each week does result in a meaningful distribution/disparity of points at the QB position. The difference between QB #5 and QB #10 usually isnít significant, but the difference between QB #13 and QB #24 can definitely change the outcome in a lot of fantasy matchups. That might not help Jeremy, but itís a change worth considering in other leagues that want to give up the kicker without reducing the number of players in lineups.
There is also some merit in Philís observation that ďIDPs end up with the same issue as Ks (too much luck vs. skill in predicting performance),Ē but I think he takes things too far when he suggests eliminating defenses entirely. Defensive production may be less predictable than performances at most offensive skill positions, but careful research into injuries and the strengths and weaknesses of opposing offenses means that astute owners can routinely predict defensive performances with enough accuracy to make the choice meaningful. I donít always get my streaming defenses right, but Iím correct at least 75% of the time about which defense I should pick up on waivers if my rostered defense is on a bye or facing an offensive juggernaut.
Since the superflex option is unlikely to help Jeremy, I especially like Philís idea of adding yet another WR (or perhaps another traditional flex spot--RB, WR, TE, but not QB) to round out the lineup if itís absolutely essential to do so. But Philís main point is that filling the spot probably isnít essential, and heís probably right. I have 8 starters in some leagues, 9 in others, and 10 in the FFTSL. I donít really care how many starters there are in a league as long as everyone has the same number. If Mike Krueger eliminated 1 of the flex players from the FFTSL for next year, Iím not sure that all the participants would even notice.
I received another interesting proposal from Casey, who calls specifically for adding a second TE rather than a second QB or a second traditional flex player (RB, WR, or TE):

We have actually talked about this a lot and are planning to eliminate kickers next year. We are in a superflex, deeper/higher scoring league where almost half the league decides to punt the kicker position in order to roster a higher upside player.

We are going to replace the position with a second required tight end. This may give advantage to teams that have two TE1ís on the roster, but given the state of the position, it felt like the lower tiers of tight end is basically a wash to the kicker scoring, and more of a fun position to study.

I hope to hear from Casey about how this works out in his league next year, especially after one of the most frustratingly unpredictable weeks at tight end in recent memory. George Kittle is still injured; Travis Kelce was on his bye; and Darren Waller finished behind Pharaoh Brown, Richard Rodgers, Durham Smythe, Colin Thompson, and Dan Arnold. (How many of those names are familiar to you?) Many analysts (including yours truly) expected decent performances from Dallas Goedert and T.J. Hockenson (who finished 15th and 28th at the position in PPR scoring, respectively). But even the top performers in Week 10 (Mark Andrews, Rob Gronkowski, Hunter Henry, and Cameron Brate) had lackluster impact driven primarily by TDs (which are notoriously unpredictable). In this kind of NFL, will owners have more fun if they are forced to start a second TE each week? I really donít know, but Iím glad Caseyís league will soon find out.

Other suggestions (much like the ones I outlined in last weekís column) tended to be too esoteric or complex to warrant much discussion here, so Iíll conclude this section with my most important takeaways from reader responses: 1) You donít have to replace kickers; you can simply eliminate them; 2) If you are not already using a superflex option, doing so will probably be fun and challenging for your league; 3) If you are already using a superflex option, thereís nothing to prevent you from adding a traditional flex spot (RB, WR, TE), and 4) Requiring a second TE is a bold and innovative suggestion that Iím more interested in hearing about than experimenting with.

My thanks to everyone who wrote in.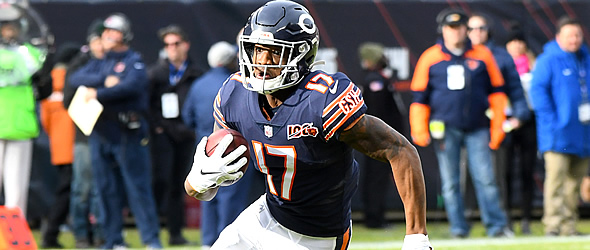 This Week's Question: What were the details of your most undeserved fantasy win?
The most accessible answers to this question will need to come from 2020, since itís unreasonable to expect readers to remember statistical details from past seasons. However, if you have a whopper of a story from 2007, Iíll definitely consider featuring it if you can explain succinctly what was ironic about your win.
This question raised itself in my mind because I came within a hairís breadth of enjoying my most undeserved fantasy victory earlier this week. I was playing against Bill Anderson in the FFTSL, and we both turned in dismal performances. I had Derek Carr starting at QB because I was sure the Raiders were going to score a lot of points. They did (37), but Carrís total was a dreadful 8.7 points. However, Bill did even worse--squeezing a mere 7.7 points out of Drew Brees before Breesí injury. Bill had a ho-hum performance from Miles Sanders (13.5) to match the ho-hum performance I got from Aaron Jones (14.5). Billís second RB (Jonathan Taylor) was terrible, but so was mine (James Conner). Bill had the best WR in our match-up (Terry McLaurin for 17.5); my best WR (Tyler Boyd) only put up 10.1. His other 3 WRs combined for fewer than 20 points; my other 3 WRs combined for fewer than 15. (I got exactly 0 points from A.J. Green--and am now convinced that with the trade deadline behind us, the Bengals have no desire to make Green look better than he is and have given up on the former star who has become one of the least efficient pass catchers in the league).
When the afternoon games ended on Sunday, I had no players left and my worst score of the season: 73.5. But somehow, I was still ahead of Bill, who still had J.K. Dobbins and Anthony Miller. I figured there was no chance for a win and gave up on the contest before the Ravens started playing. But then Dobbins finished with a measly 2.8 points and I still had the lead--with only 1 player (Miller) left in Billís lineup.
ďThe Bears are terrible on offense,Ē I dared to think. ďIf A.J. Green can put up zero points, maybe the same can happen to Miller.Ē But then I scolded myself: ďDonít be an idiot. Miller only needs 2 points to beat you. In a PPR league, thatís 1 catch for 10 yards. Stop thinking you can win this game, which you donít even deserve to win with a score of 73.5.Ē
But do you remember the Bearsí first play from scrimmage on Monday night? Foles targeted Miller, who tipped the ball into the hands of a defender for an interception. ďThatís exactly the sort of thing that makes a QB look elsewhere,Ē I thought. Could it be that Foles would steer clear of Miller for the rest of the night and that I would win with my ridiculously low score?
I tried to push the thought out of my mind. I wish I had succeeded. When Foles connected with Miller for 21 yards near the end of the first half, I experienced profound (but completely unwarranted) disappointment. After all, I had no business winning that game. But then again, neither did Bill. He beat me with the second-lowest score in the league: 77.1.
I had already started thinking about undeserved wins and wanted to write about this one from my perspective. But since I lost, I guess Iím writing about it from Billís. I canít say for sure that itís the most undeserved win Bill ever enjoyed, but I suspect itís a contender.
In any case, Iím eager to hear about the most undeserved victories of readers of this column. Iíll be especially interested in playoff/championship games, but regular season games from this season will probably be the most fun for readers to peruse. Whatever your story is, please consider sharing it with me via email or in the comment section below. I look forward to hearing from you.
Survivor Pool Pick (Courtesy of Matthew Schiff)
#3: Miami at Denver: 6-4(BAL, KC, az, sf, LAR, minn, wash, PHL, PIT, GB)

This is the scariest of the games I discuss this week. The Dolphins must go on the road and have a horrible record when the weather is below 40 degrees (historically). But when a resurgent Dolphins team that is playing tough defense can maintain a balanced offensive attack under former Alabama QB Tua Tagovailoa and practice squad running back Salvon Ahmed, maybe this isnít as crazy as one would think. Drew Lock is having issues in his second year under center as defenses now have tape on him, and most of Denverís skill players have spent more time in the training room than on the field this season.

#2: Minnesota over Dallas: 8-2 (ind, AZ, TB, BAL, sf, MIA, LAC, KC, NE, CLE)

Kirk Cousins brought the Vikings back last week, and they now have a three-game winning streak. While Stefon Diggs has gone to Buffalo, Adam Thielen and rookie Justin Jefferson havenít missed a beat with Dalvin Cook keeping defenses focused on a ground game that is nigh unstoppable. The Cowboys, while still in the hunt for a feeble NFC East title, have given up almost 30 points per game. Andy Dalton is no Dak Prescott and that should make the 2020 Purple People Eaters salivate. If you havenít used the Norsemen, itís time.

#1: Los Angeles Chargers over NY Jets: 9-1 (KC, GB, IND, LAR, BAL, ne, BUF, TB, HOU, LV)

This is the first #1 pick of the season that truly scares me. On paper, the Chargers have all the right weapons: the defense, home field advantage, and the intangibles that make this the ďperfectĒ survival pool game. However, the Jets have had two weeks to prepare. They also have a veteran QB in Joe Flacco, and LaíMical Perine will start at running back with Jamison Crowder back on the field. These Jets gave the Chiefs a run for their money in their last game, and Adam Gase is having his team play for his job. On top of that, you have a rookie QB in LA and a Chargers backfield situation that is a bit of a mess without Austin Ekeler. Buyer beware on this, but because of how my picks have been chosen this season, I left myself with few options. Hopefully, you can still take Minnesota and forget about the noise in the rest of the games.

---
Mike Davis has been writing about fantasy football since 1999--and playing video games even longer than that. His latest novel (concerning a gamer who gets trapped inside Nethack after eating too many shrooms) can be found here.