I've recently been profiling those QBs, RBs, and WRs I think will take a step back this coming season, so now it's time to identify their possible successors. We're always on shakier ground here--much smaller pool of potential dropouts than replacements, after all--but I did bat a cool .500 last summer. Just sayin'...

Note: All rankings are based on FFToday's default standard scoring.

A quick reminder of the Top 10 fantasy QBs from last season...


QBs Most Likely to Rise in 2019:
Winston has been showing up on a lot of sleeper lists as we head into August drafts and that usually sets off alarm bells in my head. Public dogs tend to be big losers at the betting window. Hereís the thing, though: While heís being touted as a sneaky top 10 candidate by fantasyís fourth estateóIíve seen him projected as high as 4th and we have him as QB8 here at FFTodayóWinstonís still not generating a ton of interest in actual drafts. His current ADP is 10.06 in 12-team standard leagues, making him the 14th QB selected on average. I love sleepers when I can avoid paying that steep sleeper markup.

Itís not hard to see why Winstonís getting some love despite his obvious warts (chronic immaturity, turnover machine). In 11 regular season games last year after serving his four-game suspension, the former Seminole averaged a stout 23.6 FPts/G. Thatís the same rate at which Drew Brees scored fantasy points and Brees was a dubious PI call away from playing for all the marbles against the Pats. If you werenít aware of Winstonís sneaky productivity, itís likely because he was outshined by the most surprising QB of 2018, his teammate Ryan Fitzpatrick (26.7 FPts/G).

Fitzy has since taken his talents, not to mention the leagueís most epic beard, to South Beach, leaving Winston the undisputed leader of Bruce Ariansí revamped Tampa squad. The last time Arians and his Kangol graced an NFL sideline, Arizona was an NFC player and Carson Palmer, well into his 30s, was putting up the three most productive years of his career. The Bucs lost some firepower in DeSean Jackson, sure, but still have enough weapons to engage in several high-scoring affairs. Donít sleep too long on Winston. One QBís loss is anotherís gain and word out of Eagles camp is that Wentz and his new deep threat, the aforementioned DeSean Jackson, have quickly established some deep ball chemistry this off-season. That could spell trouble for the rest of the NFC East as it seems the Birds have been missing a true home-run hitter since about 2014 when Jackson was unceremoniously released by former coach Chip Kelly, allegedly for attitudinal reasons.

That big SB LII ring on Doug Pedersonís finger means he wonít likely tolerate any poisonous personalities, no matter how talented, so Iím expecting Jackson to toe the line this second go-round in Philly. If he does, the Eagles are suddenly graced with one of the more dangerous and versatile pass-catching groups in the entire league. Zach Ertz and Dallas Goedert are mismatches at the TE spot. Alshon Jeffery, when not injured, can still move the chains with the best of them and Nelson Agholor is proving to be a reliable mid-range guy. Add Jackson to blow the top off and rookie J.J. Arcega-Whiteside to shag those red zone jump balls and you have the makings of another potent Eagles offense.

The only real concern when it comes to Wentz, it appears, is his health. Heís missed eight regular season games and, more famously, the entire 2017 postseason to serious injuries (ACL and back). If he canít stay upright in 2019, a promising Philly season could go down the tubes in a real hurry. Nate Sudfeld, Wentzís backup, suffered a broken wrist in last weekís preseason action and now the Eagles are having to scramble for quarterbacking depth (Kap, anyone?). If Iím Coach Pederson, I wrap the big ginger in bubble wrap and tell him to sit tight until early September rolls around.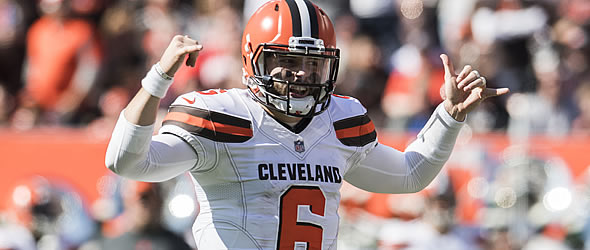 I had every intention of featuring a different Sooner Heisman winner when I started prepping for this piece, but those Cardinals receivers are nothing special and asking a rookie QB, even a very talented/elusive one, to carry the offense behind an atrocious line is a big ask. Kyler Murrayís Oklahoma predecessor, with a year of NFL action under his belt and a scintillating new weapon, seems like a much safer bet to make the leap into the QB Top 10 this season.

Mayfield isnít the dynamic dual-threat his former understudy is, but possesses a highly precise right wing, great quarterbacking instincts, and the necessary grit to be a star in the NFL for a long, long time. He threw for nearly 4,000 yards and averaged almost two TD tosses per game as a rookie. He also led his squad to a surprising 7-8-1 record, which could easily have been 9-7 or 10-6 with a couple breaks here or there. Mind you, he did all this playing in Cleveland, where football dreams routinely go to die and get buried in a common grave.

Nobodyís expecting a typical Browns campaign this year now that Mayfield solves the longstanding QB problem and gets to throw passes to that scintillating new weapon, Odell Beckham Jr. I took some heat last summer for labeling OBJ the best receiver on the planet, but Iím going back to the well again this summer, especially since the receiver my detractors were championing as best overall no longer plays for the Steelers (Iím 99% sure they were from Pittsburgh) and, is performing his diva act in Oakland. Adding Beckham to a young, talented Browns offense has even the most pessimistic, PTSD-stricken Cleveland fans looking forward to 2019. Grab the Bake Show.