We've recently been featuring the star QBs, RBs, and WRs most likely to fall from the Top 10 ranks this coming season. Now we turn our attention to those who seem best equipped to replace them. Historically, I've included a mix of both obvious and not-so-obvious names and, as you're about to see, 2020 is no exception.

A quick reminder of the Top 10 fantasy WRs from last season…

Note: All rankings are based on FFToday's Non-PPR league scoring.


Wide Receivers Most Likely to Rise in 2020:
Davante Adams, GB: Letís get this out of the way first: I was NOT a fan of the Packís draft strategy this year, which consisted of loading up on positions of strength (QB, RB, interior OL) and ignoring positions of weakness (help for Adams). GM Brian Gutekunst claimed he just didnít see value at the WR position despite most pundits proclaiming it a historically deep WR draft (?), but the more likely explanation is that Green Bay intends to move away from its Aaron Rodgers-or-bust approach and mimic NFC champion/nemesis San Francisco with a run-heavy scheme moving forward.

That may not actually be the worst thing for Adamsí 2020 prospects, especially considering heís still Rodgersí only legitimate threat on the perimeter. Despite missing four games to an early turf toe injury, the Fresno St. product was targeted 127 times in Matt LaFleurís first year at the helm, or a tick above 10 times per game. Had he played all 16, he would have merited about 169 looks (exactly how many he racked up in 2018). Only Michael Thomas, last yearís WR1, garnered more (185). Additionally, Adams averaged a robust 10.8 FPts/G when he did suit up, good for 10th overall at the position.

Even if the Pack relies less on Rodgersí golden arm and more on its growing stable of young RBs, itís hard to believe the future Hall of Famer wonít continue to target Adams early and often when he does drop back. After all, the other options are Allen Lazard, Devin Funchess, MVS, ESB (guess), and some TEs youíve never heard of, which probably explains why Adams was targeted on a full 30% of Rodgersí passes last year. By the way, typing that list of other GB receivers/opt-outs was thoroughly depressing. Trust only Davante.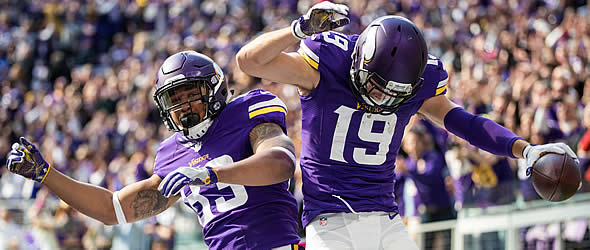 Adam Thielen, MIN: Just as the Packers are starting to focus on a more ground-based attack, so too are their division rivals...and then some. The Vikesí Kirk Cousins slung it a shocking 125 fewer times than the Head Cheese last season, which maybe wasnít the worst idea ever since he didnít have his favorite target to play catch with about half the time. Thielen, who hadnít missed a single game since becoming a Minnesota regular, missed six of them and parts of others in an injury-marred 2019 campaign, ultimately finishing as WR55 overall. Nevertheless, he still managed to average 8.4 FPts/G (WR37) and thatís including the game he got hurt (one catch for 25 yards in a brief Week 7) and the game he tried to participate in a couple weeks later (goose egg against the Super Bowl champs).

If Thielenís back to 100% in 2020, heís a very good bet to get back into the Top 10, even despite his organizationís decision to stop letting everything ride on Cousinsí $84M arm. In 2017 and 2018, Minnyís WR1 was targeted 143 and 153 times, respectively. Thatís a Davante Adams-esque target share and Thielen, unlike Adams, had all kinds of competition for his quarterbackís attention (Stefon Diggs). The competition up and moved on to upstate New York this off-season, however, meaning thereís absolutely no question, if there ever was, who the main man in Minnesota is now.

The Vikings did spend their first-round pick (No.22) on LSUís Justin Jefferson, but rookie WRsósave for the organizationís most famous one, of courseótypically donít make big splashes right away. In other words, heís probably not producing like the guy he was drafted to replace, Mr. Diggs. Accordingly, Iím expecting an even larger target share and bounce-back numbers for Thielen in 2020.

Tyler Lockett or DK Metcalf, SEA: Yup, totally cheating here. Sue me...if you even remember these predictions a couple months down the road when the plug gets pulled on an already imperiled NFL season. For a team that doesnít throw the ball that much (22nd in overall attempts last season, dead last the year prior), the ĎHawks have managed to produce some very relevant WR1s of late. Lockett was WR15 and WR11 in 2018. Before that, Doug Baldwin ranked 7th, 10th, and 14th at the position from 2015 to 2017. Guess this Russell Wilson guy is pretty danged efficient, yeah?

Frankly, had Lamar Jackson not reinvented what success looks like at the position, Wilson would have been the shoo-in for his first MVP award last season. I say first because I think itís still possible heíll win multiple. Heís that good. The former NC State product by way of ĎSconny has strung together three straight seasons of 30+ TD passes v. single-digit picks and hasnít once, in eight NFL seasons, dipped below the 20 FPts/G mark, despite throwing WAY fewer passes than other top flingers. His attempts crept up in 2019 (516 after 427 in 2018) and could again now that Seattle is more talented at the WR and TE spots. You know what else Russ hasnít done in eight NFL seasons, BTW? He hasnít missed a game.

So who IS Wilsonís WR1 in 2020? Itís gonna be one of these two guys. LOL! If I had to bet, itíll probably be Lockett, but Metcalf is a nightmare matchup in the red zone and is, by all accounts, a perfectionist/workaholic, aside from being a physical freak. The bottom line is that whoever leads the team in fantasy points will also crack the Top 10 ranks. Book it.