Note: Predict the top ten picks of the NFL Draft for a chance to win FFToday prizes. Enter our NFL Draft Contest now.

1. Jacksonville Jaguars - Aidan Hutchinson, DE, Michigan
It looks as if Hutchinson's separating himself to be the clear first overall pick in this draft. The Jaguars have options along the offensive line, leaving pass rushing as a clear hole in their roster. Hutchinson recorded 14 sacks with 16.5 tackles for a loss as a senior at Michigan. He's also one of the safest prospects in this draft, giving Jacksonville's defense a potential All-Pro player without adding much risk because of his motor.
Previous Pick - Aidan Hutchinson, DE, Michigan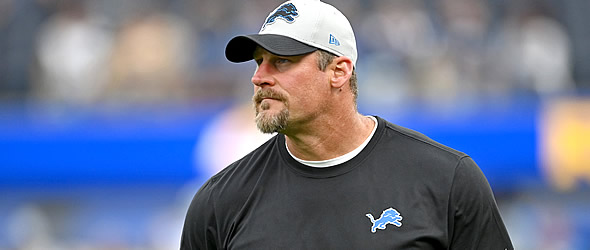 2. Detroit Lions - Malik Willis, QB, Liberty

This is one of the most difficult picks of the entire draft. On one hand, this feels extremely aggressive for Detroit. On the other hand, it makes far too much sense. They stated that they'll create their offense to the strength of their quarterback, which suggests the Lions are at least considering Willis. This would be an ideal landing spot, as he could start his career behind Jared Goff before taking over. Willis would give HC Dan Campbell and Detroit an elite quarterback prospect, and we've consistently seen the position overdrafted in the past. I do feel this is a bit aggressive, but he's the type of player that could turn around a franchise if he hits his ceiling. It's important to note that this pick is a big question mark. It's very possible that I change this selection in my final mock draft, although I'm holding tight for now.

Previous Pick - Malik Willis, QB, Liberty

3. Houston Texans - Ikem Ekwonu, OT, NC State

New head coach Lovie Smith heaped praise on Davis Mills, calling him their quarterback heading into the season. This is far too early in this particular draft to select his replacement, meaning they'll have to shift their focus elsewhere. Although the Texans have several holes, they should be focused on giving Mills every opportunity to find success early in his career. Houston could look to further their rebuild by trading Laremy Tunsil, opening a massive hole at tackle. Ekwonu could immediately step in and fill that hole. He could be the top overall pick in this draft, and he'd be a top player for the Texans for years to come.

Previous Pick - Ikem Ekwonu, OT, NC State

4. New York Jets - Travon Walker, DE, Georgia

The Jets could go a few different ways with this pick, although some of the prospects seem to be trending in different directions. Kyle Hamilton was a popular pick here, but he's falling down the draft board a bit. They could also take Ahmad Gardner, who could go higher than most expect. I'm leaning toward Walker, although he's only a 1A to Gardner's 1B at this point. He's making waves in the draft community, and New York would benefit from a pass rusher as much as they would with help in the secondary. Walker could end up in the top-5, and the Jets could use the help along their defensive front.

Previous Pick - Travon Walker, DE, Georgia

5. New York Giants - Evan Neal, OT, Alabama

Neal is losing a bit of momentum at this point in the process, but there's very little reason to believe he falls too far. Head coach Brian Daboll already said he's studying old film of Kenny Golladay and Kadarius Toney to get the most out of them this season. With Neal being the clear best tackle at this point in the draft, they can help Daniel Jones out a bit more in what should be a make-or-break season for the quarterback. Regardless of his success, Neal with Andrew Thomas would set New York's line for the future.

Previous Pick - Evan Neal, OT, Alabama

6. Carolina Panthers - Charles Cross, OT, Mississippi State

The Panthers have two very clear needs early in the draft. They need to improve their offensive line with an offensive tackle and they need a new starting quarterback after missing in free agency. The problem with this pick is that they would be reaching at both positions, and I'm not projecting trades. There's one key difference here, though. Sam Darnold is under contract for one more year and will make nearly $19 million regardless of if he plays or not. Carolina can help their offensive line with Cross, even if he is a reach, and allow them to select one of the top quarterbacks next year in what should be a significantly better draft class.

Previous Pick - Charles Cross, OT, Mississippi State

7. New York Giants - Kayvon Thibodeaux, DE, Oregon
"The Giants could luck their way into an elite pass rusher with this pick. They struggled to consistently get pressure on the quarterback last season, ranking in the bottom third of the NFL in sacks, hurry rate, and pressure rate. Thibodeaux was seen as the clear favorite for the first overall pick before the season. He returned to form in 2021, posting 49 tackles, 12 for a loss, and 7 sacks for the Oregon Ducks. Thibodeaux comes with as much upside as any pass rusher in this draft class and he'll pair well with Azeez Ojulari, who enjoyed a solid rookie season. Although there are some concerns with Thibodeaux's overall ability, he's going to be an elite pass rusher from early in his career, which is exactly what the Giants need."
This was my initial analysis for New York taking Thibodeaux with their first pick in the draft in my last mock. Evan Neal fell in this one, though, and he was the clear pick in that situation. With that being said, it's all still true, and the Giants could luck their way into Thibodeaux with the Panthers having more pressing issues than an edge rusher.

Previous Pick - Kayvon Thibodeaux, DE, Oregon

8. Atlanta Falcons - Jermaine Johnson, Edge, Florida State

The Falcons featured arguably the worst pass rush in the NFL last season. They ranked last in pressure rate while also ranking in the bottom five in hurry and knockdown rate. Johnson quietly jumped up draft boards, and won't be considered as a reach at this pick anymore. Atlanta could go with a cornerback, which would make more sense in terms of most big boards. The emphasis should fully be on adding a pass rusher here, though. Johnson recorded 70 tackles, 17.5 for a loss, and 11.5 sacks for Florida State last season. He also looked outstanding at the Senior Bowl and continues to climb throughout the offseason.

Previous Pick - Jermaine Johnson, Edge, Florida State

9. Seattle Seahawks - Ahmad Gardner, CB, Cincinnati

The Denver Broncos traded Seattle this pick in the deal for Russell Wilson. Oddly enough, the pick stays the same. The Seahawks have several holes throughout their roster, and they have the ability to take the best player available here. They could opt for a wide receiver if they are trading DK Metcalf, but Gardner is the clear CB1 in this draft, and he can immediately help their secondary. Quite frankly, this is entirely too low for the star cornerback, who is likely a top-5 talent in this draft. He could fall a bit because of team needs or depth at the position.

Previous Pick - Ahmad Gardner, CB, Cincinnati

10. New York Jets - Derek Stingley Jr., CB, LSU

The Jets continue to help their defense early in the draft. They selected a high-upside edge rusher as their first pick, and they can solidify their secondary with this pick. Stingley always boasted tremendous upside, although there were questions about his production later in his collegiate career. He impressed with his metrics at his Pro Day, and Stingley was given a clean bill of health. There's an outside chance that Gardner and Stingley could both be selected in the top 5, although that isn't the case with this mock draft. Instead, they're both selected in the backend of the top 10.

Previous Pick - Kyle Hamilton, S, Notre Dame

11. Washington Commanders - Drake London, WR, USC

For whatever reason, Washington was willing to trade for Carson Wentz, solidifying their quarterback for this season. It's a bit too early to take a shot on anyone left, specifically after giving up picks for Wentz. Instead, they can add another great receiving option to pair with Terry McLaurin. London boasts elite range as a receiver, and he'd be an outstanding complement to the way McLaurin plays. He'd add a new dimension to the Washington offense that they didn't have last season.

Previous Pick - Drake London, WR, USC

12. Minnesota Vikings - Kyle Hamilton, S, Notre Dame

The Vikings have holes throughout their secondary along with their interior defensive line. With Gardner and Stingley off the board, they can shift away from cornerback, as Trent McDuffie is likely a tier below them. Hamilton and Jordan Davis are both solid options here, as they're the top options at each of their respective positions. Hamilton is seemingly falling a bit at this point in the process, but there was a time when he was seen as a top 5 pick. He has the higher ceiling and can impact the game in a way that Davis can't. For that reason, the Vikings will add a young potential star to the backend of their defense.

Previous Pick - Derek Stingley Jr., CB, LSU

13. Houston Texans - Trent McDuffie, CB, Washington

The Texans get this pick as a part of the Deshaun Watson trade with the Cleveland Browns. There are a few different ways they could go here, although they desperately need help at cornerback. McDuffie hasn't given up any touchdowns over his last 15 games at Washington, and he has the potential to become a difference-maker in the NFL. He's seen as one of the safer prospects in this draft, and he'll immediately add talent to the Houston secondary.

Previous Pick - Trent McDuffie, CB, Washington

14. Baltimore Ravens - Jordan Davis, DT, Georiga

I mocked Tyler Linderbaum to the Ravens in each of my first two drafts, but I'm switching from the interior offensive line to the interior defensive line. Davis is the best defensive tackle in the draft, and he continues to fly up draft boards. He has the ability to take on multiple blockers, which will free up other positions for one-on-one matchups. Davis has the potential to be a top run-stuffer in the NFL, and he'll make all of Baltimore's pass-rushers around him better. He's the type of player that will immediately help any defense he's playing for.

Previous Pick - Tyler Linderbaum, C, Iowa

15. Philadelphia Eagles - Garrett Wilson, WR, Ohio State

The Eagles could add Kenyon Green to help fix their offensive line, but it could be more important to get Jalen Hurts more weapons. Garrett Wilson is coming off of an outstanding season at Ohio State, posting 70 receptions for 1,058 yards and 12 touchdowns over 11 games. He flashed game-changing potential throughout his collegiate career, and Wilson would be an elite option to pair with DeVonta Smith in their offense. The Eagles and Saints both have two picks out of the next five, and I don't believe Philadelphia will allow New Orleans to jump them on a wide receiver.

Previous Pick - George Karlaftis, Edge, Purdue

16. New Orleans Saints - Chris Olave, WR, Ohio State

The Saints traded for this pick, specifically ahead of the Chargers. They both have similar holes, making this pick relatively difficult. I expect the Eagles wanted to stay ahead of New Orleans to have their pick of the wide receivers. With that being said, the class is so deep that the Saints can make that move without worrying about who will be left. Olave is an outstanding prospect that has the ability to stretch the field, which will pair nicely with Michael Thomas. He'll add a high-upside option that the Saints haven't had in recent seasons.

Previous Pick - Andrew Booth Jr., CB, Clemson (Philadelphia Eagles)

17. Los Angeles Chargers - Devin Lloyd, LB, Utah

The Chargers are in a position where they could select an offensive tackle, edge rusher, linebacker, or defensive tackle. Luckily at this point, all of those positions have high-end talent available. It's a great problem to have, although I'm penciling in Lloyd, who has the potential to be taken in the top-10 depending on how the draft shakes out. He's a sideline-to-sideline linebacker with the ability to rush the passer. Lloyd will add tremendous versatility to the Chargers defense, making them that much more dangerous.

Previous Pick - Travon Walker, DE, Georgia

18. Philadelphia Eagles - Andrew Booth Jr., CB, Clemson

This draft class has several outstanding cornerback options with only Ahmad Gardner separating himself from the rest of the options. With Derek Stingley Jr. and Trent McDuffie already off the board, the Eagles can slide to the next best at the position. Booth can immediately slide into a big role for Philadelphia, as he's a high-IQ option in the secondary. He's one of many cornerbacks in this class that boasts Pro Bowl potential.

Previous Pick - Trevor Penning, OT, Northern Iowa (New Orleans Saints)

19. New Orleans Saints - Trevor Penning, OT, Northern Iowa

The Saints have a few key holes they could plug here, but they re-signed Jameis Winston and Tre'Quan Smith in free agency. They'll also be getting Michael Thomas back for this season. New Orleans lost Terron Armstead to the Miami Dolphins in free agency, though, and they have a massive hole at offensive tackle now. If they want any chance of success, they'll need to keep Winston upright, and Penning gives them the best chance of that with this pick.

Previous Pick - Garrett Wilson, WR, Ohio State (Philadelphia Eagles)

20. Pittsburgh Steelers - Zion Johnson, G, Boston College

The Steelers are in an interesting spot where they could draft a quarterback with this pick. With that being said, unless Malik Willis falls, I don't see that happening. They signed Mitchell Trubisky in the offseason, and they can use him until drafting a quarterback in a better class next year. Instead, they can use this pick on an offensive lineman that will help anyone starting behind center. Pittsburgh needs help on the interior of their offensive line, and Johnson is an outstanding guard option in this draft.

Previous Pick - Jordan Davis, DT, Georgia

21. New England Patriots - Kyler Gordon, CB, Washington

The Patriots took a surprising step forward with Mac Jones at quarterback last season. They still rely heavily on their defense, though, and J.C. Jackson could leave in free agency. The Patriots could use their first-round pick to select his replacement, allowing the team to continue to rely on their defense while the young quarterback continues to progress. Gordon recorded 2 interceptions and 7 pass deflections over 12 games for Washington last season. He's a player that boasts the ability to cover WR1s in the NFL once he finds his footing, and that's the type of player New England would love to select here.

Previous Pick - Kyler Gordon, CB, Washington

22. Green Bay Packers - Treylon Burks, WR, Arkansas

The Packers received this pick from the Las Vegas Raiders in the Davante Adams trade. It only makes sense that they use it on his replacement. Granted, Green Bay doesn't draft wide receivers in the first, but they may not have a choice this season. Burks has game-changing potential that he flashed at Arkansas, and Aaron Rodgers could potentially mold him into a high-end wide receiver in the NFL. The Packers could look for a safer player here, but they need to replace arguably the best receiver in the league. Upside is one of the only ways to do that.

Previous Pick - Treylon Burks, WR, Arkansas

23. Arizona Cardinals - Boye Mafe, Edge, Minnesota

The Cardinals were able to get plenty of pressure on opposing quarterbacks last season, but they also blitzed at one of the highest rates in the NFL. I initially slated David Ojabo into this pick, but he recently tore his Achilles, which will likely slide him out of the first round. Instead, the Cardinals can shift their focus to Mafe, who is another high upside edge rusher. He consistently improved at Minnesota, recording 34 tackles, 10 for a loss, and 7 sacks during his senior season. He could potentially take some of the pressure off of the Arizona defense.

Previous Picks - Boye Mafe, Edge Minnesota

24. Dallas Cowboys - Kenyon Green, OL, Texas A&M

The Cowboys need help along their offensive line, specifically in the interior. Green is expected to play guard in the NFL, and he could be a day one starter for Dallas. With that being said, he boasts the upside to move out to tackle if need be. Green played four different positions throughout his college career, and we've seen versatile linemen be drafted at a premium in the past. I expect that to be the case once again for Green during the draft.

Previous Pick - Kenyon Green, OL, Texas A&M

25. Buffalo Bills - Tyler Linderbaum, C, Iowa

The Bills are one of the most complete teams in the NFL, and they don't truly need to reach at any position. I could see them grabbing a cornerback here, but Linderbaum is a significantly better prospect than any corner available. He has the potential to become one of the best centers in the NFL later in his career, and he can immediately add depth to the Bills interior offensive line. He's the type of player that can be groomed for the future while giving Buffalo an outstanding option if they're dealing with injuries around playoff time.

Previous Pick - Zion Johnson, G, Boston College

26. Tennessee Titans - Jameson Williams, WR, Alabama

It was clear that the Titans lacked wide receiver depth when A.J. Brown got injured last season. They cut Julio Jones in the offseason, adding to the problem. Dez Fitzpatrick comes with plenty of upside, but it's unlikely the Titans want to rely on him for a major role this season. Instead, they can draft Williams, who was seen as the best wide receiver prospect in this draft at one time. He's dropped down the ranks after suffering a major injury, and he'd be a steal at this point in the draft for Tennessee.

Previous Pick - Chris Olave, WR, Ohio State

27. Tampa Bay Buccaneers - Devonte Wyatt, DT, Georgia

Tampa Bay quietly has plenty of holes to fill, and they could look to add to their defensive front with this pick. Wyatt comes with elite size, and he can immediately take the pressure off of the other pass rushers. Last season, Wyatt posted 39 tackles, 7 for a loss, and 2.5 sacks for Georgia. He could immediately help Tampa Bay's defensive line impact games in the way they could need this season.

Previous Pick - Devonte Wyatt, DT, Georgia

28. Green Bay Packers - Bernhard Raimann, OT, Central Michigan

Oddly enough, it feels as if the Packers could take two first-round wide receivers in this draft. They already grabbed one with their first pick, and I don't believe they go that deep into the position at this point, though. Instead, they need help along their offensive line, specifically right tackle. Raimann is an athletic tackle that has the potential to start from day one.

Previous Pick - Bernhard Raimann, OT, Central Michigan

29. Kansas City Chiefs - George Karlaftis, Edge, Purdue

The Chiefs paying Patrick Mahomes is proving to open several holes in their roster. They have a big hole at edge rusher. Karlaftis created plenty of pressure at Purdue, and he's a relatively safe prospect coming into the NFL. He may not have the ceiling as many others at this position, but the Chiefs simply need safe players on the defensive side with Mahomes' ability to create points offensively.

Previous Pick - Jameson Williams, WR, Alabama

30. Kansas City Chiefs - Dax Hill, S, Michigan

The Chiefs are going to need help at safety, specifically if Tyrann Mathieu leaves in free agency. Even if Mathieu stays, there will be holes in the Kansas City defense that Hill can contribute. Hill ended last season with 69 tackles including 4.5 for a loss and 0.5 sacks. He also ended last season with 2 interceptions, 8 pass deflections, and 1 fumble recovery over 14 games. Hill can fill the void at safety or he can shift over to their slot corner position. His versatility can help Kansas City's defense immediately.

Previous Pick - Dax Hill, S, Michigan

31. Cincinnati Bengals - Kaiir Elam, CB, Florida

The Bengals need to get better in the secondary after they added help on the offensive line in free agency. After Gardner and Stingley, the position is relatively open, and even with a few other cornerbacks coming off the board before this pick, there are several options the Bengals can choose from. Elam could be a late riser for teams, as he comes with tremendous upside. He has the potential to become a CB1 at the NFL level, which is the type of upside Cincinnati can take a chance on at this point in the draft.

Previous Pick - Roger McCreary, CB, Auburn

32. Detroit Lions - Jahan Dotson, WR, Penn State

The Lions have several holes they need to fill, and they drafted an edge rusher earlier in this draft. They can shift their focus to their offense with their second pick. Amon-Ra St. Brown broke out as a rookie last season, and he looks to have an outstanding future in Detroit. Although D.J. Chark signed with Detroit, it was a one-year deal, and I don't expect that to shift their focus off of Dotson here. Dotson isn't the biggest receiver, but he comes with plenty of explosion, great hands, and tremendous route-running skills. He posted 91 receptions for 1,182 yards and 12 touchdowns in 12 games for Penn State last season. Dotson would make an outstanding pairing with St. Brown for years to come.

Previous Pick - Jahan Dotson, WR, Penn State