Some years ago, my most successful teams typically had a retention rate of 60 to 70 percent. In other words, my best teams typically had about 11 or 12 of the 18 players I drafted at season's end. Nowadays, I'm lucky to keep it over 50. It's not bad drafting (at least not usually), but rather a sign of the times. Players get better during the season, some get worse, others get suspended, etc. Many owners typically need to make one trade during the course of the season and injuries usually claim at least a handful of players along the way. It's a grind. Owners who are willing to embrace the grind are the most successful.

Part of the grind is trying to find the following week's (and even next year's) stars one week before their "breakout." Quite often, the magic formula is when ability (talent) meets opportunity (playing time) and is combined with a positive environment (favorable matchup). Short of that, we'd love to snag the upcoming week's surprise fantasy MVP, whether it be to win a fantasy matchup we otherwise weren't supposed to or block another owner from having him on their roster.

I can't speak for every fantasy owner, but most of us in competitive and/or high-stakes leagues acquire or sharpen the ability to find comfort in chaos as the season comes to an end. Very few of us get to play all season with essentially the same lineup we drafted in August. Winning fantasy titles usually requires taking a chance on at least one - if not multiple - relatively unproven players in the final two to three weeks of the season.

To that end, I compiled a list of 12 players who currently sport an ownership rate lower than 25 percent on Yahoo! who I believe have a shot at helping owners get into the league championship game next week. At least one player at every position is available in each of my high-stakes leagues with 12 teams and 18-man rosters at the moment, so the odds some of the players - if not most - will be available in many leagues. A win this week typically guarantees owners finish in the money, so finding a potential high-upside streamer (and hitting on him) is kind of a big deal.

For what it's worth, I used two of the players I mentioned in last week's "Meet the Kids" article in my most important high-stakes league and rode them to an upset win despite being without Melvin Gordon, watching Leonard Fournette struggle for a mere 6.1 points and getting fewer than 20 points from Drew Brees.

As an added benefit, I chose to list some players I'd bench this week in order to start the player I discuss. Good luck.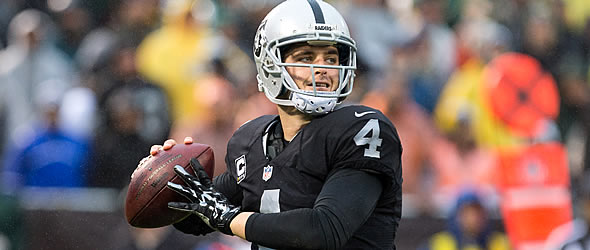 Quarterbacks
Derek Carr, Oakland
It's always more reassuring to take a gamble on a player who has already proven he can play at a high level at some point in his pro career. We all know about the downside here: the current supporting cast - outside of Jared Cook and maybe Jalen Richard - has a lot left to be desired. The receiving trio of Jordy Nelson, Marcell Ateman and Seth Roberts isn't keeping defensive coordinators at the office late at night. Carr also doesn't run very much (50 rushing yards through 13 contests) and he's lost a fumble in three of the last five games. But before we dismiss everything Oakland, consider Carr is actually having a sneaky good season. After throwing eight interceptions over the first five games, he has none over his last eight. He has passed for multiple touchdowns in four of his seven outings since the Week 7 bye, three of which have come in the last four games. He is also completing 69.5 percent of his attempts. However, the real reason why Carr needs to be considered this week is the matchup. The Bengals have intercepted one pass since their Week 9 bye. They have about a handful of full-time players playing well on defense, only one of which plays in the secondary (S Jessie Bates). One concern about streaming Carr would be his home splits (12:5 TD-to-INT ratio) versus his road splits (6:3), but his two most recent contests outside of Oakland (at Arizona in Week 11 and Baltimore in Week 12) proved he can handle himself well away from the west coast. (If Carson Wentz is unable to play this week with his back issue, Carr would be my first readily available choice to replace him in my fantasy lineups.)
Regular fantasy starters I'd consider benching in favor of Carr this week: Philip Rivers (unfavorable throwing weather expected in Kansas City on Thursday), Aaron Rodgers, Jameis Winston, Mitchell Trubisky
Nick Mullens, San Francisco
Mullens has seemingly done enough over the last two weeks to keep C.J. Beathard on the sideline and put himself back into the regular streaming conversation for fantasy purposes. It should come as no real surprise that his resurgence has coincided with the emergence of Dante Pettis and transition of George Kittle from a nice second-year tight end prospect into a near-elite option. The Seahawks are arguably the best defense of the five he has faced thus far and he proved to be more than serviceable when he threw for 414 yards and two touchdowns in Seattle less than two weeks ago. While it should be noted 300 of those yards and both scores came after halftime in a blowout, owners don't typically care when the production comes so long as it is repeatable. While this week's matchup at home in San Francisco should theoretically create a closer result than 43-16, it seems unlikely the 49ers' plan of attack will change much - a heavy dose of Jeff Wilson (assuming Matt Breida sits again) along with at least 15 combined targets for Kittle and Pettis. Kittle should see plenty of Bradley McDougald again (3-of-4 for 49 yards in McDougald's coverage in Week 13) and Pettis figures to avoid sticky slot corner Justin Coleman again as he is now a full-time perimeter receiver following the season-ending knee injury to Pierre Garcon. Pettis had his way with both outside corners in the first matchup, as Shaquill Griffin (2-for-2, 25 yards) and Tre Flowers (3-for-4, 104 yards) each gave up a touchdown to the rookie. A repeat of Week 13's numbers isn't all that likely for Mullens, but 300-plus yards and two scores probably are.
Regular fantasy starters I'd consider benching in favor of Mullens this week: Philip Rivers, Aaron Rodgers, Jameis Winston, Mitchell Trubisky
Running Backs
Kenneth Dixon, Baltimore
I was stunned to learn Dixon is rostered in only 21 percent of leagues as of Dec. 12. Maybe owners don't want to deal with the musical chairs backfield in Baltimore. Maybe 79 percent of owners in their league's fantasy semifinals don't need a running back who may or may not be atop a depth chart with an unclear pecking order or might only be useful in Week 16. I doubt that is the case though. I have one high-stakes league in particular where Dixon would be in the running to be my flex play this week had I held onto him for one more week, especially given all the recent injuries at the running back position. The Ravens are averaging a remarkable 46 rushing attempts since Lamar Jackson became the starter four games ago - 17 of which are going to the rookie quarterback. That leaves as many as 29 to go to the running back position, which is more than enough to make two backs viable in fantasy. Gus Edwards is still in the mix, but Dixon is the most talented back Baltimore has and the only one left on the roster who has the ability to break a long run on a semi-regular basis. As the Ravens proved again last week against Kansas City, the defense will almost certainly keep Baltimore in any game - including at home against Tampa Bay in Week 15. The Buccaneers have been gutted by all-purpose backs in recent weeks. It would seem HC John Harbaugh wouldn't mind having one back carry more of the load and use Edwards, Ty Montgomery and Javorius Allen to complement him. We can't be sure if that process will begin now or in the playoffs (if they even get there), but the Ravens owe it to themselves to see if 2018 is going to be the year Dixon finally shows he can be the same all-purpose dynamo in the NFL he was at Louisiana Tech.
Regular fantasy starters I'd consider benching in favor of Dixon this week: Matt Breida/Jeff Wilson, Gus Edwards, Dion Lewis, Adrian Peterson, Tevin Coleman, Marlon Mack, Jordan Howard
Nyheim Hines, Indianapolis
Remember the days when Marlon Mack was tearing up the fantasy world? Well, that was over a month ago. He hasn't exceeded 13.9 PPR fantasy points in any of his last five games and scored fewer than 10 in three of them. Since he doesn't play much on passing downs, he depends on early-down work to make his fantasy owners happy. The Cowboys have been shutting down running games lately, instead giving up volume to pass-catching backs. Enter Hines. The rookie hasn't kept up his early-season pace for obvious reasons (the return of Mack being the most obvious), but he is easily the most likely Colts' running back to step up in Week 15, factoring in everything from Dallas controlling the time of possession (and number of possessions) to bottling up the Colts' rushing attack. Hines is not guaranteed to get loose considering how well linebackers Leighton Vander Esch and Jaylon Smith are playing, but a former college receiver like Hines should be able to get free a time or two in the same way Darren Sproles did last week against the same defense.
Regular fantasy starters I'd consider benching in favor of Hines this week: Gus Edwards, Tevin Coleman, Marlon Mack, Jordan Howard
Chase Edmonds, Arizona
Despite his two-score game against the Packers in Week 13, picking up Edmonds now is merely a stash-and-hope add. David Johnson missed practice Wednesday with a quad injury but is expected to play versus the Falcons in Week 15. However, would it be that much of a surprise if a 3-10 team with nothing to play for besides draft position decided to play it safe it safe with its best offensive player down the stretch, especially when the coaching staff believes Edmonds isn't a huge drop-off? What makes this week so appealing for Edmonds if Johnson is limited in any way is the matchup: Atlanta has allowed a league-high 97 receptions to the running back position. Meanwhile, Edmonds has caught 15 of his 17 targets. I will attempt to pluck the Fordham product off the waiver wire for $1 of FAAB on as many of my remaining this week as I have room to add him in the event Arizona takes it easy on Johnson or he encounters a setback during practice.
Regular fantasy starters I'd consider benching in favor of Edmonds this week: None. Merely a stash who can be dropped Saturday or Sunday in the likely event Johnson is not limited in any way.
Zach Zenner, Detroit
Kerryon Johnson may go down as the first running back evaluation Detroit has nailed in years. With that said, the Lions were much too slow in giving him more work and only did so when Theo Riddick was injured or limited in some way. Detroit never quite embraced Ameer Abdullah, gave him a terrible line to run behind and cut him once it got better. I would argue Zenner is the next best all-purpose back the Lions have had on their roster over the last few years and he rarely ever sees the light of day on offense because he is somehow stuck behind LeGarrette Blount and Riddick. Zenner has never been nor will he ever be a special talent, but all he ever does is play reasonably well just about every time he gets an extended look on offense - usually at the end of the season when the Lions have fallen out of the playoff race and everyone in front of him is dealing with some kind of injury or out for the season. Week 14 was a perfect example of how much more explosive he is than Blount. While the 32-year-old journeyman was seemingly stuck in neutral against a porous Cardinals' run defense, Zenner entered the game looking spry, made a few jump cuts and showed impressive acceleration when he saw a crease. With Golden Tate gone, Marvin Jones out and Johnson possibly done for the season, the Lions could use a back capable of hitting a 15- or 20-yard run on occasion. Will he get that shot after last week's showing? Probably not. Nevertheless, the fact Detroit gave him quality time in a close game last week indicates the coaching staff may be ready to have him at least share early-down work with Blount.
Regular fantasy starters I'd consider benching in favor of Zenner this week: None. Merely a stash for now in the unlikely event Blount fumbles again and/or Detroit somehow chooses this week to realize Zenner has more to offer than Blount.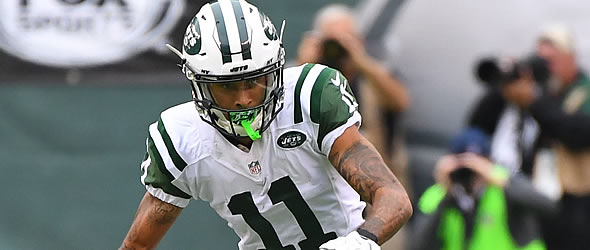 Wide Receivers
Robby Anderson, NY Jets
Anderson's been a hard cat to pin down in 2018. Following a 123-yard, two-TD eruption in an upset of Denver in Week 5, he did not exceed 50 yards receiving OR score a touchdown until he topped both marks in Week 14 against the Bills. Is he back? Maybe, but I don't think we see a return to his 2017 form until at least 2019. So why is he here? Mostly because the Texans are rolling out 34-year-old Johnathan Joseph and journeyman Shareece Wright as their perimeter corners these days. Houston's front seven helps to minimize the effect this otherwise lackluster duo would have on most defenses, but big-play receivers have enjoyed success against the Texans recently. The targets have been consistent for Anderson lately too, seeing at least six per game in four of his last five outings. Obviously, it seems more likely Houston will get to Sam Darnold more often than the rookie will get to DC Romeo Crennel's unit, so this is only a play for owners desperate for upside and/or those who can handle Anderson's low floor.
Regular fantasy starters I'd consider benching in favor of Anderson this week: Allen Robinson, Alshon Jeffery, Kenny Golladay, Sterling Shepard, Golden Tate, Demaryius Thomas
DaeSean Hamilton, Denver
As most expected, Hamilton lived in the slot in Week 14 - running 31 of his 46 routes inside - during his first extended playing time in the wake of Emmanuel Sanders' season-ending Achilles' injury. The rookie did most of his damage late, but nine targets is a hefty number for any unproven player to get when he runs most of his routes in the sweet spot of a quarterback's vision. HC Vance Joseph made it clear earlier this week he wants QB Case Keenum to take more chances downfield moving forward (which is terrible advice for him and the very thing most of Keenum's former teams have been trying to minimize). Perhaps it works this week if Browns CB Denzel Ward (concussion) cannot play, but if he can, he should be able to do a good job of checking either Courtland Sutton or Tim Patrick on the outside. Slot CB T.J. Carrie has been better than expected the season, but Cleveland has a real chance to force Denver into a negative game script and make Keenum throw 42 times again this weekend. Not all of those targets will go opposite of whichever receiver is on the opposite of Ward (and thus facing Terrance Mitchell). Keenum also has seemingly lost interest in throwing to the tight end, leaving the only "safe" throws to go to Phillip Lindsay and Hamilton. I'm not sure the rookie receiver has a ton of upside this week - especially if Denver plays with the lead - but he should get plenty of volume for a second straight week.
Regular fantasy starters I'd consider benching in favor of Hamilton this week: Alshon Jeffery, Kenny Golladay,Sterling Shepard, Golden Tate, Demaryius Thomas
Taywan Taylor, Tennessee
Don't look now, but Taylor has strung together two solid fantasy efforts in a row. A 100-plus yard showing against the Jets in Week 13 seemed somewhat reasonable for a player of his ability in a favorable matchup, but six catches on seven targets for 59 yards against the Jaguars in Week 14 is a bit different - especially since it came in the same game Derrick Henry flipped the fantasy universe upside down. Both Janoris Jenkins and B.W. Webb have graded out better in coverage of late as the Giants do everything to convince themselves they can still make a run, but Taylor spends more time on the left side than anywhere else, which is where he'll see Jenkins more often than not. (Unlike 2017, that's a good thing in 2018.) Last week's activity also likely came as a result of primary slot receiver Tajae Sharpe getting hurt. If Sharpe misses Week 15, it would only increase the odds Taylor sees at least five to seven targets again, which is about the range he's needed to be useful in fantasy this season.
Regular fantasy starters I'd consider benching in favor of Taylor this week: Alshon Jeffery, Kenny Golladay, Sterling Shepard, Golden Tate
Tight Ends
Chris Herndon, NY Jets
What's this? Two Jets in the same story about being capable streamers? That's just crazy. Yes, yes it is. While Anderson is a bit more of a hunch, Herndon is more of a solid-play-based-on-previous-results kind of option. Most owners remember Herndon as the only reliable starting-caliber fantasy player from the Jets between Weeks 6 and 12 before he ran into difficult tight end matchups in the Titans and Bills of the last two weeks. I very much believe this rookie will soon become a low-end TE1 in fantasy if he can stay healthy, perhaps as soon as next season. But the reason he appears in this column is his Week 15 matchup. With the notable exception of David Njoku in Week 13, the Texans have been shredded by tight ends for over a month. In fact, there only sustained success against the position this season was during a stretch in which they faced Geoff Swaim, Charles Clay, David Grinnage and Mike Gesicki in succession.
Regular fantasy starters I'd consider benching in favor of Taylor this week: Cameron Brate, Trey Burton, Kyle Rudolph, Evan Engram, Jimmy Graham, Austin Hooper
Anthony Firkser, Tennessee
While Firkser is not quite the last man standing at tight end for the Titans, he is probably the last healthy one capable of having any kind of impact in fantasy leagues. It goes without saying his 7.4, 9.2, 13.2 and 5.7 contributions in PPR leagues is not the stuff of legend, but each of those scores came while sharing time with Jonnu Smith. That will no longer be a problem with Smith done for the year following his Week 14 knee injury. He's also posted the aforementioned numbers while playing no more than the 24 snaps he logged last week (previous high was 19). As a result of Smith's absence, Firkser should see more than 30 moving forward. This week's opponent (the Giants) have been much better against tight ends than in recent years, only surrendering double-digit fantasy-point performances five times (Zach Ertz x2, George Kittle, O.J. Howard and Jordan Reed). Thus, Firkser does not come with a huge upside this week. What is clear is he has earned the trust of Marcus Mariota. It never seemed as though Smith did, so Firkser should be capable of another seven- or eight-point week.
Regular fantasy starters I'd consider benching in favor of Firkser this week: Evan Engram, Jimmy Graham, Austin Hooper
Dan Arnold, New Orleans
The addition of Eric Swoope this week may throw a wrench into the plans of Arnold becoming a bigger deal down the road, but the former college receiver for Wisconsin-Platteville was slowly but surely becoming a more important part of the offense prior to last week's surprise deactivation. Since we can only speculate as to why it happened (rumor has it that New Orleans expected to run the ball more often than usual versus the Buccaneers, thereby making it less important to have an undersized tight end like Arnold active). Assuming Arnold plays this week, he will get his shot at a Carolina defense that has yielded more PPR points to tight ends than all but two teams despite mostly shutting the position down for the most part over the last four. Perhaps the Panthers solved their back-end issues over the last month, but they certainly haven't faced a team capable of attacking them in as many ways offensively as New Orleans can. Arnold is only worth a start in the deepest of leagues, perhaps those where the owner may not have been able to snag Vernon Davis as a replacement for Jordan Reed.
Regular fantasy starters I'd consider benching in favor of Arnold this week: Austin Hooper

---
Doug Orth has written for FF Today since 2006 and been featured in USA Today's Fantasy Football Preview magazine since 2010. He hosted USA Today's hour-long, pre-kickoff fantasy football internet chat every Sunday in 2012-13 and appears as a guest analyst on a number of national sports radio shows, including Sirius XM's "Fantasy Drive". Doug is also a member of the Fantasy Sports Writers Association.