Think about the extra bit of energy you get when you've made it through Wednesday. Getting through Week 15 is kind of like that.

Despite our best-laid plans on draft day, the majority of fantasy lineups we submit in Week 15 look significantly different than the ones we trot out in early September. The real side of the game happens - players get better during the season, some get worse, others get suspended, injured or demoted, etc. On the fantasy side, league-winning managers typically need to make at least one trade during the season and injuries usually claim about a handful of players along the way.

The above paragraph hardly qualifies as new information to the veteran fantasy owner. The season is a grind for the real player and the fantasy player - particularly in 2020 - albeit in very different ways. While change is a constant thing in this hobby, one thing that doesn't change between Week 1 and Week 15 in any season is the desire to add a difference-maker (if only for a week) to give our lineups the extra nudge it typically needs to advance to the league championship game.

Below I will discuss seven players who I believe have a chance to dramatically exceed what might be considered an average week for each. Perhaps this information will be more helpful for those of you who dabble in DFS, but the purpose of this article will be to discuss players who enter the weekend looking like Clark Kent and emerging from it as the Man of Steel.

As has become my routine in recent years, I will be taking reader questions next week and answering them in as much detail as necessary in the final Blitz of the season. Go ahead and start getting those questions in (via tweet or email) as soon as possible Monday morning!!!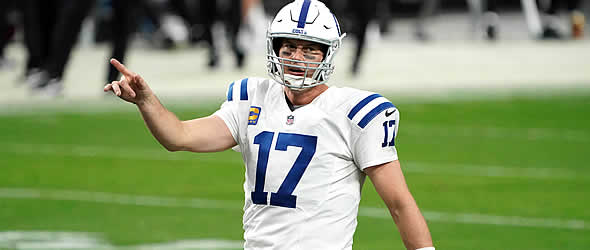 QB Philip Rivers, Colts (vs. HOU)
Assuming none of the top 16 fantasy quarterbacks are available, allow me to direct your attention to the man known as much for his bolo ties, willingness to help officials do their job and wholesome clean banter as he is for slinging the ball with a release point lower than any quarterback in modern NFL history.
The Texans haven't presented much of an obstacle to opposing quarterbacks all season long (69 percent completion rate, 25:3 TD-to-INT ratio), but they have been abysmal of late. They surrendered 304 yards passing to Jake Luton in his NFL debut after coming off their Week 8 bye, 365 to Cam Newton (he's thrown for a total of 272 in the three games since), 295 to Matthew Stafford without Kenny Golladay, 285 to Rivers in Week 13 and 267 to Mitchell Trubisky.
The Texans no longer have top corner Bradley Roby (suspended) or top safety Justin Reid (injury) available in a secondary that was among the league's worst before those departures. The only thing keeping Houston's pass defense from getting picked apart even more is that the run defense may actually be worse. It should come as no surprise the best game (8-110-1) of T.Y. Hilton's odd season came against the Texans two weeks ago. He appears to be healthy for the first time this season and will spend the majority of his time running routes against Phillip Gaines (146.5 passer rating allowed in his coverage) - if he can overcome knee and shoulder injuries to play this week - or Delicious Dozen regular Vernon Hargreaves (110.0). Keion Crossen (95.8) filled in for Gaines last week, which marked the first time he was a full-time player in his three-year NFL career. Hybrid CB/S Eric Murray (125.7) is the team's primary slot defender. Quite frankly, Hilton, Michael Pittman Jr. and Zach Pascal could all go off this week if Indy makes any or all of them a priority.
Rivers' line from the Week 13 meeting was 27-35-285-2-0 (Comp-Att-Yds-TD-INT). Perhaps the only way he doesn't match or beat that this week is if the Colts decide HC Frank Reich's "Run the Damn Ball" mantra is now the way he wants to do business consistently. The expectation should be Indianapolis scoring at least four touchdowns. The only question should be is if Reich and Rivers care about spreading the wealth between the running and passing games.
QB Mitchell Trubisky, Bears (vs. MIN)
Much of what I said two weeks ago in Playoff Prospecting still applies here, so we can keep this one short and sweet. In that article, I mentioned that Trubisky showed me enough improvement in Week 12's loss to the Packers to merit streamer consideration during the fantasy playoffs. But let's be honest: anyone that took the plunge did so because of the fantasy playoff schedule.
Last week, the Texans made Trubisky look like the quarterback he was drafted to be about 3 1/2 years ago. I have already referenced Houston's defensive woes, especially in the secondary. Minnesota's back four isn't much better. Cameron Dantzler (97.7 passer rating allowed in his coverage) and Jeff Gladney (123.5) are two prospects that could turn into a formidable duo down the road, but they are still a pair of rookies that have allowed a combined 11 touchdowns in their coverage. For what it is worth, I liked Trubisky more last week and like him more next week versus the Jags than I do here.
RB Jeff Wilson, 49ers (vs. DAL)
Wilson has split snaps right down the middle with Raheem Mostert (67 apiece) over the last two weeks. He has logged four fewer snaps than Mostert in all since both returned from IR (96-92) late last month. Mostert owns a slight edge over Wilson in carries (39-30) and rushing yards (150-121) over that time. With that said, many of you likely already know that Mostert underwent an MRI early this week on his ankle and did not practice on Wednesday. Since he had not been on the injury report since his return, his fantasy owners have every right to be concerned.
Mostert did not appear to be in any serious pain as he walked off the field with two minutes remaining in Week 14. With that said, a player doesn't typically get an MRI done just to ease his mind. HC Kyle Shanahan has to be considering the idea of shutting him down for the season if the results of the imaging tests are even slightly concerning, especially with the 49ers highly unlikely to make the playoffs. Shanahan has already suggested the reason he was sharing snaps with Wilson since they returned from IR was to keep Mostert in the lineup. If that's not working and San Francisco has little to play for, why even play him at this point?
Assuming Mostert can finish out the season, I suspect Wilson will see more snaps and touches the rest of the way even if the former remains the starter. If Mostert sits or goes back on IR, I can see Wilson getting a feature-back workload. Specifically for this week, the 49ers face a Dallas defense that has somewhat famously given up at least 208 yards rushing four times and at least 261 three times. Also somewhat famously, Shanahan likes to run the ball. San Francisco is also getting inconsistent quarterback play and will be without Deebo Samuel this week to boot.
Considering all of these factors, it is well within the range of possibilities the 49ers run 35-40 times against the Cowboys. Even if we project Mostert to be limited and receive 10 of those attempts and Tevin Coleman to get a handful (after logging only two snaps in Week 14), Wilson should have a clear path to at least 15 carries - and possibly 20-plus - while leaving a few runs for the quarterback and/or Brandon Aiyuk. A 100-yard, two-TD day is a real possibility for Wilson in Week 15 regardless of Mostert's status.
RB/WR Lynn Bowden Jr. (vs. NE)
Back in the days when I still played fantasy baseball, multi-position eligibility - or at least the prospect of it - played a somewhat significant role in the players I drafted or acquired off waivers. My favorite move was grabbing a former catcher who was being moved to another position - usually because his team valued his offense enough to not wear him down behind the plate - but still had eligibility at his old position. Fantasy football has had its brushes with that over the last 10 or so years (Marques Colston and Taysom Hill come immediately to mind), but it's been much more the exception than the rule.
With that said, I believe multi-position eligibility will become a much more common thing for fantasy football owners within the next five years. For example, if Deebo Samuel lines up in the backfield for 50-75 snaps and handles 20 or so carries on those plays in 2021, fantasy websites will have a hard time selling the public on him being a "full-time receiver." There's no question more widespread multi-position eligibility in fantasy football would have a major impact on our hobby, but the point to be made here is that the NFL is moving more in the direction of position-less football - even if it is well behind basketball in that regard. Bowden is an example of a player that could help author that change and push the game ahead in that regard.
At least for this week, Bowden is one of those few players on some fantasy websites who have multi-position eligibility now, although that superpower is the product of him getting drafted this spring to play primarily at running back for Las Vegas and working primarily out of the slot for Miami in the last three games. The Dolphins gave fantasy owners a bit of a sneak peek of the versatility he showed at the University of Kentucky and how he could be used down the road after they lost DeVante Parker, Mike Gesicki and Jakeem Grant to injury versus the Chiefs in Week 14. The third-round pick tied for the team lead with nine targets and had two opportunities to throw - one ended up as an incompletion and the other a two-yard run.
The matchup against the Patriots is admittedly not the best, but the odds that the Dolphins will be able to pound New England on the ground in the same way the Rams did in Week 14 was DeAndre Washington and maybe a limited Salvon Ahmed are low. While not every opponent will be able to force the Dolphins into a game script where they attempt 48 passes (as Kansas City did), the larger point is that many fantasy owners will have the option of putting Miami's primary slot receiver into their running back slot this week. Five catches for 55 yards in Week 15 seems like a reasonable floor for a player who might only have to fight a hobbled Parker for targets - and even his status is in question. A 10.5-point floor is not a bad one for a "running back" most fantasy owners will be able to pick up off waivers this week.
WR John Brown, Bills (vs. DEN)
Brown's inclusion here may seem like cheating, but I have picked him up in at least two high-stakes leagues over the last 2-3 weeks - including for $5 ($1000 FAAB) in one last week. It's not hard to understand why. Many owners simply could not afford to wait on him when he landed on IR following Week 10. Maybe he plays this week or in Week 16 versus the Patriots. Maybe he doesn't play in either. All I know is his high ceiling won't be on my opponents' rosters.
Why does it matter? Normally I don't like relying too much on players coming off injury layoffs, but Brown will reportedly practice this week (teams don't have to report practice participation for IR players designated to return). The Broncos' top two corners (A.J. Bouye is suspended for the rest of the season and Bryce Callahan may not return from a foot injury) will not be available Saturday. Even if we dismiss the fact that the Bills are relying more and more on Josh Allen's arm than the running game as the season progresses, the logical approach for Buffalo in Week 15 is to lean on four-wide packages and let the chips fall where they may.
While it may seem a bit ambitious for Brown to go right back to being a full-time player against Denver, Brown averaged 49 snaps in the two games following his absences earlier this season. As for what that means, the 30-year-old has logged at least 50 snaps in six games this year. In the four games in which he ran at least 35 routes, here is what happened (catches-targets-yards-touchdowns):
Week 1: 6-10-70-1 (vs. NYJ)
Week 2: 4-6-82-1 (@ MIA)
Week 9: 8-11-99-0 (vs. SEA)
Week 10: 6-8-72-0 (@ ARI)
Predicting how many routes a receiver will run in a given game or how much/little rust he will show after a layoff is almost impossible, but the elements for an explosive effort from Brown are present, especially for desperate owners: shorthanded opponent, pass-happy scheme, proven connection with his quarterback, proven ability to stretch the defense with a strong-armed quarterback who can throw it anywhere he wants. In one of the two aforementioned leagues, I have Davante Adams, Robert Woods and Antonio Brown as my only healthy receivers and need to fill a flex spot because the James Conner well has dried up and Antonio Gibson is unlikely to play. Brown is starting to feel like an appealing option in that league.
In the off-chance Brown doesn't play, most of what I said also applies to Gabriel Davis, who should be considered a decent bet to score a touchdown for a fourth straight game in Week 15 if he's not fighting Brown for looks.
WR Tyron Johnson, Chargers (vs. LV)
This is a purely speculative recommendation based on the game-time status of Mike Williams (back), who logged a mere two snaps in Week 14 before departing. Attempting to play a full game just over three days later like the Chargers will on Thursday doesn't seem like a good idea for Williams. Furthermore, Keenan Allen (hamstring) and Austin Ekeler (quad) are also listed as questionable for Week 15. Even if every Charger mentioned so far starts, it's hard to imagine each of them being able to handle their usual workloads and/or finish the game.
Enter Johnson (6-55-1 on seven targets), who nearly bested Allen (9-52-1 on 11 targets) against Atlanta on four fewer targets. He was clearly the preferred option over Jalen Guyton (1-8-0) despite running four fewer routes than his fellow backup receiver (40-36). Johnson's volume in the short passing game came as a surprise after four of his six career catches entering the game covered at least 50 yards. However, his Week 14 effort marked the second time in three games that he enjoyed the performance that was at least somewhat relevant in fantasy (2-63-0 on four targets in Week 12).
Again, last week's performance probably doesn't happen if Williams doesn't make an early exit, so Johnson would be a huge risk to start in fantasy leagues if the former is active Thursday night (he's a bold call even if Williams is inactive). Thus Johnson is probably best viewed as a high-upside punt in DFS in either scenario. The beauty of Johnson this week is that Las Vegas-Los Angeles should be a relatively high-scoring game, so there will be chances for multiple members of each team's supporting cast to chip in - particularly the ones that aren't household names. Based on his brief NFL career, Johnson has a one-catch floor. However, based on the Chargers' current injury report, he could have a 20-point ceiling.
TE Irv Smith, Vikings (vs. CHI)
Smith is a player I have discussed from time to time in this space, perhaps in more detail in Mining for Gold than any piece in 2020. Unfortunately, Smith lasted only three more games before succumbing to injury after the Week 7 bye when that article was done. He returned from that layoff just in time to replace an injured Kyle Rudolph in Week 14 and the results were wonderful for people who love seeing tight ends capable of scoring 16-plus fantasy points do so on the waiver wire. Rudolph has not practiced since getting hurt in Week 13 and Minnesota signed another tight end (Hale Hentges) off of the Colts' practice squad, giving them four on the roster (that's a lot, especially when one of them is not a long snapper). That indicates the team is at least mildly concerned about Rudolph's foot injury despite their somewhat optimistic "doubtful" listing for him on the Week 14 injury report. In short, there's a decent chance Smith will be able to push for 40 offensive snaps for the first time since Week 8.
Using their first meeting as a template, the Bears are unlikely to let Justin Jefferson steal fellow rookie Jaylon Johnson's soul like he in Week 10 on the left side of the offensive formation. Maybe that means more Adam Thielen, but LCB Kyle Fuller has been very good for most of the season despite a couple of recent hiccups. And generally speaking, we can expect Chicago's run defense to be pretty good whenever Akiem Hicks is in the lineup, so it may not be a Dalvin Cook party either.
This sets up very nicely for Smith in what could approach a full-time role. The Bears are the third-friendliest fantasy matchup for tight ends in PPR formats, having surrendered double-digit performances to Gerald Everett (12.8), Jared Cook (16.1), Jonnu Smith (11.2), Robert Tonyan (17.7) and T.J. Hockenson (15.4) over the last seven games. Irv Smith is easily in the Everett and Cook class. With enough of Minnesota's more traditional offensive avenues likely being impeded in this meeting, it could serve as a funnel for Smith.
---
Doug Orth has written for FF Today since 2006 and been featured in USA Today's Fantasy Football Preview magazine since 2010. He hosted USA Today's hour-long, pre-kickoff fantasy football internet chat every Sunday in 2012-13 and appears as a guest analyst on a number of national sports radio shows, including Sirius XM's "Fantasy Drive". Doug is also a member of the Fantasy Sports Writers Association.