The biggest surprise nearly one-quarter of the way through the season is the emergence of Cordarrelle Patterson. In an offense that has yet to find a way to unleash established stud Calvin Ridley and a generational talent in Kyle Pitts, Patterson is making a mockery of all kinds of efficiency standards.

I will not pretend as if I saw this coming, but I must admit I made an error in judgment in August regarding him and his place on my Big Boards. We knew before the start of the season that Patterson was going to be the primary backup to Mike Davis. As I mentioned two weeks ago, I was quite skeptical of Davis. So why did I not include him in my rankings? There is a multilayered answer to that question, but the primary problem was there was no universal agreement on his primary position among the major fantasy host sites. Part of the formula that helps me arrive at the SSI score to rank the players for my Big Boards is position-specific, which would result in a fairly significant difference in where he would land in my rankings.

There was also the small issue of having no idea how many sites listed him as a running back and how many listed him as a receiver. There isn't even consistency on the issue on the same platform as we begin October. For example, the majority of my leagues this year are hosted by MFL. In the experts' leagues I participate in there, Patterson is still listed as a receiver. In my money leagues run by APEX (hosted by MFL), he was a receiver for at least the first two weeks of the season before he was recognized as a running back. As far as I know, ESPN had him listed as a running back the whole time.

Because of all the confusion about how host sites would handle his position, I excluded him from the rankings. It seems obvious to me now how I should have handled the situation: make a note at the bottom of my Big Board articles indicating where I had him ranked as a running back and where he would have been if he was listed as a receiver. Why does any of this matter? Because I felt like he had a chance to be relevant. It became obvious to me after watching him on NFL Game Pass in Week 1 that he was going to have a substantial role in the Falcons' offense. As a result, I picked him up in roughly 10 of my leagues before the start of Week 2 and added him in two others with a hefty FAAB bid the following week. I have traded him away in one league since then, leaving me with 11 shares of him on 18 teams.

This is not a humble brag so much as it is an admission of what I feel was a bad decision just over a month ago. (Not an Urban Meyer kind of bad decision, but you get my point.) Part of the beauty of being a fantasy analyst with a platform such as this column is that each of you should be able to benefit from my analysis or the conclusions I reach whenever I reach them - assuming you choose to rely on my advice. I am not sure an apology is necessary here, but I do feel as though I have failed each of you in some small way.

Nevertheless, the purpose of this week's column was not to issue a lengthy apology, but rather dive into what is allowing Patterson to be so successful through four games. After I do that, I want to spend the rest of my time identifying players who have a reasonable shot to go from rags to riches in the fantasy world - maybe not to the degree Patterson has though - over the next month or so.

****************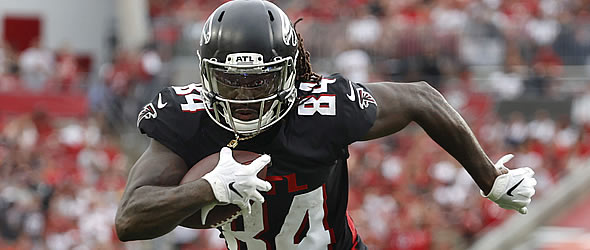 A large part of figuring out how someone is enjoying so much success in football usually comes down to utilization and the amount of opportunity he is receiving. Patterson has played no more than 26 offensive snaps in any game so far this season. As we might expect from a player listed as a running back, he has lined up in the backfield on 64 of 97 snaps (66 percent). He has been deployed out wide 15 times and in the slot 14 times. He has also lined up as a Wildcat quarterback once and as an inline tight end three times.
Digging a bit deeper, he has been on the field for 65 pass plays through four games and ran 51 routes. (For some level of context, Nick Chubb has been on the field for 64 pass plays and ran 49 routes.) The big difference between Patterson and someone like Chubb is how often the former sees a target; the opportunity share for both players is remarkably similar. Patterson has been targeted on 20 of his 51 routes (39 percent) and given an opportunity (carry or target) on 48.5 percent of his offensive snaps. Chubb has played 143 snaps, carried the ball 69 times and caught all four of his targets on his 49 routes run, which means he has been targeted on 7.8 percent of his routes. His opportunity share is 51 percent.
Think about that for a second. Chubb was a first-round pick in most fantasy drafts. While Patterson is playing significantly fewer snaps overall, he is getting the ball at roughly the same rate and a priority in the passing game. If a player is getting the ball on roughly every other snap he is in the game, he doesn't need many plays to pay off in fantasy. His opportunity share has been consistent through four games. The thing that has made him spectacular - at least in two of his games - is his touchdown efficiency. Five touchdowns on 45 touches is a pace that makes 2018 and 2020 Alvin Kamara jealous. In case you don't recall, Kamara averaged one score every 15.2 touches in 2018 and one score every 12.9 touches last season.
Kamara has shown us that ridiculous touchdown efficiency is repeatable, but let's not make the mistake of thinking that 1) Patterson is Kamara and 2) this Atlanta offense is capable of doing what the Saints have done in recent years. Of course, regression will hit Patterson. The odds are very favorable he will not end 2021 with 20 touchdowns on 180-ish touches. He has caught 90 percent of his targets. That will probably drop down at least 10 percent. Does that mean he cannot be a lesser version of pre-2021 Kamara? I'm not sure we should discount the possibility.
How is that possible? All we hear is that he is a 30-year-old journeyman on his fifth team in nine seasons.
The knock on Patterson throughout his career is that he has not been able to absorb an NFL playbook. (It is part of the reason why he has been pigeonholed as a kick returner for so long.) If there is any degree of truth to that - something multiple scouts and general managers have reportedly said - it is just another indication of how often coaches still believe players should fit the system and not the other way around. It should have been fairly obvious along the way that some Patterson - even as a gadget player - is better than no Patterson. New England teased us with Patterson in 2018 when it relied on him at running back to get through a game or two as injuries were affecting the roster. We know he has running back skills. He is 6-2 and 220 pounds, so we know he has running back size. He is one of the best kick returners of all time, so we know he can find a hole and accelerate. Anyone that has seen at least a couple of his receiving touchdowns knows he can make people miss in space and play through contact.
HC Arthur Smith has yet to find the secret sauce that allows all of his studs to eat at the same time, but it is becoming obvious he identified Patterson as a matchup weapon rather quickly. His logic: run Patterson just enough to create doubt in the defense so that he can have a favorable matchup in the passing game when he needs it. (To that end, Patterson has at least six rush attempts - and no more than seven - in every game so far and at least six targets in his last three.) When a play-caller can create doubt in a defense's mind about the use of a specialist like Patterson, the defensive coordinator is unlikely to downsize his defense (from nickel to dime, for example) to match a cornerback up with Patterson. This leads to what we've seen from Patterson so far - too fast and skilled for a linebacker to guard, too big for a safety - which is what we are accustomed to hearing about tight end prospects. Lining up Patterson in the backfield also ensures that he doesn't have to deal with physical coverage off the line of scrimmage. As long as defenses continue giving Patterson that linebacker/safety matchup when he is lined up in the backfield, Smith will likely continue to use him underneath and allow him to do his thing after the catch, particularly in the red zone.
I can pretty much guarantee each of you he will not remain as the overall RB3 and/or WR5 in PPR scoring. (For what it is worth, his opportunities are very similar to RB43 Myles Gaskin.) However, the way he is being utilized now - and how often he sees the ball when he is on the field - should remain a constant. As long as fantasy managers understand that his TD rate is what is out of the ordinary and don't count on that moving forward, he should be a mid-range or low-end RB2 in fantasy at worst. Week 1 (8.7 fantasy points) and Week 3 (16.2) should be the expectation moving forward, not Week 2 (23.9) and Week 4 (34.6). Expect the floor he has provided so far and hope for the occasional ceiling.
The beauty of Patterson is that he is both a great sell-high and hold for fantasy managers. If there is that one manager in your league who is willing to part with high-end WR1 or top-10 running back, pull the trigger. I realize most fantasy managers will not do that and probably will not change their minds until the industry reaches a consensus that he is no longer a fluke. (People like having their opinions confirmed by "experts.") The other option is to hold, which is not a bad thing in this case. Patterson isn't going to lose his 12 to 14 weekly touches - 40 percent of which have been catches so far - as long as he keeps making Smith look like a genius. Eight of Patterson's 45 touches have come in the red zone, so he likely has a few more boom weeks in him.
****************
To be as helpful as possible to as many people as possible, I'm going to set the bar at players who are rostered in 30 percent or less of ESPN and MFL leagues. I also want to try to avoid players who may be stashed on IR, although that will not be the case at running back. Think of this as more of a "get to know you before I have to get to know you" piece rather than "next week's hot waiver wire add today" piece.
QB Tyler Huntley, Ravens
ESPN - 1%
MFL - 8.8%
Huntley most notably came on in relief of an injured Lamar Jackson in Baltimore's Divisional Round loss to the Bills last season. He threw for 60 yards and ran for 32 more in a quarter of work. Was he wildly impressive in that game? Well, it depends on what your criteria are. For the sake of this article and the dual-threat ability most managers want from their fantasy quarterbacks in 2021, he is exactly the kind of player we should keep in mind.
So far this season, Lamar Jackson has dealt with a sore hip, a non-COVID illness and a back "flare-up." This summer, he was sidelined with COVID. He missed a game last year after testing positive for COVID. While he has dialed back the rush attempts in the last two games, he is still on pace for nearly 180 this season. Can you see where this is going? The reason Huntley is the primary backup to Jackson is that the offense won't have to change much to play to his strengths if/when Jackson misses time. Huntley isn't quite the runner or passer that Jackson - there is a reason he was undrafted - but he is certainly an above-average athlete who completed 73.1 percent of his passes in his final year in college. In that season he averaged 10.3 yards per attempt and 10.8 adjusted yards per attempt (a metric that accounts for passing yards, passing touchdowns, interceptions and passing attempts).
For those interested, the adjusted yards per attempt formula is below:
(pass yards + 20*(pass TD) - 45*(interceptions thrown))/(passing attempts)
When we consider the Ravens are passing at a higher rate this year than they ever have with OC Greg Roman calling the shots and are as deep at receiver as they have been in years, Huntley is one (likely?) injury to or absence from Jackson away from entering the low-end QB1 conversation. He is essentially a poor man's Trey Lance or Justin Fields that is not on anyone's redraft radar.
RB Jeff Wilson, 49ers
ESPN - 7.6%
MFL - 22%
As many are likely aware, Wilson underwent meniscus surgery in May and was given a timeline of 4-6 months. We have passed the most aggressive portion of that timeline (late September) and already know he has started to run. "Starting to run" is a good sign, but no one should read that as he is two weeks away from playing in a game. There is a real possibility we will not see him until November. Even then, there is no guarantee he is back to his pre-injury self or steps back into a meaningful role. With that said …
Elijah Mitchell lasted two games before hurting his shoulder and Trey Sermon doesn't appear to have HC Kyle Shanahan's trust in the passing game. While Wilson's durability has been a question through his first three NFL seasons, we can feel reasonably good that Shanahan trusts him in the passing game and at the goal line.
Wilson made three starts last season and averaged 21.7 fantasy points in those contests. In the seven games in which he touched the ball at least 10 times, he averaged 74.3 rushing yards, 1.4 touchdowns and 19 fantasy points. His relative lack of speed and explosiveness probably ensures Mitchell will remain involved - giving this backfield a thunder-and-lightning effect - once Wilson returns, but there is no guarantee of that. The clock is really taking on Sermon, however, as he was drafted in part to be the long-term physical complement in the Tevin Coleman and Wilson role. If Sermon hasn't put a stranglehold on that role by the start of November, then Wilson really becomes intriguing. And in case you don't remember, I want all of the exposure I can get to the San Francisco offense in the fantasy playoffs this season.
RB Darrynton Evans, Titans
ESPN - 2.1%
MFL - 13.8%
We have a total of 14 carries and two catches over five games last year to go on with Evans. Unfortunately, a hamstring injury dogged him for most of 2020 and a knee injury in the first preseason game landed him on IR this summer. He was designated for return on Wednesday (Oct. 6), opening up a 21-day window to practice before the team has to decide to activate him or keep him on IR. Much to my (pleasant) surprise, new OC Todd Downing has simultaneously relied MORE on Derrick Henry AND passed more often than predecessor Arthur Smith.
While some of that is a product of the kind of games Tennessee has been in so far (two overtime games has contributed to the unexpected play volume), there is little question the running backs have been highly involved in the passing game by design, averaging nine targets and 7.3 catches per game so far. Last season, Tennessee running backs were targeted about 3.5 times per game and averaged just under 2.5 receptions.
However, this is not merely a recommendation for Evans returning from IR to replace Jeremy McNichols and fill the pass-catching role that Tennessee had in mind for him when it drafted him in the third round last year. It is also a hedge that the Titans - or fantasy managers - cannot expect Derrick Henry to continue handling 31.8 touches per game (a 17-game pace of 540). Either a few of those touches are going to go to Evans and McNichols by choice or Downing will be forced to replace Henry when he begins to fade or gets hurt.
To that end, Evans was impressing before going down, handling a "big workload" in training camp. There is no such thing as a one-for-one replacement for Henry anywhere in the league, but Tennessee doesn't even have anything close to another big back available outside of FBs Tony Carter and Khari Blasingame. The most likely early-down replacement for Henry on the roster heading into Week 5 is 208-pound Mekhi Sargent, who is also the biggest non-Henry running back on the roster. While McNichols has some obvious chops in the passing game, he only has 55 carries to his name since he was drafted in 2017. The Titans likely have no desire to use him any more or any differently than they already are.
McNichols' current standing as the overall RB34 is enough proof that Evans' likely role will have some value in fantasy. The difference here is that Henry is handling so much work right now that two backs could enjoy some level of flex value if he misses a game or more. There is also reason to believe Evans would lead a committee if the Titans had to experience life without Henry.

*** I know he doesn't quite qualify for this article, but try to find some room on your roster to stash Rashod Bateman (13.4 percent on ESPN, 31.9 percent on ESPN). He could easily overtake Sammy Watkins (WR49) and step into a full-time role a week or two after he is activated. Do not be surprised if he emerges as Lamar Jackson's primary target at receiver sometime in November. He should have a solid WR4 floor and WR3 upside once his conditioning is no longer an issue.
WR Tavon Austin, Jaguars
ESPN - 0.0%
MFL - N/A
This one is the longest of long shots. The common-sense replacement for D.J. Chark is ex-Charger Tyron Johnson. However, Johnson has yet to play more than 10 snaps this year. Austin played 22 snaps in his season debut on Thursday night against the Bengals, logging 41 offensive snaps. Austin didn't do much with his opportunities, catching one of his three targets for eight yards, but he happens to fit the profile of the Swiss Army knife players that HC Urban Meyer has gravitated toward throughout his career (Curtis Samuel, Percy Harvin, etc.). He is also the kind of player Meyer sought in the draft (Kadarius Toney).
I am not suggesting Austin will eventually fill the role Meyer had in mind for Travis Etienne, but I also won't discount the possibility of Jacksonville trying it. Whether the Jaguars attempt to do that or have Austin work solely as Chark's replacement, the third receiver in this offense should not lack for opportunity. Chark's absence could funnel more targets to Marvin Jones and Laviska Shenault (and eventually Dan Arnold), but it seems unlikely those two receivers will pick up most of Chark's 7.3 targets per game when they are already combining for 15-plus. While the Jaguars have significantly lowered their passing game volume since attempting 51 passes in the opener, one has to wonder if that will continue with upcoming games against dangerous offenses such as the Titans, Seahawks and Bills. While Arnold could easily end up being the biggest beneficiary, I believe Meyer & Co. will not resist the temptation to see if they can do what no other coaching staff at any of Austin's previous stops have been able to do: find a way to tap until the skillset that once made him a first-round pick. Perhaps most importantly, I believe Trevor Lawrence can make three receivers relevant in fantasy.
TE Tommy Tremble, Panthers
ESPN - 0.8%
MFL - 26.7%
As I insinuated in the previous paragraph, Dan Arnold is someone fantasy managers should keep tabs on over the next few weeks. Although the current Jacksonville regime was not very high on CB CJ Henderson, it still says a lot that the Jaguars were willing to deal their 2020 first-round pick to pick up a tight end they targeted in free agency. It also says something that Arnold logged 18 snaps last week, just days after he was acquired. For fantasy managers hoping for a Dawson Knox emergence from a readily available tight end, Arnold is one of the better bets.
With that said, the primary reason Carolina was willing to part with Arnold was how comfortable it was with Tremble's development. The rookie did not experience an immediate or meteoric rise in playing time or production as a result of the trade in Week 4, but that doesn't mean he won't eventually. The odds are very much against him becoming a thing in this offense this year; D.J. Moore and (eventually) Christian McCaffrey will hog about half of the targets. However, my ears (and eyes) perked up when HC Matt Rhule noted after the trade that Tremble is "this year's Jeremy Chinn." That was just days after the Panthers used him on an end-around touchdown run in the red zone. Offensive coordinators do not typically dial up running plays for their tight ends during a Thursday night game just because they have an urge to use something from the back of their playbook. Among other things, Tremble was being rewarded for his progress. Perhaps just as importantly, offensive coordinators only run plays like that with their tight ends when they love their athleticism, which is part of the reason why I buy into Tremble as someone who can make an impact at some point this season.
Consistency will be hard to come by for everyone in this offense who isn't Moore or McCaffrey, but the Panthers' ancillary players - such as Robby Anderson and Terrace Marshall Jr. - will get theirs on occasion because the offense is going to be that good. Tremble may not be on the level of Anderson or Marshall yet, but you can bet that a tight end with his athleticism (4.65 speed and 36-inch vertical on his 250-pound frame) will be able to embarrass a linebacker or two down the seam over the next month or two.
---
Doug Orth has written for FF Today since 2006 and been featured in USA Today's Fantasy Football Preview magazine since 2010. He hosted USA Today's hour-long, pre-kickoff fantasy football internet chat every Sunday in 2012-13 and appears as a guest analyst on a number of national sports radio shows, including Sirius XM's "Fantasy Drive". Doug is also a member of the Fantasy Sports Writers Association.