FOX aired a 1 1/2-hour tribute to the legendary John Madden on Christmas Day. It wasn't nearly long enough to sum up what he meant to the game, so I do not expect to do it in a few paragraphs. What I can do is try to articulate the impact he had on my love for the game.

Madden died unexpectedly at his home on Dec. 28 at the age of 85. The term "football lifer" is thrown around a lot nowadays, but perhaps no one embodied or epitomized that term more than Madden. His professional coaching career started in 1967 - just months after the first Super Bowl took place - when the Oakland Raiders hired him as a linebackers coach. He remained a central part of the game for the next 42 years until he announced his retirement from the broadcasting booth in 2009, although the only thing that changed much over the final 12 years of his life was how often he was in the public eye. There are numerous accounts from other "football people" who visited Madden at his home about how plugged into the NFL he still was in his retirement.

Perhaps the only thing bigger than his larger-than-life personality was his impact on the game as a whole. One of the better summations of his impact was from NFL Network's Rich Eisen, who was shocked to learn that Madden wasn't already in the Pro Football Hall Of Fame when he was inducted in 2006. As many have stated over the years, Eisen believed then that Madden could have been inducted into the Hall three times - as a coach, broadcaster and/or an innovator/contributor - and no one would have likely batted an eye.

I recall listening to the iconic broadcast team of Madden and Pat Summerall beginning around the mid-80s, but his true impact on my life came about 20 years later when the Electronic Arts' video game bearing his name began to push the envelope in regards to authenticity. Although I played high school football, I undoubtedly learned more about football strategy from his tutorials in the video game series than I did from any coach. Madden earned his degree in teaching and loved football as much as anyone ever has, so it was only natural that both of those passions manifested themselves into his work - whether he was broadcasting a game or "coaching" us up in the video game.

One of the reasons I felt confident starting Inside the Matchup on this site back in 2006 is how much I learned from Madden by playing the video game. Little did I know at the time that I would still be talking football (and maybe teaching others a bit about the game in the process) 15 years later. More than any "boom" he ever uttered or Brett Favre story he told, Madden helped shape my football mind into what it is today.

As I have done in recent years, I will devote the final Blitz of the season to answering reader questions in hopes I can assist them in winning fantasy championships. Thus, the rest of the column this week will answer lineup questions for Week 17 (assume PPR scoring unless otherwise specified):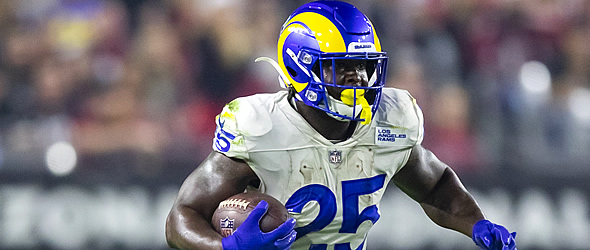 weepaws: James Conner, Javonte Williams, Sony Michel or Devin Singletary?
Given Wednesday's (Dec. 29) announcement from HC Kliff Kingsbury that Conner (heel) would be a game-time decision, it is probably OK to eliminate him from the conversation. Singletary is a bit of an interesting case in that he appears to be taking over the Buffalo backfield at just the right time for fantasy managers. With that said, he has rushed for less than four yards per carry in four of his last five games (and the one exception was a game in which the Bills did not give a carry to a running back in the first half). Buffalo has shown little ability to establish the run and even less interest in making it a priority, which makes Singletary a good bet to disappoint in any week he does not score a touchdown. The Bills' Week 17 opponent (Atlanta) has done a respectable job keeping running backs somewhat in check over the last six games; only a pair of backs with 20 or more touches against them have returned solid RB1/2 value (Leonard Fournette, Jeff Wilson).
This leaves us with Williams and Michel. While Williams flashed his RB1 upside in Weeks 12-14 as Melvin Gordon was dealing with a hip issue, he has returned to what he was before the injury in the last two games - a back still very much in a strict split committee with Gordon. The one thing that makes this question more difficult to answer is a matchup against the Chargers, who just surrendered 149 rushing yards and two touchdowns to freaking Rex Burkhead.
Conversely, Michel should have the backfield mostly to himself for at least one week following the recent announcement that Darrell Henderson (knee) was placed on IR. While there appears to be a small chance that Cam Akers (Achilles) will see his first action of the season this weekend, it is a near certainty it would be in a bit role. Michel has emerged as a workhorse over the last month. Baltimore is not a great matchup for fantasy running backs, but last week's effort against the Bengals (not to mention the combined efforts of Aaron Jones and AJ Dillon one week earlier) is enough evidence that the Ravens are not necessarily a matchup to avoid. With Baltimore's offense struggling to score more than 21 points most weeks, Michel should have another opportunity to handle 20-plus touches. I would not hesitate to start him as an RB2.
jackjohn: (PPR; bonus for 100 yards rushing/receiving and 40-plus yard plays) Pick three of the following: CeeDee Lamb, Justin Jefferson, Antonio Brown, Jaylen Waddle and Amon-Ra St. Brown?
Kudos to a receiver room that any fantasy manager would be proud of in 2021. Even with five wideouts who are considered the top receiver on their respective teams, Jefferson and Brown stand out from the rest of the pack. Jefferson is an even more obvious pick than usual given Wednesday's news that Adam Thielen will miss the rest of the season due to ankle surgery. Brown is not quite as obvious as Jefferson, but Tampa Bay will likely be without Mike Evans (hamstring, COVID list) for at least one more week. The current competition for targets includes Cyril Grayson, Scotty Miller, Breshad Perriman and Tyler Johnson. Brown returned from a 2 1/2-month absence in Week 16 to draw 15 targets against the Panthers. There is no telling how high his ceiling is versus the Jets if the Bucs decide to lean on the pass more than they did last week.
Finding the third starter out of this bunch is a bit trickier. Lamb has WR1 upside but has only been the best fantasy receiver on his own team six times this season. Waddle is seeing massive volume but is averaging less than 10 yards per catch. St. Brown is much like Waddle in terms of his volume and production (at least recently), but how much does the potential return of D'Andre Swift eat into the former?
On the plus side for Lamb this week, the Cardinals have been very gracious to slot receivers for most of the season. Another feather in his hat: Dak Prescott has been significantly better at home (20 passing TDs, two interceptions, 117.9 passer rating) than on the road (9, 8, 86.6). Week 17 is a home game. While it is true that the Cowboys' road schedule has been more challenging, it is hard to make the case that the difference is significant - and certainly not to the point where Prescott would be Aaron Rodgers at home and Baker Mayfield on the road. Working against the Lamb is that he has been a virtual non-factor for most of the season at AT&T Stadium. I'm not sure how it is possible or if it is even worthy of being considered when making lineup decisions, but the fact remains that he has only been a good fantasy start in two of the six games he has played in Dallas this year. My stance on Lamb is the same as it was before the season: he has two other studs at his position to share the ball with, two running backs that demand targets and a tight end Prescott trusts in Dalton Schultz. The one variable that has changed from this summer (and it is not good for Lamb) is the degree to which Dallas has improved its defense, thereby lowering Prescott's overall passing-game volume.
Waddle lacks Lamb's TD upside, but he might as well be the only show in town whenever Tua Tagovailoa is under center. In the last four games the former college teammates have played together, Waddle has seen no fewer than nine targets and scored at least 18 fantasy points. Going back even further, the No. 6 overall pick has attracted at least eight targets in every game Tagovailoa has started since the opener. He may not be Cooper Kupp in terms of production, but he is consistently getting about as many looks as the runaway WR1 in fantasy this season.
The option that scares me the most is St. Brown. Including the Thanksgiving Day game in which Swift injured his shoulder, the rookie wideout posted 39 catches for 352 yards and no TDs (74.2 fantasy points). During Swift's four-game absence, St. Brown has 35 catches for 340 yards and three TDs (89.6). In his first 10 games, he had 52 targets. In his last four, he has 46. Swift was the team's de facto top receiver before getting hurt, so it is hard to believe that he won't significantly eat into St. Brown's opportunities when he returns. Has St. Brown done enough to maintain fantasy starter status? Yes. However, I think it would be a mistake to assume he will see another 11 or more targets for the fifth straight week if Swift plays in Week 17.
Thus, I would feel comfortable starting Jefferson, Brown and Waddle from the above group.
easilyscan: (Non-PPR) Hunter Renfrow or Michael Pittman Jr.?
This question may not have a good answer until Sunday morning. Carson Wentz's fifth day in COVID-19 protocol will fall on game day, per HC Frank Reich. Also according to Reich, if Wentz clears the protocol on Sunday morning, he will start. If he does not, Reich will roll with rookie Sam Ehlinger. In such a scenario, Renfrow is an easy choice over Pittman.
However, if Wentz does clear, can he perform at a high level after missing practice all week? Furthermore, how much should any fantasy manager count on a receiver - even if he is the clear top wideout - in an offense that is averaging 20.6 pass attempts over the last three contests? Those two questions alone make me question how great of a fantasy start Pittman would be even before the matchup against the Raiders is considered. As I noted a few weeks back in the Dirty Dozen, Las Vegas CB Casey Hayward Jr. is a matchup to avoid. In fact, the Raiders' secondary has been bad news for opposing receivers for most of the year. Josh Gordon is the only wideout to score a touchdown against the Raiders since Ja'Marr Chase managed to do so in Week 11. Only two receivers over that time have reached double figures in fantasy points, and both of them play on the same team (Cowboys). The combination of a potential Hayward shadow for a large part of the game and the lack of touchdown upside against an underrated pass defense is enough to scare me off Pittman (and all of this assumes that Wentz does not skip a beat).
Renfrow has been pretty much money in the bank - certainly relative to his fantasy draft position - since the start of the season. Volume concerns have become an issue recently with only eight targets in his last two games combined following a stretch during which he saw nine targets in three of his previous four. Should that be enough to concern fantasy managers? Probably not. Renfrow's slow night in Week 15 was primarily the result of Cleveland trusting its run defense enough to sell out and defend him. The combination of Denver's talented secondary and a mere 25 pass attempts from Derek Carr in Week 16 resulted in another lackluster fantasy performance. Indy's Kenny Moore has made himself into a very good slot corner, so Renfrow's matchup isn't great either. However, there is almost no chance Las Vegas attempts only 25 passes against the Colts. With the Raiders struggling to run the ball, they could very easily use Renfrow as an extension of the running game this weekend.
Regardless of Wentz's status, I would roll with Renfrow in a dome with a familiar face a quarterback over a receiver trying to create instant chemistry with a rookie quarterback making his first career start - especially one who drew Taysom Hill comps during the draft process.

JOHN 316: One RB: Darrel Williams or Jeff Wilson? Flex: Williams/Wilson or Hunter Renfrow? Bucs or Bears DST?
Since I addressed Renfrow above, I will spend the bulk of my time on the running backs and discuss why I prefer them.
Even if we assume Renfrow sees the volume he was accustomed to over the first 14 weeks of the season, the last time the Colts surrendered more than 11.8 fantasy points to an individual receiver was Stefon Diggs in Week 11 (4-23-2). The most receptions any receiver has managed against Indy over the second half of the season is seven. No wideout has topped 52 receiving yards over that time, while Antoine Wesley and Diggs are the only two receivers to score a receiving touchdown against the Colts since Week 9. I think Renfrow can push a few of those marks - something like six catches for 50 yards - but there isn't much upside here.
Williams faces a similar challenge with a Bengals' defense that has improved dramatically over the last month or so. Cincinnati hemorrhaged fantasy points to running backs over the first half of the season, but it has been a much different story since the team's Week 10 bye. Austin Ekeler is the only back over that time to top 12.1 fantasy points. This change of fortune is not the byproduct of facing a bevy of committee backfields or chumps at the position (Najee Harris, Melvin Gordon and Javonte Williams among them).
So what makes Williams different? He has the best supporting cast of any opponent, allowing Kansas City running backs to operate against light boxes. It's not hard to commit as many resources as necessary to running backs when Pittsburgh and Denver lack the quarterback play to scare a defense. The Chiefs are the most like the Chargers among the teams the Bengals have played since their break, and Cincinnati gave up 41 points to the Chargers in Week 13. With Clyde Edwards-Helaire (shoulder) unlikely to play in Week 17, Williams should go right back to the volume he enjoyed when CEH missed five games (18.6 touches per game from Weeks 6-10). The combination of likely positive game script, RB1 volume and a defense that cannot key on Williams is enough reason to trust him despite what appears to be a difficult matchup.
Recommending Wilson is a bit dicier right now, if only because Elijah Mitchell (knee) could return this week. If he doesn't, Wilson could be a top 10 play this week against a Houston defense that just made Justin Jackson look like an all-pro. What is clear is that Wilson is no longer feeling the effects of the knee injury that delayed his season debut until Week 10. Mitchell's activation is the only reason why Wilson should not be in starting lineups this week.
It is not hard to understand why many fantasy managers are flocking to the Bears DST this week. The Giants (Chicago's opponent) have failed to score more than 13 points in five of their last six games and appear to be leaning toward playing both Mike Glennon and Jake Fromm this weekend. Meanwhile, Tampa Bay's defense is beat up. Among those who have been ruled out or are expected to miss the game include Lavonte David, Shaq Barrett, Sean Murphy-Bunting, Jamel Dean and Antoine Winfield Jr.
At this point, the Giants are probably the more inept offense among the New York teams, but I struggle with putting my trust into a defense like the Bears that surrenders a ton of rushing yards and has not forced many turnovers despite compiling 42 sacks. While Chicago is certainly a decent option this week, I would rather go with a Bucs' defense that has something to play for and still has playmakers on every level. Even though Zach Wilson has been playing better since returning from injury, it will be on him to carry the offense with Tampa Bay likely to smother New York's rushing attack. Further helping matters is that the Bucs will probably ride their rushing attack against the league's worst run defense and shorten the game.
---
Doug Orth has written for FF Today since 2006 and been featured in USA Today's Fantasy Football Preview magazine since 2010. He hosted USA Today's hour-long, pre-kickoff fantasy football internet chat every Sunday in 2012-13 and appears as a guest analyst on a number of national sports radio shows, including Sirius XM's "Fantasy Drive". Doug is also a member of the Fantasy Sports Writers Association.