As discussed in this space last week, the remainder of my postseason columns will feature my NFL.com Playoff Challenge roster (for as long as applicable), followed by my weekly league predictions and DFS advice.

NFL.com Playoff Challenge Roster
QB: Patrick Mahomes
RB: Cam Akers
RB: Jerick McKinnon
WR: Cooper Kupp (x3)
WR: Tyreek Hill
TE: Travis Kelce (x3)
K: Harrison Butker (x3)
D/ST: Chiefs
DraftKings
Below you will find my position-by-position projections. Please note I have included DraftKings' dollar value for each player, followed by his projected point total. Each position is sorted by my DraftKings' projected point total.

Key for quarterbacks, running backs, receivers and tight ends:
P Yds - Passing Yards
P TD - Passing Touchdowns
INT - Interceptions
Ru Yds - Rushing Yards
Ru TD - Rushing Touchdowns
Rec Yds - Receiving Yards
Rec TD - Receiving Touchdowns
Rec - Receptions


DraftKings got the pricing right at this position this week. Mahomes is the clear top option on the board, although Burrow has already proven he can go toe-to-toe with the Kansas City quarterback if/when necessary. No one can question Mahomes being the top-priced quarterback, even if the only criteria was how he has performed in the playoffs so far. In both playoff games so far, Mahomes has topped 40 DK points. He is making an impact as a runner (98 rushing yards and a touchdown) and just hung 42 points on the league's top-ranked scoring and total defense. Kansas City has scored at least 31 points in all but one game since Week 13 (28 against Denver in Week 18), so the odds are very good he will account for at least three touchdowns in this game as well.

With the memory of his Week 17 dissection of the Chiefs (and his amazing two-week finish to the regular season) likely still fresh in many people's minds, Burrow makes a ton of sense as a pivot from Mahomes - especially since he comes at an $800 discount. His supporting cast (at least at the skill positions) is every bit as good - if not better - than what Mahomes has to work with each week. However, the offensive line is a problem that will not be getting any better until the offseason. The Bengals were lucky to win last weekend with Burrow taking nine sacks - increasing his season total to 62 - and are likely to find themselves in more obvious passing downs this week. It does not help matters that he has thrown for only two touchdowns this postseason either.

Without factoring in his matchup this week, Stafford would appear to be the best non-Mahomes option at quarterback. He has accounted for three touchdowns (two passing, one running) in both postseason contests and priced $1100 cheaper than Kansas City's signal-caller this week. While past performance does not guarantee future results, Stafford has averaged about 240 yards passing in the Rams' losses to the 49ers this season, throwing two interceptions in each game. San Francisco is among the best in the league at getting pressure on quarterbacks and often does so while rushing just four. While Stafford has been among the best in the league this season against the blitz, he owns a passer rating of 81.6 under pressure. HC Sean McVay's ability to dial up some screens and other quick-hitters in Round 3 of this NFC West rivalry figures to play a critical role in the Rams ending their six-game losing streak to San Francisco. Another concern is that San Fran has not surrendered more than two total touchdowns to a quarterback since Carson Wentz did so in Week 7.

It is almost laughable that Garoppolo is quarterbacking a team that has made it this far. He has yet to throw for a touchdown this postseason (versus two interceptions) or top 172 passing yards. He has failed to throw for more than one score in five straight. The fact San Francisco is still around is a credit to how good HC Kyle Shanahan is at his job and how proficient San Francisco is at wearing down its opponents. Garoppolo has not accounted for more than two touchdowns in any game since Week 6 of the 2020 season, so he is a longshot to pay off as a contrarian play this weekend.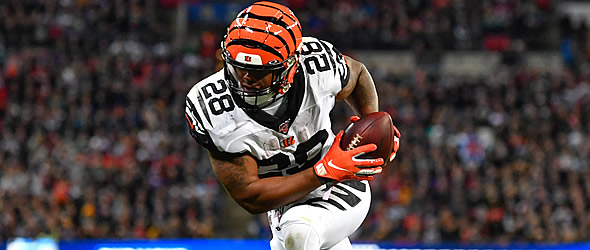 Running back is a bit of an oddity this week in that there should be at least three volume plays, but none of them is overly appealing. Mixon and his recent usage in the passing game may be the one exception. My fear with Mixon last week was that the Titans' season-long ability to limit the effectiveness of running backs in the passing game - as well as their front seven against the run - was going to limit his upside. However, he popped loose for a gift score in the red zone and served as a steady outlet to help Cincinnati overcome the complete sieve that was its offensive line. The Bengals' best shot at winning this week is avoiding the kind of shootout they won against Kansas City in Week 17 and shortening the game as much as possible, which makes a 20-touch day very likely for Mixon. Including playoffs, running backs have only accounted for 10 touchdowns in 19 games versus the Chiefs this season, so a huge game is probably not in the cards here. However, KC's defense offers slightly less resistance than the Rams or 49ers in general, so Mixon offers the most upside at his position this week.

Rams-49ers gives DFS players the other two volume plays of the week, but each comes with limited scoring upside. Mitchell handled 48 touches (all rush attempts) in the first two meetings against Los Angeles and did not visit in the end zone either time. His long run in those two games was 17 yards. Those same two games against the Rams are also the only times Mitchell has failed to crack 10 fantasy points in a game since early October. As for Akers (or LA running backs in general), the Rams did not score a rushing touchdown in either game against the Niners. Worse yet, Los Angeles accumulated a mere 116 yards rushing on 37 carries in the first two meetings. Furthermore, the Rams and 49ers finished the regular season in the top half of the league in fewest fantasy points allowed to the position. I suppose fantasy managers could look at Leonard Fournette's performance last week as a reason to believe in Mitchell, but there has been no indication San Francisco would give the rookie a chance to duplicate Lombardi Lenny's nine catches (for 56 yards) from a week ago.

The Bengals present arguably the path of least resistance for an opposing rushing attack of the four teams remaining, but Kansas City is easily the least committed to the run. The Chiefs are also the one team that is giving significant touches to two backs. Edwards-Helaire performed well enough last week to regain control of the early-down work, but McKinnon appears to still be very much in the mix to share those duties and looks to have a stranglehold on pass-catching duties with 11 catches for 135 yards and a touchdown during the playoffs. Given the current setup, CEH should be viewed as a bit of a desperation play considering any upside he has is heavily tied to a rushing score. Meanwhile, McKinnon has quickly emerged as a trusted option for Patrick Mahomes on an offense that relies so heavily on the passing attack. McKinnon's pass-catching upside means he should be in about as many lineups as Mitchell and Akers, but the obvious downside is that he does nothing as a runner again this week and/or is not needed in the passing game because Tyreek Hill and/or Travis Kelce are going off.
Wide Receivers
Player
Tm
DK$
Rec
Rec Yds
Rec TDs
Ru Att
Ru Yds
Ru TDs
DK
Cooper Kupp
LAR
$8,800
10
124
1
31.4
Tyreek Hill
KC
$7,000
8
108
1
1
4
0
28.2
Tee Higgins
CIN
$5,700
7
103
1
26.3
Deebo Samuel
SF
$7,200
5
73
0
8
62
1
24.5
Tyler Boyd
CIN
$4,200
5
56
1
16.6
Brandon Aiyuk
SF
$5,000
4
55
1
15.5
Byron Pringle
KC
$4,300
5
42
1
15.2
Ja'Marr Chase
CIN
$6,700
6
90
0
15.0
Odell Beckham Jr.
LAR
$5,100
5
45
0
9.5
Van Jefferson
LAR
$3,900
3
52
0
8.2
Mecole Hardman
KC
$4,000
1
21
0
1
15
0
4.6
Jauan Jennings
SF
$3,200
2
18
0
3.8
Demarcus Robinson
KC
$3,800
1
6
0
1.6

Paying in upwards of 9-10 K for a receiver each week is a bit of a drag, but Kupp continues to deliver at a clip at least two times his cost on DK and sometimes three. San Francisco did not have an answer for Kupp in either meeting this year, giving up an 11-122-0 line on 13 targets in the Week 10 blowout win and a 7-118-1 line on seven targets in the season finale. While K'Waun Williams (the 49ers' primary slot corner) has held up reasonably well in the playoffs, Pro Football Focus gave him his worst coverage of the season in Week 10 (he did not play in the second meeting). In Williams' coverage, Kupp caught all seven of his targets. Against all Rams' pass-catchers, he gave up 11 receptions on 12 targets for 73 yards. While much of production was in garbage time, the Rams obviously saw Williams as the weak link of the secondary.

Hill had his first blowup game in over a month against the Bills last week, doing the bulk of his damage on a 64-yard catch-and-run late in the third quarter and removing any question there were about his heel injury. The 27-year-old had been a high-volume target for most of the first 11 weeks of the season before fading after the Week 12 bye, which made some question just how healthy he was. Opponents have focused more on taking Hill away in 2021 than they ever have, turning him into more of a volume play who needs to break a tackle or two to get the kind of yardage totals most have come to expect. Cincinnati did in Week 17 what the majority of Kansas City's opponents over the second half of the season tried to do: sit back in Cover 2 shell and make the Chiefs string together long drives by running the ball and throwing short. While it technically worked (a win is a win, after all), the Bengals still gave up 31 points. The question with Hill in Kansas City's slightly more conservative offense is if the speedster will get the opportunity to build up speed in space and hit a seam like he did against Buffalo; the volume should be there.

Samuel has mostly been able to battle through multiple injuries this season, unlike his previous two years in the league where some issue was either hampering him during a game or causing him to miss significant time. The South Carolina product has not been a frequent target in the passing game during the playoffs, drawing only seven looks through two games. More than half of his 33.3 fantasy points during the postseason have come on the ground, rushing 10 times in each game for a total of 111 yards and a touchdown. The reason he could be the overall WR1 this week has to do with massive efficiency and fantasy point totals in San Fran's two games versus the Rams' zone-heavy defense: nine catches for 192 yards, 13 carries for 81 yards and three total touchdowns.

As long as DFS players pay down at running back and quarterback, they should be able to fit at least two of the three receivers above into their lineups (Kupp and Samuel would be my preferences). After that, it gets a bit dicey. Higgins proved he was past his foot injury in the win over the Titans, leading the Bengals in targets (nine) while catching seven balls for 96 yards. Kansas City had struggled against opponents' top wideouts in recent weeks until shutting down Stefon Diggs last week. Of course, that opened the door for Gabriel Davis to have the game of his life. Chase enjoyed similar success in the meeting four weeks ago, laying an 11-266-3 line on the Chiefs.

What seems almost certain is that one of the three (or maybe even two) Cincy receivers will have a banner day this weekend, so it is advisable to get at least one into most DFS lineups this week. Mike Hughes was the corner that got beat on two of Davis' four scores in the divisional round. Projecting where receivers will line up in a given game is sometimes a fool's errand, but it is at least notable that Charvarius Ward saw the most of Diggs last week. With L'Jarius Sneed handling most of the slot duties (meaning he should see a lot of Boyd), we can assume the Bengals will try to attack Hughes early and often. If that is the case, it might be Higgins' turn to scorch KC.

Boyd's matchup against Sneed will not be an easy one and may be the third-most attractive one to Joe Burrow on most passing plays. Aiyuk has become the default No. 1 receiver in San Francisco with Samuel playing the position part-time nowadays, which only means he could see plenty of Jalen Ramsey. Pringle is on a bit of a roll with double-digit fantasy points in four of his last five, but he is not running deep routes or doing much after the catch. That is not a great combination and will lead to a clunker in the near future once his touchdown luck dries up despite relatively steady volume. Two of OBJ's worst games since joining the Rams have come against the 49ers. He has a big enough part of the offense to believe he can change that this week, but a blowup game is not likely in the cards. Given how often Jefferson is running deep routes, he is also a poor bet against a San Francisco defense that does such a good job of generating pressure with four rushers and keeping seven men back. I find it difficult to get excited about any of the options below Jefferson.


It seems ridiculous to nitpick Kelce's performance from last week (eight catches for 96 yards and a touchdown), but 43 yards and the score came on the 13-second scoring drive that sent the game into overtime and the game-ending TD in the extra period. Until that point, Kelce was not providing anything close to the return most DFS players were hoping for. Fortunately for Kelce, the Bengals were among the most forgiving defenses against tight ends during the regular season despite mostly keeping the Chiefs' stud in check the first time around (5-25-1). It seems unlikely that a defense that gave up 37.1 DK points to Kittle in Week 14 and 29.5 to Mark Andrews two weeks later can hold Kelce below 20 twice in four weeks.

With San Francisco focusing so much on the running game and squeezing as much out of Deebo Samuel's skill set as possible, Kittle may not even be as good of an option as the next two highest-priced tight ends (Higbee and Uzomah). Kittle's 10.3-point effort last week was his first double-digit performance since Week 15. The 49ers were one of the stingiest defenses against tight ends during the regular season, but three of the six TDs San Francisco allowed to the position this season were scored by Higbee. That does not happen by accident. Considering the Rams' other weapons (namely their receivers), the 49ers will not adjust their defensive game plan significantly to make Higbee a non-factor.

After flashing some fantasy upside earlier in the season, Uzomah appears to have become the postseason version of Dalton Schultz (a relatively nondescript tight end who is somehow drawing a lot of targets on an offense with at least three very good receivers). Much like Schultz, Uzomah will never be the primary or even secondary concern for defenses because Cincinnati has too many other weapons. I won't feel great about it despite his play this postseason, but I suspect he will probably end up in at least 30 percent of my lineups this week.

Key for defense/special teams units:
PA - Points allowed
TO - Total turnovers
TD - Defensive/return touchdowns
PA Bonus - Points allowed bonus for DraftKings
Defense / Special Teams
Team
DK $
PA
Sacks
TO
TD
DK Bonus
DK
49ers
$2,800
23
4
2
0
0
8
Rams
$3,200
20
2
2
0
1
7
Chiefs
$3,000
31
4
1
0
-1
5
Bengals
$2,600
38
1
0
0
-4
-3

Considering Matthew Stafford's previous two games against the 49ers, San Francisco probably has the most upside of the DST options this week. With so little separating teams at this stage, I will likely roll with the Niners more than any other option this week because they are the cheapest of the three I can rationalize using. The Chiefs could present the safest floor because Cincinnati tends to give up a few sacks every game. The Rams can make an argument they have the most upside because they are facing the worst quarterback of the bunch. Barring a complete meltdown from Patrick Mahomes or a kick/punt return touchdown, I do not see how the Bengals DST will be worth using this week.


---
Doug Orth has written for FF Today since 2006 and been featured in USA TODAY's Fantasy Football Preview magazine since 2010. He is also a high-stakes player who often appears as a guest analyst on a number of national sports radio shows, such as Sirius XM's "Fantasy Drive." Doug is also a member of the Fantasy Sports Writers Association.