While many leagues have at least another week or two before their trade deadline passes, my high-stakes leagues reach that point just hours after this article is published. Therefore, it seems like a great time to identify some great trade targets and some potential second-half disappointments.

Below you will find the names of 14 players (four quarterbacks, six running backs and four receivers). Each position group will have either two or three players I would try hard to acquire before your league's deadline and two or three players I would consider trading, although some of that depends on the current state of your fantasy team.

After the name of each player and some analysis, I will provide the name(s) of some players that I believe should be enough to acquire said player or enough of a return that I would consider dealing him.
Quarterbacks
Trade for: Jalen Hurts, Eagles
Hurts is the QB2 in fantasy points per game this season, so he will not come cheap in most leagues. It does not matter. He is still a slightly cheaper version of Josh Allen who runs more often than the Buffalo quarterback. He also has a better group of pass-catchers at his disposal, at least in my humble opinion. Much like Allen, Hurts is his team's primary option at the goal line. With six rushing scores through seven games, he is easily on pace to join Cam Newton (2011 and 2020) and Steve Grogan as the only quarterbacks to rush for at least 12 TDs in a season.
Consider this: he has accounted for multiple touchdowns in five of seven games. In the three games he failed to throw for one score, he averaged 16 rush attempts and scored four times on the ground. This combination of factors gives him a ridiculously high floor. His ceiling has been limited mostly by the fact that Philadelphia has not played many close games.
The beauty of Hurts is that he has made such a significant improvement as a passer since becoming a pro. Hurts displayed the kind of accuracy that only a few quarterbacks have on each of his three touchdown passes to A.J. Brown last week en route to a four-score effort (on just 28 pass attempts, no less). With that said, one of the main reasons fantasy managers should try to make a deal for Hurts is his remaining schedule. After this Thursday's game against the Texans, only Green Bay (Week 12) and Dallas (Week 16) currently reside inside the top 10 toughest matchups for quarterbacks.
Potential deals: I was able to acquire Hurts about 2-3 weeks ago in exchange for Brian Robinson Jr., Michael Pittman Jr. and Darren Waller. I would accept Hurts in any straight-up swap of quarterbacks outside of Allen and possibly Patrick Mahomes. In most leagues, I would think Kyler Murray and a decent RB2/WR3 gets a deal done. You might be able to do a one-for-one involving Lamar Jackson as well.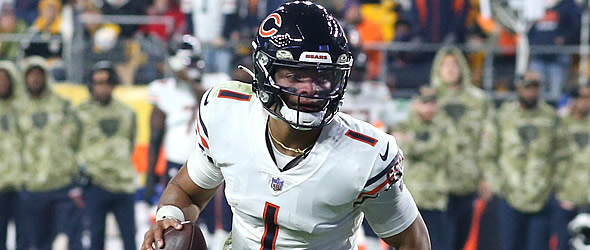 Trade for: Justin Fields, Bears
Chicago appeared to unlock (perhaps unleash is a better word) Fields against the Patriots in Week 7, deciding to utilize him on more designed runs. After scoring a total of 62 points against two of the better defenses in the league in New England and Dallas without much of a hint of a passing game, the Bears might be on to something with their recent usage of Fields.
Much as the case is with quarterbacks like Allen and Hurts, there is a danger in relying too heavily on a quarterback's running ability. (Look no further than Trey Lance.) Thankfully, Fields (6-3, 228) is built sturdy like Allen (6-5, 237) and Hurts (6-1, 223). While he may lack their overall strength, he makes up it for by being the fastest one of the bunch. All of this is to say that he doesn't need to handle as much of the rushing workload - thereby reducing his exposure of getting hit as often - as his fellow mobile quarterback brethren to post the same rushing production. Fields lacks their upside in the passing game for two reasons: 1) he lacks a true alpha receiver and 2) he does not have as many opportunities to throw the ball as they do.
Fear not. If Fields is going to push for 10 or more rushing attempts each week, then it probably does not matter if he is attempting only 25 passes or throwing for 150 yards per game. To that end, Chicago may have just signaled its long-term belief in Fields with the addition of Chase Claypool at the trade deadline. The Notre Dame product gives Fields two competent receivers for the first time all season and Chicago a reason to throw more than 25 times (which it has done only once in 2022). Fields faces a rough stretch from Weeks 12-16 when he sees four consecutive defenses that rank inside the top 10 against fantasy quarterbacks, but managers have to like his ability to overcome the matchup in at least two of those based solely on what he did against comparable defenses over the last two games. He is quickly entering must-start territory for managers who do not already have the likes of Allen, Hurts or Mahomes on their roster.
Potential deals: Considering Fields was still on the wire in three of my high-stakes leagues last weekend, it should not take a massive haul to acquire his services. Aaron Rodgers may be enough to do the trick. Maybe Tom Brady too.
Trade away: Lamar Jackson, Ravens
Recommending players to sell - especially quarterbacks - often comes back to things that are beyond their control. Furthermore, it would take a lot for me to consider trading away Jackson, who is essentially a more established version of the quarterbacks I mentioned earlier. However, here is some rationale behind why I MIGHT do it:
Jackson's supporting cast is hurting and it may not get better anytime soon. The one that probably matters the most is Rashod Bateman (foot). Consider that with Bateman healthy the first three games of the season, Jackson set a blistering pace that could have made his 2019 MVP season look small by comparison. Week 8 marked the first time since that opening stretch Jackson topped 20 fantasy points in a game. The one constant over that time is that Bateman has either been limited or sidelined due to his injury. Mark Andrews (knee, shoulder) has his own issues. While J.K. Dobbins (knee) has never been given much of a chance to utilize his skill as a pass-catcher as a pro, having Kenyan Drake as Jackson's primary outlet on a throw to a running back is far from ideal.
Devin Duvernay is a very capable receiver, but he is more of a complementary second or even third receiver than the lead receiver he has been forced to play for the better part of a month. Isaiah Likely could become one of the league's better young pass-catching tight ends in short order, but he is not a one-for-one replacement for Andrews. The downgrade from Dobbins to Drake has already been noted.
If fantasy managers have been able to stay near the top of their league standings despite Jackson's "struggles" over the last month or so, there is probably no reason to move on from him. He should be able to maintain that level of performance. Also working in his favor is an upcoming schedule that includes the Saints this week and a fantasy playoff schedule that features the Falcons (fourth-most fantasy points allowed to quarterbacks) and Steelers (sixth) in the two most important weeks of the season.
My primary rationale for moving him has to do with his "name value." If the managers of Josh Allen, Hurts or Patrick Mahomes in your league are willing to accept Jackson and maybe a bench player in exchange for their stud quarterback, I would recommend making the deal. Sometimes, it is just as simple as evaluating which quarterback has more healthy weapons. While I do not expect it to happen, I think there is at least a decent chance that Fields matches Jackson's production over the remainder of the season.
Potential deals: Jackson is far from an easy sell, but his name will carry some weight with managers (as it should). If you have been fortunate enough to add Geno Smith and/or Fields off the waiver wire in recent weeks, I might strongly consider trading Jackson for an upgrade somewhere else. Yes, Jackson's ceiling is higher, but we have already discussed why that may not be a place he reaches very often - at least not until he gets some of his teammates back.
Trade away: Tua Tagovailoa, Dolphins
In some respects, Tagovailoa has been a revelation for his fantasy managers. A closer look reveals that his overall QB6 or QB7 standing (fantasy points per game) - depending on league scoring - through eight weeks may not be a bit of a mirage.
Tagovailoa has accounted for multiple touchdowns in a game twice, throwing for 75 percent of his 12 TDs and accounting for 63 percent of his 136.6 fantasy points in those games. The opposition in those contests? The Ravens, who were hopelessly beat up in the secondary late in Week 2, and the Lions, who have surrendered the third-highest mark in fantasy points allowed to quarterbacks (including 30-point efforts to Carson Wentz and Geno Smith). I am not going to tell you that the quarterback of Tyreek Hill and Jaylen Waddle should not be your starting fantasy quarterback, but what I will tell you is that he is still a matchup-based starter - just one with an incredibly high ceiling thanks to his receiving corps - until further notice.
Another factor to consider with Tagovailoa is his playing style. He openly admits he needs to take what he is given as a runner and get down avoiding the hit. To this point of his career (college and pro), he tries to get the most out of every play - especially as a runner. He has not been able to help himself or curb his competitive nature, which has resulted in multiple injuries over the years. It does not help his cause that he lacks the size (6-1, 217) and overall athleticism to avoid contact in the way the three quarterbacks mentioned above can.
Last but not least, his fantasy playoff schedule is dreadful. In Weeks 15 and 16, the Dolphins play at Buffalo (likely bad weather, really good defense) and host Green Bay (really good secondary). Both teams rank inside the top six in least fantasy points allowed to quarterbacks. The Week 17 opponent is better from a matchup perspective, but a trip up to Foxboro to face a Bill Belichick defense for the second time is not where many fantasy championship dreams are realized.
Potential deals: Rest of season, I think I would prefer players such as Geno Smith, Kirk Cousins and Tom Brady. I suppose there is a small chance the Justin Herbert manager in your league could be open to a swap if you offer a bit of a sweetener.
Running Backs
Trade for: Aaron Jones, Packers
Green Bay's offense stinks. Buy Jones anyway. Jones has quietly faced one of the most difficult schedules imaginable through the first half of the season, which has played a role in him scoring only four touchdowns (and going scoreless in six of his team's games). Chicago (Week 2) is the only defense the Packers have faced that ranks in the top half of the league in fantasy points allowed to running backs. Five of Green Bay's first eight opponents rank inside the top 10 in the fewest points allowed to the position. This ungodly stretch has led to Jones' disappointing [checks notes] overall RB12 ranking (fantasy points per game) almost halfway through the season. Despite the opposition, Jones is averaging a sparkling 5.9 yards per carry and is on pace for more than 60 catches.
Green Bay's second-half schedule is far from a cakewalk, but it should be a little easier on Jones (and A.J. Dillon, for that matter). The Packers face three very good (or at least very talented) defenses in Week 10-12 in the Cowboys, Titans and Eagles. They also get the Rams in Week 15. However, only the Cowboys - among Green Bay's second-half opponents - rank inside the top quarter of the league in fantasy points allowed to running backs. With that said, the upcoming schedule is not the primary reason why Jones is a good player to target.
Jones is not getting Christian McCaffrey-like usage, but he is seeing 64 percent of the snaps in this backfield, running 59 percent of the routes and has handled more than 60 percent of Green Bay's rushing work over the last month. That is a workhorse in today's NFL. Considering he is about the only thing that is consistently working in this offense and there is a constant drumbeat about how disappointing Green Bay has been, Jones' current fantasy manager might not appreciate what Jones has done or what he might be capable of in November and December.
Potential deals: There is a strong chance Leonard Fournette or Joe Mixon may be enough of a return to get the Aaron Jones manager in your league to make a move. I would prefer Jones over Dameon Pierce, but it is a close call. The same can be said for Rhamondre Stevenson.
Trade for: Cordarrelle Patterson, Falcons
Patterson is a complete projection based on the fact he is coming off knee surgery and has not played since Week 4. Most fantasy managers likely remember Damien Williams getting some run ahead of him early in Week 1 before his rib injury. While Williams should be back at some point, it is anyone's guess as to when that will be. Tyler Allgeier has stepped up nicely during Patterson's absence, but the film makes it very clear Patterson should be seeing the most work in this backfield if he is now completely healthy.
One of the benefits of Patterson missing so much time is that Atlanta should not have to be overly concerned about his overall workload once he is back in football shape. As many fantasy managers likely remember, one of the HC Arthur Smith's preseason goals was to maximize Patterson's touches without running him into a wall in the next month or two.
While it seems unlikely that the Falcons will open up the passing game anytime soon (which lowers the ceiling that many of us expected Patterson to have before the season), virtually no one expected Atlanta to block as well in the run game as it has. If Patterson is going to be trusted to handle around 15 carries per game in what has proven to be a high-volume and efficient rushing attack, he will push for low-end RB1 numbers. Even better for his prospects is a glorious upcoming schedule that features seven defenses ranked no higher than 13th in fantasy points allowed to running backs.
Potential deals: Ezekiel Elliott or David Montgomery might be enough to make the Patterson manager blink. The same can probably be said for Raheem Mostert. The Tony Pollard manager could also make a play after his big game in Week 8.
Trade for: Deon Jackson, Colts
It is impossible to know how injured Jonathan Taylor's ankle is at this point, but it is at least slightly concerning that a player who prides himself on not missing a practice or game during his football career is doing so in 2022. It is also worth wondering how much the Colts will push Taylor in what could very quickly become a lost season - one in which the organization may do what it can to secure a top-five pick.
Let me be clear: Jackson is not in Taylor's class. If he is forced to start again for an injured Taylor, he will be running behind the same offensive line that has contributed to his 3.3 YPC so far and made Taylor look average pre-injury. What we do know is that Indy could find itself in negative game script fairly often moving forward. While the change at quarterback (from Matt Ryan to Sam Ehlinger) will not help any of the running backs in the passing game, we know Jackson is comfortable and competent as a receiver (14 catches on 14 targets for 108 yards).
Jackson may not be an elite handcuff in this offense, but his performances in Weeks 5-6 were the proof that the front office and coaching staff needed to move on from Nyheim Hines and trust Jackson as a bell-cow if necessary. Finding those Alexander Mattison-type backs - even if the offense is not very good - tends to pay off when the fantasy playoffs roll around.
Potential deals: Much like Fields above, Jackson was on a fair amount of waiver wires as recently as last weekend. Players such as Eno Benjamin, James Robinson and maybe even Melvin Gordon should be enough to get a trade done.
Trade away: Austin Ekeler, Chargers
Yes, I realize Ekeler is the overall RB1. Yes, I realize he is averaging four fantasy points per game more than any other running back. Yes, it is perfectly fine to hold onto him and enjoy the high floor and high ceiling he possesses. This is not about any of that. If you have the luxury of waiting a couple more weeks before your league's trade deadline passes to see how things play out in Los Angeles, I would advise you to use those days and keep an eye on how the Chargers operate with Keenan Allen (hamstring) likely rejoining the team at some point soon.
Here is my rationale for selling Ekeler (only if your team is somehow struggling with him on the roster):
1) He will likely bring back a king's ransom in return. At this point of any season, the overall RB1 is going to be the apple of most managers' eyes. While not every high-end fantasy asset is a sell-high asset, having so much of your potential success tied to one player is much more of a gamble than most people want to realize. It is much harder to find enough value to make trading the overall RB1 worth it to his original owner than it is to find a manager who is interested in acquiring him.
2) Although it does not look encouraging for this week, Allen will play again at some point. When he does, he will take a huge chunk of the underneath throws that Ekeler has been getting during his absence. It is not as if Mike Williams and Josh Palmer have not been targeted at close range, but that is essentially where Allen lives. Williams and Palmer's skill sets are more suited to seeing more work downfield. When Allen does finally return (and presumably at 100 percent this time), we can expect Ekeler's fantasy production to drop off perhaps as much as 20 percent from where it has been over the last month.
3) Joshua Kelley was starting to emerge as Ekeler's complement before his knee injury. Ekeler openly admitted before the season that he wants another back to take some of the rushing work from him to extend his career. He has repeated that statement since. If Allen and Kelley return healthy and stay that way, then the workload that has made Ekeler so great for fantasy lately could drop to a point where returns to being a mid-to-low-end RB1.
Potential deals: You will most likely be able to land Travis Kelce and a starter at another position. Maybe Josh Jacobs and an every-week WR3.
Trade away: Joe Mixon, Bengals
It should have been so much different for Mixon's fantasy managers. He is getting the volume that his managers have been campaigning for since he joined the team in 2017. He has (or at least had before the Ja'Marr Chase hip injury) three receivers to remove any chance he would face heavy boxes. Cincinnati's upgrades on the offensive line were going to open up running lanes for him on his way to a career year. He is about 2-3 games away from matching last year's 42 catches - one short of his career high.
Much like winning can be for a team, volume for a running back is usually a great deodorant for inefficient play. Mixon appears sluggish and the line is not playing up to expectations. He is breaking a tackle once every 25.8 carries in 2022 after breaking one every 14.8 carries last year. He ranks third in the league in red zone carries (23), first in carries inside the 10 (19) and is tied for third with nine carries inside the 5. He has only two TDs inside the 20 and 10 and just one inside the 5. (For the sake of comparison, Jamaal Williams has seven TDs on 19 red zone carries, six TDs on 16 carries inside the 10 and five TDs on 10 carries inside the 5.) It just is not working this year.
Mixon's volume does not figure to change much for the rest of the season, so that could be a potential selling point in negotiations with another manager. With at least three receptions in every game and at least 12 rushing attempts in all but two outings, Mixon's volume alone makes him a strong RB2 option every week. However, whatever scoring upside he possessed last year has disappeared in 2022. It probably will not return until the line starts playing better and/or Mixon begins to break more tackles.
Potential deals: As discussed above, Aaron Jones is a worthwhile target. So are Dalvin Cook, D'Andre Swift and (gulp) Jonathan Taylor. There is also an outside chance the Raiders' Week 8 effort freaked out Josh Jacobs' manager, although that seems unlikely.
Trade away: Leonard Fournette, Bucs
There was a time when fantasy managers could count on backs ranked inside the top 12 at their position and feel good about their ability to produce the rest of the season. Fournette is the overall RB9 (fantasy points per game), yet he appears on the verge of losing substantial work to rookie Rachaad White. To this point of the season, Fournette has essentially been Mixon with less volume and better scoring luck.
Fortunately for his managers, Fournette continues to handle about 60-70 percent of the snaps, more than half of the rushing work and run 60-70 percent of the routes. How much longer that will be the case is the question. The Tampa Bay offensive line is blocking about as well as Cincinnati's. That is not a good thing for Lombardi Lenny, as he is not the kind of back that can make a defender miss in the hole very often. While a shakeup atop the depth chart remains unlikely for as long as Tampa Bay remains in playoff contention, it would be mildly surprising if the Bucs do not at least entertain the thought of taking a longer look at White. Perhaps his elusiveness is a better fit for the 2022 edition of this offense than Fournette and his power game. It seems as though Tampa Bay is pushing in that direction but cannot convince itself to go all-in on the decision.
Potential deals: See Joe Mixon's write-up above.
Wide Receivers
Trade for: Amon-Ra St. Brown, Lions
The rest of the managers in your league probably understand that the trade of T.J. Hockenson to the Vikings at the deadline means that St. Brown will see as many targets as he can handle. However, some folks cannot help but give in to recency bias; after all, the Sun God has not delivered a 2021-like performance since Week 2. He has posted a pair of duds and missed two other games since then.
No one should expect St. Brown to repeat his epic finish last year, nor is it likely to happen given how difficult the upcoming schedule is for Detroit's wide receivers. The Lions' next four opponents all rank inside the top 12 in the fewest points allowed to the position, while two of their three foes during the fantasy playoffs rank inside the top seven. While all of that figures to lower St. Brown's fantasy ceiling, it probably will not change Detroit's desire to feed him the ball. That could be even more the case if D'Andre Swift (ankle, shoulder) does not heal up within the next week or two. A floor of ten targets per game should be the expectation for St. Brown moving forward, which means his fantasy managers should be able to count on six or seven catches every week. Considering how good the Detroit offense is when Swift and St. Brown are healthy, perhaps the touchdown pace for the latter will pick up in short order (three through six games).
Potential deals: St. Brown could be on the verge of returning to WR1 status. I would prefer Tyreek Hill, Stefon Diggs, Cooper Kupp and Justin Jefferson rest of season, but I might consider a straight-up deal for any other receiver in which I am getting St. Brown in return.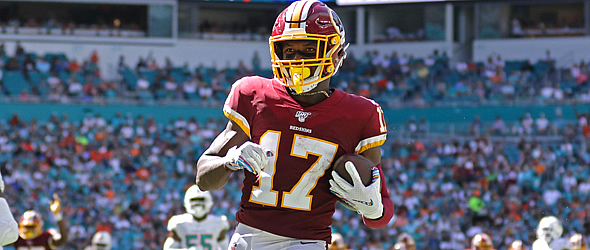 Trade for: Terry McLaurin, Commanders
It has become an annual tradition for fantasy managers to speak glowingly about McLaurin during the offseason, overlook his ever-changing quarterback situation due to his obvious talent at draft time and complain about the most recent new quarterback (and the lack of touchdown upside) during the season.
Taylor Heinicke was not a godsend to McLaurin's managers last season, but their connection seems to be better this time around. McLaurin saw more targets than Curtis Samuel for the first time all season last week. It is probably not a coincidence that McLaurin's best fantasy efforts this year have come in Heinicke's two starts. Even more encouraging, McLaurin enjoyed those performances while seeing plenty of Jaire Alexander and Stephon Gilmore in his coverage.
The rest of Washington's schedule is not a walk in the park for the receiver group - and the return of Carson Wentz in a couple of weeks looms large as well. However, it is at least a great sign that McLaurin and Heinicke are in synch with a Week 9 showdown coming up against the Vikings (seventh-most generous defense against receivers) and a Week 12 game with the Falcons' league-worst defense against wideouts. The thing about McLaurin is that he was delivering WR2 production with Wentz under center most of the time. It just was not pretty. Heinicke has just lifted McLaurin's floor a bit and given him more of the ceiling we want.
Potential deals: Check out the receivers ranked outside the top 12 to find where McLaurin's sweet spot might be. I think I would prefer Brandon Aiyuk and DK Metcalf, but Michael Pittman Jr. and D.J. Moore might be enough to get one-for-one deals done for McLaurin. The same could be said for DeVonta Smith.
Trade away: Ja'Marr Chase, Bengals
This one hurts. It is also entirely possible it ends up being a bad call come December. In the end, it is a matter of betting on Chase's healing power and modern science versus the kind of hip injury he suffered. For more on this, I will turn to my good friend Dr. Jesse Morse, who did a video on Chase's injury a few days ago.
Summing up what Dr. Morse said, Chase will almost certainly need offseason surgery on his hip. He is expected to return this season, as the Bengals have hinted with their decision not to place him on IR. Given Morse's breakdown of the injury, it sounds as if Chase has almost zero chance of being dominant at any point again this season. Chase does not need to be dominant to be productive in fantasy, but can we really expect him to be great with a hip that needs surgery? He probably also needs the Bengals to show something more than they showed in Week 8 against the Browns while he is out. Given his 4-6 week timeline, the Bengals could be out of the playoff race by the time he is ready to return, which may be enough to convince both parties to get his surgery done sooner than later.
There is also the small matter of when Chase is likely to return and what he will be facing when that happens. Let us assume the most pessimistic timeline for his recovery. That gives him a shot at Week 14 - one week before the fantasy playoffs start in most leagues. During the fantasy playoffs, Cincinnati will travel to Tampa Bay and New England before wrapping up at home against Buffalo. All three of those opponents currently rank about the middle of the pack against receivers, but common sense would tell us that a less-than-100-percent Chase will see plenty of Carlton Davis, a Patriots defense with a reputation for shutting down the opponent's top option (in a likely bad-weather game) and Tre'Davious White. It is not an impossible task for someone with Chase's talent, but it is a big ask.

Potential deals: With a few exceptions (Tyler Boyd and Curtis Samuel among them), I would accept a trade that allowed me to get a top 24 receiver in exchange for Chase.
Trade away: Michael Pittman Jr., Colts
Pittman is a curious case. On the plus side, the volume he was accustomed to seeing from Matt Ryan was there in Sam Ehlinger's first start in Week 8 (nine targets). That seems unlikely to change. While Ehlinger is expected to run more and consistently throw a better deep ball than Ryan, the jury remains out on if that can and will happen.
Ehlinger is probably an upgrade on Ryan based solely on where Indianapolis is as an offense right now. However, I am not bullish on Pittman hanging onto the WR1 dream many of us had for him about two months ago. Is his talent enough to overcome a green Ehlinger and upcoming matchups against the Patriots (Week 9), Eagles (Week 11) and Cowboys (Week 13)? The fantasy playoffs appear to be a less threatening time for the USC product with two matchups against defenses in the top half of points allowed to receivers (Vikings in Week 15, Chargers in Week 16). Unfortunately, the Giants and their strong pass defense await on fantasy championship week.
Potential deals: I would prefer Amari Cooper, Brandon Aiyuk and DK Metcalf over Pittman at this point. An offer that enabled me to receive Jakobi Meyers in return would make me think as well.
---
Doug Orth has written for FF Today since 2006 and been featured in USA Today's Fantasy Football Preview magazine since 2010. He hosted USA Today's hour-long, pre-kickoff fantasy football internet chat every Sunday in 2012-13 and appears as a guest analyst on a number of national sports radio shows, including Sirius XM's "Fantasy Drive". Doug is also a member of the Fantasy Sports Writers Association.