Oh, what an ugly year 2015 was for highly-ranked running backs.

Building off Jason Mitchell's Bust Rates column from last year, let's update the numbers and apply them to our player evaluation for the upcoming drafting season.

However, before we dive into the numbers lets discuss the term ďbustĒ because I donít agree with the original premise that a running back drafted in the top-12 at his position, who finished as low as 36th, is somehow not a bust.

Take Broncos running back C.J. Anderson, for instance. He was the sixth back off the board with an overall ADP of 7.8. He rushed for 720 yards, caught 25 balls for 183 yards and scored five times. Andersonís 120.3 fantasy points in standard leagues left him in 27th-place among backs behind such names as Charles Sims, James Starks, Jeremy Langford and Thomas Rawls. All four of those guys started the season on their teamís depth chart as a backup.

Donít tell me the fantasy owners who drafted Anderson seventh overall didnít think their first-round draft choice was a bust!

I wonít be as generous in my analysis this season. To avoid the ďbustĒ label, a top-12 preseason running back will have to at least be able to start at his position. Since most leagues require two running backs Iíll use top-24 to avoid the disappointing moniker.

The argument was made that the No. 25-ranked RB would be a flex-position starter, but that isnít always true. Heíd might be a flex starter, but only if he was better than the best non-starter at wide receiver or tight end. And in leagues which allow a second QB to start at the flex position, heís likely useless except during bye weeks.

So for my updated data covering the five-year period from 2011-15, a bust RB or WR is anyone who didnít finish in the top-24.

Running Backs


Preseason ADP RB1s: 2011-2015
League Type
Total
Top 12 Rk
Top 12 %
Top 24 Rk
Top 24 %
Busts
Bust %
Standard 2011-14
47*
26
55.3%
34
72.3%
13
27.7%
Standard 2015
12
3
25.0%
7
58.3%
5
41.7%
Standard 2011-15
59
29
49.2%
41
69.5%
18
30.5%
Preseason ADP RB1s: 2011-2015
League Type
Total
Top 12 Rk
Top 12 %
Top 24 Rk
Top 24 %
Busts
Bust %
PPR 2011-14
47*
26
55.3%
35
72.3%
12
25.5%
PPR 2015
12
3
25.0%
6
58.3%
6
50.0%
PPR 2011-15
59
29
49.2%
41
69.5%
18
30.5%
*Adrian Peterson's 2014 season removed
Wide Receivers
Preseason ADP WR1s: 2011-2015
League Type
Total
Top 12 Rk
Top 12 %
Top 24 Rk
Top 24 %
Busts
Bust %
Standard 2011-14
48
26
54.2%
33
68.8%
15
31.2%
Standard 2015
12
6
50.0%
9
75.0%
3
25.0%
Standard 2011-15
60
32
53.3%
42
70.0%
18
30.0%
Preseason ADP WR1s: 2011-2015
League Type
Total
Top 12 Rk
Top 12 %
Top 24 Rk
Top 24 %
Busts
Bust %
PPR 2011-14
48
26
54.2%
34
70.8%
14
29.2%
PPR 2015
12
6
50.0%
9
75.0%
3
25.0%
PPR 2011-15
60
32
53.3%
43
71.7%
17
28.3%

As you can see there is almost no difference between a preseason top-12 running back and top-12 wide receiver over the past five seasons. Approximately 30 percent of your selections wonít put up starter value Ö even low-end starter value.

Which means seven players, currently held in high esteem, are likely to frustrate you, cause you to curse under your breath, and maybe even end up trading him for cents-on-the dollar. Using Fantasy Football Calculatorís ADP as my guide, it means that seven players on the following list are going to be a bust in 2016:



RB Ė

LeíVeon Bell, Todd Gurley, Adrian Peterson, David Johnson, Ezekiel Elliott, Lamar Miller, Jamaal Charles, Devonta Freeman, Eddie Lacy, Doug Martin, Thomas Rawls, Mark Ingram.



WR Ė

Antonio Brown, Odell Beckham Jr., Julio Jones, DeAndre Hopkins, A.J. Green, Dez Bryant, Jordy Nelson, Allen Robinson, Alshon Jeffery, Keenan Allen, Mike Evans, Amari Cooper.

The million dollar question, of course, is "Which seven?" If I could guarantee the correct answer, I'd probably also have been able to pick the winning lottery numbers to last week's $540 million Mega Millions Lottery. Since I'm here writing, instead of lying on the beach of my newly-purchased private island, you should assume I'm not clairvoyant. Most of the top stars end up being a bust due to injuries and that's nearly impossible to predict. But sometimes it's performance and it is there that I'll make my "educated guess" as to who might disappoint.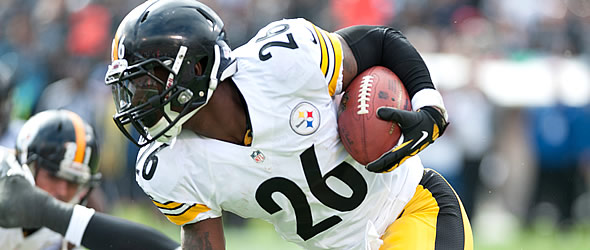 After busting out last season, another down year from Bell would send his owners off the deep end.


1) LeíVeon Bell, Pittsburgh

Bell (MCL/PCL) said he expected to be back for training camp, but Iíll bet my last dollar you wonít see him against live defenders until opening night Ö at the earliest. The real issue however, is that DeAngelo Williams played so well last season (907 yds rushing, 367 yds rec, 11 TDs) that the Steelers brain trust could decide to go conservative. They could give Williams a larger portion of the workload. They could even delay Bellís return. With Bell listed as the No. 2 guy off the board at Fantasy Football Calculator (behind teammate Brown), that could be a fantasy ownerís worst nightmare.

2) David Johnson, Arizona

Johnson produced monster numbers over the second half of 2015 and will be the ďmanĒ in the Cardinals backfield, but itís always scary to depend on a player with so little experience. Plus, the Arizona backfield has talent in it besides Johnson in former starter Andre Ellington and former 2,000-yard rusher Chris Johnson. A local sports reporter said he though Johnson would see just ď60 percent of the backfield touchesĒ which is a bit concerning.

3) Devonta Freeman, Atlanta

Freeman was a first-half monster last season, posting 1,062 yards from scrimmage and 10 touchdowns in the first eight games. However, he tired badly in the second half producing just 572 yards and four scores over the final seven games. For that reason the team is expected to use Tevin Coleman a lot more in 2016 and that spells bad news for Freeman owners, because Coleman has talent.

4) Thomas Rawls, Seattle

Rawls was in the midst of a huge season when he broke an ankle and suffered ligament damage ending his season and requiring surgery. In the six games he saw double-digit rushing attempts he averaged 118 yards and 1.5 TDs per contest. If healthy he should be the starter, but its likely fantasy owners wonít see him at all during preseason. The team did draft talented C.J. Prosise and resigned Christine Michael just in case. Those who draft close to Opening Day will have a better idea of Rawlsí availability, but Prosise should be the teamís third-down back and at 6-feet-1, 225 lbs., maybe more.

5) DeAndre Hopkins, Houston

I love Hopkins, so this is nothing against the star wideout. Iím concerned more about the man throwing him the pigskin, Brock Osweiler. Just think how disappointing Demaryius Thomas was for his owners last season. With Osweiler under center, Thomas cracked 100-yards just once in eight games. Even with an over-the-hill and injured Peyton Manning, Thomas earned the yardage bonus three times. Project that forward to 2016 and Hopkins as his receiver and itís a bit worrisome when picking Hopkins eighth overall.

6) Alshon Jeffery, Chicago

It appears that Jeffery and the Bears arenít on the same page concerning his contract and that makes for a problem. An unhappy receiver isnít usually a productive receiver. An unhappy receiver could be an ex-Bear if the team decides to make a change and a new team means learning a new offense and getting used to another quarterback. Speaking of QBs, what will Jay Cutler do without his old OC, Adam Gase, who is now the head coach in Miami? Will John Fox and new OC Dowell Loggains throw the ball as often? Can Jeffery, who only started eight games stay healthy? All legitimate questions.

7) Keenan Allen, San Diego

A lacerated kidney cut short what was going to be a great season for Allen (67-725-4 in 8 games). But the Chargers realized they needed more receiving help even before that. The team has brought in a quality wideout in Travis Benjamin (68-966-5 in Cleveland) and Stevie Johnson should be healthy. Add in Antonio Gates and Danny Woodhead and thatís a lot of mouths to feed for quarterback Philip Rivers.


---
Steve Schwarz served as the fantasy sports editor of The Sports Network and is the 2014 FSWA Football Writer of the Year.