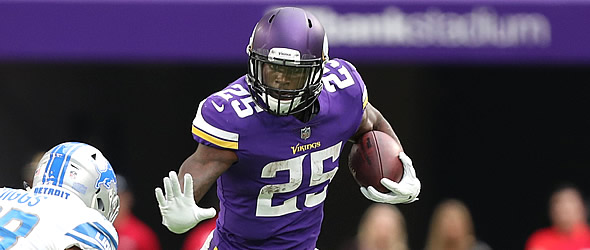 A fly in the ointment of the Dalvin Cook hype could be Latavius Murray's prowess around the goaline.
Is there any worse feeling than having your big, bruising running back stopped short of the goal line? After all, a 1-yard rushing touchdown has the same value as snapping off a 60-yarder (six points). It's why scoring is so important to fantasy owners. So it would make sense to know which running back is the most proficient at scoring touchdowns when they have a chance.
At the bottom of the page is a chart of all running back who received at least 10 carries from inside the 10-yard line in 2017 and the percentage of times it produced an end zone dance.
What information can we derive from the data?
Quite a bit actually.
Mark Ingram and Alvin Kamara were equally adept at scoring, so Ingram's four-game suspension to start the 2018 season shouldn't be a big issue for the Saints. The Falcons' pair of Devonta Freeman and Tevin Coleman are pretty good too.
At some point this season a GM will make the call to see if DeMarco Murray wants to come out of retirement and play football. He obviously has a nose for the goal line and could be a last-round stash for later in the season. That's certainly a better option than choosing a second tight end or kicker for the bye week.
If opportunity is the key, then Todd Gurley will continue to be the highest-scoring running back in football next season. He posted a league-high 13 touchdowns on the ground in 2017, with 11 of them from short range. There is no one on the Rams current roster who can, or will, vulture Gurley's touchdowns, including QB Jared Goff.
Speaking of vulturing, Latavius Murray will more-than-likely steal touchdown chances (and touchdowns) from Dalvin Cook. I'm a huge Cook fan, but coming off a major ACL injury, Murray should see a decent percentage of the workload and given his success at the goal line, plenty of red-zone work. Cook will get a majority of rushing yards and almost all of the backfield receptions in 2018 now that Jerick McKinnon is in San Francisco and then in 2019, when he is two years removed from knee surgery, he will become the workhorse we all want him to be.
The dreaded RBBC in Green Bay, plus the addition of one of the most prolific tight end "scoring machines" in Jimmy Graham, should negate Jamaal Williams' solid goal line work from 2017. All those short touchdown passes that went from Aaron Rodgers to Jordy Nelson (14 over the past two seasons) will likely go to Graham over any of the Packers' running back by committee.
Carlos Hyde probably won't see 28 rushing attempts inside the 10-yard line again this season unless the Browns offense is drastically improved. Still, he should certainly be a lot better than Isaiah Crowell (1-of-14) in the chances he does receive.
Joe Mixon, the second-year starter in Cincinnati, must improve if he is to keep the goal-line work. He improved his rushing average over the final four games of 2017 (5.02 ypc), but unless he can get into the end zone he's not that much better than Giovani Bernard. If nothing improves at the goal line, Brian Hill, picked off the Atlanta practice squad last season, might get a shot.
LeSean McCoy was quite ineffective near the goal line (3-of-21). In fact, five of his eight scores last season came from outside the 10-yard line. The only good news for McCoy owners is that it has been three years since backup Chris Ivory was a viable fantasy option and he couldn't get into the end zone very often behind a top offensive line like the Jaguars last season. Third-string Travaris Cadet is only a receiving back.
Derrick Henry's shaky performance inside the 10-yard line (2-of-14) might be another reason why the Titans went out and signed Dion Lewis (6-of-20). However, at 6-foot-3, 247 lbs., Henry should be given the first opportunity to be the top option at the goal line over the 5-foot-8, 195 lbs. Lewis.
Rob Kelley and Samaje Perine produced such poor results (a combined 2-of-22) it probably forced the Washington Redskins' hand at drafting a running back early last April (Derrius Guice in the 2nd round, No. 59 overall). The LSU rookie scored 26 times over the last two seasons for the Tigers, including 10-of-11 of his scores from inside the 10-yard line in his final season.
Blount's rushing touchdown production took a significant hit last season (from 18 to 2), so despite a solid 4.4 ypc last season and a touchdown run in every postseason game, he was vulnerable to budget cuts with the Eagles. He's with Detroit for 2018 so his Super Bowl winning streak likely ends at two in a row and he's in a crowded backfield with rookie Kerryon Johnson, Ameer Abdullah (4-of-8 from inside the 10-yard line), Theo Riddick and Dwayne Washington. Blount's fantasy value will be limited.
Thomas Rawls should not be owned. Even playing for the Jets, who list Crowell at the top of their depth chart, Rawls has little value and might not make the 53-man roster. Quarterback Josh McCown is the Jets best scorer inside the 10-yard line having scored on five-of-six attempts in 2017.

%Rush = Percentage of team's carries inside the 10-yard line
%Success = Percentage of rushes the runner scored a touchdown

- Information derived from Pro Football Reference
---
Steve Schwarz served as the fantasy sports editor of The Sports Network and is the 2014 FSWA Football Writer of the Year.