A passer rating of 158.3 is considered a perfect passing efficiency in the NFL. It's a complicated formula (and at the end of the piece for those who have never seen it).

But I've developed a simple rating for fantasy owners. It's Fantasy Points per Pass.

At the top of the chart, running quarterbacks like Lamar Jackson and Josh Allen skew the results a bit, but I'm not here to talk about the top of the chart. I'm more interested in the bottom portion of the statistics where a number of well-known, well-thought-of, and highly-ranked 2019 quarterbacks put up some inefficient numbers last season.

Let's look at the "Bottom 10" and see what happened and whether it was a one-season issue or long-term. None of the 10 quarterbacks averaged 23 FPts/G, none finished in the top-10 in FPts/G, and only volume kept Rodgers and Cousins in the 22 FPts/G range and from being completely unworthy of their lofty salaries and draft positions.

Andy Dalton, Cincinnati – The only reason Dalton wasn't a complete failure in 2018 was the Bengals schedule called for them to play the NFC South and the worst group of pass defenses in the league congregate there. Three of his four best games came against Carolina, Atlanta and Tampa Bay. Unfortunately, they won't face any of those guys in 2019, so fantasy owners should probably stay away, even as a backup option.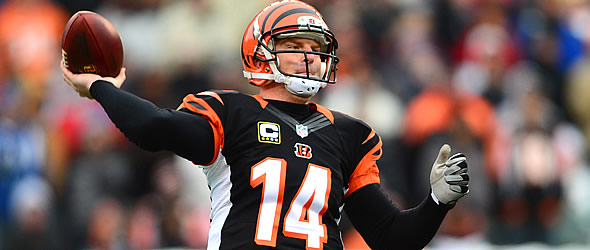 Aaron Rodgers, Green Bay – He's a surprise this far down the list and only throwing 597 passes saved him from being a fantasy disaster. He's already struggling for "control" of the offense with his head coach/offensive guru Matt LaFleur who apparently doesn't want to give "A-Rod" full freedom to audible. I'm just guessing that LaFleur wants to run the ball a lot more behind rising star Aaron Jones than his quarterback and take some of the pressure off Rodgers while Rodgers wants to continue to throw the ball at will (he averaged almost 40 passing attempts per game in the 15 games he played all the way through). Watch carefully as to who wins the "battle of wills" because if Rodgers is only throwing 30 passes per game he's not going to earn his high draft cost.
Kirk Cousins, Minnesota – Cousins had no excuse for averaging just 22.1 FPts/G last season. He has three excellent pass catchers in Stefon Diggs, Adam Thielen and Kyle Rudolph along with a running back with good hands in talented Dalvin Cook. He threw the ball 606 times, yet produced just .583 fantasy points per passing attempt. Like, Rodgers, if the offense turns more to the running game, Cousins not only won't be worth the $28 million the Vikings are paying him, but won't be a good fantasy option. Fantasy owners seem to have adjusted as he's 20th off the board in recent mock drafts.
Sam Darnold, New York Jets – Darnold gets an automatic pass because he was a rookie last season and rookies simply don't produce in their first season while trying to adjust to life in the professional leagues. The addition of talent on offense will help. The threat of Le'Veon Bell will keep linebackers honest, not to mention the 600-750 yards he can produce with his A+ pass-catching ability. Jamison Crowder, Robby Anderson and a healthy Quincy Enunwa would also help though they aren't the long-term answer. Darnold is still not "start-worthy" and won't be until the team drafts, or trades for, an elite receiver.
Eli Manning. New York Giants – There is a reason the Giants spent a top pick in 2019 on their quarterback of the future. It's the failure of Manning to produce despite a receiving corps of Odell Beckham Jr. (first-round pick), Sterling Shepard (second-round pick) and tight end Evan Engram (first-round pick). That's a lot of assets wasted on a 38-year-old QB who managed just 21 TD passes last season. Beckham is gone and Manning will be too … by the end of the season. Just avoid the entire situation.
Derek Carr, Oakland – It wasn't that long ago, 2016 in fact, that Carr was putting on a show with 28 TD passes and just six interceptions. But a broken finger in Week 12 and a broken leg in Week 16 against the Colts ended that season and sent his career in a tailspin. After 22 touchdown passes in 2017 and just 19 last season, it's put up or shut up time for the Raiders quarterback. The good news is that John Gruden brought in the best possible wideout to replace Amari Cooper in former Steelers receiver Antonio Brown. Add in former Chargers speedster Tyrell Williams and a new threat out of the backfield (Josh Jacobs) and Carr has the tools to right the sinking ship. Of course, he'll have to overcome an underperforming OL which ranked 26th in 2018 according to PFF. Currently the 23rd QB in mock drafts, there is upside if Gruden can fix the offensive line.
Nick Foles, Jacksonville – Foles moves to a new team, but with a familiar face as offensive coordinator - John Defilippo. Defilippo loved to throw the ball in Minnesota, a lot, and it likely got him "canned" because of it. If he's learned his lesson, he'll temper this "Andy Reid trait" and learn from his days with Doug Pederson in Philadelphia where they won a Super Bowl with a much more balanced offense. Is Marqise Lee, Keelan Cole and Geoff Swaim as good as Diggs, Thielen and Rudolph or even Alshon Jeffery, Nelson Agholor and Zach Ertz? Obviously not, so don't expect a lot from Foles this season. On a side note, watching Foles the past two seasons, I can assure you he can't throw in windy weather.
Matthew Stafford, Detroit – Stafford's numbers should not be a surprise as he's lost a lot of talent at the receiving corps in recent years. No more Calvin Johnson. No more Golden Tate. Marvin Jones was injured and Eric Ebron became a stud only after leaving for Indianapolis. There will be no more seasons of 727 passing attempts and while Kenny Golladay had a nice rookie season, this might be a tough year to use Stafford as anything other than a backup plan.
Case Keenum, Washington – While Keenum took the first set of snaps with the starters at the most recent OTA, he doesn't figure to be anything more than a backup for Dwayne Haskins.
Joe Flacco, Denver – Flacco posted the lowest number of any starter last season (.464 fantasy points per attempt) and while that says a lot about the inept receivers in Baltimore, it isn't going to allow much confidence for fantasy owners in his first season with the Broncos. Because Keenum's numbers in Denver with almost as bad (.491). Emmanuel Sanders, Courtland Sutton and DaeSean Hamilton aren't going to wow you with their talent level and Flacco will spend much of 2019 looking over his shoulder at Drew Lock. In 11 seasons, Flacco has never produced a single 22 FPts/G season and 2019 won't be one either.

The NFL Computation is as follows: ER = [((100 * PC/PA) - 30.0) * 0.05] + [((TY/PA) - 3.0) * 0.25] + [20 * TD/PA] + [2.375 - (25 * I/PA)]/6.0 * 100
The four categories above, delineated by brackets, are capped at 0.0 (min) to 2.375 (max).