When thinking about receivers, many fantasy owners think too much about yards and receptions while not thinking enough about the basics - touchdown catches. In fact, I'm going to show you a direct correlation between touchdown catches and wide receiver fantasy rank.

Over the past five seasons, the average top-10 fantasy receiver caught 9.08 touchdowns. That compared favorably to wide receivers ranked 11-20, who caught 7.16 touchdown passes and 21-30, who caught just 5.5 touchdown passes.

As the chart below clearly shows, the numbers have been consistent over all five seasons.
Fantasy WR Touchdowns
Top 32
Top 10
11-20
21-30
2018
7.28
9.8
7.4
5.1
2017
6.31
7.1
6.6
5.8
2016
6.28
8.6
5.7
4.8
2015
7.97
9.3
8.5
6.4
2014
7.84
10.6
7.6
5.4
5 Year Avg
7.14
9.08
7.16
5.5
Looking at the individual totals, just six receivers in five years cracked the top-10 while scoring five times or less. The most impressive of those were Odell Beckham Jr. and Julio Jones in 2017 and Steve Smith in 2015 who managed top-10 production while reaching the end zone just three times. At the other end of the spectrum, 21 of the 50 receiver totals, or 42-percent of the top-10, posted double-digit touchdowns.
So what does this mean for fantasy owners?
If you are drafting a wide receiver early, say the first or second rounds, you should be very sure that he's going to post a big touchdown total, preferably 10-or-more.
And what do wide receivers who racked up double-digit touchdowns have in common?
Over the past three seasons, almost every wideout had an elite quarterback. The list includes; Aaron Rodgers four times, Ben Roethlisberger and Deshaun Watson twice, Patrick Mahomes, Russell Wilson, Matt Ryan, Eli Manning and Jameis Winston once each. (OK, Eli and Jameis aren't elite).
Let's ignore the obvious top-10 receivers Tyreek Hill, DeAndre Hopkins, Julio Jones, Davante Adams and Michael Thomas, who should all continue to produce like the elite stars they are.
Now let's analyze the next dozen to consider who can be first- and second-round worthy.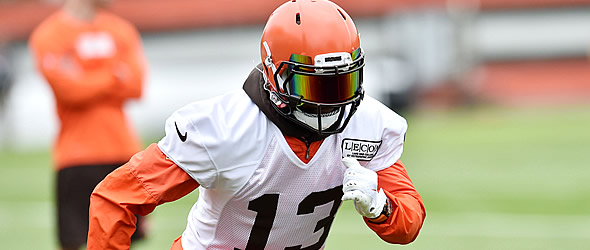 Odell Beckham Jr., Cleveland (12.9 ADP) – Sure the talent is there, but Beckham is going to a team with more talent on the offense than he's been on in the past. And a lot of that talent is in the backfield. There is no guarantee that quarterback Baker Mayfield throws 30 touchdowns this season with Nick Chubb and later on Kareem Hunt running the ball. And even if he does throw that many (Peyton Manning threw 30 TDs just once in his first six seasons), Beckham will have to "share" with his friend Jarvis Landry, Rashad Higgins, Antonio Callaway and up-and-coming tight end David Njoku. This ADP is because of his name and all the preseason Browns hype. Don't buy into it.
JuJu Smith-Schuster, Pittsburgh (15.0 ADP) – The entire world assumes that Smith-Schuster will simply step into Antonio Brown's shoes and produce at the latter's level. I'm not so sure. With the exception of Week 16 of 2017, JuJu's big games were while Brown was the focal point of opposing defenses. It's a lot different when you are covered by the opposing No. 1 corner with the safety sitting over the top.
Antonio Brown, Oakland (18.9 ADP) – Derek Carr is no Ben Roethlisberger and while no Raiders wide receiver had more than three touchdown receptions last season, Carr has done enough to support quality receivers in the past. Michael Crabtree averaged 8.3 TDs a season with Carr and he's no Antonio Brown. Brown posted 15 touchdowns last season and averaged 11.8 over the past five season. His end-of-the-second ADP is too low and you should take advantage if he's still there early in the second round.
Mike Evans, Tampa Bay (21.1 ADP) – Evans' statistics are curious in that he's produced top totals in even-numbered years only. He's averaged 11.8, 12.8 and 12.5 FPts/G in 2014, 2016 and 2018, respectively and 9.9 and 8.7 in odd-numbers years. It's 2019. The loss of Desean Jackson's deep threat makes for smaller windows and both third-year guys, Chris Godwin and O.J. Howard, will demand more targets. Plus, we are still waiting for Winston to put it together for 16 games.
Keenan Allen, LA Chargers (24.4 ADP) – Allen has averaged 1,295 yards the past two seasons, but managed just six touchdowns in each season which limited his production. The forecast for 2019 should be more of the same as Mike Williams (10 TDs) and the return of tight end Hunter Henry is likely to keep Allen's touchdown total in check.
Adam Thielen, Minnesota (26.0 ADP) – Everything went Thielen's way last season as he racked up an eight-game 100-yard streak and a six-game scoring streak. He did fade late in the season, particularly during the fantasy playoffs, which is concerning. This Vikings offense has a lot of mouths to feed (Stefon Diggs, Dalvin Cook, Kyle Rudolph and rookie Irv Smith Jr.) and Thielen's 2019 total may have been his "career year."
T.Y. Hilton, Indianapolis (27.1 ADP) – Hilton has always been a big yardage guy, but has never scored more than seven touchdowns in a season … not even in four years at Florida International. Luck returned from injury to produce big numbers and should do it again in 2019 barring his current calf injury being anything serious. This might just be the year Hilton sets his personal touchdown mark as its unlikely Eric Ebron matches last year's baker's dozen total and I doubt Devin Funchess will impact Hilton's production.
Amari Cooper, Dallas (30.1 ADP) – The Raiders and fantasy owners soured on Cooper after a disappointing 2017 and slow start in 2018, but the trade to Dallas certainly helped Cooper's outlook for 2019. Still, Cooper was up and down, producing a 217-yard and a 180-yard game in Dallas, but he also threw up four "clunkers" in eight games. The Cowboys offense is a run-first operation and it will continue to be feast or famine for the Dak Prescott-Cooper hookup. Like Hilton, Cooper has never produced more than seven touchdown catches in an NFL season.
Stefon Diggs, Minnesota (34.7 ADP) – For the same reason Thielen is a question mark, so too is Diggs. But his issue is with health as in four years he's never played in all 16 games. On the other hand, he's the more likely Vikings receiver to crack double-digit touchdown catches. I think he's likely to over-produce as a fourth-round selection.
A.J. Green, Cincinnati (36.9 ADP) – If Diggs is worrisome due to an injury past then Green is a downright frightening selection. He has failed to finish two of the last three seasons and just this Wednesday needed ankle surgery and is expected to a couple of games. Throw in the "red-headed enigma" and I'd stay away completely.
Julian Edelman, New England (38.8 ADP) – The Patriots' passing game is a question mark due to the retirement of Rob Gronkowski. Who will inherit the targets, yards and more importantly, the touchdowns? It's unlikely to be Edelman, who has just nine scores since 2016. He'll certainly get you the tough yards and the important first downs, but he's just not the guy Tom Brady goes to at the goal line. He's a great guy to have on the team you root for, just not your fantasy team.
Brandin Cooks, LA Rams (40.9 ADP) – This is another situation where there are too many mouths to feed. Cooks produced nicely last season (80-1,204-5), but with Todd Gurley, Robert Woods and Cooper Kupp all getting their fair share, Cooks' upside is limited.