What kind of long odds would you have gotten that Lamar Jackson, Miles Sanders and Julio Jones wouldn't be top-10 fantasy players at their positions (based on FPts/G)? Or that Matthew Stafford, Jonathan Taylor and Kenny Golladay wouldn't crack the top-20? Just more examples of the craziness of 2020. This trend will continue. You must prepare for the unexpected.

Byes: Baltimore, Indianapolis, Miami and Minnesota.

Truths

"The truth is more important than the facts." - Frank Lloyd Wright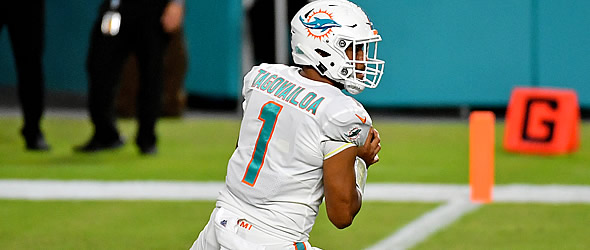 1) Tua Tagovailoa will start in Week 8 after the Dolphins return from their bye.
According to Adam Schefter, it appears the statement is true. Those who have used Ryan Fitzpatrick, hopefully added the Tua handcuff for insurance. This shouldn't be an indictment of Fitzmagic's play (four games with at least 25 fantasy points in six starts and a 3-3 record), but the long-term plan for the organization. They aren't beating Kansas City or Baltimore or Pittsburgh in 2020, so it's time to look to the future. It won't be easy for the rookie, he'll face Aaron Donald in his debut (Rams No.10 vs. opposing fantasy QBs) and the blitz-crazy (at least Monday night against Andy Dalton they were) Cardinals (No.6 vs. QBs) in Week 9.
2) Mike Davis' production in Christian McCaffrey's absence will change the latter's fantasy value.
True. Don't get me wrong, CMC will still be the Panthers stud running back, but Davis has "earned" some playing time even when McCaffrey returns. Instead of McCaffrey playing 93.4% of the snaps as he saw in 2019, that total might drop to about 83% (similar to the 2019 snap distribution between Ezekiel Elliott and Tony Pollard). Would a corresponding 11% drop in production change your opinion of McCaffrey? Unlikely, but it might be equal to about three-points per game. He's still the best back in PPR leagues (he was eight points better than No.2 Dalvin Cook in 2019), but the gap between McCaffrey and Alvin Kamara or Aaron Jones in 2020 might be a lot smaller.
3) The return of Michael Thomas to the New Orleans lineup will reduce Alvin Kamara's fantasy value.
Fact. Kamara is currently producing 29.5 FPts/G which includes 45 targets and 38 receptions in five games. That's a 144 target pace with 121 receptions. Given that Kamara's reception total is the most consistent ever (he's caught exactly 81 balls in each of his first three seasons), he's likely to return to that level when Thomas starts seeing nine-plus targets again. As with McCaffrey, this doesn't mean you should trade Kamara, though his fantasy value will never be higher, it just means if you were looking to trade for him you shouldn't expect 29.5 fantasy points per week. Think of him as you would have in 2018 when he averaged 23.2 FPts/G.
4) It's impossible to figure out the Steelers' wide receiving pecking order.
True. With rookie Chase Claypool coming on strong, Diontae Johnson returning from multiple injuries, veteran JuJu Smith-Schuster and even James Washington all getting significant target share, it appears that from week-to-week only the game plan and Ben Roethlisberger will know who is going to shine. Right now, if you ask me, the pecking order is; 1) Claypool, 2) Johnson, 3) Smith-Schuster and 4) Washington. But that could change next week. JuJu owners can't be happy given his preseason ADP, but it's still better than catching passes from Mason Rudolph or Devlin "Duck" Hodges.
5) Ryan Tannehill's 33.1 FPts/G leads all fantasy quarterbacks in October.
True. He faced an injured Buffalo defense (32.0 points), then took apart a Texans' pass defense (34.2). But he's a false idol, a mirage. He'll be coming down to earth shortly. In fact, the schedule is definitely turning against him beginning this weekend against Pittsburgh. Then Cincinnati, Chicago, Indianapolis, Baltimore and Indy again. Sell high! Sell now!

Lies

"The truth may be out there, but the lies are inside your head." – Terry Pratchett
1) You can't trade Lamar Jackson, didn't you see that touchdown run against the Eagles? He's back!
I saw the run and yes I can. Here's why I might be willing to trade Jackson. The schedule. After a bye this weekend he's got five tough games. He faces; Pittsburgh, Indianapolis, New England, Tennessee and Pittsburgh again. Only Tennessee is outside the top-10 in QB fantasy points allowed and Mike Vrabel will watch what his mentor Bill Belichick devises the week before and copy it.
2) "He's as good as anybody that I've coached and as good as anybody that I've played against," Belichick told reporters Monday. (He was talking about George Kittle.)
No, that's just coach speak about his next opponent. Sure, Kittle is a great tight end. He might be the best tight end in today's game … sorry Travis Kelce. But the best Belichick ever coached or played against? No. Absolutely not. Hey Bill, what about Rob Gronkowski? What about Tom Brady? And, of course, for those who know Belichick's life before New England, he ran the defense for the New York Giants in the 1980s and coached the best defender I ever saw – Lawrence Taylor.
3) Andy Dalton is washed up.
False. Dalton isn't Dak Prescott. Dalton wasn't good Monday night. But neither were the five guys in front of him. I thought the Eagles OL was bad until I saw the Cowboys line Monday night. Without Tyron Smith, La'el Collins and the retirement of Travis Fredericks, the Dallas line is Zach Martin and four imposters. Despite the lack of blocking, Dalton still managed to throw for 266 yards and one touchdown thanks to garbage time. The offensive line and two Ezekiel Elliott fumbles did the Cowboys in before they had a chance to settle in. Dallas still has too much talent at wide receiver for the team to go in a shell. They will figure it out. Will Dalton throw for 450 yards? No, but he should be a serviceable low-end QB option.
4) Zach Ertz still has fantasy value.
Unfortunately, false. Even before the ankle injury that will keep him out of the lineup for 3-4 weeks, he was invisible. He hadn't scored a touchdown since Week 1. In the month of October he saw 21 targets, caught just nine (42.9%), for 48 yards, producing 13.8 fantasy points … total for three games. With Dallas Goedert still on IR, the Eagles have no fantasy-worthy tight ends. For a team which played two tight ends more than any other last season, it's a disaster. You can't trade Ertz at this point, so stash him and hope he returns in time for the fantasy playoffs.
5) Ronald Jones can't possibly continue at this productive level.
I'm beginning to believe he can. Three consecutive 100-yard rushing games. Top-10 fantasy ranking in October (20.1 FPts/G). This Tampa Bay offense is dangerous and versatile. They have great pass receivers in Mike Evans, Chris Godwin, Scotty Miller and rookie Tyler Johnson. And the old "Gronk" is back! Given those passing options, Brady will use the running game to his advantage. He doesn't care about passing totals, just wins. Neither Leonard Fournette, LeSean McCoy nor rookie Ke'Shawn Vaughn will threaten Jones' workload. Jones has two favorable matchups the next two weeks in Las Vegas and the Giants.