In the fourth and final analysis piece of the series, we look at the wide receiver position.

Over the past 10 seasons, every time a receiver was drafted in the top-5 overall, he did exactly what his fantasy owners wanted – he won the position. Meanwhile, every time the first receiver came off the board after the fifth pick, he didn't finish on top.
ADP of the No.1 Fantasy WR
Year
Player
ADP
Rank
2019
Michael Thomas
10.4
4
2018
Davante Adams
18.2
7
2017
Antonio Brown
3.7
1
2016
Antonio Brown
1.2
1
2015
Antonio Brown
2.5
1
2014
Odell Beckham Jr.
180.0
66
2013
Josh Gordon
98.1
35
2012
Calvin Johnson
4.8
1
2011
Calvin Johnson
11.0
3
2010
Andre Johnson
4.8
1
Fantasy Finish of the Top Drafted WR
Year
Player
ADP
Finish
2019
Davante Adams
1
5
2018
Antonio Brown
1
2
2017
Antonio Brown
1
1
2016
Antonio Brown
1
1
2015
Antonio Brown
1
1
2014
Calvin Johnson
1
10
2013
Calvin Johnson
1
3
2012
Calvin Johnson
1
1
2011
Andre Johnson
1
25
2010
Andre Johnson
1
1
Which makes things interesting for fantasy owners who are seriously looking at the Saints' Michael Thomas and his 5.7 ADP. He's right on the borderline. There are a number of factors working against Thomas in 2020 which I went into detail back in June. The short version is that of all the receivers who saw at least 185 targets since 2010, the average drop in production the following season was 17.72%. In addition, New Orleans added a quality second receiver in the offseason in Emmanuel Sanders, who has averaged 116.3 targets over the past seven seasons, while last year's No.2 wideout in New Orleans saw just 56 targets.
But the top wide receiver position has been pretty consistent in a number of categories. He usually comes out of the first two rounds. Only twice has a long-shot paid off by winning it all. Once was rookie Odell Beckham Jr., who exploded onto the scene in 2014 and put up 1,305 yards and 12 touchdowns worth 24.8 FPts/G. The second time was the "freak" Josh Gordon season in 2013, when despite not playing until Week 3, racked up 1,646 yards and nine scores for a league-leading 22.5 FPts/G.
So the question for many fantasy owners, who won't have a shot at Thomas because they are selecting at the end of the round or who chose a running back in the top-four picks instead … Where can I find the best receiver in 2020?
Based on the numbers, there is an 80% chance the top wideout will be drafted in the first two rounds, so that means the top pick will likely come from one of seven receivers: Thomas, Davante Adams, Tyreek Hill, Julio Jones, DeAndre Hopkins, Chris Godwin or Kenny Golladay. All of these guys have the ability to be No.1, but not all of them have the team qualities to push them over the top.
Winning or losing team isn't a factor. Five of the 10 times the best receiver came from a team with a losing record.
However, a quality quarterback is pretty much a necessity. Drew Brees, Aaron Rodgers, Ben Roethlisberger, Eli Manning, Matthew Stafford were the quarterbacks in eight of 10 seasons. Only Gordon and Andre Johnson managed to win it without a top quarterback. Gordon had a trio of mediocre throwers; Jason Campbell, Brandon Weeden and Brian Hoyer. While Johnson caught passes from Matt Schaub, who ranked No.13 that season.
Additionally, they are rarely challenged by the No.2 wideout for target share. In fact, they averaged almost double the targets given to the No.2 receiver (165.2-to-83.1).
A No.1 receiver also needs to get the ball into the end zone. Only once has a receiver won the title with less than eight touchdown receptions and Calvin Johnson had to produce a record 1,964 receiving yards to do it.
So which of the first- or second-round wide receiver options fits the above parameters?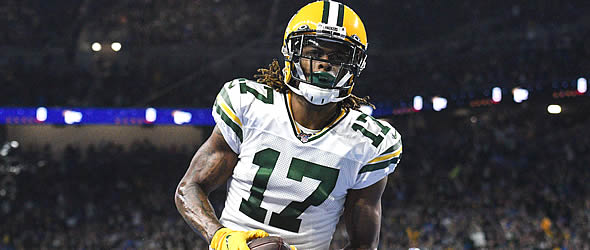 Davante Adams, Green Bay (ADP 10.3) – Adams has the talent, the quarterback and the target-share dominance to be No.1. The recent decision of free agent signing Devin Funchess to opt out of playing in 2020, leaves just Allen Lazard (52 targets in 2019) as the likely next best receiver and Marcedes Lewis (15-156-1) or Jace Sternberger (zero catches) as the starting tight end. Adams could become the favorite to win the position.
Tyreek Hill, Kansas City (10.7) – Great talent, great quarterback, but too many mouths to feed and a quarterback who doesn't simply look at his No.1 target ala Stafford and Calvin Johnson. Hill didn't even lead the team in targets in 2019, Sammy Watkins did with 90. The addition of rookie running back Clyde Edwards-Helaire could take additional targets from the receiving corps.
Julio Jones, Atlanta (14.6) – Perennial elite receiver, quality quarterback, but doesn't get into the end zone often enough. Jones has averaged just 5.6 touchdowns per season over the past seven years. The top producing wideout has averaged 10.3 touchdowns per season and Jones has reached double-digits just once in his career. The Falcons had three other wide receivers see at least 74 targets last season including improving Calvin Ridley who saw 93 targets and seven touchdown catches.
DeAndre Hopkins, Arizona (16.4) – A lot is expected from Hopkins, who may just be the most talented wideout in the game. But he'll need Kyler Murray to throw more than 542 times and improve on his 3,722 passing yards if Hopkins is to produce as much as needed to win the position. Without much offseason work and no preseason games, the two will have to come together very quickly. The team still has two 100-target receivers on the roster in Larry Fitzgerald and Christian Kirk, but they will take significant hits and a back seat to Hopkins. If Murray is really an elite passer, Hopkins could win it all, but that has yet to be proven.
Chris Godwin, Tampa Bay (20.5) – He has the "GOAT" at quarterback and even at age 43 Tom Brady can still find and hit his receivers. What Godwin doesn't have is a clear-cut No.1 role. Both he and Mike Evans will likely see comparable targets in the 130-range. And while the running game isn't much of a concern, particularly in scoring touchdowns, the addition of Brady's all-time favorite tight end, Rob Gronkowski (he's caught 78 touchdowns from Brady including 57 from inside the 20-yard line), will be an issue in the red zone for both wideouts.
Kenny Golladay, Detroit (25.1) – A possible late second-round pick, Golladay added "touchdown-maker" to his resume in 2019 reaching the end zone 11 times. Assuming Stafford (back) is healthy again, we know from his time with Johnson that he can support a No.1 overall receiver and if Golladay continues his ascent toward elite that could happen. Working against him is two other receivers who saw 90+ targets last season in Danny Amendola (97) and Marvin Jones (91). Meanwhile, tight end T.J. Hockenson was a factor with Stafford in the lineup (22-296-2), but not with David Blough and Jeff Driskel under center (10-71-0), so he could see close to 75 targets limiting Golladay's opportunities even further.
And lastly, a long-shot, not quite "sleeper," but well outside the first two rounds.
Will Fuller, Houston (87.1) – The 2016 No.1 pick out of Notre Dame, has shown he has explosive talent, scoring once every 10.6 touches for his career. His average score comes from 29 yards out. Brandin Cooks, the replacement for Hopkins (150 targets), averaged 95 targets in Los Angeles the past two seasons and will never have played a down with quarterback Deshaun Watson heading into Week 1, leaving a big opportunity for Fuller to expand his game in 2020. If he can stay healthy (a big if for a man who has missed 22 games in four season), he could see 130 targets. For his career, Fuller has averaged 1.84 FPts/target which would translate to 239.7 fantasy points for 16 games. In 2019, that total would have ranked him as the No.4 fantasy wide receiver.