1) As we prepare to watch 30 more teams hit the field for the first time this week, remember one thing – preseason statistics mean next to nothing. The only thing you are looking for during the preseason is the health of players and who is playing with the first team. Below are the leading passer, rusher and receiver for the last five preseasons and their regular season totals. Not a single one proved to be fantasy-worthy. (It wasn't until the next season, 2017, that Robby Anderson became a viable fantasy option producing a 63-941-7 season).


Preseason Stat Leaders
Preseason
Regular
Leading Passer
Team
Yards
TDs
Yards
TDs
2019
Ryan Griffin
TB
744
4
18
0
2018
Tyler Bray
CHI
652
1
0
0
2017
Matt Simms
ATL
613
1
0
0
2016
Matt Barkley
ARI
630
4
1611
8
2015
Landry Jones
PIT
724
4
513
3
Leading Rusher
Team
Yards
TDs
Yards
TDs
2019
Nick Brossette
NE
200
3
0
0
2018
Chris Warren
OAK
292
2
0
0
2017
Corey Grant
JAX
191
1
248
2
2016
Mack Brown
WAS
227
1
82
1
2015
Zach Zenner
DET
183
2
60
0
Leading receiver
Team
Yards
TDs
Yards
TDs
2019
Jakobi Meyers
NE
253
2
369
0
2018
Javon Wims
CHI
227
1
32
0
2017
Dede Westbrook
JAX
288
2
339
1
2016
Robby Anderson
NYJ
264
3
587
2
2015
Rashad Ross
WAS
266
4
0
0

2) Dak Prescott should be an elite fantasy quarterback, given his three solid receiving weapons (Amari Cooper, CeeDee Lamb, Michael Gallup), but he won't produce at last year's ridiculously high level (31.2 FPts/G). His 1424 passing yards and 11 combined touchdowns (eight passing, three rushing) from Week 2-4 were in response to a defense which allowed 126 points and 1300 yards. Management understood their shortcomings and their first six draft picks in April were on the defensive side of the ball. They also signed half-a-dozen defensive free agents, including LB Keanu Neal and the latest being safety Malik Hooker last week. They will be much improved on defense which means the offense won't need to go crazy to win football games.

3) Rookie Najee Harris is almost guaranteed to be top-10 in rushing attempts and likely to be top-five. However, that doesn't necessarily mean he'll be a top-five or top-10 running back because the Pittsburgh offensive line needed a complete revamp this season. To see the Steelers changing four starters from a season ago, is astounding and not in a good way. Gone are Alejandro Villanueva, Matt Feiler, Maurkice Pouncey and David DeCastro. Only Chukwuma Okorafor remains and even he moves from RT to LT. Volume alone makes Harris a low-end RB1, but some of his best runs may be just getting back to the line of scrimmage until the OL finds its way.

4) I think Joe Mixon (19.7 ADP) is being undervalued by fantasy owners. The 14th running back off the board, Mixon should see an expanded role in the passing game with Giovani Bernard wearing Tampa Bay colors in 2021. Mixon is now a legitimate three-down back with an improved line (free agent Riley Reiff, second-round pick Jackson Carman). If Joe Burrow is healthy, defensive coordinators will have their hands full with the Bengals' passing game and their three talented receivers; Tee Higgins (67-908-6), Tyler Boyd (79-841-4) and rookie first-round selection Ja'Marr Chase, allowing Mixon to run free.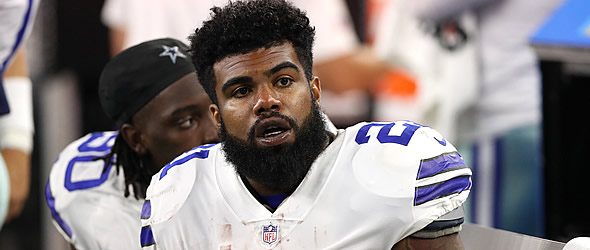 5) Beware of overvaluing the Cowboys' Ezekiel Elliott. His numbers have been heading in the wrong direction for the last four seasons. Meanwhile, the team has been very happy with the production of backup Tony Pollard (4.3 ypc). They're not replacing "Zeke," but the team is obviously trying to take some of the workload off of him which means fewer times reaching yardage bonuses. Elliott ran for 100 yards just once last season. His 12 points-a-game in 2020 was an aberration due to poor quarterback play after Prescott's injury, but I wouldn't expect more than 16 FPts/G this season.
Ezekiel Elliott
Year
FPts/G
Touch/G
2016
19.7
23.6
2017
17.9
26.8
2018
16.9
25.4
2019
16.4
22.2
2020
12.0
19.7
6) Should there really be an almost three-round difference between Justin Jefferson (ADP 23) and his teammate Adam Thielen (51.8)? Jefferson will likely lead the Vikings in receiving yards, but Thielen is definitely the favorite target for Kirk Cousins near the goal line. Ten of Thielen's 14 touchdowns came from inside the 10-yard line last season. None of Jefferson's came from inside the 10-yard line. FFToday's projections have Jefferson 37.2 points more than Thielen for the season (268.5 vs. 231.3) which works out to 2.2 FPts/G. I'm not sure that's worth a late second-round vs. an early fifth-round.
7) I'm no longer in a rush to pick Travis Kelce. In previous seasons he was a late-second, early-third rounder, but at ADP 8.2 I can't see any way this as a value pick. You surely will get "fair market value," but he's no bargain here. I'd rather move to the end of the second round with Darren Waller (ADP 22.4) or gamble on George Kittle's health at ADP 27.6. FFToday actually has Waller edging out Kelce with both about 1.8 FPts/G ahead of Kittle. And if you don't want to spend that much capital on a tight end, the next tier has five players producing an expected 175-190 fantasy points. Robert Tonyan (ADP 95.8) and Tyler Higbee (ADP 113.1) appear to be nicely valued here.
8) Don't fall asleep on Matthew Stafford. Not only did his move from Detroit to the Rams improve his receiving corps (Robert Woods, Cooper Kupp, Tyler Higbee), but when Cam Akers went down for the season with an Achilles injury, the Rams offense suddenly became Stafford-centric. Akers was set to be a workhorse in a balanced offense but replacement Darrell Henderson, while satisfactory, isn't ready for that role yet. So this offense will focus on Stafford. He's thrown for 5000 yards and 40 TDs before (2011) and as recently as 2019 he was on a 5000-yard pace (25.9 FPts/G) through eight games before injuring his back. Stafford will be a low-end QB1.
9) Beware of overvaluing J.D. McKissic after last season's 12.1 FPts/G production. Ryan Fitzpatrick likes to throw downfield, not to running backs in the flat. In 2019, when Fitzpatrick started 15 games for the Dolphins, the top-six targets were receivers and tight ends. Plus, second-year starter Antonio Gibson can catch too. In fact, Gibson was a wide receiver in his two seasons at Memphis and despite McKissic's 80 catches, Gibson caught 36 balls. I see a significant drop in McKissic's fantasy value in 2021 to around the six-point level which means he's no longer useful except as a handcuff.
10) I don't see any of the 2021 rookie quarterbacks being the next "Justin Herbert." Trevor Lawrence has the best chance, but the reason Urban Meyer selected Clemson RB Travis Etienne in the first round (No.25 overall) despite having a 1000-yard rusher on his roster (James Robinson) was not so Lawrence would have a friend on the team. It is because he plans to run the ball … often. I would expect no more than 525 passes this season or 30 per game. Herbert averaged 39.6 passes-per-game last season. The Jaguars receivers are nice (D.J. Chark, Marvin Jones, Laviska Shenault), but they aren't the level of Keenan Allen and Mike Williams, not to mention RB Austin Ekeler. Meanwhile, Zach Wilson doesn't have the receiving talent. Nor does Justin Fields. Trey Lance isn't the starter yet and when he finally is, the 49ers will continue to be a run-first team. And Mac Jones will be strictly limited by Bill Belichick whenever he finally gets a chance in New England.